iOS 9 is out today for the public, officially. If you are still on iOS 8 and haven't got the notification to update yet, go to your iPhone Settings -> General -> Software Update to force a check on your iOS and update yours to iOS 9.
If you haven't been following the news for the past few months about iOS 9 or can't be bothered reading what's new on iOS 9, here are 5 things that you at least need to know.
Apart from having a new font on the whole interface, smarter Siri, better performance, updated apps like Notes, among other things, here they are:
Extra battery + Low Power Mode
iOS 9 is more optimised so you can now roughly get 1 more extra hour from your device, compared to using iOS 8 (on the same phone).
But more importantly, there is a new feature called the Low Power Mode, which reduces power consumption of your iPhone to save battery (which can extend your battery for up to 3 hours when not used).
From the feature description:
"When this is on, mail fetch, background app refresh, automatic downloads and some visual effects are reduced or turned off".
This mode will kick in (you'll be notified) if you battery goes to 20% and 10%. However, you can turn it on manually by going to Settings->Battery any time you like.
It's really handy if you are going to be away for a few hours, or not going to use your phone. You'll be thankful for it.
Silent and Smarter Siri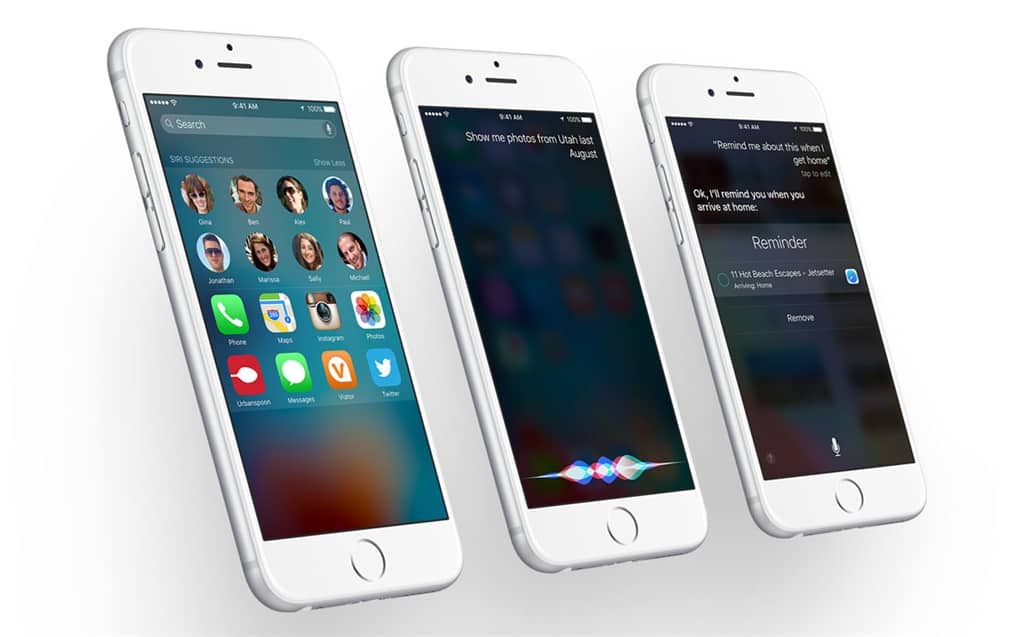 If you notice that Siri has somehow lost her voice, good news is, she's not. If you set your iPhone mute switch to on (silent mode), Siri will follow it. So when you activate Siri, you won't hear the tone and Siri will not speak to you out loud. Finally, no more embarrassing moment of accidentally activating Siri at church (oops).
This option can be turned on/off under Settings->General->Siri->Voice Feedback.
Siri also gets smarter and will recommend an app on your locked screen accordingly – based on your usage and what you are about to do. For example, it automatically suggests Apple Music after I plug my headphones into the audio port. Or my weather app because I always open it every morning I wake up.
Multitasking
If you own an iPad Air 2 or Apple Mini 4, you can run 2 different apps in 1 screen simultaneously, which Apple calls Multitasking.
Multitasking is handy when you need to write notes in Evernote while having to browse on some contents to research in Safari.
Just place Evernote on the left of the screen, and Safari on the right. The multitasking feature can be executed by swiping from right to left on your iPad screen. Sadly, not available on iPad Air, even if it has the same screen size dimensions.
Siri recognises your voice
If you plug your iPhone on the charger, you can say "Hey Siri" to activate Siri without using your hands. In the past, however, someone else can shout "Hey Siri" randomly and that will activate Siri on any iPhone.
When you turn "Hey Siri" feature on iOS 9, there is now a set of steps you need to take afterwards to enable Siri to recognise your voice. The steps require you to speak specific sentences to Siri a few times.
This will definitely come in handy on the iPhone 6s and iPhone 6s Plus where "Hey Siri" can be activated any time (without the need of having the iPhone plugged to a charger).
Safari Content/Ad Blocker
In iOS 9, you can install an app as an add-on to Safari to block content or ads. Crystal is one of them and it was free earlier today (not anymore, sadly).
It's sad that you have to block ads on website, because advertisements are what make the website alive (to pay for servers, contents, etc). But if you are really annoyed with them, I guess you need to know that there is now an option.
Note: Images courtesy of Apple