Ever wonder how much you are paying per month for keeping that bedroom light on every night? Or perhaps you are wondering how much would it cost you if you turn the heater on for a few hours a day? All of these questions can easily be answered, thanks to Belkin Conserve Insight. Belkin Conserve Insight is a plug that has a meter reading attachment to it (calculate carbon emission, watts used, and also a total running cost estimation).
One of the main purposes of Belkin Conserve Insight is to make you aware of how much energy your home appliances use. See the impact to the environment and also to your monthly expenses! Some appliances use quite a bit of energy when stay plugged in and often we don't realize how much energy they are using. Thanks to Belkin Conserve Insight, you will become more edgy if you know a rarely used appliance takes too much energy unnecessarily.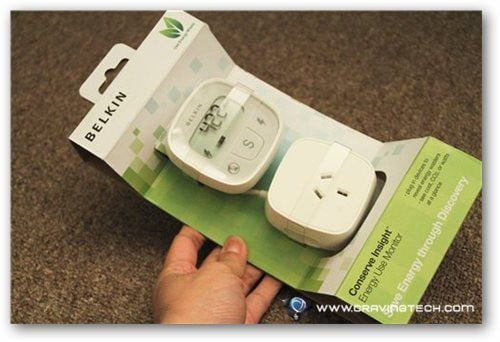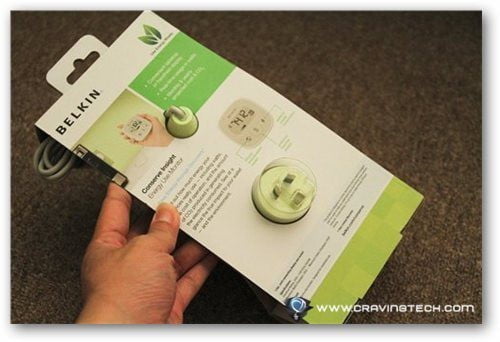 The Belkin Conserve Insight consists of 2 parts: the socket and the reading tool with a monochrome LCD.
The socket itself is fairly huge and occupies about 1 1/4 space on a power board socket but thankfully, you can fit a power plug next to it on a power board or on a wall socket despite of its size.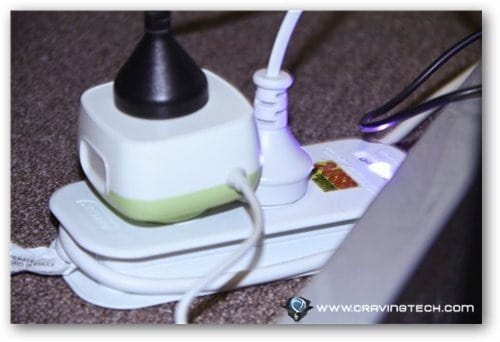 Once you plug your appliance's cable, the LCD will start to display information such as the amount of power used (in Watt). The tool will only start to process the information if the appliance uses more than 0.5 Watt (if not, it will just display 0-0.5 Watt on the LCD screen). There are 3 buttons on the reading tool to change modes of display: the carbon footprint (Earth symbol), estimate running cost (Dollar sign), and the energy consumption (Lightning Bolt) in Watts. Press the same button alternately and you can check the readings in a monthly basis or yearly.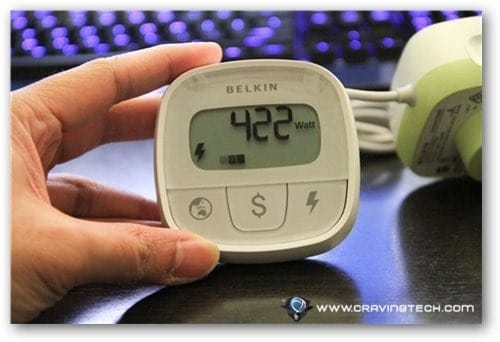 Belkin has pre-default values saved into the reading tool but you can change the values easily with a few button presses. I use the information (Energy Unit Cost per kWh) taken from my electricity bill and set the value correctly on the Belkin Conserve Insight. This way, I can see more accurately as to how much do I have to spend per month if I turn an appliance on or plugged it continuously. I changed the Energy Unit Cost per kWh default value of 0.175 to 0.18 to reflect Origin Electricity (the Utility company I use here in Australia).
Some tests that I've done with the Belkin Conserve Insight (the reading set to Month mode):
My study lamp (light bulb) will cost me $2.67 per month, emitting 13.8 kg CO2, consuming 22.5 Watt of power when turned on.
If I change the bulb with one of the Liquidleds light bulb I reviewed earlier (the Liquid globe), it will cost me just $0.63/month, emitting 3.1kg CO2, consuming 4.8 Watt of power (at the expense of a dimmer lit room).
The night lamp in our living room (we leave it on every night when we go to bed) will cost me $0.44 per month, emitting 2.2 kg CO2, consuming 7.3 Watt of power when turned on.
When it's not being turned on (just plugged), it will still cost me something: $0.19 per month, emitting 0.9 kg CO2, and consuming 0-0.5 Watt of power (as you can see here, some plugged appliances still use a bit of power!).
Dyson Multiplier fan:  will cost me $2.10 per month, emitting 10.5 kg CO2, consuming 33 Watt of power when turned on. When the fan is not used but plugged, it will still cost me $0.64 per month, emitting 0.32 kg CO2, consuming 0.6 Watt of power
Running a heater non-stop will cost me $166 per month, emitting 840 kg CO2, and consuming 1285 Watt of power!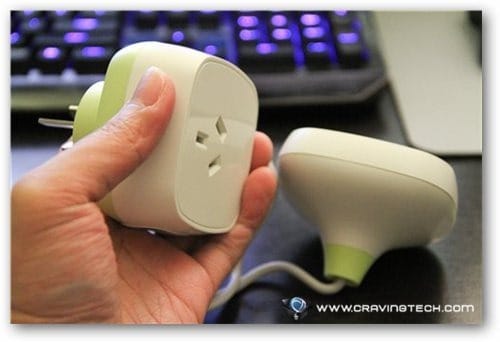 There are many more interesting tests that you can do such as plugging your microwave, toaster, electric shaver, and others to find out how much energy they are using and how much will that add up to your electricity bills when these devices are left plugged. Belkin Conserve Insight will help you decide whether you should unplug an appliance when unused or whether the cost (and effect to the environment) is negligible.
Saving a few dollars per month may not seem much but those few add up quickly. Belkin Conserve Insight helps you to care more about the environment and also the savings you can make per month (or per year).
Note: Sample provided for the review
Belkin Conserve Pack
The Belkin Conserve Valet is part of the Belkin Conserve Pack:
Belkin Conserve Insight Pros
+ Easy to use
+ Fun to use
+ Make you care about the environment
+ Identify how much more you can save
Belkin Conserve Insight Cons
– No backlighting on the LCD screen
– Plug size is kind of large