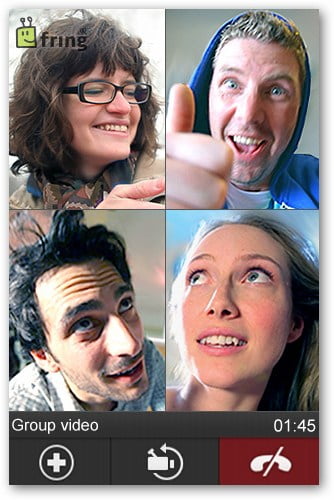 iPhone and Android users, Fring's latest version has brought 4 people into video calling for free (on 3G, 4G, or WiFi)! We've probably got bored of hearing applications that can make video calls (1 to 1) and some of us have been longing to have a good app for some video conferencing with a group of people. Well, that wish has come true as Fring updates its latest app with 4 video callers at the same time and still free!
I've hold myself not to install Fring before because I don't really have friends who have Fring installed and I rarely do a video call (except to my mom overseas). But who knows? If I can somehow push this app to a few friends of mine, we can start having some fun together when we get bored.
Or when we don't have time to meet each other for a leaders' meeting, we can fire up our Fring and have the discussions in our own house. Fring has definitely taken a next step ahead of every other video call applications out there at the moment for iOS and Android OS. Best of all, it remains free! If I'm not mistaken, Skype charges for a group video call such as this on their latest version. Fring gives you a free video calling with up to 4 people at the same time.
Watch Fring's video promo here:
iPhone users, download Fring at iTunes app store. As for Android users, download Fring at Android Market.
Source: Fring's blog post