Ever wonder how much power you have wasted for overcharging your mobile devices? Or perhaps wondering whether leaving your phone charged for the whole night would make the battery life shorter? Thanks to Belkin Conserve Valet, these thoughts go away pretty quickly.
The Belkin Conserve Valet is basically a USB charging station that can charge up to 4 devices at once (through USB slots), keep cords neat through its cable management solution, and shuts off after a period of time to conserve power (when your devices are most likely be fully charged).
Before I had the Belkin Conserve Valet, recharging my devices at night always leave a mess in my bedroom:
After: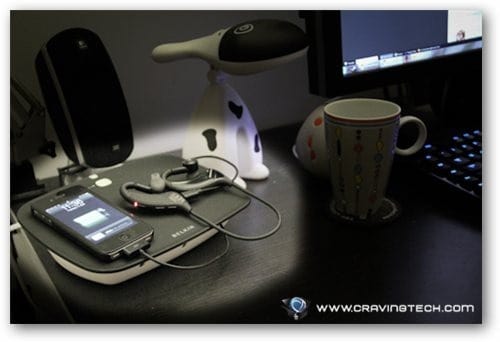 Belkin Conserve Valet Review – Packaging
Apart from the recharging station, the packaging includes a USB-to-Mini-USB and a USB-to-Micro-USB cable. It should cover some mobile devices that you have, especially if you have any Bluetooth headset devices. The cable works well on my Plantronics BackBeat 903+ and the Jabra STONE2.
Belkin Conserve Valet Review – Experience
Most devices are rechargeable via USB nowadays so the decision to provide only USB slots (rather than power sockets) on the Conserve Valet is not a bad choice. The Belkin Conserve Valet includes 4 USB slots (3 slots at the back and 1 slot at the side):
The Belkin Conserve Valet also reduces clutter by having a simple cable management solution. From the USB slots at the back of the station, you can tuck away the USB cords underneath the top panel (where you supposed to put your devices while they are being recharged).

The Belkin Conserve Valet keeps cables tidy and it also looks pretty sleek. Your bedroom will definitely look better with the Conserve Valet in it. The platform where you put your devices while being recharged is non-slippery, making sure your devices will stay in place for the whole night.
What makes the Belkin Conserve Valet unique is the power conservation. Belkin Conserve Valet uses no power at all until you hit that "Push to start" Green button to start charging your devices.

The Belkin Conserve Valet will automatically turn itself off a few seconds after you unplugged all devices from it. When devices are being recharged, the Belkin Conserve Valet will automatically turn itself off after 4 hours (by assuming that devices are normally get a full bar within 4 hours). When you recharge a new device while having another being recharged half way, the station will reset the 4-hour timer. This is done to make sure that new devices get the 4-hour charge too.
The product page is a bit misleading though (I think) because it says that the Conserve Valet "Automatically turns off after devices are fully charged". I was under the impression that the station has a "smart sensor" to know when devices are fully charged and shuts down automatically. Apparently after reading the product guide I found that it's not. It'll just turn itself off after 4 hours. I confirmed this when I tried recharging my iPad on it. Even though the iPad status says "Not recharging", the battery level still goes up after a while. When I left my iPad to be recharged at the station for the whole night, I found out the next morning that the Conserve Valet turned itself off even when the iPad was not fully recharged yet.
Belkin Conserve Valet Review Conclusion
Belkin Conserve Valet replaces up to 4 wall chargers (USB), conserves power, stylish, and reduces clutter. With all these gadgets that we have nowadays (mobile phones, Bluetooth headset, tablets, rechargeable speakers, and many more), having the Belkin Conserve Valet is definitely a plus. The Belkin Conserve Valet is a solution outside of the box – so much more than simply saying that it's a smart USB charging outlet. Definitely a must have at home if you hate the cable clutters and if you want to save a few bucks per month.
Note: Sample provided for the review
Belkin Conserve Pack
The Belkin Conserve Valet is part of the Belkin Conserve Pack:
Belkin Conserve Valet Pros
+ Sleek design, stylish
+ Supports charging up to 4 devices (USB)
+ Non-slippery surface
+ Conserve power by turning itself off on certain conditions
+ Does not use power when not being used
+ Good cable management solution
+ A couple of cables included
Belkin Conserve Valet Cons
– Shuts off in 4 hours (whether or not devices are fully charged)
– Must press a button to start charging the devices
– Can get a bit squishy if you want to charge 4 devices on the platform