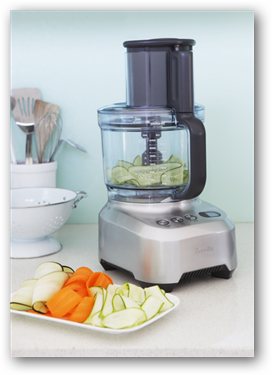 Preparing the meal's ingredients before you start cooking can be a time consuming process. Thankfully, the recently released Breville Kitchen Wizz Pro is here to help.
Whatever meal you are trying to prepare (from a simple beef soup to something more exotic), looks like Breville Kitchen Wizz Pro is there to stay.
Don't be shy to check Craving Tech's review on the Breville Automatic Tea Maker as well.
The Breville Kitchen Wizz Pro (also known as the BFP800) food processor is the ultimate machine for your home (or for your kitchen, to be exact). The Kitchen Wizz was first launched in Australia in 1978 but the latest generation has been in development for more than 3 years. The Kitchen Wizz Pro has a greater strength, stability, and also a more variety of features. It includes a 25 year induction motor warranty along with it.
The Breville Kitchen Wizz Pro slices, shreds, chips, and process food ingredients with ease so new comers or professional chefs can totally enjoy this lovely machine.
It features an Australian first 14cm wide feed chute so vegetables such as carrots or potatoes can be sliced to make lasagnes and salad platters. The slice thickness can also be controlled (over 24 thickness settings from 0.5mm to 8mm), depends on your preference or the type of food you are making.
The quad blade reduces processing time even further and processes the top and bottom layers evenly. The bowl is 2.5 litre large so you can prepare large full meals quickly (such as for making burgers or bolognaise).
The Breville Kitchen Wizz Pro is also a great tool to process herbs and spices, thanks to its mini-blade. Or, use the plastic dough blade for bread and pasta doughs, eliminating the effort out of kneading.
The packaging includes an accessory tool box to store all attachments with ease on your kitchen bench.
The Breville Kitchen Wizz Pro (BFP800) is $499.95 RRP and available now. For enquiries, please contact Breville at 1300 139 798 or visit Breville's official website.