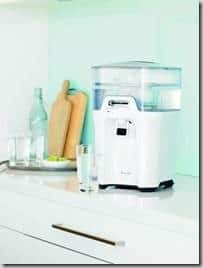 Breville Chill Control – Quench your thirst with this new Breville Chill Control – a compact appliance that delivers filtered drinking water on tap with a different set of temperatures (room temperature to cool).
According to the press release from Breville, the Breville Chill Control (BWC200) water filter can chill water in around an hour. That may take quite a while, but I'm pretty sure it depends on the temperature and the quantity of water being stored in the tank. It's too early to judge without trying it out.
The temperature selection can be adjusted with a slider. Water will be drawn from the chilled water reservoir and then combined with the ambient water to achieve the selected temperature.
It's using a replaceable Brita Maxtra filter cartridge to filter the water by reducing chlorine, copper, lead, and lime scale. There is also a nice LCD screen that displays the filter status.
It has a 7 litre capacity so there should be plenty of water for the whole household.
Breville Chill Control (BWC200) is available in March, Australia, $169.95 RRP.