Breville ikon Froojie Review – Breville ikon Froojie is a fruit juicer from Breville, capable of juicing hard fruits like apples to soft ones like bananas or strawberries. Combined with a large feed tube and diswasher-safe components, juicing is simpler and faster.
Every piece of component is well designed to make juicing fun and mess-free.
Breville ikon Froojie Review – Packaging
The packaging comes in a huge box for an extra protection against bumps: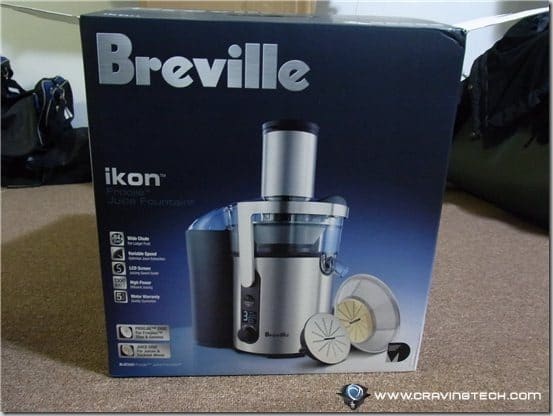 At first glance, the Breville ikon Froojie fruit juicer seems to have so many components that it looks a bit confusing to set-up at first.
Breville ikon Froojie Review – Design
The main body is of a stylish stainless steel design, with an On/Off switch button, an electronic variable speed control dial (to control the speed of the blades), and an LCD speed indicator: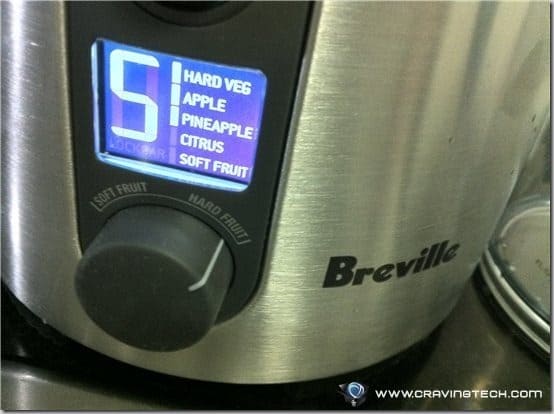 The speed goes from 1 to 5 (5 for hard fruits and vegetables). There is a speed guide in the "Instructions and recipes" handbook in case you are wondering what speed you need to use for a particular piece of fruit or vegetable to get the best results (it's also compulsory in a way, to make sure you don't damage parts of the unit).
It also comes with a cleaning brush to help you with cleaning and a custom juice nozzle in case you want the juice to go straight to a glass, instead of going to the 1.2 litre juice jug. Speaking of the jug, it comes with measurements, in-built froth separator, and even a lid opening to allow the juice to goes straight into it without leaving a mess.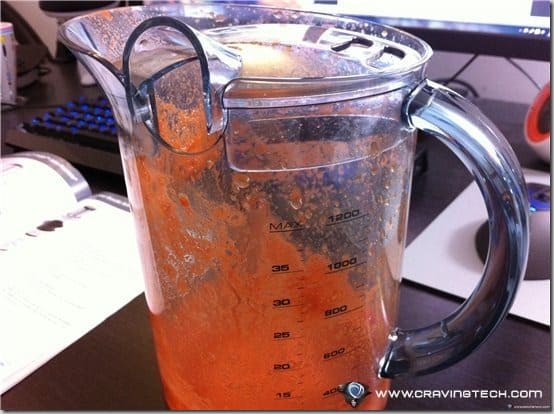 Breville ikon Froojie Review – Impressions and Juicing Experience
I want to salute whoever designed the ikon Froojie. Each component has really been well designed for ease of use, installation, and even ease of clean. It takes minimal effort to install these components (once you learn the how-to from the handbook) as each component is clearly labeled and designed to fit with one another.
To start juicing, you need to pick the right equipment, depends on whether you are juicing soft or hard fruits/vegetables. For softer fruits, you need to use the Froojie Disc and Froojie Insert. For harder fruits, you use the Juice Disc.
Set everything up before you press that power button, then start pushing the fruits and vegetables into the feed chute to see the magic happens.
You may or may not need to cut the fruits in pieces but in most cases, you don't. Apples, carrots, and a few others can just be squeezed through as a whole into the 84mm feed chute. The pulp and waste will be ejected into the 3 litre pulp container. As suggested by the handbook, you can use a bag into the pulp container to minimize washing (which I failed to read for my first experiment).
My sister didn't believe me at first (about putting that apple as a whole) until I showed her the Breville ikon Froojie official commercial video below :)
We made a Carrot and Apple juice for our first experiment. The fruits easily went to the chute. The juice started to flow straight into the jug after my sister pushed the fruit down with the pusher while the pulp and waste went into the pulp container.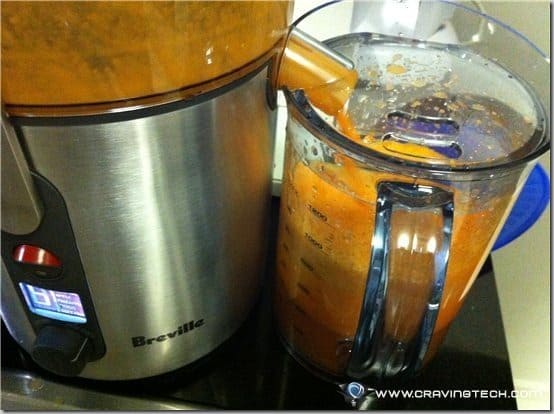 It was a smooth experience and there was no mess at all on the kitchen table! Before long, we were enjoying our first juice with the Breville ikon Froojie.
The next trial, a few days after, we went for a strawberry smoothie: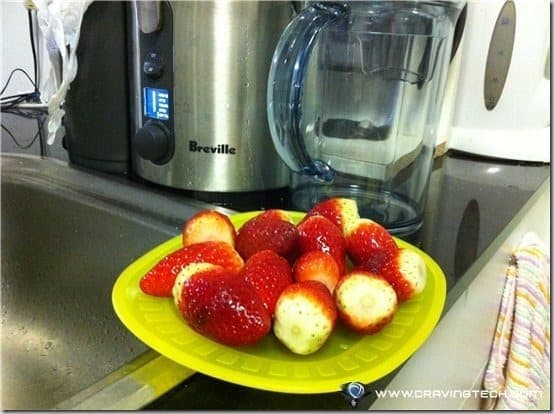 Using the Froojie Insert and Froojie Disc this time (for softer fruits), we had the same wonderful experience with the Breville juicer. We tried to chuck the ice cream into the feed chute, which failed miserably though *oops*
The handbook contains some great recipes for you to start with – combination of different juices, liquid lunches, even spirited juice like a Bloody Mary! Of course, feel free to mix your own recipe or find more exotic recipes on the web to experiment.
In the end, there are lots of components to wash (by hand) but the components themselves are fairly small in size so it's easy to wash even in a small sink environment. Or, chuck them all together in the dishwasher for an easier cleaning.
Breville ikon Froojie Review – Conclusion
Breville ikon Froojie is a well-designed fruit juicer. Every component is designed to be washable, easy-to-install, and to work together to deliver an easy and mess-free juicing experience.
The fact that you don't even need to cut some of the fruits away (like apples) is a big plus for those who don't really want to waste time during the preparation. Of course, fruits with inedible skins and harder seeds still have to be peeled and deseeded (refer to the handbook to be safe).
If you are going to wash the components by hand, it may take a while as there are a few that you need to wash. However, they are still fairly easy to clean as they don't have "tricky" surfaces to frustrate you.
You do have to refer to the handbook as to which speed you need to use for a particular fruit or vegetable and though the fruit display on the LCD screen helps, it does not display all of possible fruits and vegetables. Therefore, you may want to keep that handbook handy at all times (or if you lose it, you can always download it from Breville's website).
Thanks to Breville Automatic Tea Maker and ikon Froojie, my life can never get healthier than this!
Note: Breville ikon Froojie review unit was provided for the review
Breville ikon Froojie Review – Pros
+ Easy to clean (in pieces)
+ Easy to install
+ Pulp ejection
+ Mess-free
+ Support both hard and soft fruit/vegetables
+ Extra wide feed chute
+ Get the most juice out with different speed control
+ Stainless steel
+ Dishwasher safe
+ Love the jug's design :)
Breville ikon Froojie Review – Cons
– Occupy a lot of space
– Have to swap between the Froojie and Fruit Disc to juice different fruit hardness
Let us know and share your experience here if you have the Breville ikon Froojie too!