Google+ invite and impressions – Previously, Google+ users can share invites to non Google+ users through the Google+ Invite link. Unfortunately, Google has shut it down due to overwhelmingly popular demand (obviously). However, it seems that when a Google+ user adds you into their circle and shares a post in that circle, you can click on the link on the email to get in Google+. This happened to me earlier today and here are my Google+ impressions (not to confuse Google+ with Google+1).
Google+ impressions
Google+ is the next generation of social networking – to make connecting people on the web easier and cooler. It's pretty much a similar service like Facebook where you can add friends, share your status, photos, and do more cool stuffs on it.
With Circles, you can add friends or people you've been in contact with into a circle (or group, if you want to make it simpler). You can create multiple circles and a person can be in different circles at the same time. So for example, you can create Circles such as "My blogging friends", "Family", "Close friends", "Colleagues", etc.
You can then share your thoughts/status update (called "Stream") into specific Circles or to public. It makes more sense as you can set who are going to see that particular status easily.You can also go to specific Circles to check only the streams in that particular Circle (like Twitter's Lists).
Google+ Circle official video:
There are other areas such as Photos, to see all of the photos in your Circles, Hangouts (to have a face-to-face chat to whoever wants to hop in the fun), and Sparks (to search for a particular topic like Twitter search).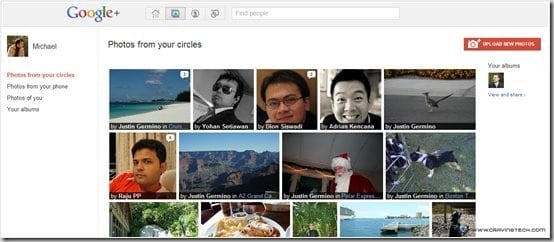 Overall, the interface is smooth and elegant. Dragging a friend in and out of a Circle is fun and creative. There are of course a few things that can be improved, such as when you try to add a friend, you cannot see his/her email address. This is fine but I was having trouble to find out which one was my friend's Gmail as Google+ displayed the same people twice (without a clear indication which one is which).
Is Google+ going to be a Facebook killer? Maybe. It all depends on how many people would want to jump from Facebook to Google+. My bet is that it will not be the case. All of my friends (well almost all of them) are on Facebook. I know most of them would not want to have to re-learn a new Social Network and the hassle of inviting all of their friends over.
Nevertheless, I try to separate my real-life personal friends with my online friends (from my blog). So I'd most likely use Google+ instead to connect with bloggers, PR people, and possibly others.
The official Google+ video, if you still don't understand what I'm talking about:
Google+ Invite
You can always register your interest at https://plus.google.com/up/start/ if you haven't done so and wait for the official Google+ invite from Google.
If you are lucky, a friend might give you a Google+ invite by adding you to their Circle and share a post in that particular circle. I can do that but I'm trying not to clutter my Google+ Circle of friends – so I'm sorry that I cannot do that Google+ invite trick.