Note: This is a guest review post written by Ron Carson
YotaPhone 2 Review – Phablets have been pretty popular in the past. Thanks to the likes of the iPhone 6 Plus and Galaxy Note 4, they has become a beloved trend. Who dares to say that an e-reader and phone combo won't work?
The first YotaPhone iteration was released with a hefty price, a peculiar shape and it felt just wrong. Russian-based Yota Devices didn't take their failure too kindly and went back to the drawing board.
They've returned with a phone that has better specs and better design. They kept the second e-ink screen so it can double as an e-book reader.
However, be prepared to empty your pockets. The YotaPhone 2 retails at $680 – that's slightly more than the 64GB iPhone 6.
Has the YotaPhone 2 found its niche with book-lovers? Find out in our YotaPhone 2 Review.
It has a great AMOLED front screen, with an ergonomic design and clever battery-saving features. Thanks to Android 5.0 Lollipop, the phone runs better than it did on launch day, and it has a much longer battery-life.
Yet, the rear-screen is mediocre – it isn't backlit whatsoever. The camera is slow and disappointing. For almost $700 you would expect a smartphone to be remarkable.
YotaPhone 2 Specs
5-inch 1080p AMOLED primary screen
7-inch 960 x 540 e-ink secondary screen
Snapdragon 800 proc
32 gigs of internal storage
8-megapixel primary camera unit
1-megapixel secondary camera unit
4G-ready
YotaPhone 2 Design
The YotaPhone 2 is entirely made out of plastic. Yet, it's reinforced by glass fibre. It does have an internal metal frame that enhances the phone's rigidity, thus making it sturdy and solid. Don't expect an HTC One M8, nor a Moto G, in terms of design.
It's way thinner than Motorola's G, but thicker than Samsung's Galaxy S5. It has a nice feel to it, and the Yota can be held comfortably in the palm of your hand. One-hand usage isn't overly complicated, an issue we found in the recently launched OnePlus 2. It's still a big 5-inch smartphone, so take it with a grain of salt. If you have petite hands, then everything seems difficult to maneuver.
It's miles-ahead of Yota's first iteration, but still not as it should be.
Corning Gorilla Glass 3 envelopes the smartphone – both the front and the back are protected. Somehow, this turns the YotaPhone 2 into a slippery little beast. It's easy to hold and grip, but be warned that it has its moments of turpitude.
Its buttons don't live up to modern-day standards. The plastic power button, which can be found on the right edge, is painstakingly fragile. The volume rocker rattles every time you try to use it because it doubles as the phone's nano-SIM tray. Buttons are in top-shape for every-day use, but for $680 you want the very best, right?
On the curved-back you can find the 4.7-inch e-nk display. It's touch sensitive and it works perfectly well, exactly like the front screen.
YotaPhone 2 Screens
The primary front AMOLED display is full HD with 442ppi pixel density. It outputs superb quality and it's excellent for browsing the web and reading e-books. It's pin-sharp, with no fuzzy pixels – even when gazing at it up-close.
Brightness is on par with any other flagship handset on the market. You won't experience any issues if you want to watch the latest Mr. Robot episode on your daily subway commute – except stranger huddling up, prepared with popcorn for an escape out of the ordinary.
Its back screen might feel like a snob addition – just buy an e-book reader, some might say. The e-ink feature is somewhat of a luxury, but its popularity is slowly rising and smartphone-manufacturers are starting to see its huge potential.
It can mirror everything the front AMOLED screen outputs. You can play video-games, watch video clips, browse the web, and, of course, comfortably read e-books.
Yet, the secondary 4.7-inch 960 x 540 EPD, electronic paper display, highlights reading books, checking messages and prolonging the phone's battery life.
Yota's rear screen is always on, thanks to its paper-like screen tech. You can customize it to display whatever. Though, the most efficient way is to add a clock and a weather app on the back of the phone. Along with all your basic phone apps – messages, e-mails and all day-to-day notifications.
Checking up your phone once in a while just to see how much time you have to spend at work drains the battery's juice – a lot!
The e-ink display comes as a knight in shining armor – that isn't cavalier with energy consumption.
Quality-wise, it clearly falls short when compared to the front AMOLED screen. Text resembles a washed out version of the original thing, and when the sky is filled just a little bit with clouds, the EPD display becomes literally unusable.
The e-ink screen is highly responsive, and tapping away a message to your beloved won't be a chore. It isn't Kindle quality, it's just decent.
I can't stress this enough. The YotaPhone 2's e-ink screen is in no shape to compete with the best e-book readers on the market. It's grainy and dark, not living to the standards of the Kindle, which has a sharp, white and backlit screen.
YotaPhone 2 Speakers
Speakers are more than decent. Watching the odd flick is highly enjoyable even without the need to use headphones. You'll witness a little bit of distortion when you pump its volume to its max setting, but nothing worth fussing over about.
While the HTC One M8's BoomSound speakers are a ton better, it surpasses the ones found in the Galaxy S5.
YotaPhone 2 Software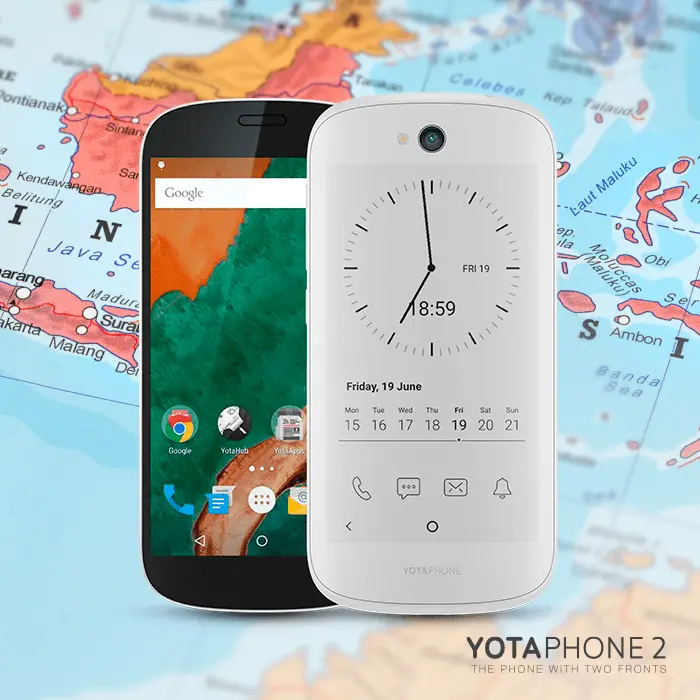 At launch, the YotaPhone 2 was capable of running only Android 4.4 Kitkat. Now, Android 5.0 Lollipop happily resides in the Yota 2. The thing is, Lollipop actually makes the phone a lot better.
It runs faster and it doesn't consume as much battery-juice as before – it changes the smartphone into a better device.
Out of the box it comes with a stock Android OS. If you plan on updating, Yota Devices notes that it has begun rolling out Google's 5.0 Android OS. Just wait patiently for your telecom provider to give it a greenlight.
If you're running low on battery, switch to the e-ink side to keep it living.
YotaEnergy expands the phone's life with about eight and a half hours when the phone is barely managing at just 15% juice. Of course, this can be accomplished only if you switch from the AMOLED primary screen to the secondary e-ink one.
YotaMirror is the phone's key feature. Regardless if you use YotaEnergy or not, you can mirror the front screen on the back. Just hold the home key in any app and three options will appear.
The ability to mirror – this will turn the front screen off and will mirror it on the rear;
YotaSnap – lets you take a quick snapshot of the screen. It saves it to the rear display;
Google – opens its search function.
Yota Devices has big plans for their e-ink display. They want to develop a whole ecosystem for it. Currently, you can use YotaReader, YotaRSS, 2048, Sudoku, Checkers and Chess.
YotaReader is the smartphone's proprietary e-book reader app. It resembles a plain, basic Kindle. You can use it to read DRM-free books. Regardless, you can still use the Kindle or Nook apps if you want to.
One big issue that can be a deal breaker is the fact that you can turn off your front screen by holding the phone in your hand. This is due to the EPD rear screen. When your fingers reside on the back of the smartphone, you can unknowingly unlock it, thus causing the main screen to switch off.
YotaPhone 2 Performance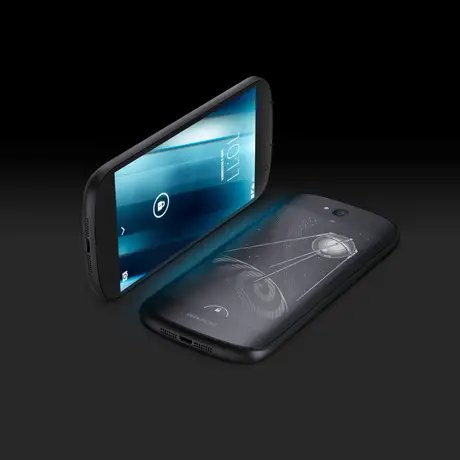 It doesn't house cutting edge hardware, but it has more than enough power. Its quad-core Snapdragon 800 proc is paired with 2 gigs of RAM. Along with Android 5.0 Lollipop, the YotaPhone 2 is a beast not to be trifled with.
It can easily run the latest apps and games. Take Asphalt 8, you won't notice any lag issues with the intense 3D driving app. However, the top of your phone will get heated up quite a lot during prolonged gaming sessions.
YotaPhone 2 Camera
Its primary rear facing camera is an 8-megapixel unit. It's, uhm, mediocre to put it lightly. Don't get me wrong. It's not terrible, but you are paying almost $700 for a camera unit that resides in the budget range.
It can output pictures with a decent amount of detail, but, in the end, it's all so disappointing. Clouds will resemble a grey or white washed out blanket. HDR makes things a little bit better, but not by much.
The front-facing secondary 2.1-megapixel camera unit is, well, what you would expect. You couldn't say it's lackluster because that would be an overstatement.
YotaPhone 2 Battery Life
It houses a 2500mAh battery that makes the e-ink display run exactly like the Duracell mechanical bunny – to infinity and beyond. Well, there are certain limits of course, but when compared to your average smartphone it's clearly the reigning King.
I've found it to last almost two days – I had to plug it to its charger right before going to sleep on my second day of intense usage.
However, gaming or watching videos will drain its battery-juice as fast as any other smartphone on the market.
YotaPhone 2 Competition and Verdict
For $700 you can find a plethora of smartphones with better innards. Yet, you won't have the e-ink display that doubles the phone's functionality. It has its own niche, but this doesn't mean that it isn't useful to those who keep to the norm.
I, for one, would go with the flag-ship killer OnePlus 2 – it costs $389, has a better camera, better screen and it runs faster. There's just one small thing that comes as a big nuisance – you need an invite to buy it.
Huawei's little sister, the Honor 6 Plus retails at $360 and it's available without being forced to play the grab-an-invite game. It has a dual 8-megapixel camera unit, a comparable screen and a 3,600mAh power unit. It can last up to two days, and it can surpass the 48 hour mark if you only use it to browse Facebook and talk with the occasional friend.
The bottom line is, if you're a book lover that doesn't want to carry his or hers Kindle around, the YotaPhone 2 proves to be a respectable alternative. It has a great battery life, but in the end, if you choose to compare its low-end camera with flag-ship handsets, you'll be highly disappointed.
Note: This guest post was written by Ron Carson. Images courtesy of YotaPhone
Ron Carson Bio
I'm a tech aficionado – that's a fancy way of saying I'm a geek.
I'm in love with gadgets and smartphones. When I'm not tearing apart devices I'm usually found in Minecraft.