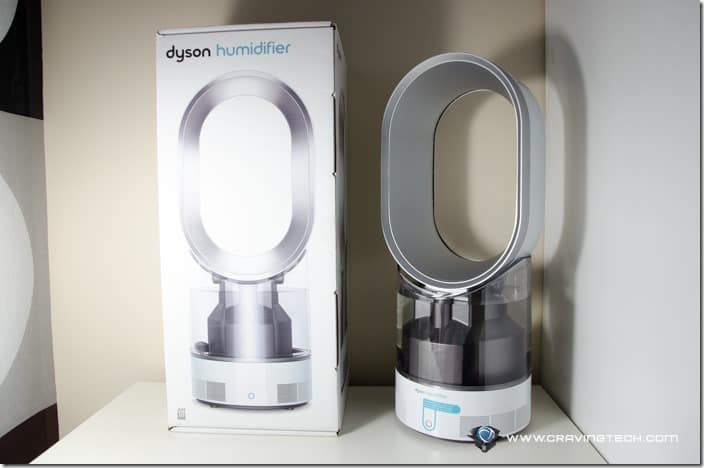 Dyson Humidifier Review (AM10) – Air humidifiers have been around for quite some time, but I assure you that when Dyson decided to invest millions of dollars to research and make one, air humidifiers will never be the same.
Dyson Humidifier takes advantage of the Dyson Air Multiplier technology to humidify air quickly, evenly, but most importantly, cleanly.
Before we talk about the Dyson Humidifier in detail, some of you may not know what a humidifier is and why you should even need one. As the name suggests, an air humidifier is used to..well, humidify air. During Winter or while you are using a heater/air conditioner, air tends to get dry which can cause respiratory discomfort, dry skin/lips, nose bleeds, and even health issues to a certain extent. Even if you live in a relatively humid country in Asia (like Indonesia), most of the time you will be staying indoor in an air conditioned room. This leads to low humidity in the air which affects your well-being whether you realise it or not. I'm obviously not a health expert so feel free to do your own research, but I did find a good article to read here at Telegraph UK about the benefits of having a humidifier.
Dyson Humidifier Review – Design & Features
At a glance, the Humidifier looks like a "fatter" version of the original Dyson Hot I reviewed a few years back (I'm currently reviewing their new Dyson Hot+Cool with JetFocus technology, so stay tuned on that). Unlike the other machines, however, the parts are detachable.
One of the detachable parts is a 3-liter tank that is big enough to run the humidifier for around 18 hours. The tank is see-through so you know exactly when to start doing the refill. A rotatable valve is used to fill the water into the tank and the tank itself is equipped with a strong handle for an easier trip after a refill.
These things may look simple, but they are very well designed and thought of. The valve seals the water in tightly, yet snaps back nicely into the unit mechanics – ready for action.
When the action starts (i.e you pressing that start button), the Dyson Humidifier will take approximately 3 minutes to sanitise the water in the tank, using a germ-killing UV light twice. Sadly, you won't be seeing a purplish hue or anything like that while this process takes place.
Every drop of water will be exposed to this UV light. This is a big deal because most humidifiers do not process the water and may end up distributing bacteria across your room to inhale.
The Dyson's UVC (UltraViolet Cleanse) technology has been proven through series of rigorous tests by Dyson to kill 99.9% bacteria in the water.

Once the sanitisation process is over (you can see the status change on the display), the Humidifier will start breaking the water down into microscopic particles that can sometimes be seen as in a mist. The mist will evenly be distributed throughout the room and accelerated with the Air Multiplier technology.
You can control the level of humidity you want and the level of power with the included remote control. On the highest humidity setting (70) with the lowest power, the mist can be seen really clearly. Warning: watching the mist is highly addictive.
The Dyson Humidifier is equipped with an intelligent thermostat and humidistat which will accurately monitor the room's temperature and humidity. This is useful when you set the unit to run in Auto mode – which will set the humidity level automatically based upon the atmosphere of the room. I did try setting it to its highest settings (70) for a few days to test, and well, it's fresh but the room feels kind of damp (that feeling when it's raining heavily outside and you open the bedroom window). In a sense, it gives a feeling of fresh and cool, but may not be liked by everyone.
For the ultimate comfort and optimum setting, just leave it to Auto, but you are of course free to experiment and set it to your own comfort.
With the remote (that you can magnetically attached to the top of the Humidifier), you can switch the Humidifier into a regular fan. Unlike the Dyson Air Multiplier fans, however, there is no option to turn oscillation on. I'm hoping that this feature can make it to the next iteration. You can also set a timer with the remote, so you can leave it on while you sleep.
There is a recommendation on the guide to clean the parts weekly and monthly with a citric acid solution. However, it's probably something that I (and most people) will be lazy to do.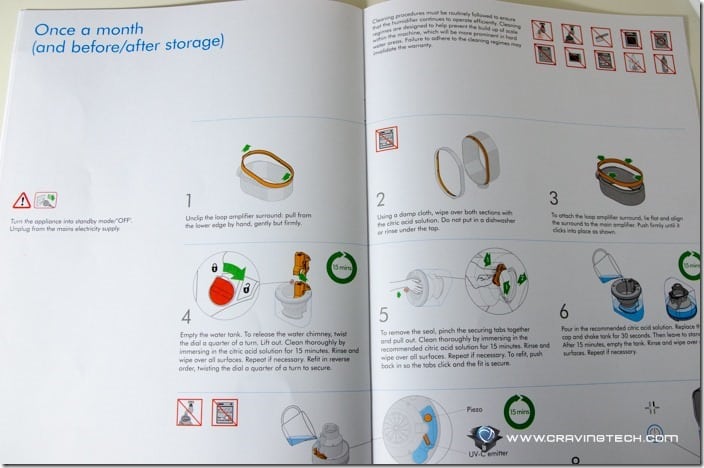 It seems that this is a precaution to prevent scales build-up from "hard water" (water that has high mineral content) in some regions of the UK and the world. According to Unilever Australia, it looks like I'm currently living in the area with soft-medium water. So..yeah, I guess I probably can't be bothered cleaning that up, just like how I never clean my Dyson's vacuum cleaners' dust filter. But I guess a dry wipe every now and then is better than nothing.
Dyson Humidifier Review Conclusion
As far as performance and design go, Dyson Humidifier does not disappoint. Sure, there are other cheaper humidifiers out there, but Dyson Humidifier is superior in every way and also approved by independent health foundations. It humidifies the air which is beneficial for your health and well-being, but most importantly, the air will be 99.9% bacteria-free. It's also totally safe for kids.
The hygienic mist is spread widely and evenly throughout the room. Its automatic setting, made possible by the built-in thermostat and humidistat, will ensure you to always have the perfect level of humidity in the room. Refilling the tank is simple and painless, and you have the power to control the humidity level and strength with the included remote. In Summer, you can also use it as a regular fan to cool you off.
My sister owns and uses a humidifier and she told me that she needed to clean it daily to ensure that it's bacteria-free. With Dyson, I will always know that I'm breathing a fresh and bacteria free air (Okay, well, 99.9% bacteria free), thanks to its Ultraviolet Cleanse technology – but you'd definitely still have to clean it regularly.
Disclosure: Sample was sponsored for the review but all opinions are 100% mine
| | |
| --- | --- |
| [AMAZONPRODUCTS asin="B00YGZFNJ8″] | |