Last night Samsung Australia announced Samsung SUHD TVs, a new range that promises a significant evolution in colour and picture quality by utilising nano-crystal technology as a benchmark for the company's home entertainment experience.
Samsung SUHD TVs come in three series: JS9500, JS9000 and JS8500 – in seven screen sizes between the models, from 55-inches to 88-inches.
The JS9500 model will feature Samsung's Chamfer bezel design, adding more depth to the TV screen, and making the TV look like a piece of art when mounted on the wall. The JS9000 model has a soft, textured Shirring design on the back, ensuring the TV maintains its stylish edge from any angle.
Samsung has worked closely with local and international content providers to ensure consumers will be able access a wide array of movies and TV shows due for release in 2015. Netflix, Presto and Stan would be some of the names included, some offering UHD content on demand, with six months bonus access to Netflix for first purchasers of 2015 TVs (for a limited time).
All of this content offering will be powered by Tizen, an open source platform that supports web standard for TV app development. Amongst other things, Tizen features a simplified one main screen tailored with recent content and recommendations. It also automatically recognises connected Samsung smartphones in which you can share content to and from.
Tizen is powered by an Octa-core processor so apps and menus load quickly and users can search, find and enjoy content swiftly.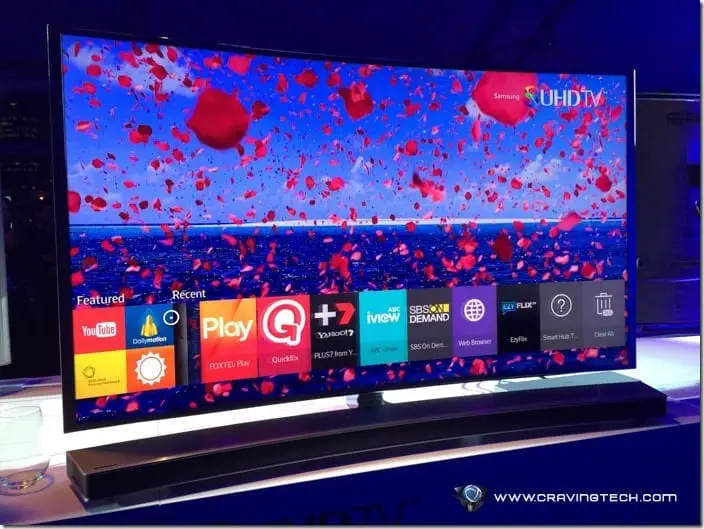 To complement their new range of TVs, Samsung also announced a new range of curved Soundbars that perfectly match the aesthetic look and feel of its new TVs. The flagship Series 8 8501 Curved Soundbar offers 9.1 channel speakers with a central speaker and additional side speakers situated at both ends, delivering a wide sense of surround-sound for the lounge room.
Additionally, a new range of audio speakers, the WAM7500/6500 (also dubbed as Multiroom 360 speaker), offer a major evolution in the design and technology. Unlike some conventional Samsung speakers that project sound in a single direction, the WAM7500/6500 are designed to deliver an omnidirectional sound experience. This approach to audio came through the utilisation of 'Ring Radiator' technology which directs sound flow from the speakers on a 360-degree plane.
The range will made available in Australia later in 2015.
The speakers work with the new Multiroom 2.0 application which features a revamped design and user interface that makes sharing music throughout the home even easier. This app is now available on all compatible tablets and smartphones.
The pricings and availabilities for their new TV ranges are as follows:
Samsung Series 9 JS9500 88-inch SUHD TV – RRP $24,999, available June 2015
Samsung Series 9 JS9500 78-inch SUHD TV – RRP $19,999, available April 2015
Samsung Series 9 JS9500 65-inch SUHD TV – RRP $9,999, available April 2015
Samsung Series 9 JS9000 65-inch SUHD TV – RRP $7,999, available April 2015
Samsung Series 9 JS9000 55-inch SUHD TV – RRP $5,999, available April 2015
Samsung Series 8 JS8000 65-inch SUHD TV – RRP $6,999, available April 2015
Samsung Series 8 JS8000 55-inch SUHD TV – RRP $4,999, available April 2015