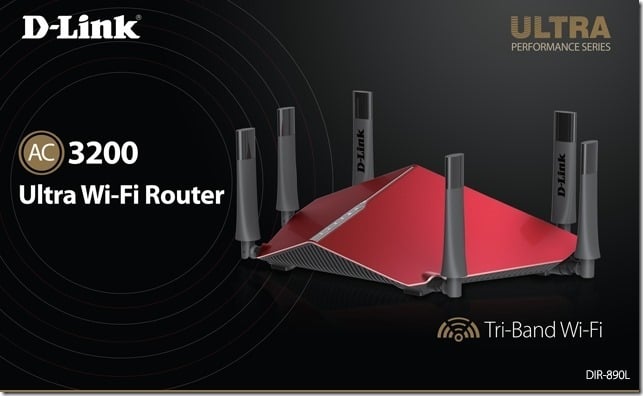 D-Link DIR-890L Review (AC3200 Router) – This 'ladybug-alike' router from D-Link is not just huge, it's definitely the largest router I've ever touched in my whole life. It also looks like it's ready to fly (literally). Size and joke aside, the new D-Link router is definitely a beast – inside out.
With the launch of Netflix in Australia, there are already reports of Australia's infrastructure not being able to cope with the surge of bandwidth consumption. To those who are lucky enough to have access to the high-speed NBN or other fiber solutions, there is another bottleneck that you need to consider at home. Can your wireless router handle the traffic?
At the moment, I have 9 devices (owned by 3 people) connected simultaneously to my wireless network at home:
3 smartphones
1 tablet
2 TVs with Google Chromecast plugged to each one of them
3 computers (1 desktop and 2 laptops)
You can imagine the bandwidth needed to manage and transfer wireless data continuously at my home. Yours is probably worse (if you have a family of 2 or 3 kids). We often watch 2 Netflix movies in HD resolution at the same time (my sister and her husband watching in the living room, and myself inside my own bedroom) which requires fast wireless transfer speed. Not to mention we all have mobile devices and laptops. Thankfully, D-Link's new router delivers performance and stability to this situation without fail.
D-Link DIR-890L Review – Packaging
D-Link DIR-890L Review – Design & Features
The DIR-890L is powered by 1Ghz Dual Core Processor and Tri-Band Wi-Fi technology. For a more detailed explanation on Tri-Band Wi-Fi technology and its benefits, you can read a blog post by D-Link, but basically it gives you an extra wireless channel to avoid wireless traffic congestion.
The DIR-890L AC3200 itself provides:
a 2.4GHz band offering speeds up to 600Mbps
2x 5GHz bands, offering speeds up to 1300Mbps each
Normally, when you own a dual-band wireless router like the D-Link VIPER and connect a new device to your home Wi-Fi, you'll have to pick on a frequency band to connect to (2.4GHz or 5GHz). However, the D-Link DIR-890L features the Smart Connect technology which detects and connects your device to an optimum Wi-Fi band automatically. This ensures that your device will always connect to the band that gives you the best performance at that moment in time. This also means that you will only see 1 SSID (your Wi-Fi name), instead of 3 different ones. It's simplistic and smart.
The other thing that this beast router offers is signal strength. Those 6 high-gain antennas, coupled with an Advanced AC SmartBeam Technology boost the wireless signal like there is no tomorrow to any parts of your home.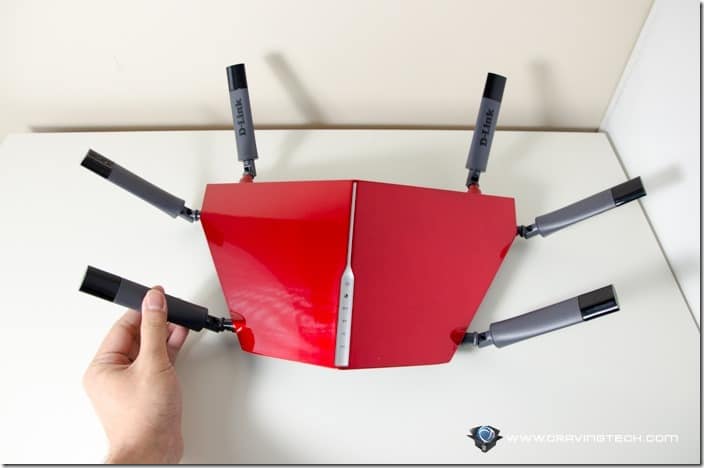 During my tests with the D-Link DIR-890L hooked up at my wireless home network for more than a couple of weeks, I never had any occasion where I had to restart it (except when I make some changes to its settings). The router is that stable. It works well with my TPG FTTB (Fiber-To-The-Building) connection, hooked to a Huawei modem.
You'll also be able to plug 2 external USB drives to the router (with a USB 3.0 support) for media and document sharing around the house/office. They require literally zero setup which is great for those who don't know what a NAS (Network Attached Storage) is or how to type in an I.P address to set things up.
These goodies come at a price, though. The router is huge, and I mean, huge. Compared to the most recent Belkin routers I reviewed, this is simply the biggest of them all. It barely fits my rack (where I normally place my modem/router) but its strikingly cool design and features are worth the space.
D-Link DIR-890L Review Conclusion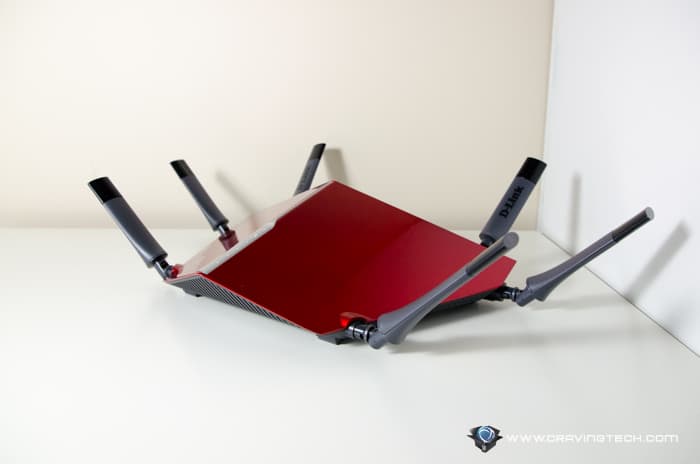 This "Ladybug" router from D-Link is not just strikingly cool-looking and huge. It also offers huge performance boost through its Tri-Band technology with Smart Connect and Advanced AC SmartBeam, huge signal and range boost, huge network stability, and huge awesomeness.
Thanks to TPG's FTTB (which gives me 90Mbps/35Mbps download/upload speed) and the D-Link's DIR-890L, we can pretty much enjoy everything to the fullest in the wireless world: Streaming Netflix HD movies simultaneously without any lag, plus other network activities comfortably.
If you want the best of the best wireless router for your connected home (+Netflix ready), this is it.
Disclosure: Sample was sponsored for the review, but all opinions are 100% mine
[AMAZONPRODUCTS asin="B00PVD81MK"]