CORSAIR NIGHTSWORD Review – CORSAIR NIGHTSWORD RGB gaming mouse is one of the most comfortable and accurate mice that I've ever used in the past few years.
Within my first game of Overwatch from Blizzard using the mouse, I immediately fell in love to the shape, the feel, and most importantly, the optical sensor (which is a custom PixArt PMW3391 sensor).
But before reaching the conclusion, let's talk about the design and features of Corsair's new mouse.
CORSAIR NIGHTSWORD RGB Review – Packaging
The mouse comes with a smart tuneable weight system, offering 120 different weight and balance configurations. The whole weight can be adjusted between 119g and 141g (so no, it's not a "below-100-grams-mouse" unfortunately).
I personally like my mouse to be as light as possible (I'm a fingertip gamer and often lift my mouse up when playing), so I didn't end up using the weights at all.
However, if you are a palm grip gamer or like to have a bit of weight on your mouse, you can fine tune the NIGHTSWORD RGB to perfection!
CORSAIR NIGHTSWORD RGB Review – Design & Features
The mouse is definitely designed for right-handed gamers, which means if you are right handed, you are in for a treat. Its contour is perfect for my hand and I personally love the thumb rest area.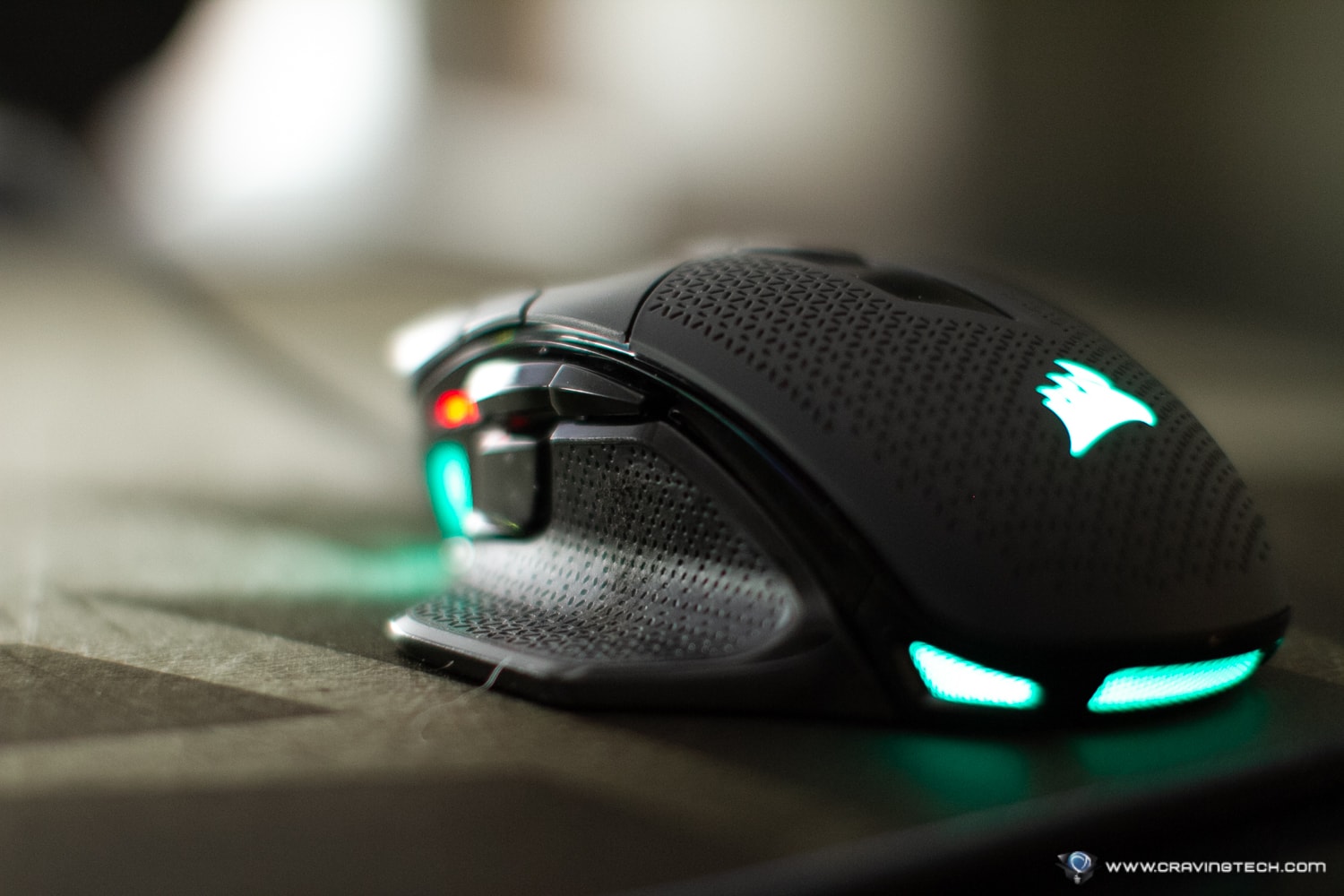 The materials are made from hard plastic but there are rubbery grips on the areas where your skin touches the mouse. As a result, the CORSAIR NIGHTSWORD RGB offers an excellent grip. I believe the many, tiny holes on the rubber surface are not there just for the looks either, but most likely for air circulation so you don't get sweaty palms. Still have to wait for Australian Summer to test this out though.
The mouse looks really good overall, with a mix of different lighting zones around the mouse – adding aesthetics around your desk. The colours, of course, can be changed through Corsair's iCUE software, among other things.
The mouse has many buttons – more than I need, but if you like using macros, switch between different profiles, utilising a mouse's side buttons and a sniper button, you're in heaven. There's definitely no shortage of buttons here. It is advertised as an FPS/MOBA gaming mouse, so more buttons are definitely welcomed.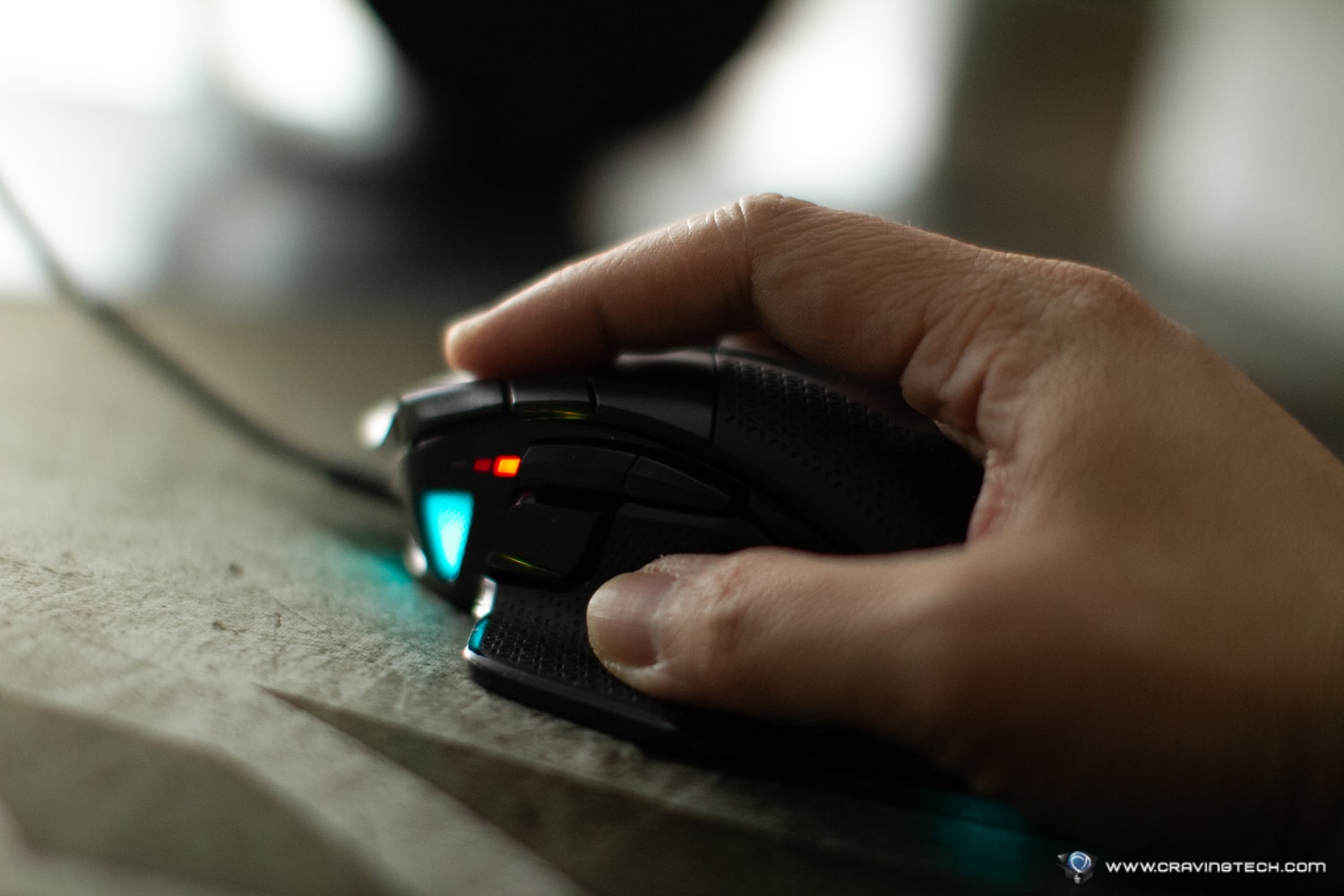 However, I find that the two buttons on the Left Mouse button are too accessible in a way that I often accidentally pressed the lower one while playing. On the Default software profile, it's mapped to lowering the mouse's DPI so I had a few frustrating moments when the DPI got switched in the middle of a frantic battle. Thankfully, you can remap it to something else or even disable it, so shouldn't have more complaints about that anymore.
CORSAIR NIGHTSWORD RGB Review – Gaming Experience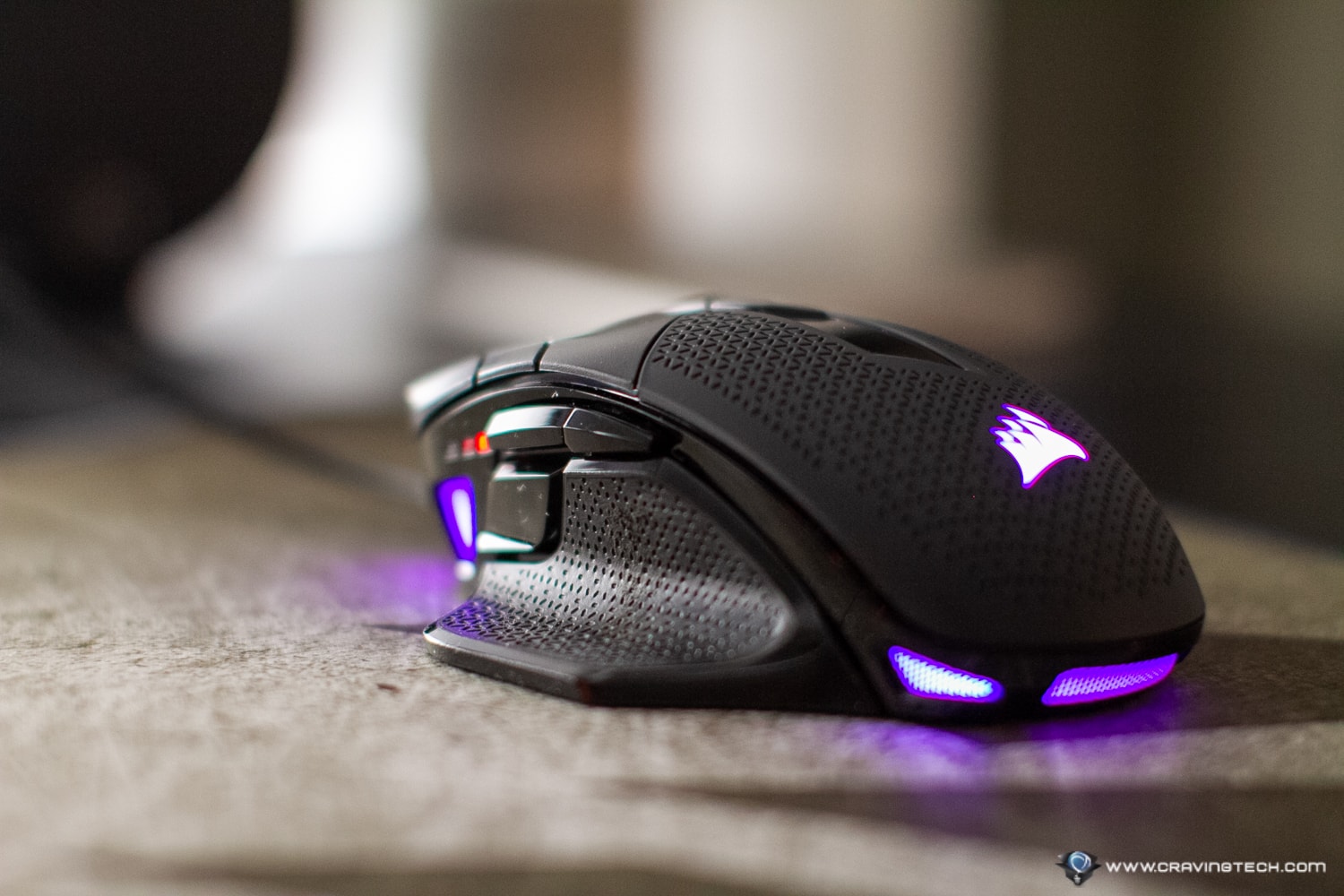 One thing for sure, the custom Pixart PMW3391 optical sensor (400 IPS, 18,000 DPI) totally rocks. I was quite surprised to see how good its tracking & accuracy is, as I managed to get good shots after shots while playing as McCree in Overwatch (I'm playing with 2300 DPI and 1.1 in-game sensitivity).
Aim tracking with the mouse is effortless and non-jumpy. And when I need to do a quick, flick shot, the sensor keeps up pretty well with my frantic movements from left to right. The mouse is currently gliding on the CORSAIR MM350 Premium Anti-Fray Cloth Gaming Mouse Pad – Extended XL and paired up with CORSAIR K70 RGB MK.2 LOW PROFILE mechanical gaming keyboard.
Here are some Play of the Game videos from Overwatch while using the CORSAIR NIGHTSWORD RGB. I purposely use McCree because he's a hero that requires high precision aiming:
Current Overbuff stats – after playing two weeks with the mouse:
CORSAIR NIGHTSWORD RGB Review – Conclusion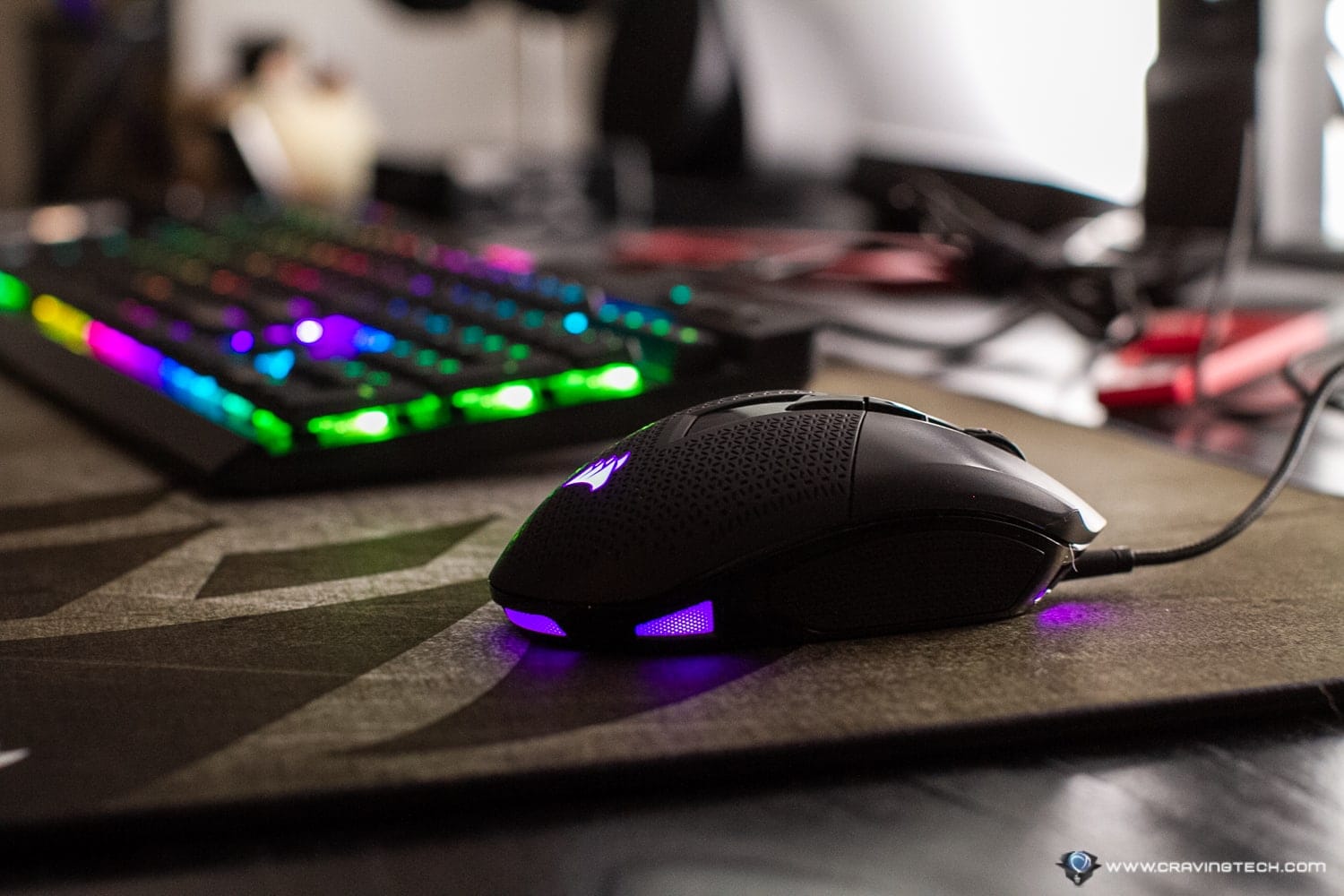 CORSAIR NIGHTSWORD RGB is an accurate, comfortable gaming mouse that can be fully tuned to your preference with more than a hundred of weight and balance configurations.
It has a nice contour shape with unibody feel, a comfortable thumb rest area, rubbery materials for tighter grip, more buttons, and a good weight balance distribution (i.e it doesn't feel off when you glide or lift the mouse up and down).
CORSAIR NIGHTSWORD RGB mouse sensor is remarkable, offering high degree of precision in online, competitive, first person shooter games.
CORSAIR NIGHTSWORD RGB is available now in Australia with a price around AU$119 RRP, which is a good value if you are looking for a wired, gaming mouse with great performance. It's also available at Amazon U.S.
Disclosure: CORSAIR NIGHTSWORD RGB Review sample was supplied for reviewing but all opinions are mine and not paid
CORSAIR NIGHTSWORD RGB Gaming Mouse Review