WD Black SN750 (with heatsink) Review – I was quite astonished with last year's WD Black NVMe SSD, which was the fastest NVMe SSD I've ever used and reviewed back then. With a 3,400MB/s read and 2,800MB/s write speed, you were truly getting what you paid for.
It's clear that the updated firmware controller and 3D NAND pushed the product forward and now, WD Black has made a comeback with the WD Black SN750, delivering even more top level performance for gaming.
There is also an option to opt for a built-in heatsink to ensure consistent, sustained performance throughout your gaming sessions.
WD Black SN750 Review – Packaging & Unboxing
WD Black SN750 Review – Design & Features
The WD Black SN750 supports up to 2TB in capacity which is perfect to be used as a gaming drive. With modern games taking up a lot of space these days, there is now always room for another game in the drive without having to uninstall anything.
The review unit I have here is the 1TB WD Black SN750, which actually has the fastest sequential read speed compared to the other capacity variants. We'll get back soon with performance and benchmarking comparisons, but I just want to say that the heatsink looks really cool and matches the "gamer" or "hardware enthusiast" tag for this product.
WD Black SN750 looks great inside my Intel Skylake Gaming PC, which has a gaming, red theme to it.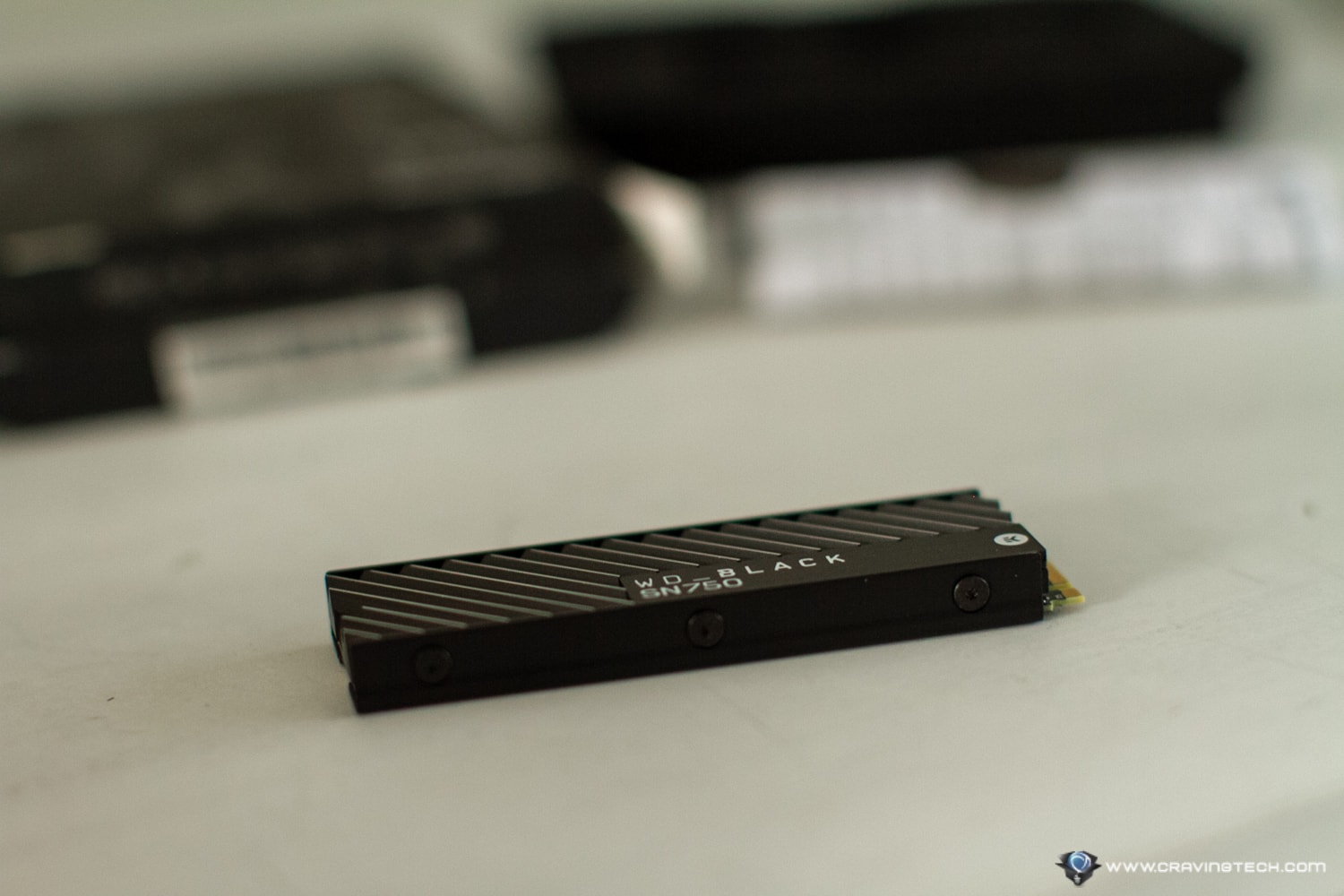 The heatsink covers the whole unit – which does make it bulkier and thicker. Compared to the previous iteration of WD Black from last year (i.e a standard NVMe M.2 with no heatsink), the size difference is like night and day.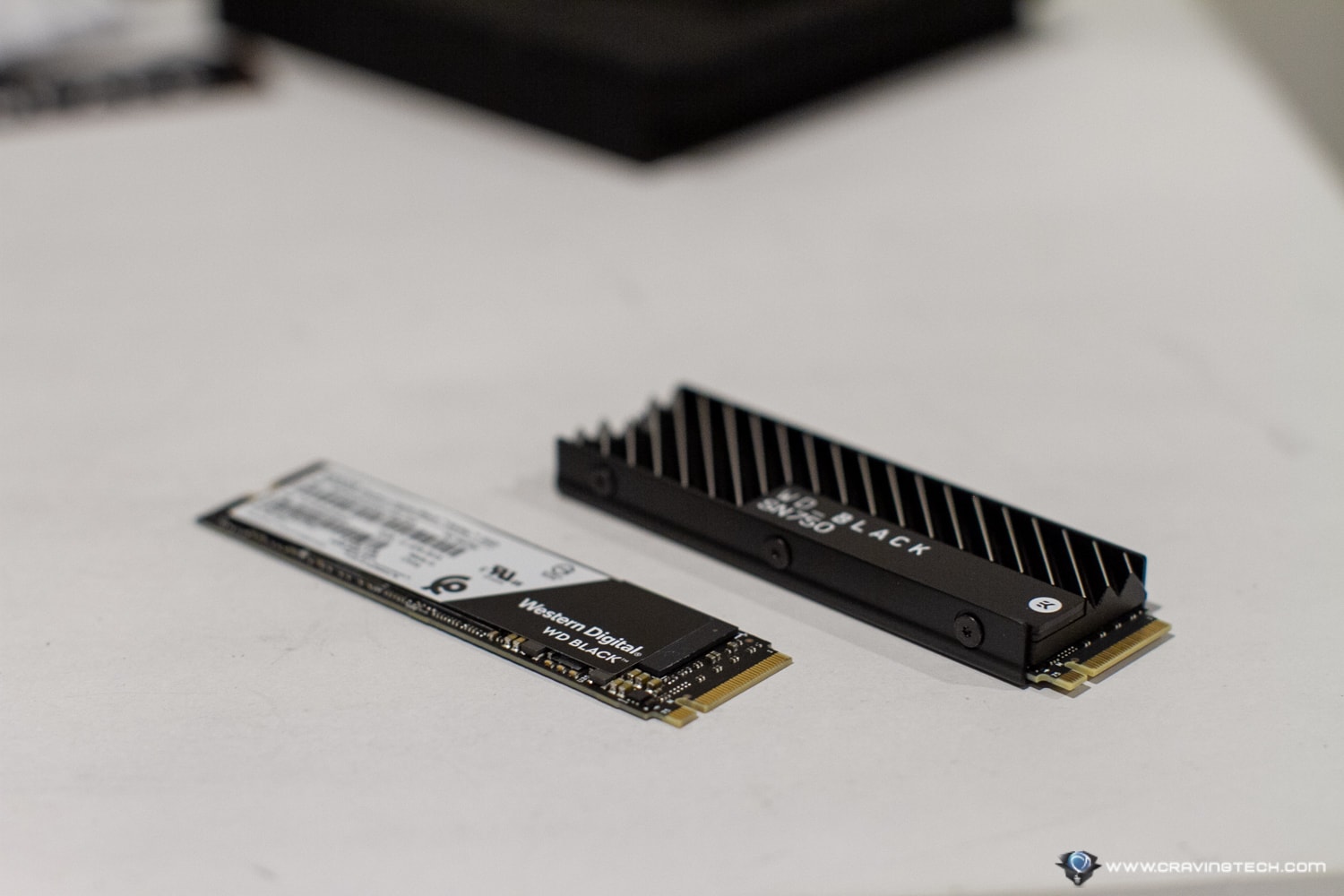 But size doesn't matter here thankfully. It plugs like a traditional NVMe M.2 SSD and even when I have my Intel PCIe SSD storage above my motherboard's NVMe slot, the heatsink does not interfere at all. However, please do check your motherboard M.2 slot to see if the SN750 with heatsink can fit in there nicely.
The 1TB WD Black SN750 has a 3,470MB/s read and 3,000MB/s write speed written in its technical specifications, but using CrystalDisk 7 benchmarking software, I can confirm that it is as fast as WD claims (if not faster):
In comparisons to the other NVMe SSDs I've reviewed and used here at Craving Tech, the WD Black SN750 comes on top in terms of its sequential reading speed:
The WD Black SN750 definitely has the best reading speed, even higher than the Seagate FireCuda 510. It's actually interesting to see how the previous WD Black actually has a faster write speed compared to the SN750.
However, as a gaming drive (which is what it's advertised on), reading speed has a much greater impact because you spend more time reading map files and textures. For open world games like Fallout 4 for example, big maps loading happens quite frequently. Or for challenging games where you have to load your saved games quite often, you'll be surprised to see how fast the WD Black SN750 is. Less time loading, more time for gaming!
Sometimes you also have an advantage in online games where you can get into the hero selection screen faster, or when you do not experience any stuttering while in game (due to a disk read).
There is also a "gaming mode" which you can enable through the WD Black SSD Dashboard software installed on your PC. This disables the low power mode which is triggered when the drive's been idle for too long. It's recommended to get the heatsink model if you want to turn this mode on, just in case.
WD Black SN750 Review Conclusion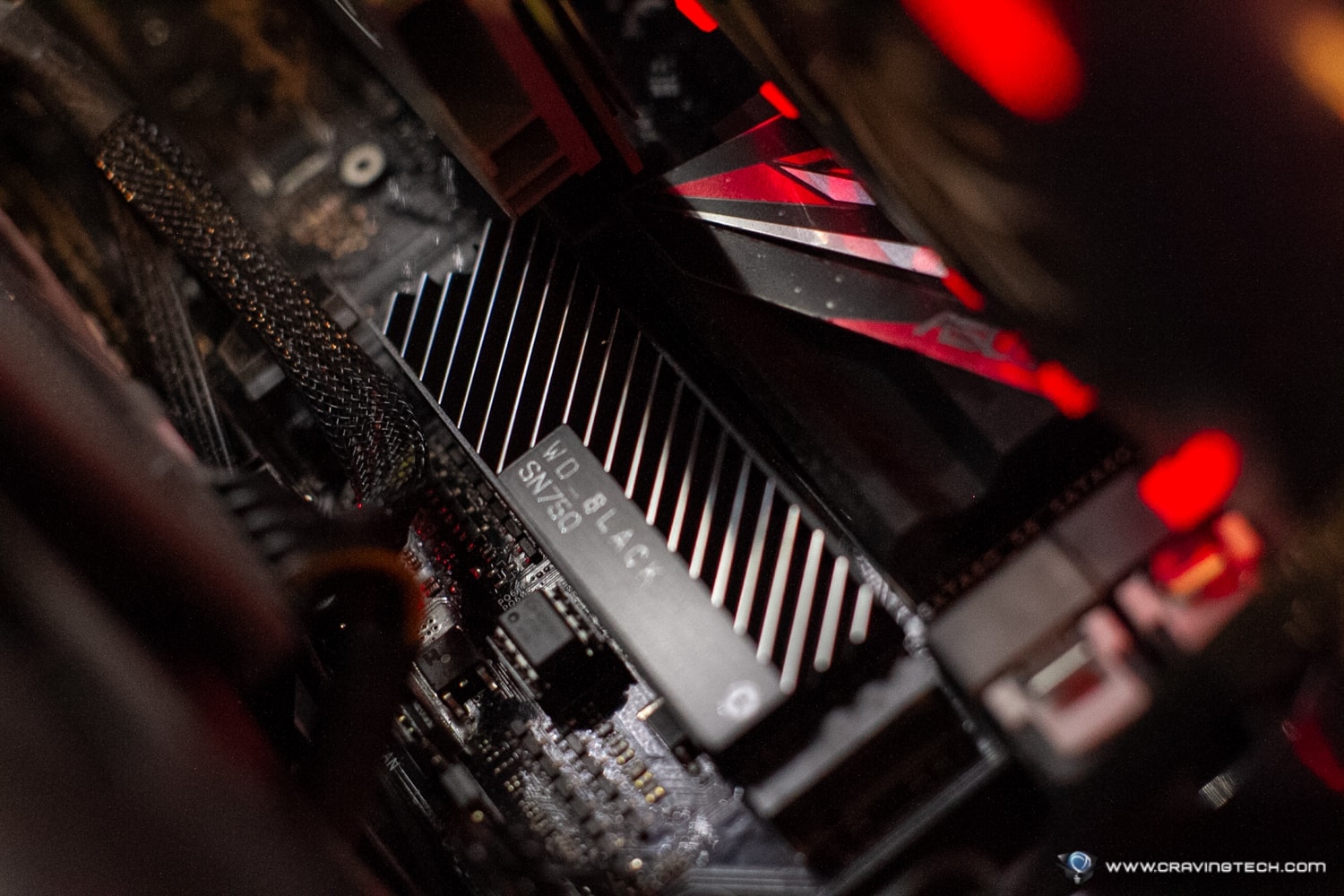 WD Black SN750 truly delivers top tier performance especially for gamers or hardware enthusiasts who are looking to make their PC as fast as it possibly can. It is truly a beast drive!
With the heatsink option, hardcore gamers would feel more secure knowing that the drive will not fail and can sustain its top performance even when you game for hours. This is also the first time I've ever seen an NVMe M.2 with heatsink and proper thermal management.
For hardcore gamers and PC enthusiasts doing intense workloads, WD Black SN750 with heatsink option is an easy, must have. No disk throttling due to overheating for sure.
The WD Black SN750 1TB retails for around AU$329 in Australia, and AU$389 with the heatsink. Also available at Amazon.
Disclosure: WD Black SN750 review sample was supplied for reviewing but all opinions are mine and not paid
WD Black SN750 Review
Summary
Fast, awesome gaming drive from WD. Very fast and reliable
Pros
Fast read and write speed!
Heatsink option, perfect for high performance PCs