HyperX Cloud Alpha S Review – HyperX gaming headsets are usually my recommended headsets to those looking for a good gaming headset without having to pay too much.
Those who don't need RGB lighting or other premium features, for example, and just want a gaming headset with good sound and comfort, should be really happy with the HyperX Cloud Alpha S.
HyperX Cloud Alpha S Review – Packaging & Unboxing
HyperX includes both leather and foam ear pads – which means you can change the ear pads based on your preference or seasons in the year. For example, you might not want to wear leather pads in Summer as it may get too warm on your ears. Despite of this, I'm finding it alright wearing the leather ones even when our Study area gets too hot.
HyperX Cloud Alpha S Review – Design & Features
It has a good looking design, with a mixed of hard plastic and aluminium materials that hold all the pieces together. A metallic blue theme is present in this model, compared to their usual Grey or Red like the HyperX Cloud Flight.
The ear pads are comfortable and the headset also feels quite light – like most HyperX gaming headsets I've used and reviewed in the past. The aluminium frame makes the headset tough and durable.
Its microphone is detachable and there's a 3.5mm port so you can use the Cloud Alpha S with your smartphone (assuming it supports 3.5mm audio connection), or other gaming platforms.
HyperX Cloud Alpha S comes with a USB Gaming Mixer which offers 7.1 surround audio, mute/unmute the microphone, controls its volume, and also the ability to adjust between game and chat audio. You can take the mixer out and plug the 3.5mm cable to be used elsewhere.
The cable has a good length because I have my PC below the desk and I plug the headset on my front USB port. It's not long enough to be plugged into the back USB port though. The mixer can be clipped into your shirt but if you don't, it's located close enough to the ground that it will not drag your head down too much while you wear the headset. I still however, prefer where the mixer is designed to sit on the desk like the SteelSeries Arctis Pro + GameDAC as I never clip anything while I game on the desk.
There is a Bass adjustment slider on the ear cup though I personally prefer having a volume rocker or dial here. I regularly change my volume based on my activities on the desktop and use that more often than adjusting the Bass.
While it's good to have a 7.1 surround support for games such as Left 4 Dead, I usually set it to Stereo as it works best in Overwatch with in-game Dolby Atmos. I'm also not a fond of the sound coming from the mixer when the virtual surround sound is on.
That brings us to the next section, how does the headset perform in games?
HyperX Cloud Alpha S Review – Gaming Experience
The headset handles a lot of sound well and I don't have any complaints when I use the headset for watching videos and listening to music either. It doesn't struggle or break apart at louder volume and most importantly, perform well in game.
Audio positioning is the key to winning in online, competitive, first person shooter games like Counter Strike or Overwatch. I played Overwatch almost every night with the HyperX Cloud Alpha S and there were many occasions where I saved the team – just from listening alone.
In one match, our team was holding the payload well and I noticed from the team roster that the enemy had switched to a Reaper, which could be devastating to our backline. As a DPS (McCree), I could hear the enemy's Reaper teleporting above our position. I held my Flashbang's skill and patiently awaited the Reaper to make a drop on our support. Each time he did that, I stunned and killed him within seconds. This happened 2-3 times that he decided to switch to another hero.
On the other occasion, the enemy sniper, Widowmaker, kept moving between the map and one of our teammates asked "Where's the enemy sniper?". While it's so obvious to me based on the visual red line and by hearing where the shot was coming from with the Cloud Alpha S, it looks like our teammate needed the information.
And lastly, I could stop the enemy's Soldier 76 boosted by Mercy from flanking us based on sound alone. In this Play of the Game clip below at 00:06-00:07 seconds, I could clearly hear shots coming from a Soldier 76, along with his exact position. I reacted quickly by turning around, finishing their main healer pocketing him, and himself.
If you don't wear a good gaming headset with good audio positioning, you'd never realise all these things and in Overwatch, audio is key in winning the battlefield, as much as skills.
HyperX Cloud Alpha S Review Conclusion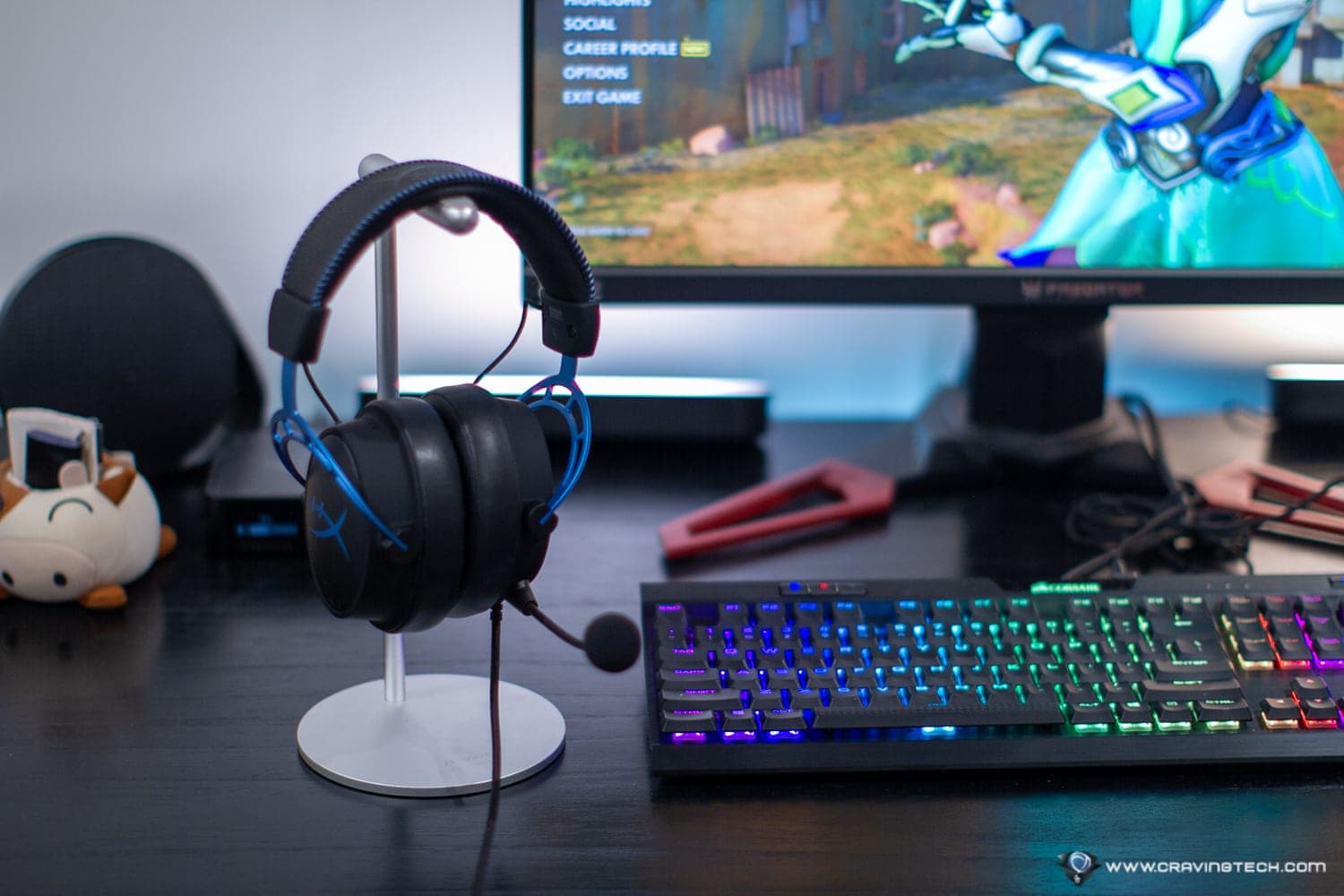 HyperX Cloud Alpha S is a solid, wired gaming headset with good audio quality for gaming and entertainment purposes. It's made with a solid construction, yet keeping the headset lightweight and comfortable during hours of my gaming sessions.
It supports both USB and 3.5mm connection for different gaming & audio devices, which makes it a great value if you don't have a separate headset for each yet. With a detachable microphone design, you can use the headset as a regular headphone for music listening.
For gaming, HyperX Cloud Alpha S is comfortable to wear for hours of gaming and its audio positioning gives you the crucial information about the battlefield, and will be a deciding factor between a win and a loss.
HyperX Cloud Alpha S is currently sold for AU$229 RRP and available at retailers around Australia.
Disclosure: HyperX Cloud Alpha S review unit was supplied for reviewing but all opinions are mine and not paid
HyperX Cloud Alpha S Review
Summary
A solid, wired gaming headset with good audio quality for gaming and entertainment purposes