Evapolar evaCHILL Review – We have a double-storey house with built-in refrigerated cooling (with two zones). At times during Summer when it gets too hot (especially upstairs), we would turn the cooling on to cool the house down.
While it cools the entire floor effectively, it is also costly at the same time. Turning the refrigerated cooling on normally uses around 5-6kWh which can cost us a couple of dollars per hour. And most of the time, we just want something to cool us down while we sleep or sit in front of the computer (and not the entire floor!).
The evaCHILL from Evapolar is the perfect solution here. Evapolar evaCHILL is like a mini, personal air conditioner that you can carry anywhere with you around the house and cool the air around you.
Evapolar evaCHILL Review – Packaging & Unboxing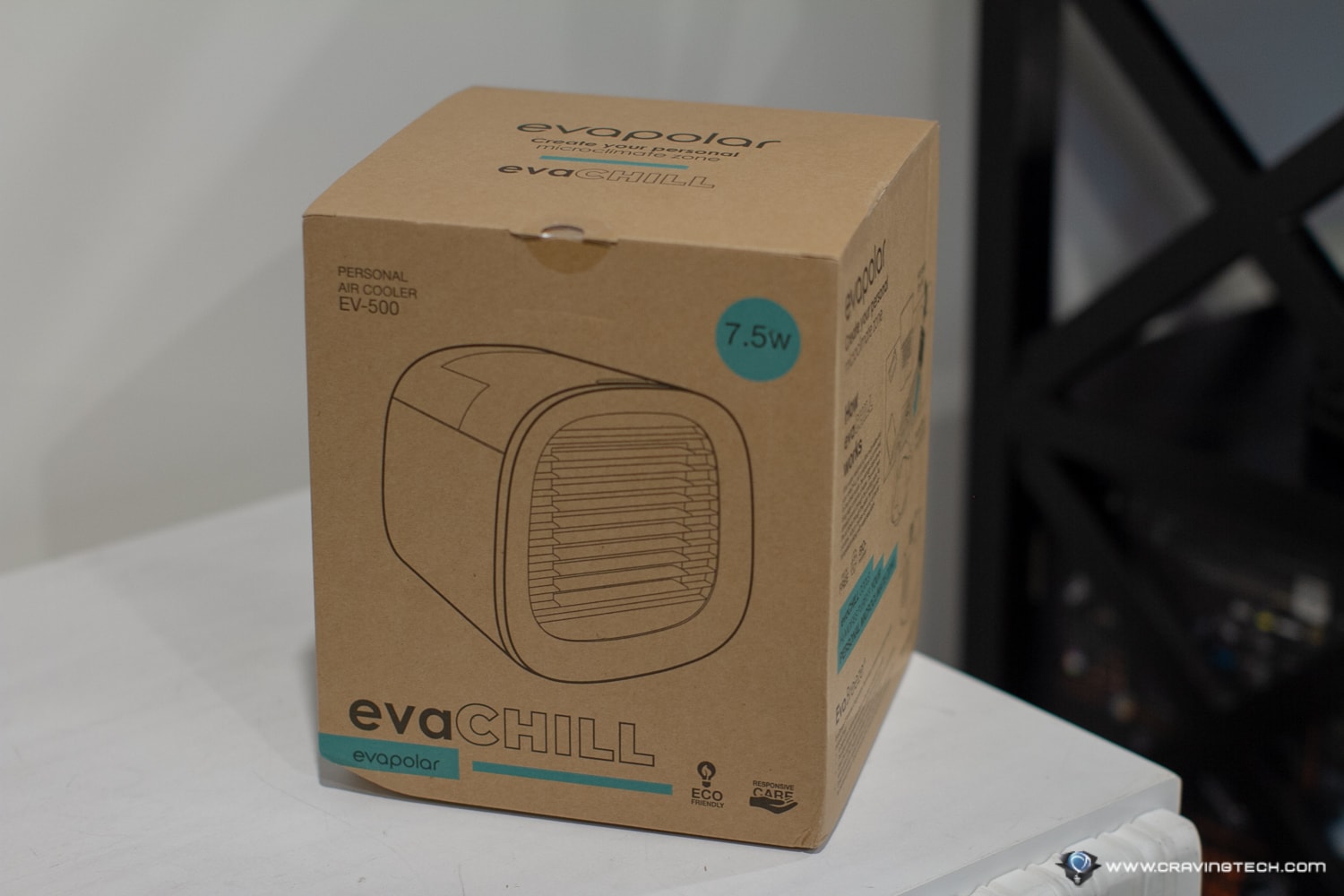 The evaCHILL is as simple as it gets. Apart from the unit and its cable, there is nothing else – which makes it easy to carry around.
Evapolar evaCHILL Review – Design & Features
Evapolar evaCHILL is a compact, personal air conditioner which makes use of evaporative cooling technology (we actually almost installed evaporative cooling when we built our house). It has a cartridge with cooling pads inside which will absorb water, which you have to fill through its water tank. Once the air circulates through the pads, the water evaporates which cools the air down.
With the help of a built-in fan, the cooler air will be blown to you (or around you). It only has one button to turn the evaCHILL on, and cycle through different fan speeds at the same time. Due to the size of the unit, Evapolar says the evaCHILL is effective to cool the air down across an area of around 4 square meter.
Filling the water tank can be a challenge as it depends on how shallow your sink is and the type of water tap you have. I can fill it directly with our kitchen tap, but I have to use an iron water cup using our bathroom tap.
The process is super simple though: fill the water tank with water, plug the evaCHILL in, and press the button to start (and adjust the fan speed accordingly). The evaCHILL can even be plugged to your computer (or laptop!) as it uses a USB connection. It can also be plugged to a powerboard with USB ports, or even a power bank (assuming it can output 5V/2A).
The same button can also be used to turn its soothing, blue lights on by pressing and holding it for a couple of seconds. You might not want to use it when you are sleeping, but looks great elsewhere.
Evapolar evaCHILL Personal Experience
So how good is evaCHILL? Surprisingly very good! I wasn't sure at first when I saw that the unit is powered via USB. Normally, any gadgets powered this way do not have enough power to make a difference. To my surprise, evaCHILL performs really well – most likely due to it using USB Type-C which can draw 100 Watts of power.
We had a straight, hot week here in Melbourne last week and it was perfect timing to test the evaCHILL. Our main bedroom and study upstairs are always hot during Summer or whenever we have an "above 30-degree" day.
Using the evaCHILL, I could get a more comfortable sleep, and also while playing games on my desktop PC. It feels like using a fan, but with cooler air. In fact, I could feel the cold when I had the fan speed at high and the fan blewing air straight at me.
I wouldn't say the evaCHILL can cool down the entire room, no no. Not at this size. However, it does cool the air surrounding me (which includes myself) and it is often more than enough to give you comfort during a dry, hot weather.
On a couple of nights, I turned the evaCHILL on for the whole night and while I could still feel the sweat and heat where my body touches the mattress, the constant, cooler air refreshed me throughout the night and I could get a good, nice sleep in hot weather.
Maintenance wise, there might be a need to replace its cartridge some time in the future but we are not sure how long before you have to. The cartridge itself costs AU$49 which can be an expensive maintenance in the long run if you use it very often.
Evapolar evaCHILL Review Conclusion
Evapolar evaCHILL is a blessing for the Spring and Summer season. With its portability and ease of use, I have moved it around the house many times to cool myself down. I really like how easy it is to use evaCHILL and that it's flexible enough that I can plug it to my desktop PC USB slot, a powerboard with USB slots next to my bed, or even a powerbank.
Playing games on your desktop? Working with your laptop? Sleeping on the bed? Having a chat on the Alfresco? evaCHILL portability makes it easy to have a comfortable, cooler air wherever you are. Just fill it with water and press a button, that simple.
Sure, compared to our 5,000Wh refrigerated cooling, evaChill's 100Wh power is nothing. But evaCHILL does the job pretty well to make you comfortable for hours with just a fraction of the energy cost!
You do have to direct the air to you like a fan to get the most out of evaCHILL – and there are a few fan settings to choose from. It's not designed to cool the entire room down, but can give you the comfort you need with a cool, breeze of air.
Evapolar evaCHILL can be purchased at AU$149 RRP but you can use CTECH10 coupon code to get a 10% OFF discount during checkout! Feel free to share the coupon around. If you are looking for a more powerful, colder unit, make sure to check our review on the Evapolar evaSMART as well.
Disclosure: Evapolar evaCHILL review sample was supplied for reviewing but all opinions are mine and not paid
Evapolar evaCHILL Revew
Summary
Evapolar evaCHILL is a blessing for the Spring and Summer season