Evapolar evaSMART Review – The evaSMART was actually released before the evaCHILL but I think of it as the "flagship model" with more premium features like connectivity, smart functions, and more cooling power.
At its core, the evaSMART is a personal air conditioner that can cool you down just by using 10 Watts of power. I tested it during the Melbourne Spring/Summer and while we haven't had many hot days yet, I managed to properly use it during the 39 degrees day here in Melbourne last week.
And I was quite astonished by the result.
Packaging & Unboxing
Design & Features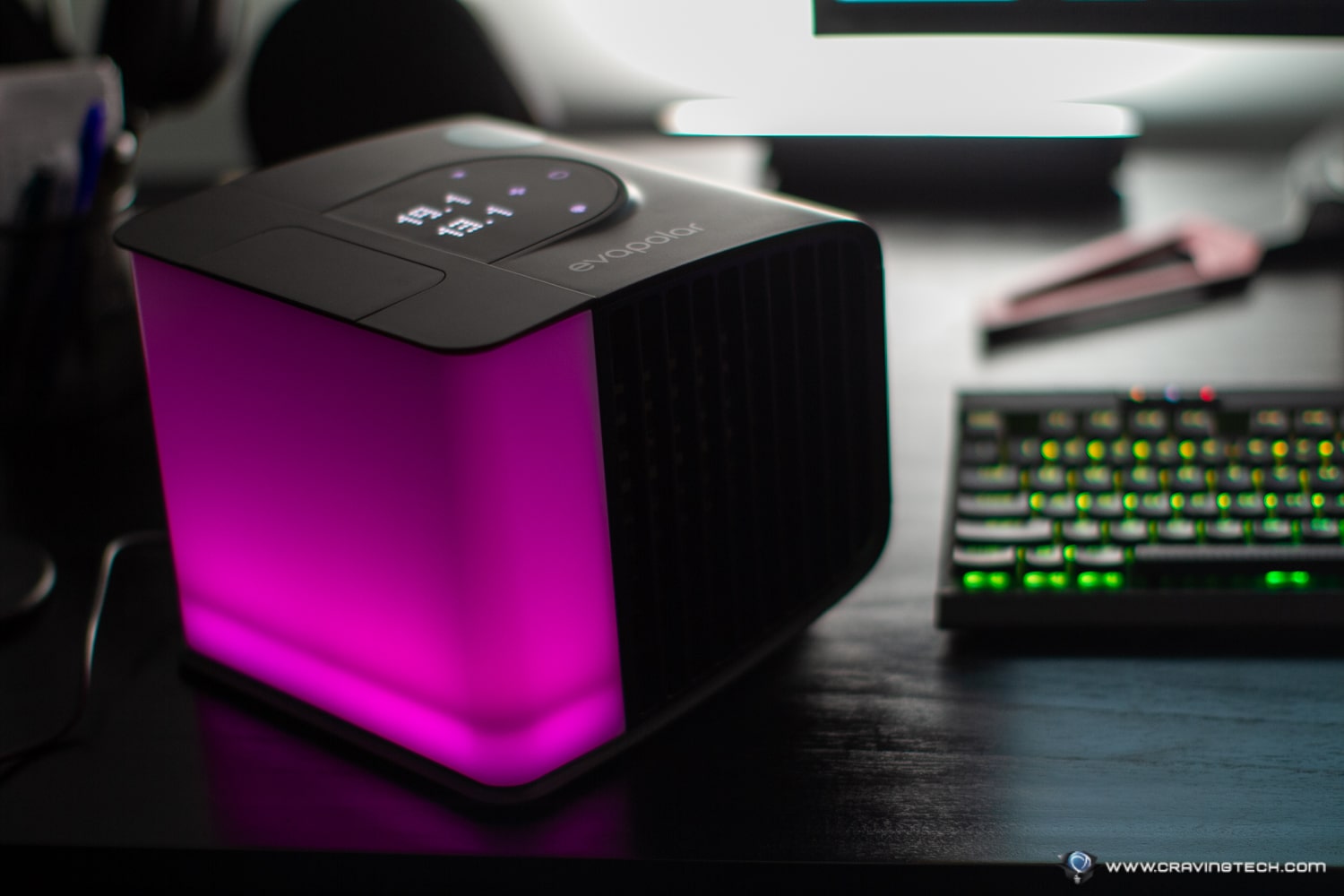 When I first turned the evaSMART on, I could only feel air blowing right through me like having a fan on. I was disappointed. However, after waiting for a few minutes, I started to feel the cold air blowing! My disappointment quickly turned into a relief, and then astonishment afterwards. I wasn't expecting the evaSMART to be this good.
I've used the evaCHILL and quite happy with its performance, however, the evaSMART is definitely on a different league. The air feels much colder and it covers a larger area.
Evapolar products like evaSMART cools the air by evaporating water, similar to the evaporative cooling unit you might have at home – but at a much smaller scale. The evaSMART is actually also a humidier and air purifier in one – which is pretty cool.
The evaporative cooling effect, according to Evapolar, can drop the air temperature by up to 15 degrees and it certainly feels that way. On that 39 degrees day, we did have a late cool change back to 22 degrees, but our main bedroom upstairs still kept all that heat.
I had an option to turn our refrigerated cooling on which will cool the whole floor down, but at an expensive cost (around 5-7kWh, or a few dollars per hour). So I took the Evapolar evaSMART for a test.
I turned it on the whole night, accompanying me to sleep. While it didn't really change the room temperature, I managed to get a really good sleep because of the cool breeze blowing right at me. In the morning, there were still some water left, thanks to the big water tank.
Unlike the evaCHILL, the water tank can be detached so you can just bring it to your sink to refill the water in.
The evaSMART has touch controls on top of the unit where you can change some settings like the fan power, brightness, etc. The airflow directions can also be adjusted by moving a physical trigger on the side of the device.
It shows the temperature of the incoming air and also the cooled air coming out of it. Most of the time, you probably don't need to care about this but it's a nice statistics nevertheless. But you'll also be notified when you need to refill more water, or when the cartridge inside the unit needs to be replaced. Yes, the evaSMART cartridge itself needs to be replaced at some point which can be costly if you use it frequently (for AU$59). It'd probably be cheaper than having to turn your reverse split cooling system, but I'm not sure how often it needs to be replaced.
With the help of Evapolar Mobile App, you can access its smart functionalities which includes Alexa support. You can also turn the machine on and off with the app, change the illumination colour, and more.
It's perfectly fine not to install the app to use Evapolar evaSMART (I had a few troubles trying to . You simply plug it in and turn it on. That simple. It's powered by USB too so you can hook the device to your laptop, or even a portable battery charger.
Evapolar evaSMART Review Conclusion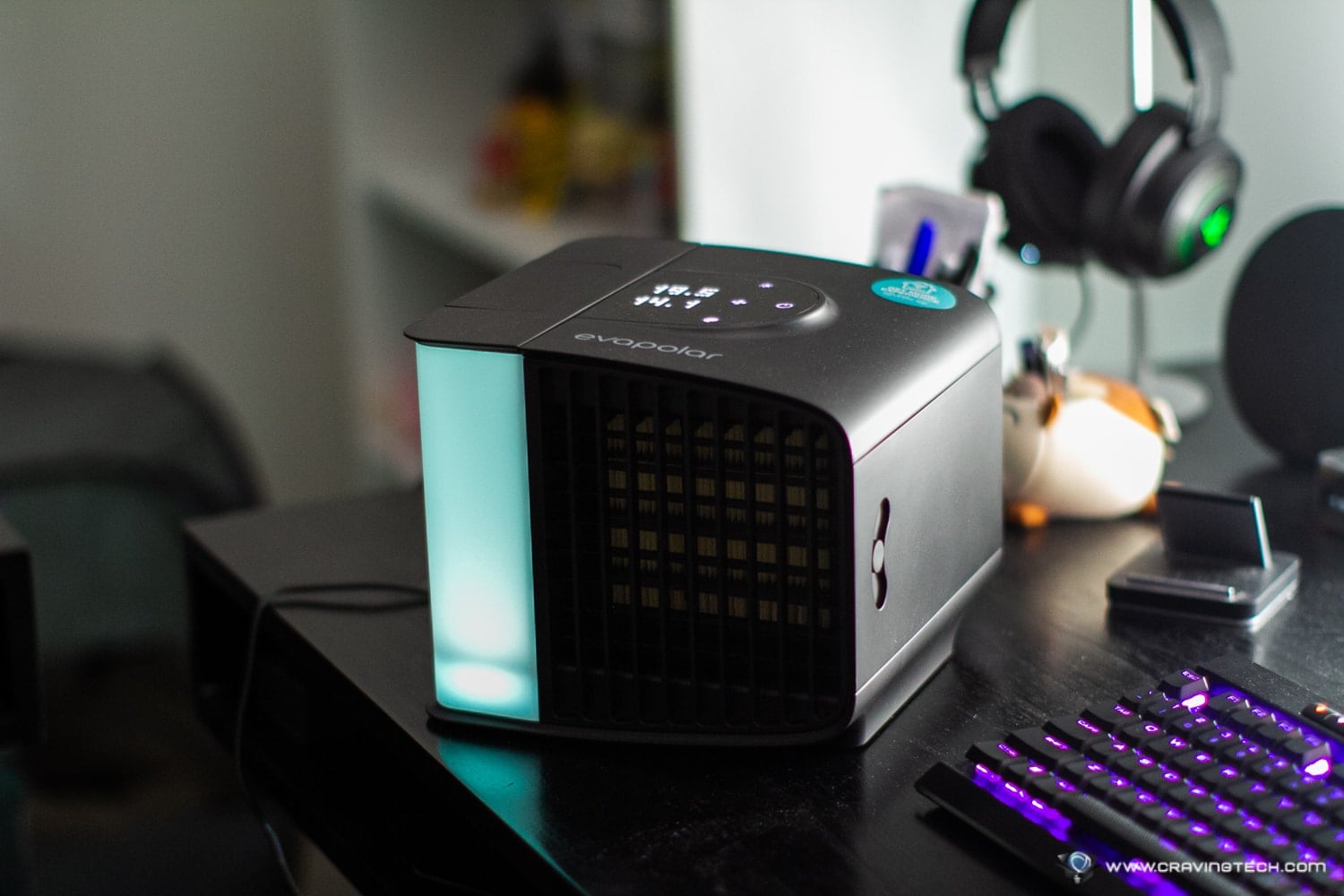 Evapolar evaSMART is literally a breeze of fresh, cool air during the hot days. It is portable and I often carry it back and forth between my Study and Bedroom. While I'm playing games on the PC, it sits on the desk and when I'm sleeping, it sits on my bedside table.
While it doesn't cool the whole room down, evaSMART manages to blow a cold air (5-15 degrees cooler than the room temperature) and brings the needed comfort during the hot days.
Trying to set it up to connect to the device's Wi-Fi and my home's Wi-Fi required a few tries and setup was a bit flaky. Thankfully, you don't really need to set it up if you don't want to, unless you want to be able to turn the device from your phone or change the illumination colour.
Evapolar evaSMART can be purchased for AU$359 but there's a Black Friday deal going on where you can get 30% OFF over at Evapolar website.
Disclosure: Evapolar evaSMART review sample was supplied for reviewing but all opinions are mine and not paid
Evapolar evaSMART Review
Summary
A portable, cooling solution for home that can save you a lot from running electricity cost
Pros
Cool design
Portable, easy to carry around (plug to USB)
Can really cool you down drammatically
Can adjust the fan speed, among other things
Cons
Replacement cartridge is quite expensive
Wi-Fi set up is quite flaky, but you don't really need the smart controls anyway