Panasonic Portable nanoe X Generator (F-GPT01M) Review – A portable air purifier is not a new concept and you can find numerous devices even on eBay. However, they are not powered by the nanoe X advanced technology which has been around for some time. nanoe X is Panasonic's advanced air purification system that also exists inside their air conditioners that actively inhibit bacteria, viruses, moulds, allergens, pollen, and hazardous substances both on surfaces and in the air.
Imagine having that tech within the palm of your hands and that you can carry anywhere (weighs around 400 grams). This is made possible with Panasonic's latest nanoe X Generator Air Purifier. It's literally a personal air purifying device capable of purifying air within 3 cubic metres.
It looks like a Coffee Cup Tumbler which certainly has its own unique style and will not attract too much of attention. It's designed for personal use on a desk, in a small office, or even while you are driving in a car (or ride a cab).
The nanoe X emission outlet is located on the top, along with the control panel where you can turn the device on and off with just the press of a button. There is a removable air filter to trap dirt and dust going into the machineries within – including the USB-C port for powering the device up.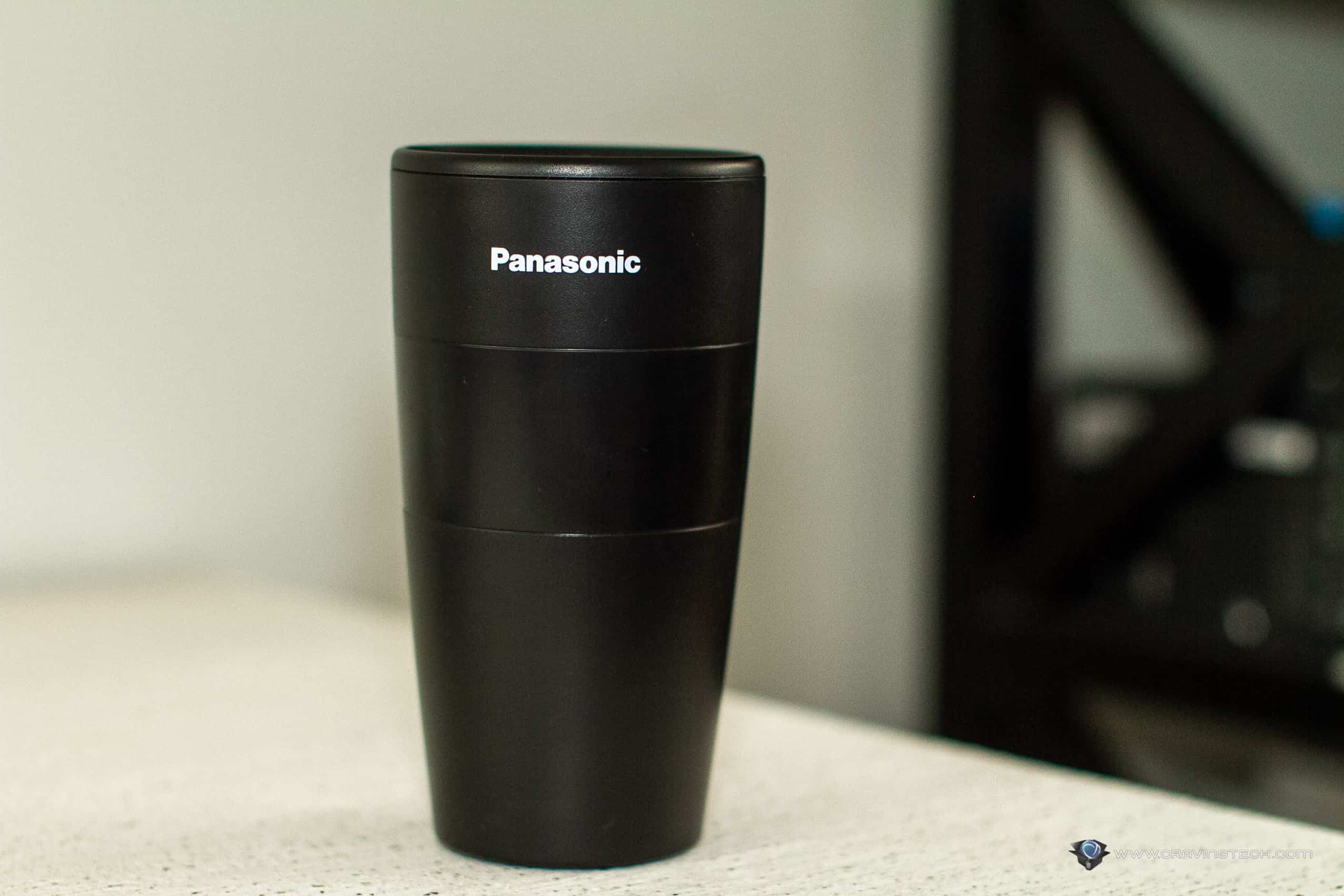 Since it's powered by USB, you can simply plug the Panasonic Portable nanoe X Generator into any USB-powered slot on your laptop, desktop, cars, power boards, or adapters. You can even plug it into a portable power bank, so you can get clean air literally anywhere.
So this all sounds good, but what does the nanoe X technology offer? According to Panasonic, "nanoe™X are tiny, nano-sized electrostatic water particles that contain ions and Hydroxyl radicals. These Hydroxyl radicals within the nanoe™X react to hydrogen (H) contained in pollen, bacteria, viruses, and odour compounds, altering their molecules and inhibiting them. The Hydroxyl radicals then return to air as water (H?0)."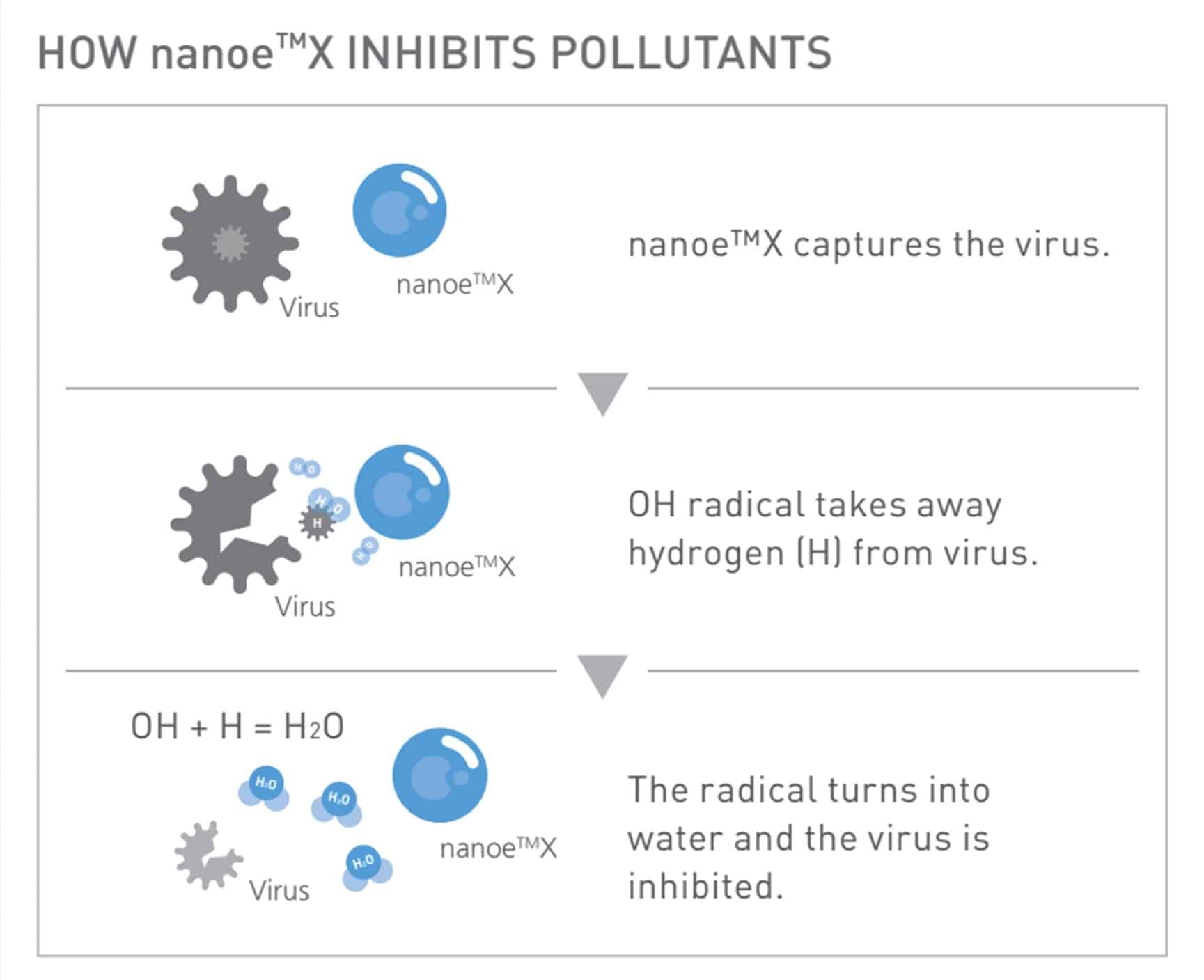 The device generates/releases 4.8 trillion nanoe particles per second which will then attach to pollutants and other molecules, binding them together and return them as water molecules. You can read more about the technology here but it has been approved by National Asthma Council Australia with more than 140 independent lab tests being done. The technology itself is backed by 25 years of research and development.
The other benefits include deodorising unwanted smells (garbage smells, coffee smells, etc) as the nanoe X captures odour particles and then decomposes + removes them. Panasonic also claims that the particles hydrate skin and hair (in comparison to using devices without the nanoe X technology).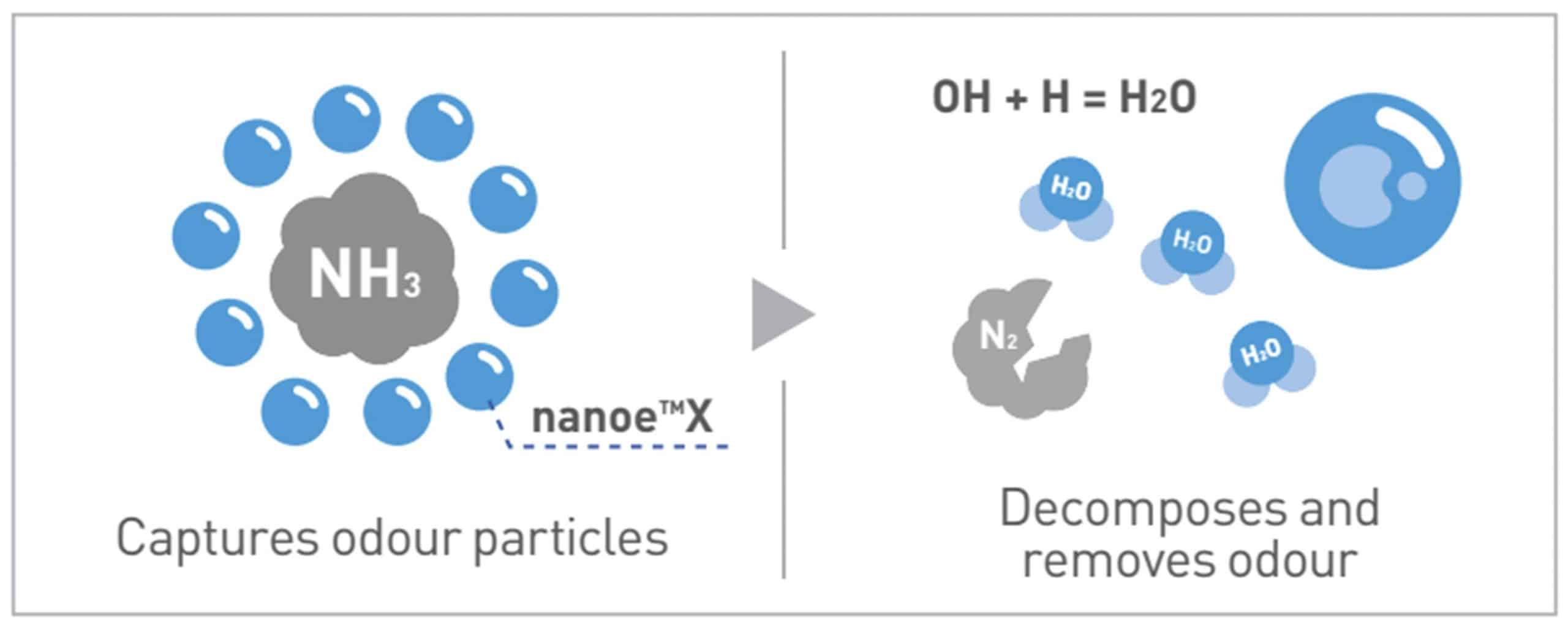 All it takes is just a button press to turn the device on. You'll see a blue ring light on the top and a humming noise coming from the device itself.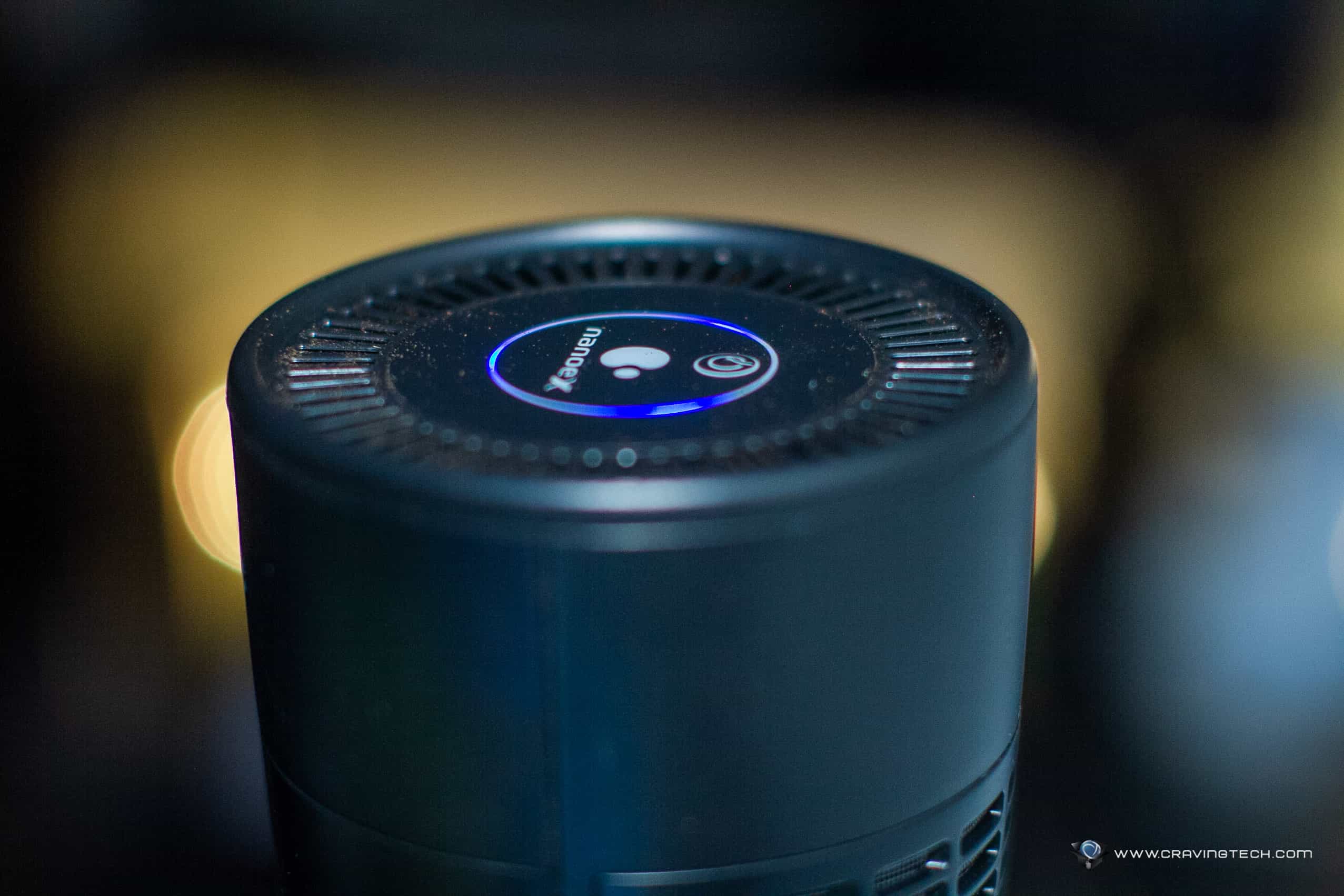 I wouldn't say that it's dead quiet (the noise is around 34 decibels) – but this depends on the environment you are in. Simply said, it sounds like a humming PC (with fans running) and may or may not be distracting to some. If you turn it on in a centralised/ventilated office or in a cafe, you probably won't hear it.
Panasonic Portable nanoe X Generator Review Conclusion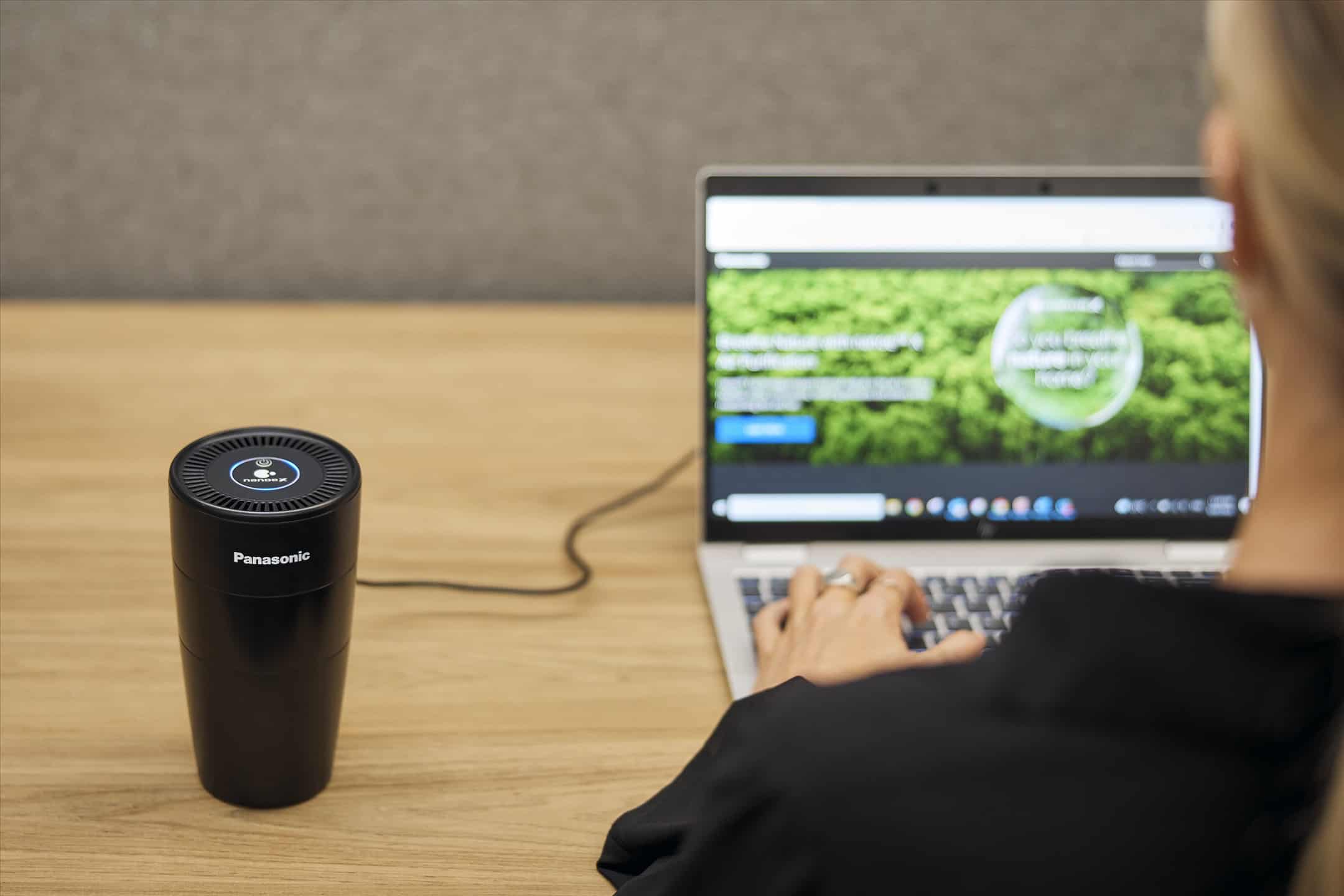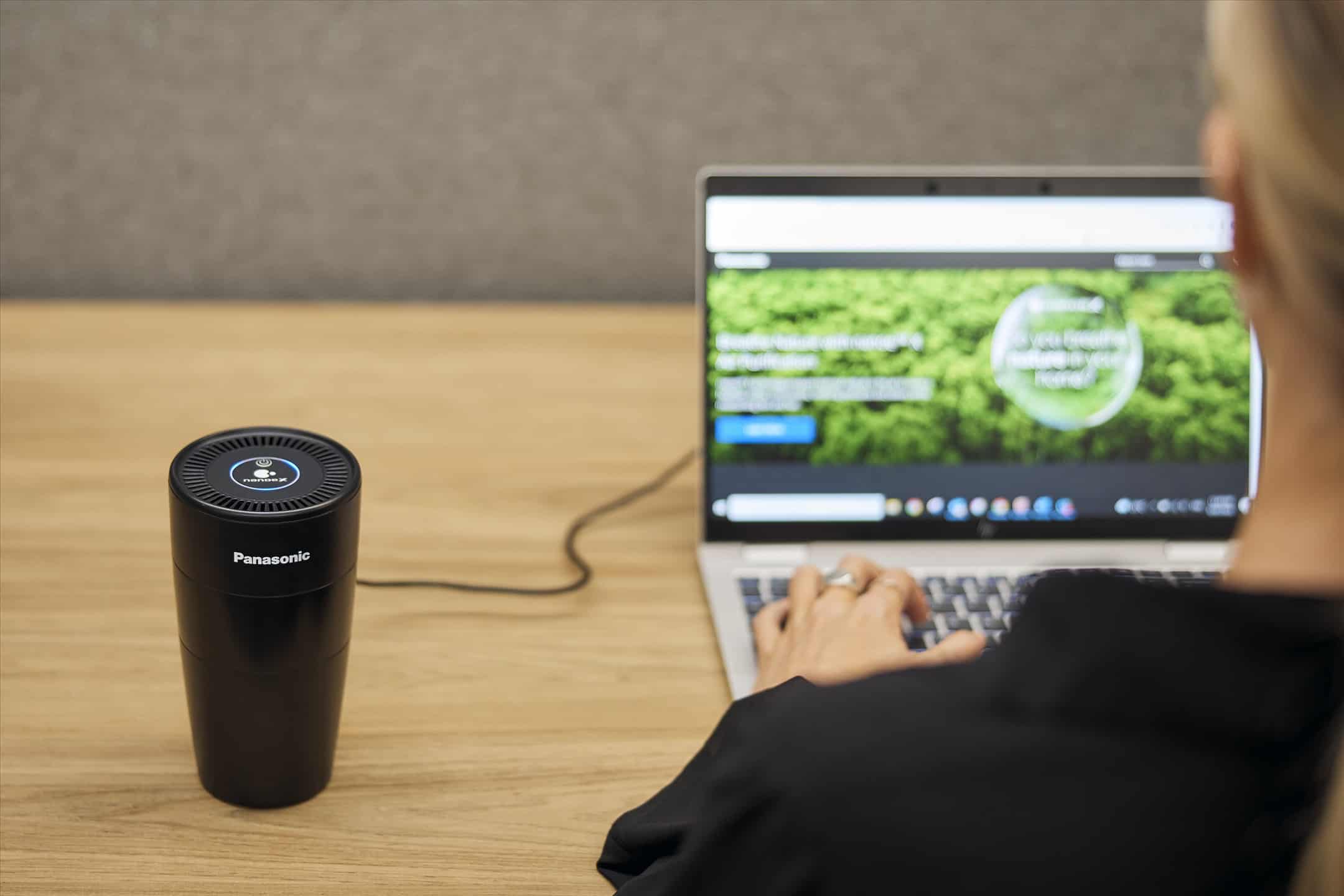 Going to work in a cafe? Going for a long drive in a taxi? Spending the night in a hotel for business trip? Working in the office cubical or even at home? You can basically get clean air wherever you go – as long as you can plug it in (also works with a portable power bank).
According to Panasonic lab tests, it eliminates 99% bacteria in 3 cubic metres space. The device inhibits bacteria, viruses, mould, allergens, pollen, and hazardous substances. Plus, it deodorises odours and moisturises skin & hair as well. You really get a lot of healthy benefits out of this little thing for sure.
Its technology is also backed by numerous of research, development, testing so these are not just some claims that you'll find on many cheap air purifiers claiming to do these things without proofs.
The Panasonic Portable nanoe X Generator is available now at retailers around Australia like Harvey Norman, and retails for AU$299.
Disclosure: Panasonic Portable nanoe X Generator review sample was supplied for reviewing
PANASONIC Portable nanoe X Generator Review
Summary
Your personal, compact air purifier backed by Panasonic's advanced technology
Pros
Compact and lightweight design for an air purifier
Looks like a Coffee Cup Tumbler
Plugged into USB (i.e works on laptops even power banks)
nanoe X technology, backed by years of research and independent lab testing
Very simple to use. Just plug, and turn on/off
Cons
Humming noise might be loud to some who crave for dead quiet environment