HyperX Cloud Flight Review – HyperX (part of Kingston) gaming headsets are popular for their comfort, sound, and pricing that does not break your budget. The HyperX Cloud Revolver S that I reviewed earlier this year left quite an impression (it was my first HyperX gaming headset to try on).
HyperX Cloud Flight is HyperX's first wireless gaming headset and though they are late to the market (other competitors have made several wireless gaming headsets from months passed), the Cloud Flight still offers what HyperX is good at: Comfort and Sound. It also has the advantage of having around 30 hours of wireless gaming (with the lights turned off), the longest battery life compared to the other competitors.
HyperX Cloud Flight Review – Packaging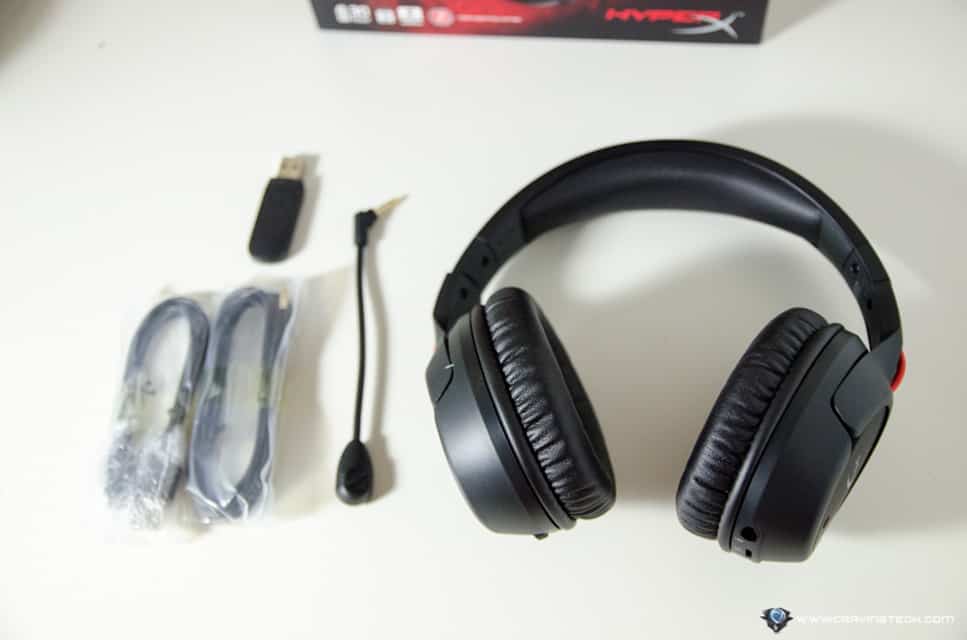 HyperX Cloud Flight Review – Design & Features
The Cloud Flight certainly has the theme and feel of HyperX's other products, with its black and red colour combination. The headset is overall made of hard plastic materials so it does not have that premium look, but the combination of the material with steel sliders (for fit adjustment) and the red exposed cables creates an overall elegant look.
What I like about the wireless headset is that it does not require any driver or software to install. You simply plug the included wireless USB dongle, turn the headset on, and it will work right away. No driver installation means you can use it in any computer, so you can carry it to a LAN party, tournament, or friend's house without having to install things. It also means less clutter and background task running on your PC.
The negative side is that there is not much control to tweak or save and you can only rely on the hardware to adjust the controls. For example, you can turn the lights to "Breathe" mode or Off by pressing on the power button but it cannot remember or save your preferred setting. This means, each time you turn the headset on, you have to remember to switch the lights off (if you don't care about having backlighting on a headset). Other built-in controls include muting the mic and controlling the volume.
With detachable microphone, the Cloud Flight is a good candidate to use with your Nintendo Switch, Gaming laptop like my ASUS ROG, or smartphone when you are out and about (through 3.5mm connection). However, the microphone is quite stiff and not flexible – you can't even push it up when you are not using the headset (refer to the photo in my review conclusion section).
And oh, its wireless connection can also be used on PS4 and PS4 Pro so you only need to get this one headphone for both your PC and PS4 console. Money saved.
HyperX Cloud Flight Review – Gaming Experience
The Leather ear-cups are very comfy and I've gamed for hours on Overwatch for the past week without any problems or discomfort.
The signal strength on the wireless is a bit of a miss as I would lose connection to the headset (intermittent) if I made a trip to my fridge to get a drink. This didn't seem to happen before on my other wireless gaming headsets I've tried like the SteelSeries Arctis 7 or Corsair VOID PRO. However, when gaming with the headset, I've never experienced any disconnections, lag, or distortions so it should be nothing to worry about in terms of wireless performance itself.
HyperX Cloud Flight is equipped with 50mm drivers and the headset sounds really well, both for gaming and entertainment such as listening to music or watching Netflix movies. It's quite balanced overall and has a great audio positioning with Dolby Atmos turned on. I could always pinpoint the flankers when I'm playing Overwatch, and could even guess right when I heard Pharah flying above the house's roof I'm in so I could do a pre-aim before she even saw me.
Music and movies sound full and the Bass is punchy without being overpowering, which creates an enjoyable balance and gives immersion when needed (during explosions or deep sound effects).
HyperX Cloud Flight Review Conclusion
HyperX Cloud Flight is definitely an amazing wireless gaming headset that offers comfort and long hours of wireless gaming ahead of its competitors!
This time, HyperX Cloud Flight is not the cheapest wireless gaming headset available out there, but that doesn't mean you shouldn't get the Cloud Flight over other wireless gaming headsets.

The headset is really comfortable to wear and most importantly, offers around 30 hours of battery life which is the longest compared to the other wireless gaming headsets at the moment. I totally hate it when I have to recharge a wireless gaming headset (as it de-clutters my tidy desktop space) so the less time I have to recharge, the better. I played Overwatch for the past week every night and the headset had only given me some beeps indicating low batteries. I could still use it for a few hours last night before I put it to charge, which is cool.
The gaming headset is available for AU$270 at JB Hi-Fi (by the time this review is written) but can also be bought on major Australian retail stores.
Disclosure: HyperX Cloud Flight review sample was supplied for reviewing but all opinions are mine and not paid