Corsair VOID PRO RGB Wireless SE (Special Edition) Gaming Headset Review – The Corsair VOID series received glowing reviews among Corsair fans around the world for the excellent design, comfort, sound, and battery life. We reviewed the non-wireless version about a year ago (i.e the Corsair VOID RGB USB) and loved it.
Borrowing the recipes from its success, Corsair has released the new VOID PRO series with glowing improvements in every area that you can think of. And it's definitely worthy of the PRO label.
Better microphones, better sound, and better ear cups are just some worth mentioning. For a more complete round down, keep reading!
Corsair VOID PRO Wireless Review –  Packaging
It comes with plenty of goodies, including a USB extension for the USB wireless receiver (2.4GHz).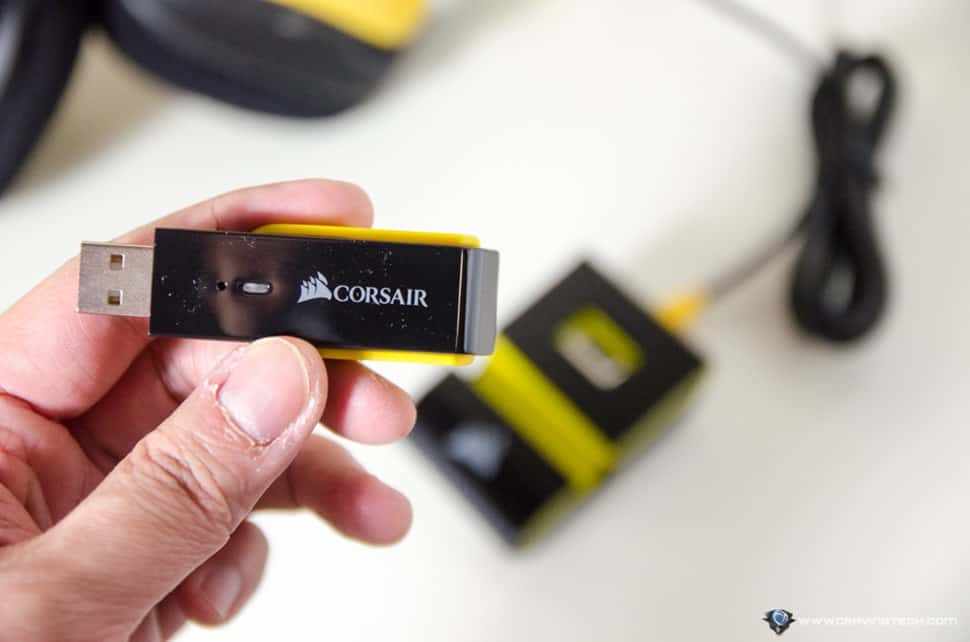 Corsair VOID PRO Wireless Review – Design & Features
The new VOID PRO has a slight resemblance to the original VOID headset, with some design tweaked. Thanks to the collaboration with BMW's DesignWorks Studio in California, the iconic design is better than ever as you can see from my photos.
If you get the Special Edition version like mine (Yellow Jacket colour), you'll love how the Yellow theme blends well with the rest of the headset. The materials used (aluminium alloy and metal) also make the headset look premium and durable, not like some cheap, breakable plastic headset (looking at you, Razer Man O'War).
From the front, the headset might look un-proportional somehow. However, this unique design actually works to give a perfect fit and all doubts will go away once you wear it. The VOID PRO fits comfortably around the head and the padding is also soft around the ears (and on the headband). All this thanks to the all new memory foam material in VOID PRO.
I have yet to test this in a hot environment (it's been cold here in Melbourne), but it looks like the microfiber mesh ear cup fabric can keep things cooler around the ears.
I've gamed for hours with the Corsair VOID PRO Wireless headset, playing Overwatch, Diablo III, and also Left 4 Dead 2 (yes, we are still playing this game). The headset did not feel heavy, and I love the fact that I could walk around the house to pee or get a drink without having to take the headset off. The wireless signal is also strong enough that it does not cut my audio out when I walk out of the room.
With an RGB lighting and Corsair CUE software support, you can fully personalise your gaming headset through the different colour and effects options.
According to Corsair, the battery should last around 16 hours (give and take, depending on your headset configurations). You should definitely be able to squeeze more if you turn the lighting off (besides, you cannot see them anyway while wearing). There's a small indicator near the charging port to show the current battery status (green, amber, or red) but if you want to know the exact charge remaining, you need to open CUE software and go to Settings.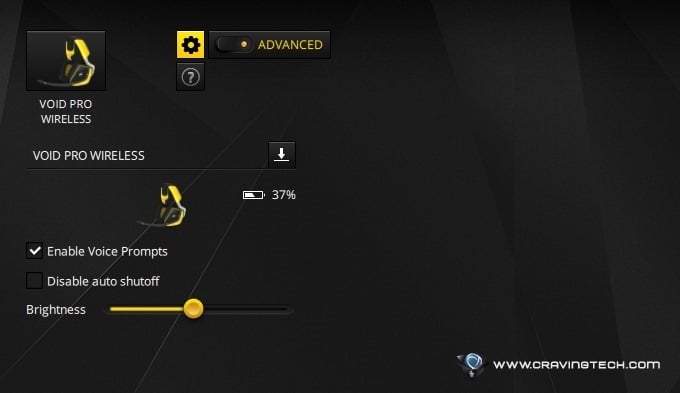 If you ever run out of battery while playing, don't worry. Corsair has included a microUSB cable inside the packaging to charge the headset while you play.
Corsair VOID PRO Wireless Review – Sound and Gaming Experience
So, it looks good, it's comfortable, it's durable, and it shines with different colours possible. So what, if a gaming headset does not shine in the sound department? Thankfully, Corsair VOID PRO with its 50mm Neodymium Driver does not disappoint. It sounds awesome for gaming, movie watching, and music listening. The Bass is strong and punchy, which I really like, and I don't even need to forcefully "Bass Boost" it.
I'm probably not audiophile enough to feel the difference between the EQ presets, but you can choose the right preset for the right activity. I usually go for the FPS Competition most of the time and thankfully, unlike the Turtle Beach Elite Pro, the sound does not sound tinny or focusing too much on footsteps and then tone down everything else.
Switching between the EQ Presets can easily be done by quick pressing the volume dial button and you can also customise to disable presets that you'll never use for quicker and easier switch. There is definitely a big difference between the virtual Dolby 7.1 Surround and Stereo mode (Surround Off), and can be enabled/disabled by long pressing the volume dial button.
I like how easy it is to switch the Surround Mode on and off, because I do this quite frequently. For example when playing Overwatch, I prefer to use the Dolby Atmos (which requires the Dolby 7.1 to be switched off). However, when I'm playing Left 4 Dead 2 with friends, the Dolby 7.1 is preferred. The audio positioning in Corsair VOID is so fantastic that I can accurately pinpoint the enemy's location just by using sound alone. In competitive gaming, this makes the difference between life and death.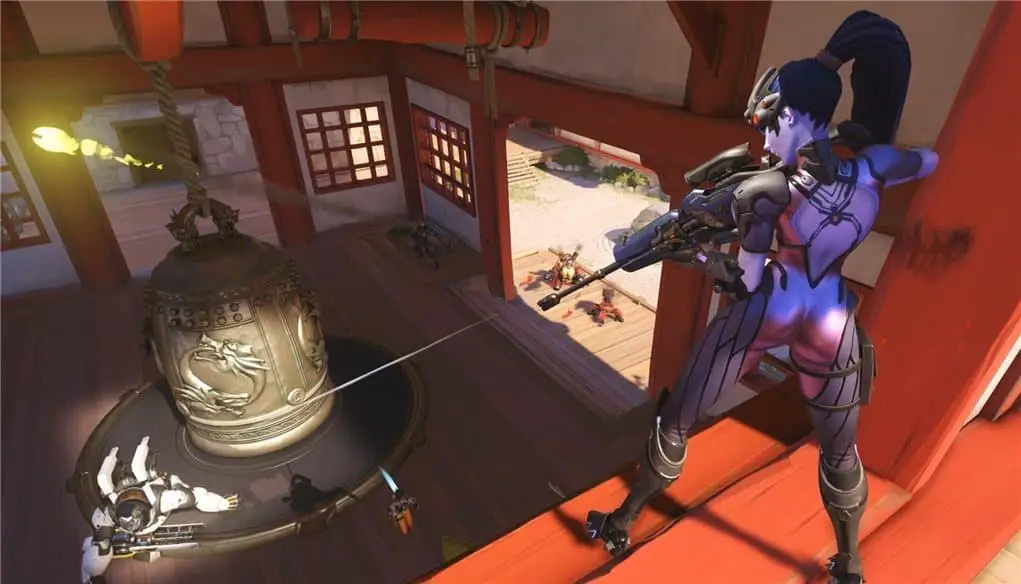 In Overwatch, knowing where an enemy (such as McCree or Soldier 76) executes his ultimate skill within the first second is crucial. I did not need to look around to find them. Just by using the Corsair VOID PRO's accurate audio positioning, I could quickly get into cover instantly as I knew exactly where he was. When I was on McCree, I could pinpoint a flanker that was about to hurt our team's healer and dealt with him accordingly.
In Left 4 Dead 2, audio positioning is even more crucial than ever, especially in hectic situation such as when your whole team gets boomed by a Boomer. I could still hear when a teammate was jockeyed through all the commotion and managed to head on to the right direction to give my aid. The easiest way to test is also whether I could pinpoint when a special infected respawns, and again, the headset does not disappoint. Overall, if you are looking for a gaming headset to play online, competitive FPS (First Person Shooter) games, you are at the right place.
The microphone seems to sound much better compared to the original VOID I reviewed too. Flip the microphone up to mute, and down if you want to talk without any button press needed (there is a button too for that, though unnecessary). The red ring LED mute indicator turns on when the microphone is muted. The red colour does not match my VOID PRO's yellow theme but hey, who cares.
Corsair VOID PRO Wireless Review – Conclusion
Corsair VOID PRO Wireless is truly a remarkable, wireless gaming headset in all angles. It looks great, sounds great, comfortable, durable, and has a great battery life for a wireless headset. It's clear that Corsair does not compromise at all in making this headset because everything is just so well designed and screams excellence.
Corsair VOID PRO Wireless does not have unnecessary bells and whistles (well, a charging dock would be cool but the cost would go through the roof) and I really, really like the headset. Great feel, comfortable, sounds awesome and powerful, has a volume dial to quickly adjust volume, a handy way to switch between EQ profiles on-the-fly, and turn Dolby 7.1 Surround on and off.
Chalk up for another great gaming peripheral from Corsair! (the other one of my favourites is their Corsair K70 RGB RAPIDFIRE mechanical gaming keyboard). Corsair VOID PRO RGB Wireless headset can be bought for AU$219 and the Corsair VOID PRO RGB Wireless Special Edition (the one I have here) can be bought for AU$239. Corsair also has the USB (wired) version for AU$169 if you are not into wireless or on a budget.
Disclosure: Corsair VOID PRO Wireless review sample was supplied for reviewing but all opinions are mine