Seagate FireCuda 510 NVMe SSD Review – With many NVMe SSDs around in the market from different brands to expand your storage and PC system performance, one has to ask – which one should I get?
For Seagate FireCuda 510 NVMe SSD M.2, the answer is very easy. If you are looking for the best of the best, the FireCuda 510 will put a big smile on your face. With up to 3,450/3,200 MB/s sequential read/writes, this is definitely the fastest SSD I've ever reviewed and used!
Why is it so important to get the fastest and greatest SSD – especially if you've just upgraded from an old, traditional HDD (Hard Disk Drive)? Well, if you are still on the SATA SSD, your speed is pretty much limited by the SATA interface.
Which means, if you are getting an NVME SSD (M.2), you can get up to 4-5 times faster! Now, imagine if you have to read big files like a 4K video on a video editing software like DaVinci Resolve Studio or loading a big RPG map like Fallout 4?
If you can cut the loading time by half or more, it's a worthy upgrade, especially if you have to do this frequently.
While Seagate mentions on the page that "FireCuda 510 is out-of-the-box compatible with the latest generation of powerful AMD Ryzen™ processors", that doesn't mean you can't use it on other systems. As long as you have an M.2 connector on your motherboard, you practically can plug the FireCude 510 in.
I'm reviewing it on my Intel Skylake build – but looking forward to move it to my upcoming AMD Ryzen 7 3800X build soon.
Seagate FireCuda 510 is available in 1TB and 2TB storage capacity, which makes it a perfect gaming drive or a work drive (if you are a photo or video editor, for example). The one I have here is the 1TB model, but both should have a similar dimension.
Running some CrystalDisk Benchmarking software a few times, I got around 3400MB/s read and 3050MB/s write speed on average: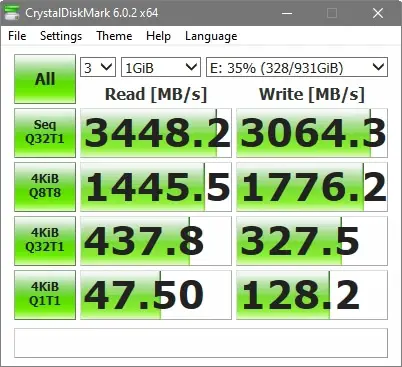 Comparing it with the other, fast NVMe SSDs that I reviewed here at Craving Tech like the WD Black & Kingston KC2000: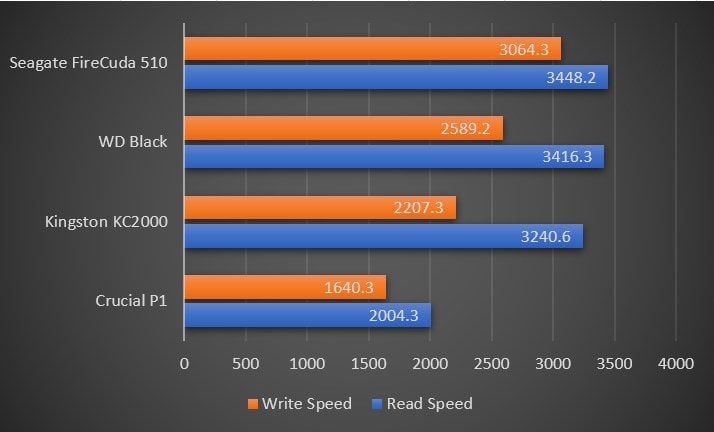 Seagate FireCuda 510 certainly has impressive stats of its own!
A free software called Seagate SeaTools can be downloaded monitor the drive's health and firmware upgrades. It's not a compulsory tool though.
Seagate FireCuda 510 Review Conclusion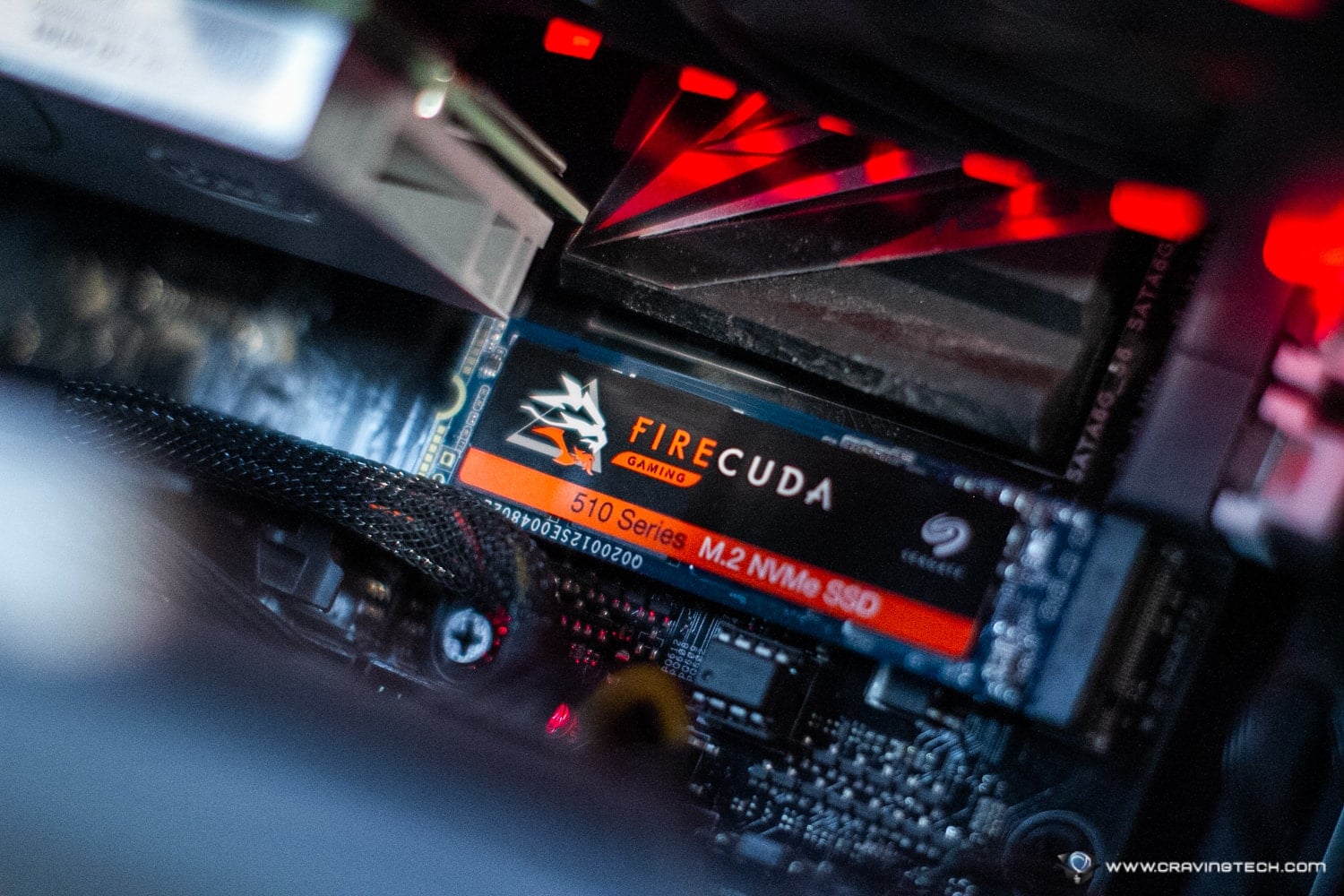 Seagate FireCuda 510 has both amazing read and write speeds, and it should get the praises it deserves. With an up to 3,450MB/s read speed and 3,200MB/s write speed, there isn't much NVMe SSD out there that beats it in terms of performance (except for a few like the Samsung 970 EVO Plus by a slight margin).
With a 5-year limited warranty and a well-known brand who's been in the industry for decades, Seagate FireCuda 510 is a safe choice for sure.
For gaming, Seagate FireCuda 510 fast reading speed means less looking at your loading screen, and fast writing speed means less waiting while your game is being saved. You can also get to a hero selection screen faster in some games, giving you a slight advantage.
For creative professionals, Seagate FireCuda makes photo and video editing a breeze. Handling 4K videos offers a smoother experience and exporting tons of images is faster too compared to using slower drives like SATA SSDs.
Seagate FireCuda 510 is available at many retailers around Australia for AU$430 (1TB) and AU$680 for the 2TB model. Sure, it's not the cheapest NVMe SSD out there, but if you are after performance and have the money, there is no question not to say "Yes" to this one.
Disclosure: Seagate FireCuda 510 review sample was supplied for reviewing but all opinions are mine and not paid
Seagate FireCuda 510 NVMe SSD Review