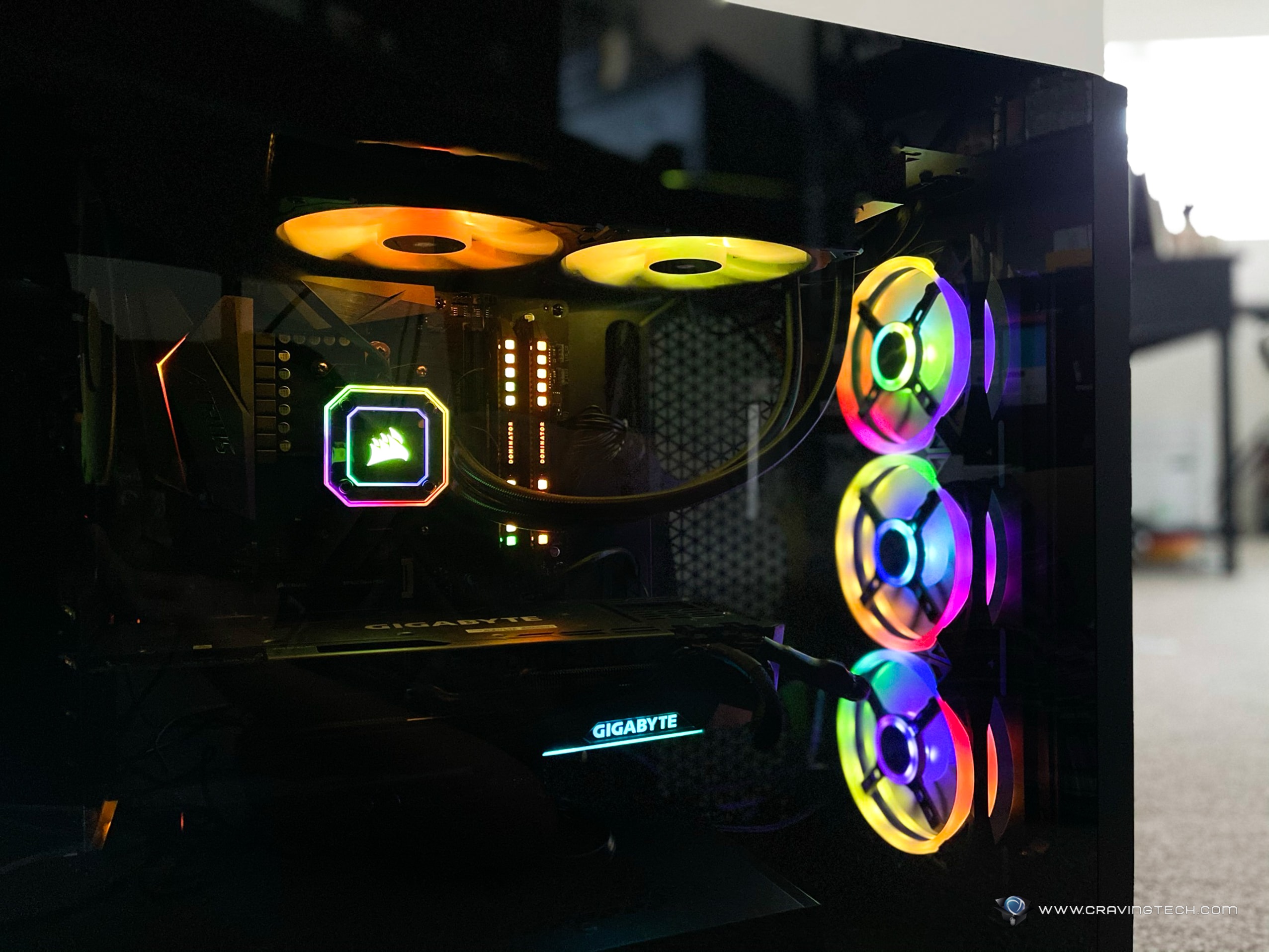 CORSAIR PC Build – Thanks to CORSAIR, I've got a new PC build for 2021, while migrating my current AMD Ryzen 7 3800X and GeForce RTX 3080 card over.
The highlight is obviously their new 5000D Airflow case, which gets really great reviews and possibly one of their best cases as well.
So let's check the components and build out.
The new CORSAIR PC build components, thanks to CORSAIR:
Case CORSAIR 5000D AIRFLOW
CORSAIR 5000D AIRFLOW is a mid-tower case that focuses on, as you can guess, airflow. Thanks to the hidden cable management all around the case with an airflow-optimised front panel, your PC build will have plenty of space for the air to move around. And of course, for you to show off that clean PC build to friends (and yourself).
Two CORSAIR AirGuide non-RGB fans are included with the case but if you are getting this case, then it's obvious that you are already eyeing on getting more fans in (I still use one of the included fans as a rear exhaust fan). The case itself supports up to 10x 120mm or 4x 140mm cooling fans with multiple radiators.
Liquid cooling is supported and there's a handy base panel that you can switch to accommodate this. It also offers a cleaner look (in my opinion) and you can place a Funko Pop figure on there too for the extra zing.
Air mesh filters are included on the front, top, and the bottom (for the PSU fan) for easy dust cleaning.
We have 2x USB 3.0 ports, 1x USB 3.1 Type-C port, and a combo mic/headphone jack located at the top of the case. A front USB Type-C port is great when you have a USB-C external drive that you can plug in and out, or when you need to charge a USB-C wireless headset while wearing it to play.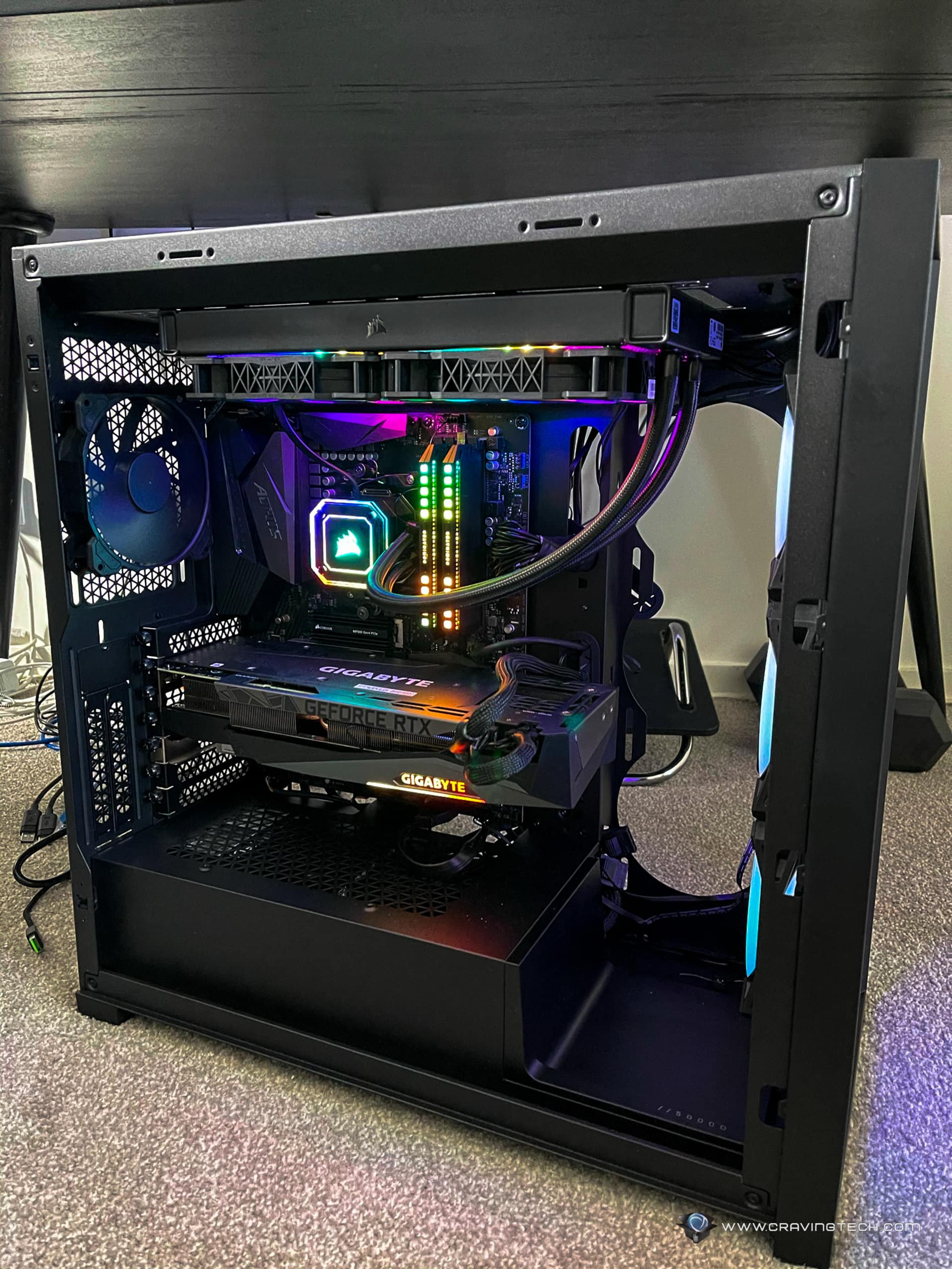 CORSAIR iCUE H115i ELITE CAPELLIX Liquid CPU Cooler
The CORSAIR iCUE H115i ELITE CAPELLIX Liquid CPU Cooler comes in 240mm/280mm/360mm radiator, two CORSAIR ML140 RGB fans, and a CAPPELIX RGB pump head. My review sample here is the 280mm radiator version which I set up on the top of the case.
The packaging includes two separate pump caps, glossy black and transparent – to further accentuate its RGB lighting. The glossy black is installed as the default.
Unlike my previous CORSAIR H115i RGB PRO XT, the H115i ELITE CAPELLIX comes with iCUE COMMANDER CORE that you can use to control the included ML RGB fans (fan speed and RGB lighting through iCUE), but also four additional CORSAIR RGB fans. There's a good spot for it on the 5000D AIRFLOW case to stick on.
There are lots of cool and subtle lighting presets in iCUE, so you can mix and match your case's colour theme to perfection.
As far as cooling performance goes, I have no complaint so far as my idling temp is normally around 35-45 degrees on average. Using wPrime benchmark will boost the temperature to 54 degrees but stay there.
CORSAIR RM750i PSU
This Modular PSU from CORSAIR is 80 PLUS Gold Certified and equipped with reliable & premium Japanese 105°C capacitors, which is a great choice for high performance PCs.
And the superior energy efficiency allows the PSU to operate in silent mode with the fan remains off at low to medium loads. Though to be honest, we're more likely to hear noises from the cases fans than the PSU's.
Through iCUE, you can monitor power supply performance, toggle single rail or multi rail mode, and control the fan speed if like.
CORSAIR 32GB DOMINATOR DDR4 RAM
CORSAIR DOMINATOR is a premium, high-performance memory module from CORSAIR. It's available in the high performance of 4,800MHz which is the fastest air-cooled memory. The one I have for the build is 3,200MHz which is great for compatibility but still offering that awesome speed for my AMD Ryzen 7 PC.
Upon first look, you can see how tall the RAM is – caused by CORSAIR's patented Dual-Path DHX cooling technology which cools the RAM stick through both the PCB and external housing. Plus, it houses the CAPELLIX RGB LEDs (12 of them in total) to increase the aesthetic of your build through that 5000D's see-through, glass case.
Like the H115i ELITE CAPELLIX, these RGBs can be customised through iCUE so you can make sure they match your PC build theme. I'm actually quite amazed at the number of lighting effects customisations on these RAM modules.
CORSAIR QL Series, QL120 RGB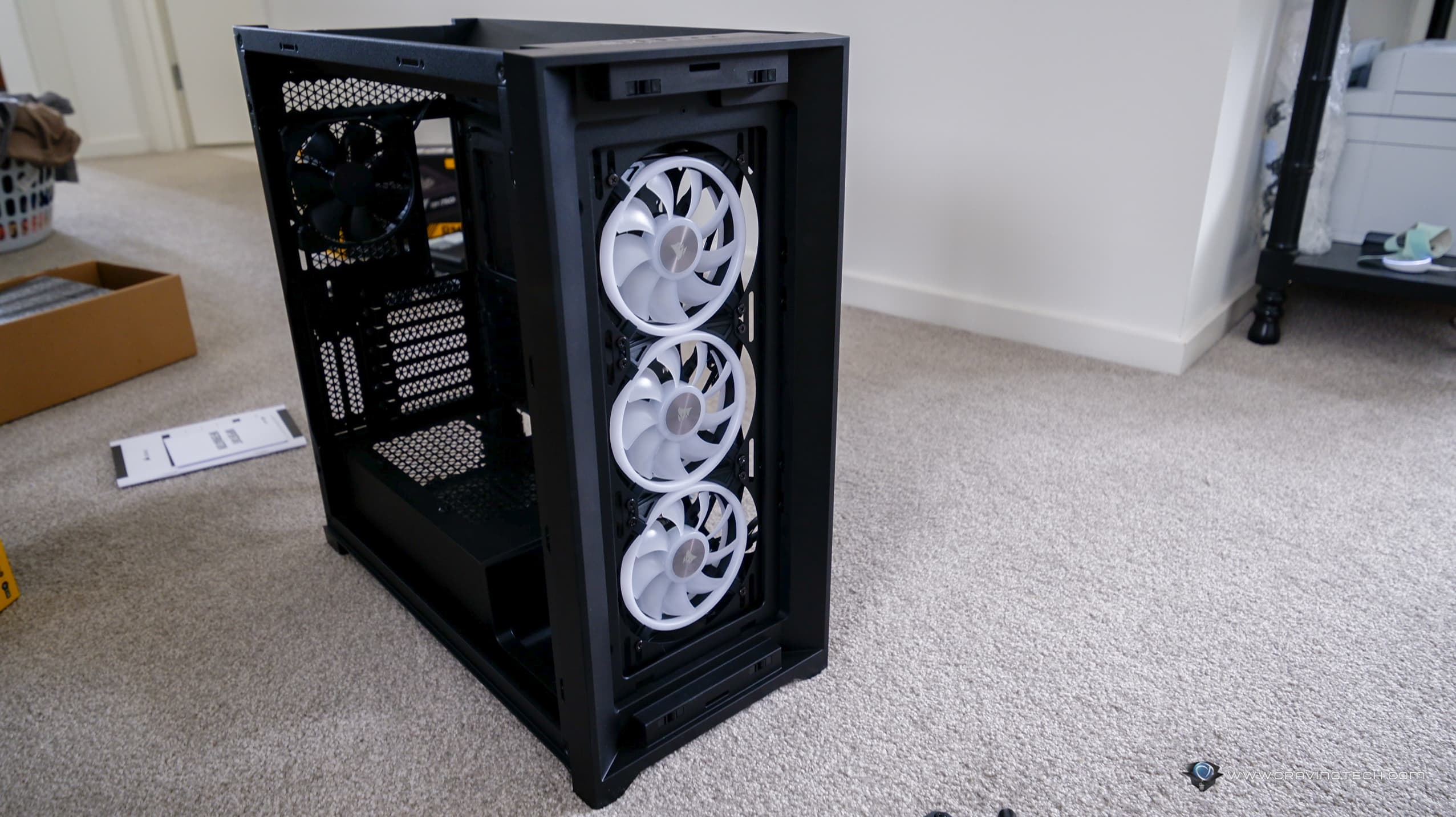 These triple Pack with Lighting Node CORE fans go to the front of my 5000D AIRFLOW case as intake fans. An iCUE Lighting Node CORE is included so you can connect 3 more QL120 CORSAIR fans if you want (placed as side fans on the case, for example). I hooked these up to the iCUE COMMANDER CORE from the AIO cooler packaging.
These fans can go up to 1,500 RPM with 41.8 CFM of airflow, perfect as either intake or exhaust fans. They are also pretty quiet in my experience but noise is quite a subjective opinion. However, the fans do have built-in dampers at the corner of each fan to reduce vibration noise.
With four lighting zones and 34 LEDs per fan, these fans offer some serious eye candy to the PC build. The lightings are spectacular with bright, premium-looking colours.
Again, with CORSAIR iCUE software, you can fully customise these lighting to synchronise with the other CORSAIR components above.
CORSAIR Force Series MP600 1TB NVMe PCIe M.2
With a read speed of up to 4,950MB/s, the MP600 NVMe PCIe M.2 drive is one of the fastest drives around (though still below the mightier Seagate FireCude 520 – but you'll be paying a more premium price and the FireCuda doesn't come with a heatsink like the MP600).
Using CrystalDiskBenchmark, this is the reading and writing speed that I've got:
Equipped with an aluminium heatsink, the MP600 should stay cool under heavy load and retains its performance.
---
My CORSAIR PC Build – Closing Words
Thanks to iCUE, you can always change your build's colour theme whenever you feel bored and there are lots of lighting effects and colours to play around with.
Now all I need is a CORSAIR chair to complement the whole setup. Plus, my old DXRacer Gaming Chair is sagging and needs to be replaced soon.
Feel free to showcase your CORSAIR PC build and tag me on Twitter @michaelaulia & @CORSAIR! If you are in the UK and want to build your custom, dream PC, make sure to check fierce PC out!
Disclosure: The components were supplied by CORSAIR for the build