DXRacer Drifting Series Gaming Chair Review – October last year was the first time I ever sat on a DXRacer gaming chair, placed inside a Network Gaming Cafe here in Melbourne.
DXRacer chairs can indeed be found in most Network Gaming Cafe around the world and even in high profile gaming championship events. Fans of eSports will also be familiar with these chairs.
Which DXRacer Chairs to go for?
Now, things can get quite confusing when picking the right DXRacer chair because there are so many variants (Formula, Drifting, Racing, King, etc). These different models are actually made for people with different heights and weights, to ensure you to get what you need.
DXRacer has a good DXRacer chairs comparison page to make the selection process easier for you (or check out the one from Chairs4Gaming). If you are skinny and non-muscular like myself (65kg, 170cm tall), the Formula will fit you nicely (Racing is a bit bigger than the Formula and has lower seat sides). I ended up getting the Drifting Series, which is wider/larger but has more padding. It doesn't give me a perfect fit (like if someone is hugging you), but it's still comfortable, gives me space, and great to sit on for hours.
DXRacer Chair Assembling
The chair came pretty much half-assembled as the screws were already bolted in – which saved me time from having to figure out which one goes where.
In about 20 minutes, I've managed to assemble the whole chair up easily (and I'm usually bad at assembling IKEA furniture). Upon first look, I can already see how sturdy and well-built this chair is – steel frames, thick padding, good quality leather (+that nice leather smell), and tough constructions overall. I'm not a fan of the white colour on this Drifting Series, however (reminds me of a cow somewhat). But it's actually not that bad in real life and I guess it's just a matter of taste/preference.
DXRacer Gaming Chair Review – Design & Features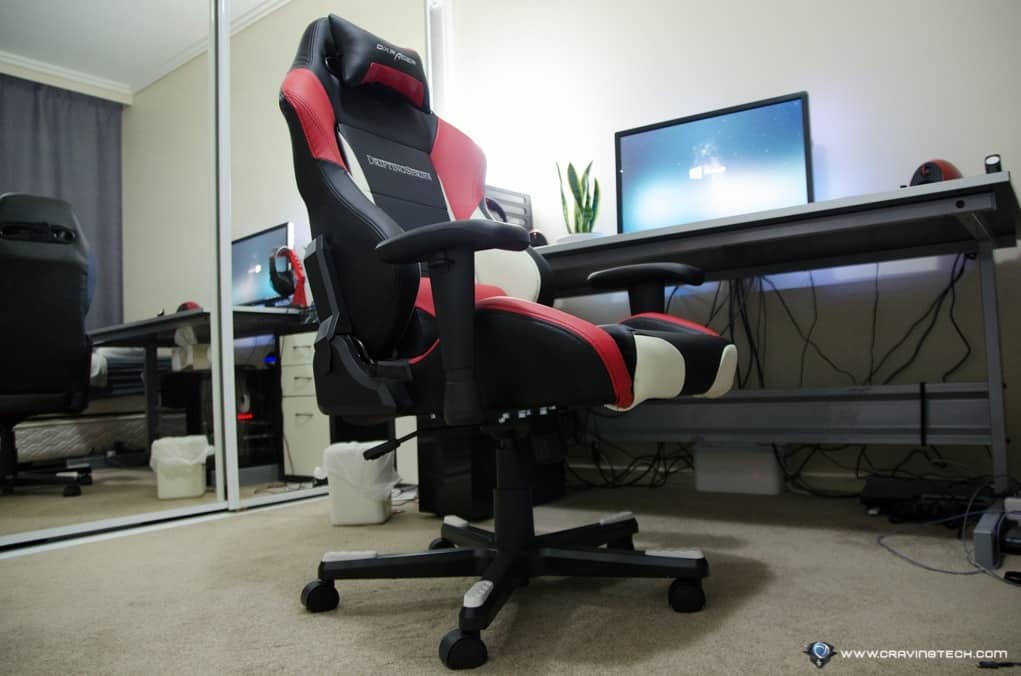 I have now been sitting on the DXRacer PC gaming chair (DF61, Drifting Series, OH/DF61/NWR) for about a couple of weeks (compared to my first 3-hour experience) with hours of gaming and TV-series watching sessions to tell you all about it.
Overall, DXRacer chairs are designed like racing chairs, giving them unique, distinct looks, and perfect fit. Whichever chair model you pick, it will most likely look good in your room (you can pick on the colour that matches your room theme too – or go all Black, which is only available on a few models).
The chair has adjustable arms that can be lowered or raised to adjust your desk height. And like most chairs, you can also lower or raise your chair with the conventional tilt mechanism. Standard stuffs, right? Except, this time you can also adjust the chair angle up to a crazy 135 degrees!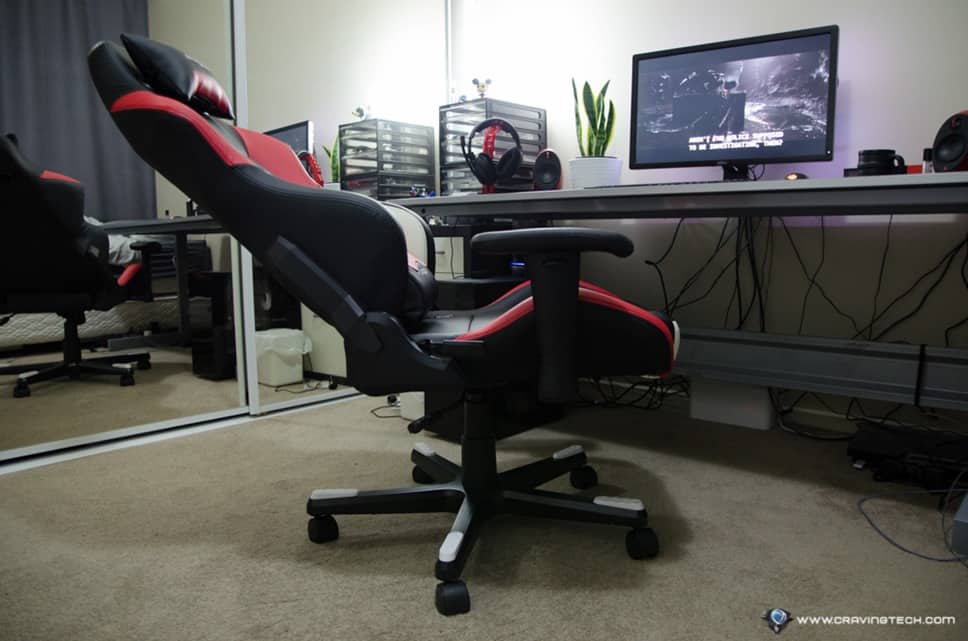 I've never experienced a chair that has this feature before and even though it looks scary at first (from watching the videos), it is actually very safe.
And, this is my most favourite feature from my DXRacer Drifting chair. Though some may use it to take a nap when they feel a bit tired from gaming, I'd rather jump on my bed if I ever need one. Taking a nap while you are paying hourly in a gaming cafe does not sound like a good idea too. However, the chair definitely offers the best angle for movie watching: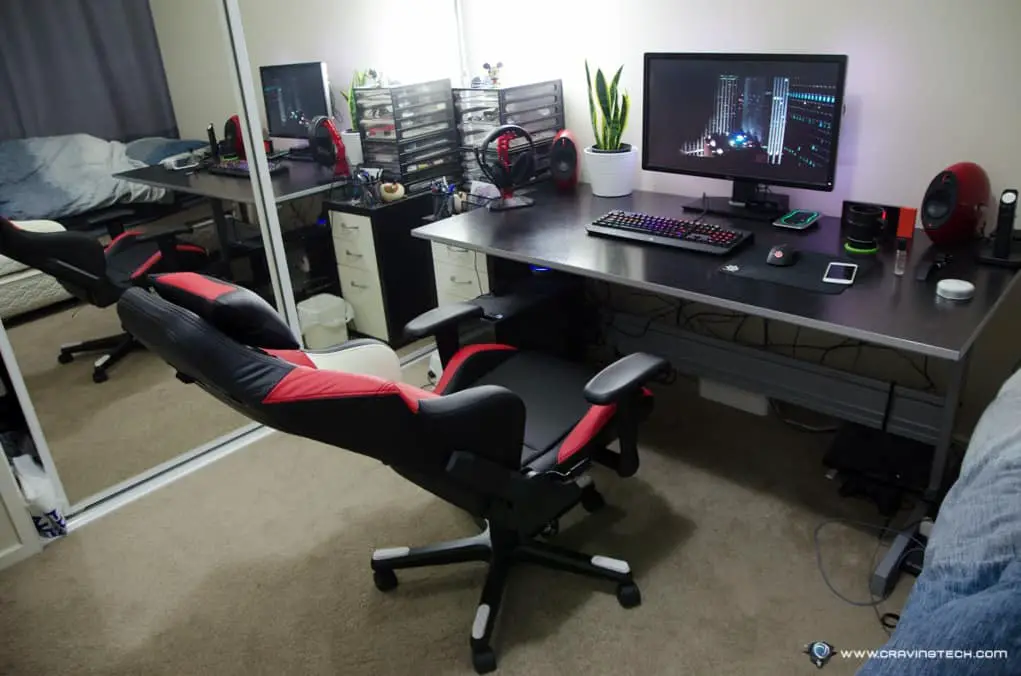 I watched a 4 x one hour episode over the weekend while semi-lying on the chair (and hugging my pillow) and I loved it. I wasn't expecting it to be that useful or comfy. Thanks to this, I now always adjust the chair's angle every time I want to watch a movie or TV series on Netflix. I'd then place my legs on the table or on my foot rest below the table to complete the package. The chair's soft padding and contour design definitely contribute to make it really comfy to be in this position for a long time.
The DXRacer Drifting Series chair comes with an adjustable lumbar support which gives my back the support it needs, plus a neck support. These give me plenty of incentives to sit properly, though I still occasionally slouch for a bit. The lumbar and neck supports are kind of optionals (but essentials – especially the lumbar support), but you can opt them out if you want to (i.e detach them).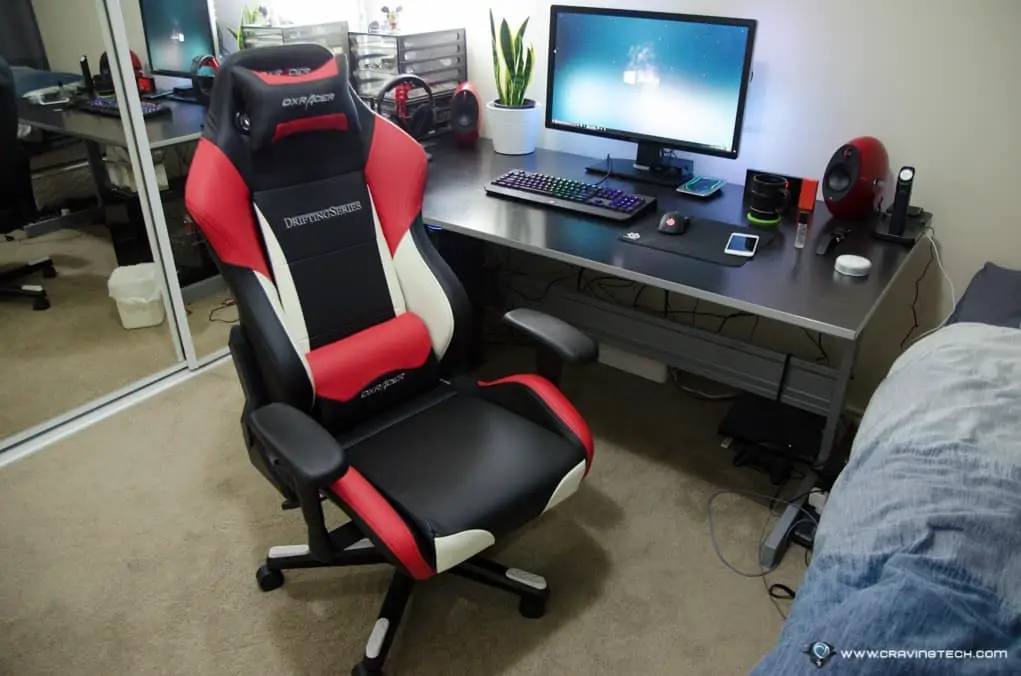 DXRacer Drifting Series Review Conclusion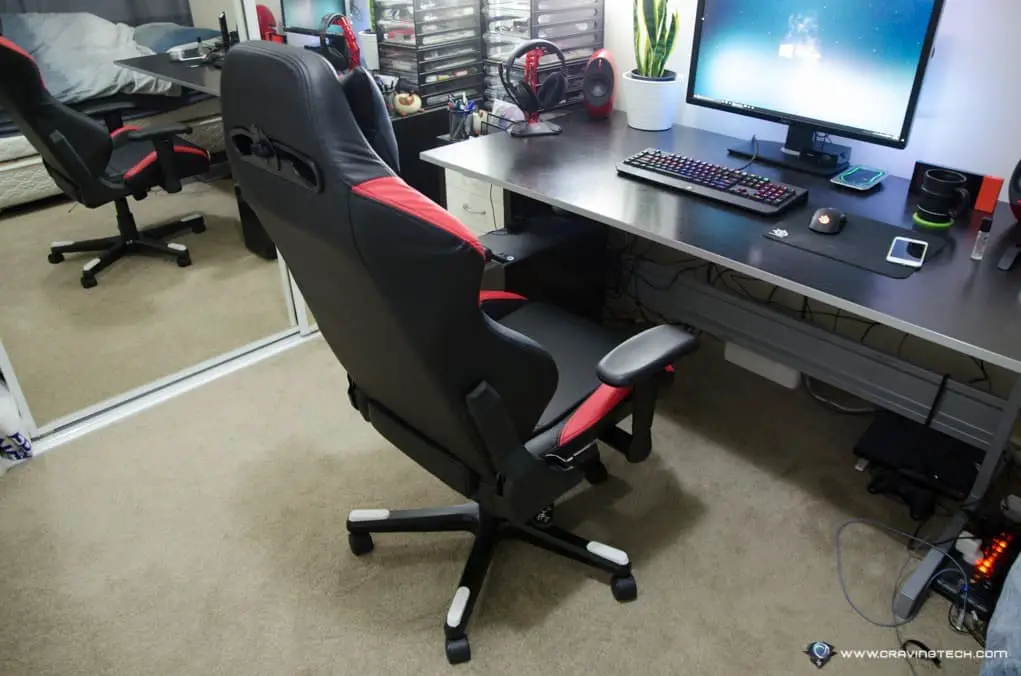 Overall, the DXRacer Drifting Series chair is really comfortable to sit on for a very long period of time and most importantly, has a really good back support to prevent those back aches you get from an average office chair.
The chair is sturdy, made from great quality materials, and has an ample amount of soft paddings. As a result, my butt doesn't hurt and I can feel the support that my back really needs when I game or sit on the chair for hours (which I do every day).
Sure, this gaming chair does not have a funky LED or speakers system (which people may have mistaken the term "gaming chair" for), but your bum and back will thank you for it. And, you don't even need to be a gamer to enjoy this chair to the fullest.
DXRacer Gaming Chair Review – Pros
+ Easy to assemble
+ Comfortable to sit for a long period of time
+ Sturdy construction
+ Great looks
+ Good lumbar and neck support
+ Unique angle adjustor, great for movie watching or a short break
DXRacer Gaming Chair Review – Cons
– Foot rest made in plastic
– Neck support is not adjustable
Disclosure: A sample was supplied by DXRacer for reviewing, but all opinions are mine and not paid.
[AMAZONPRODUCTS asin="B00FWNKLR2″]