HyperX FURY DDR4 RGB (2020) is a cost-effective, high performance DDR4 RAM that you can grab now to boost your system. It's available in many different configurations (single modules or kits up to 128GB) with different latencies from CL15 to CL19.
Whether you are planning to use your system for gaming, work, or professional media editing, you can squeeze the performance out of these RAMs while having a fun build with its dynamic RGB lighting effects.
HyperX FURY DDR4 RGB has a low-profile heat spreader design. Its body and heat speader are shorter than the HyperX Predator DDR4 I was using in my old Intel Skylake PC, and have pretty similar design to the previous FURY DDR4 RGB we had last year.
It's compatible with both Intel and AMD platforms. The unit I have here is the HX436C17FB3AK2/32, which is a 2x 16GB memory kit currently installed on my AMD Ryzen 3800X machine, replacing the slower, 2017 Crucial Ballistix Elite.
Compatibility to these platforms also mean a plug-and-play – where you can just plug these RAMs into your motherboard and will automatically recognise and overclocks itself at its published speed/JEDEC (which is 2,400MHz on mine, timing of 17-17-17 at 1.2V). But can also be overclocked easily to 3,600MHz (DDR4-3600 CL17-21-21 @1.35V) through BIOS with Extreme Memory Profile (X.M.P).
Here is the standard speed performance with CPU-Z and AIDA64:
To easily overclock the FURY DDR4 RGB, I just had to set the XMP to Profile 1 on my AORUS X570 Elite Wi-Fi BIOS and hit save:
Checking it out on the CPU-Z and AIDA64:
As you can see, the read and write speed have increased considerably by overclocking it to 3,600MHz, which is really easy and safe to do. There is no fiddling around with voltages or having to check on guides and tips in forums.
The read speed was increased from 34,513 MB/s to 50,500 MB/s which is a significant improvement. The write speed was increased from 19,141 MB/s to 28,712 MB/s as well.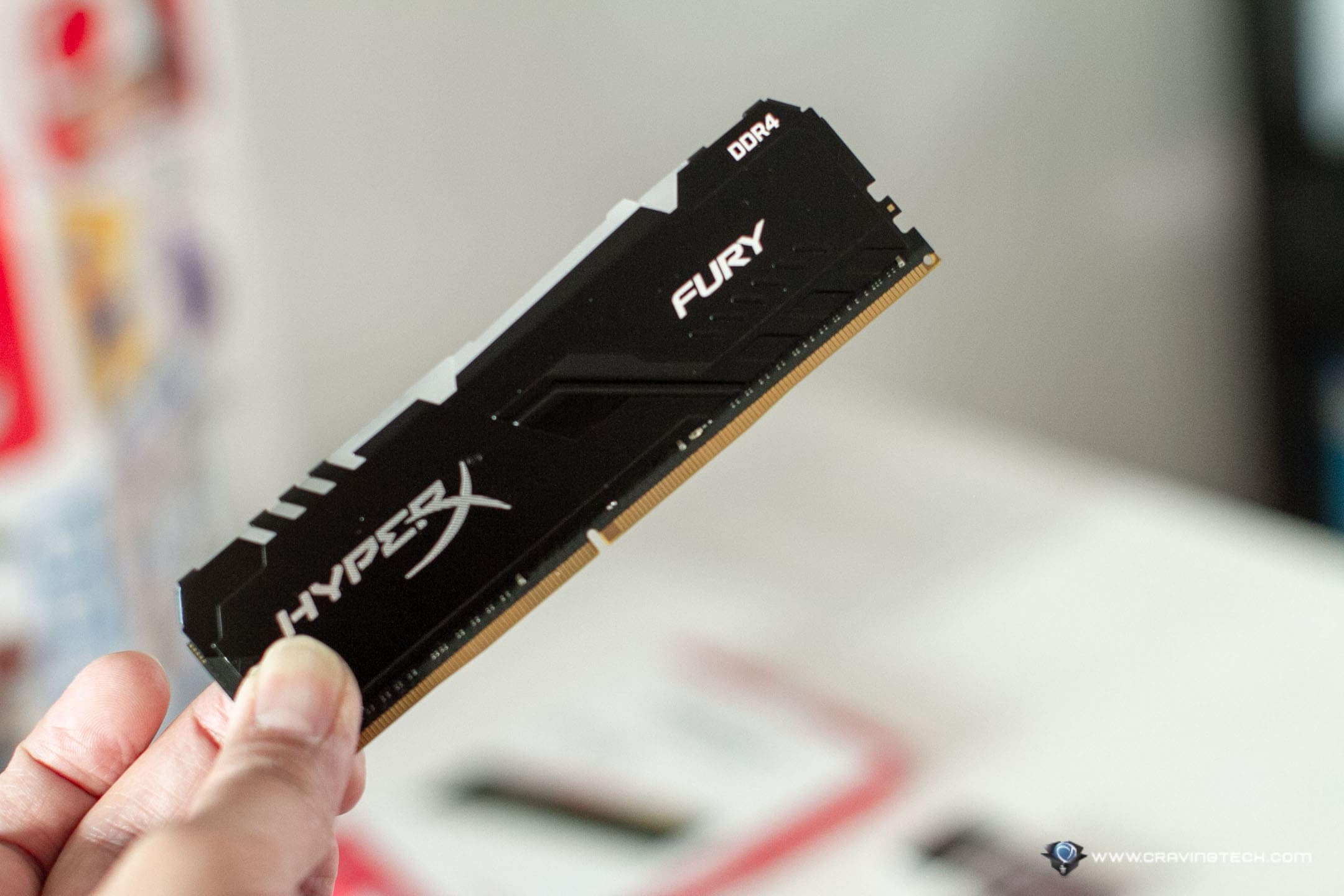 I couldn't remember which RAM kit I was reviewing, but my system got unstable when I enabled overclocking through XMP and playing Overwatch would freeze occasionally. With the HyperX FURY DDR4 RGB XMP (at 3,600 MHz) however, I've never experienced any instability while playing Overwatch for the past couple of weeks every night!
And finally, if you like to showcase your build with a case like the CORSAIR iCUE 220T, you'll be pleased to know that the FURY DDR4 RGB has, well, RGB lighting. It utilises HyperX's patented Infrared Sync technology to provide synchronised lighting effects. You can customise the RGB lighting through HyperX NGENUITY software to match your case theme.
To check for the different configurations and prices, make sure to visit the HyperX FURY DDR4 RGB page and check your favourite retailers. Our review unit, HX436C17FB3AK2/32, retails for AU$309 at PC Case Gear.
Disclosure: Kingston HyperX FURY DDR4 RGB review sample was supplied for reviewing but all opinions are mine and not paid
HyperX FURY DDR4 RGB Review