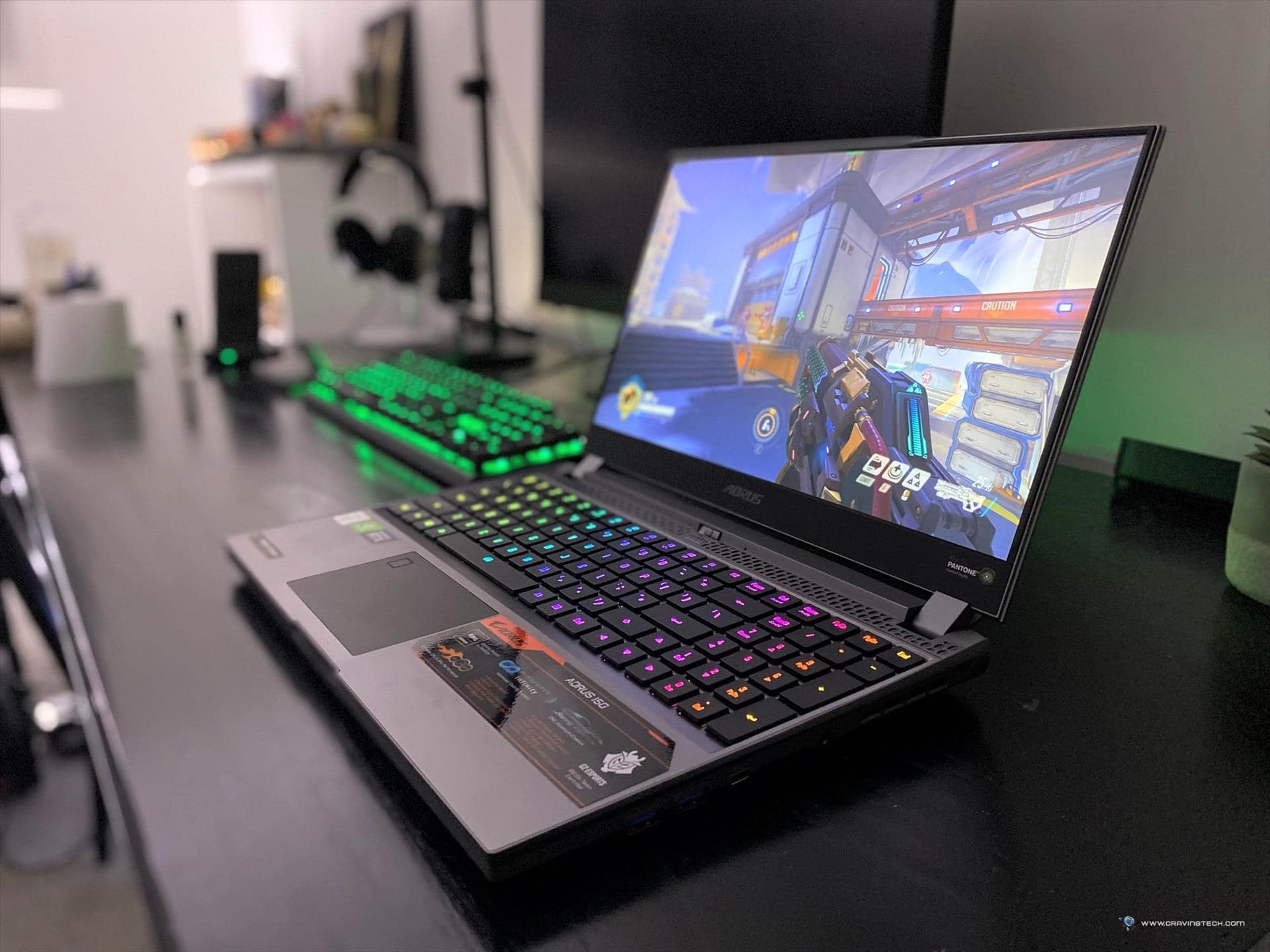 I'm still reviewing GIGABYTE's newest gaming laptop, the AORUS 15G, so stay tuned for the full review soon here at Craving Tech.
However, I've been gaming with the AORUS 15G for about a couple of weeks and really love what the laptop has to offer. While it's clear from the specifications that this is not just a gaming laptop (with Intel 10th Gen processor and all to do other heavy duty tasks), this is a tough laptop to beat.
It's even CS:GO World's top E-sports Team G2 Esports Certified so if you are playing games competitively, well, you've got the right laptop.
The exact specifications of my review machine (AORUS 15G XB-8AU2130MP model) is:
15.6″ with 240Hz panel, FHD 1920×1080 IGZO Anti-glare Display LCD
10th Gen Intel® Core™ i7-10875H (2.3GHz~5.1GHz)
16GB (2?x 8GB) DDR4 3200 MHz
GeForce RTX 2070 SUPER
512GB PCIe M.2 SSD
Even from the specifications alone, you can already drool all day – but once you actually use the machine to game, it's on a whole new, different level. Thanks to the dedicated GeForce RTX 2070 SUPER graphics card, I could play many games at high settings without sacrificing too much FPS. But while most modern FPS games' video settings can't be maxed to 240 fps with the RTX 2070, you can still get a decent 120-150Hz if you want to tinker the options a little bit. On Modern Warfare's highest settings with Ray Tracing on, I could get a still decently smooth 70 fps on average.
Speaking of refresh rate, the AORUS 15G unit that I have here comes with a really fast 240 Hz panel where most gaming monitors are on the 120Hz, 144Hz, or 165Hz. The one I have on my desktop PC, the BenQ EX2780Q, for example, has a 144Hz refresh rate and feels inferior to the AORUS 15G display panel. While I can't really compare apples to oranges (BenQ is 27″ + has FreeSync/G-Sync vs AORUS 15G 15.6″), gaming on AORUS 15G still has an awesomely, smooth feel. You may not notice that much of a difference going 200 Hz (or you may), but to be honest I'm happy enough with any panel of 120Hz or higher.
The laptop definitely has some of the best from both Intel and NVIDIA and it shows in terms of performance when playing games. Not to mention the PCIe SSD within makes everything even faster. Loading your saved games and maps in an open world game like Witcher 3 are definitely much faster compared to using a traditional SATA SSD.
I've never had an NVIDIA RTX graphics card before (I actually have a GTX 1080Ti on my desktop PC) and man, that real time Ray Tracing is super sweet. Ray Tracing definitely brings deeper immersion in games that support it with realistic light ray and physics.
For example, playing the latest Modern Warfare without Ray Tracing feels incomplete now and while it doesn't really help you in winning multiplayer games (a hit on FPS), it is breathtaking when you are playing the campaign. Being able to see real reflections on the water puddles you are running on, or through the carnage around you is a whole new gaming experience for me. Plus, I've never seen fire looks this beautiful in games.
Here is an official video comparison example on Modern Warfare with and without Ray Tracing:
Ray Tracing brings realism in games I've never known before and the future is definitely exciting. This alone makes me want to upgrade my GTX 1080Ti but eh, I still have to save up a lot.
Again, with all of these horsepower, you probably won't be able to hit that sweet 240Hz if you max all the graphics in modern games. But if you are playing CS:GO, for example, that's a no brainer.
In Overwatch, I could get around 120 fps on average with Ultra settings and 100 fps on average with Epic settings, which is not bad. Tweaking one or two more options has granted me 150 fps on average, which I'm really happy about. In Modern Warfare, 70 fps on highest settings on Campaign is good enough for me as it still offers a smooth gameplay with all the eye candy.
There is also a built-in Azure AI which automatically know what game is running and dynamically set the CPU and GPU wattage setting for optimal performance. This happens in the background so you can just use your laptop for any activities and let Azure AI take care of it. I haven't really compared thoroughly with the feature on and off, but it looks pretty promising.
If you really want the best configuration out of the AORUS 15G however, there is the RTX 2080 SUPER option. You do have to pay for the luxury though as I see the price jump from AU$3,799 (the one I have) to AU$4,699 (at MWave Australia).
While playing graphics-demanding games, the fans are working hard to push the heat out and so far I haven't experienced any heat issues or unexpected shutdowns/freezes due to overheating. The USB slot where I plug my SteelSeries Rival 3 gaming mouse is a bit further down the side than where I wish it should be (i.e I prefer to have the USB slot nearer to the laptop lid), but the mouse cable thankfully is never in my way and distracts me while playing.
With the OMRON switches (AORUS 15G keyboard is mechanical), the keys do give a satisfying tactile feedback both when playing and typing. AORUS 15G actually is the world's first laptop with OMRON mechanical switches (1.6mm actuation point, 15 million keystrokes).
Connection wise, the AORUS 15G supports the new Wi-Fi 6 (can't wait to test it with the D-Link DIR-X5460 AX5400 Wi-Fi 6 router I'm about to review) and also an Ethernet connection for the most stable gaming experience.
---
Overall, the AORUS 15G is an excellent gaming laptop in terms of performance, experience, and thermal solution. It never gets too hot after playing for hours and thanks to the 1080p resolution (thank God it's not 4K) and RTX 2070 SUPER, I can get great fps when playing new, modern games like Modern Warfare with Ray Tracing, but also amazing fps on online, competitive games like CS:GO and Overwatch.
Sure, I can't really call it a slim and portable gaming laptop in a sense, but that weight and bulkiness are not for nothing. The machine houses some of the best Intel and NVIDIA have to offer and making sure it has the best tools and features to make sure you can keep playing longer and with a great gaming experience.
For the GIGABYTE AORUS 15G full review, stay tuned here at Craving Tech! Our full review on the AORUS 15G is up! Make sure to check it out.
Disclosure: GIGABYTE AORUS 15G review unit was supplied for reviewing but all opinions are mine and not paid