Elgato Wave:1 Review – Content creators (streamers, podcasters, YouTubers) will be super delighted with this one. Elgato Wave:1 is a microphone that comes with an exclusive, full-feature audio mixing software allowing you to manipulate different sound inputs/outputs. It's a streamer's dream microphone, plus it's developed in partnership with world-renowned microphone manufacturer LEWITT, so we can vouch for its quality.
Elgato Wave:1 with Wave Link allows you to jump between different audio channel sources and control them independently, right within a single app window through easy to use and intuitive interface. This means you can control how loud you are in-game and in your streaming app independently. Really cool stuff.
Packaging
Technical Specifications
Elgato Wave:1 Specifications:
Capsule: 17 mm Electret
Polar Pattern: Cardioid
Resolution: 24-bit
Sample Rate: 48 kHz
Frequency Response: 70 – 20000 Hz
Sensitivity: -25 dBFS
Max SPL: 120 dB
Dynamic Range: 115 dB (Clipguard Engaged)
Interface: USB-C
Works with: Windows 10 (64-bit)
macOS 10.14 or newer
Design & Features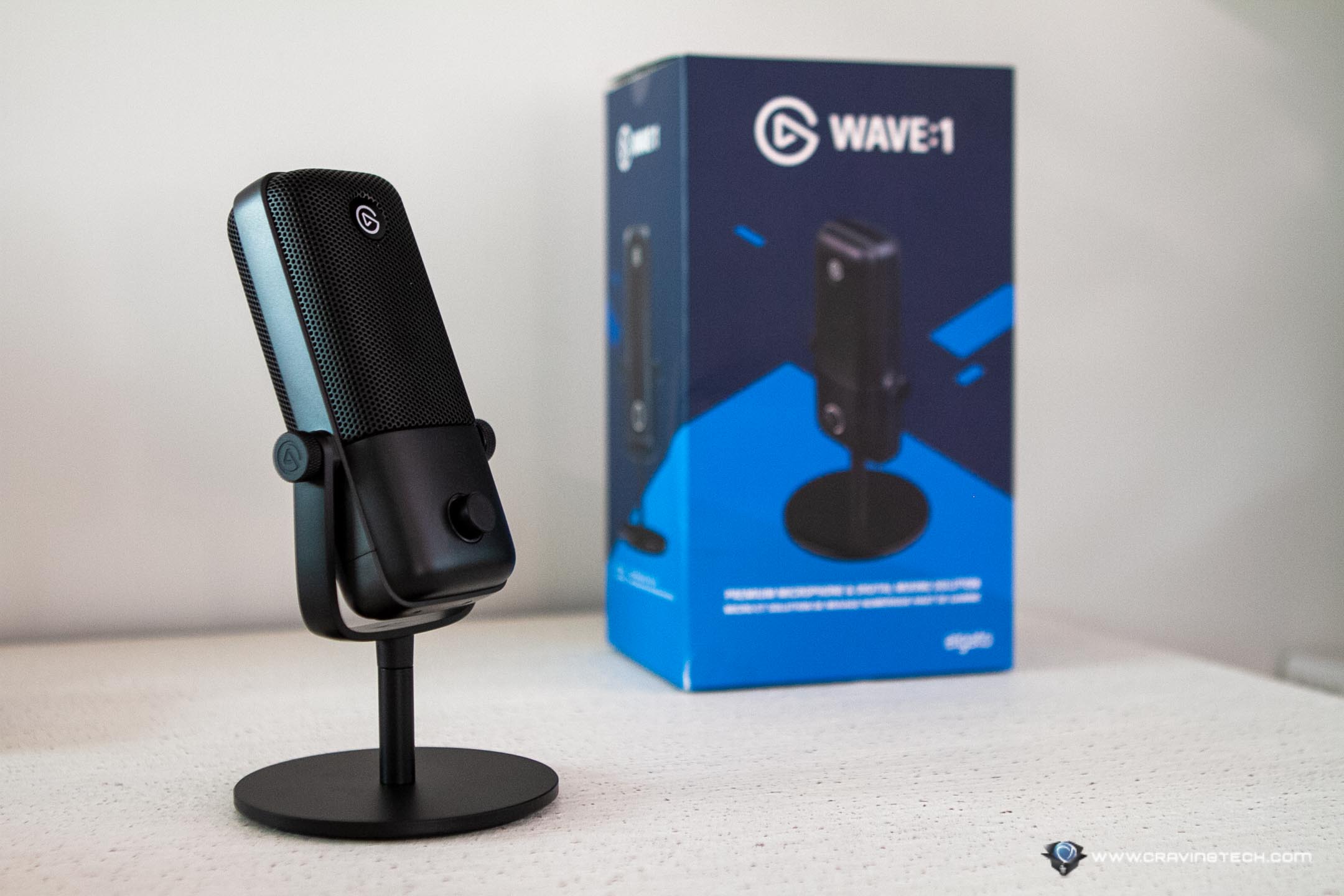 While a microphone stand is included in the packaging, an adapter is included if you want to mount the microphone to a boom. For content creator starters, however, the stand is definitely already a great starting point.
Elgato Wave:1 is a condenser microphone which means it has the widest frequency response and the best transient response. Compared to dynamic microphones, condenser microphones also offer higher sensitivity (output) and lower noise in the signal.
Elgato Wave:1 features a cardioid polar pattern which will mainly pick up sound in front of the microphone, however, if you are typing on a mechanical gaming keyboard, the microphone will still pick it up even when the Wave:1 is placed between the keyboard and my mouth. But this depends on your desk setup and can be greatly reduced or eliminated using a boom arm, reducing gain, and a few other tweaks.
At front, the dial can be used to adjust the monitor headphone's output volume and a quick press will mute/unmute the microphone. At the back, there's a 3.5mm for you to plug the monitor headphones/earphones.
How good is Elgato Wave:1? I find that my voice is really clear, and most importantly, clean. It gives that distinct, clean sound signature that left my teammates in awe about the microphone quality. It looks professional on the desk and in a way, is quite portable if you want to use it while traveling.
Wave Link
To start utilising Wave:1 to the max, the Wave Link is a free, downloadable Windows app that will give you the power to mix all different kinds of audio with up to 8 channels supported. Narrating a game? Turn down your game audio a bit so people can hear you more. But with a few slides and clicks, you can quickly mute your microphone during a cut scene and turn your game audio up. Wave Link is a new, really powerful software for all your audio mixing purposes, and everything is available within a single app window.
For example, if I use a media player called PotPlayer on Windows to play my music (or you can use Spotify, iTunes, etc), I can assign that easily to one of the channels in Wave Link (e.g "Music" – you can rename this) using Windows 10 audio settings. Assigning all these can all be done through Wave Link. I can then later adjust the volume of the music right on Wave Link – along with adjusting audio coming from many various channels. Really easy, really powerful.
So if I want to stream playing Overwatch with background music and team chat via Discord, I can assign all of them here through Wave Link and Windows audio settings. I have complete control of how loud I want each audio stream/channel be. I can also quickly mute them by clicking on the icon, or fading them out. Easy.
If you have the Elgato Stream Deck, Wave Link will work with that as well.
Elgato Wave:1 vs Elgato Wave:3
Elgato Wave:1 Review Conclusion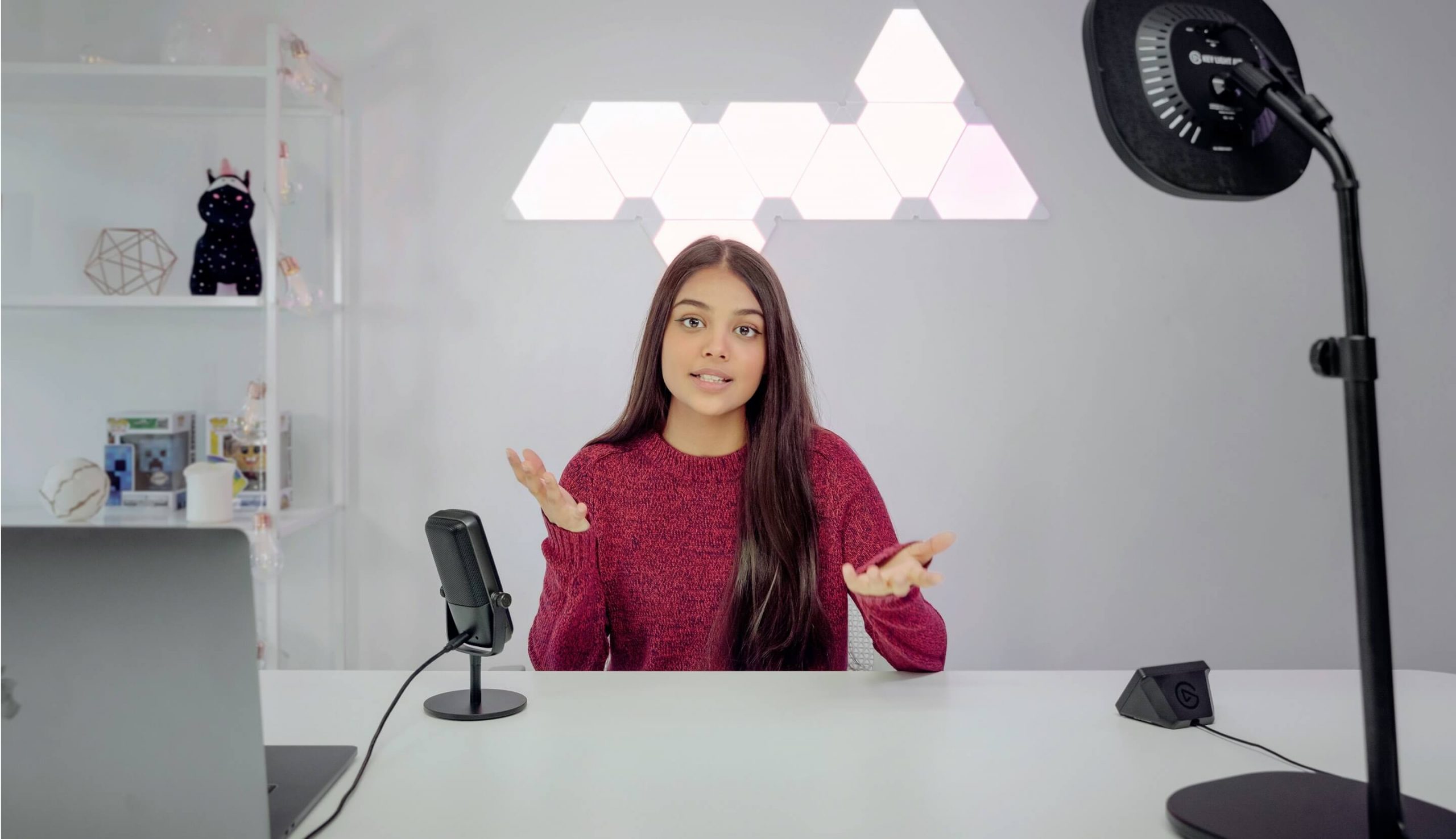 Elgato Wave:1 microphone has a clean, professional design with superior audio quality and low latency, despite it being the "entry level" compared to the Wave:3. My voice comes out crystal clear and you can also use it to record singing with a guitar, or if you are streaming a game. Nevertheless, whatever content you are producing, Elgato Wave:1 will support it and works flawlessly.
While the microphone is top notch, the software that accompanies it is even better. Wave Link is powerful and allows you to independently monitor and tweak up to 8 different channels. This means if you are streaming on Twitch, for example, you can control different audio sources from different apps quickly and easily on a single app window.
Streaming a game on Twitch while playing a background music on Spotify, plus a Discord team chat, for example, may sound hectic to manage but everything is made simple and instantly accessible with Wave Link.
For first time streamers (and even advanced streamers), Both Elgato Wave:1 and Wave Link is definitely a killer combo and combined with Clipguard technology that instantly limits any peak audio using a smart, dynamic, replacement technique, you can just focus on your content and not having to worry to tweak audio frequencies or trying to understand many audio jargons.
High quality microphone? Tick. Powerful and easy to use audio mixing software to use it with? Tick, and tick. You may already have a good quality microphone like Blue Yeti Nano, but having Wave Link on the Elgato Wave:1 (and Wave:3) is a clear winner here. Elgato Wave:1 retails for AU$239 and available now for purchase.
Disclosure: Elgato Wave:1 review sample was supplied for reviewing but all opinions are mine and not paid
Elgato Wave:1 Microphone Review
Summary
Streamer microphone with high audio quality and powerful audio mixing software, definitely should be your go-to streaming microphone if you haven't had a good one yet
Pros
High audio quality production
Stylish and professional looking 
Good quality material
Clipguard technology (reduce peaks instantly, feel free to scream now), switchable low-cut filter (removes low-frequency interference), and an internal pop filter (reduces distracting breath noise)
Easy to use, powerful audio mixing software, Wave Link with up to 8 different audio source
Reasonably priced
Cons
Wave Link only works with Wave:1 and Wave:3 microphone
Only has Cardioid pattern (i.e one directional), not for a 1:1 interview session