Professional photographers and videographers would usually say that lighting is everything (well, not really everything, but it's one of the main factors). If you are a streamer, YouTuber, reviewer, or doing a live video feed of yourself in front of a computer camera (or smartphone), you might want to invest on Elgato's latest lighting solution, the Key Light Air.
With edge-lit LED architecture coupled with multi-layer diffusion technology, Elgato Key Light Air will make your video and feed more professional and sharper. And people like looking at sharper, clearer, higher quality videos.
Packaging & Unboxing
If you are familiar to Elgato's previous lighting solution, Elgato Key Light Studio, the Air feels familiar. It is however, more compact than the Studio though the Studio can output up to 2,800 lumens (compared to the Key Light Air 1,400 lumens). In my experience, 1,400 lumens are plenty and you'd rarely need 2,800.
Note that the packaging only includes 1 unit so if you are thinking to do a left and right lighting setup, you'll have to purchase another Key Light Air.
Design & Review
The Key Light Air includes a freestanding base so you can use the light on your computer desk, or on the floor if you are streaming how to do Yoga, for example. The stand has some weight into it, which offers durability and stability when the lighting is used.
Its stand has a cable management solution where you can hide the power cable behind the stand, to keep things tidy on the desk. The stand is also fully adjustable, along with the swivel head mount to suit your whole setup. The head mount can be rotated so that you don't have to set the Key Light Air exactly at the center.
Key Light Air also works with the Elgato Stream Deck, if you already have one or planning to get one. It offers a quick and easy way to control the lighting. However if you don't, you can also control the unit from a mobile and/or desktop app. Upon installation, you need to connect the Key Light Air to your Wi-Fi network – which then allow the app to turn the unit on and off, and change the light settings.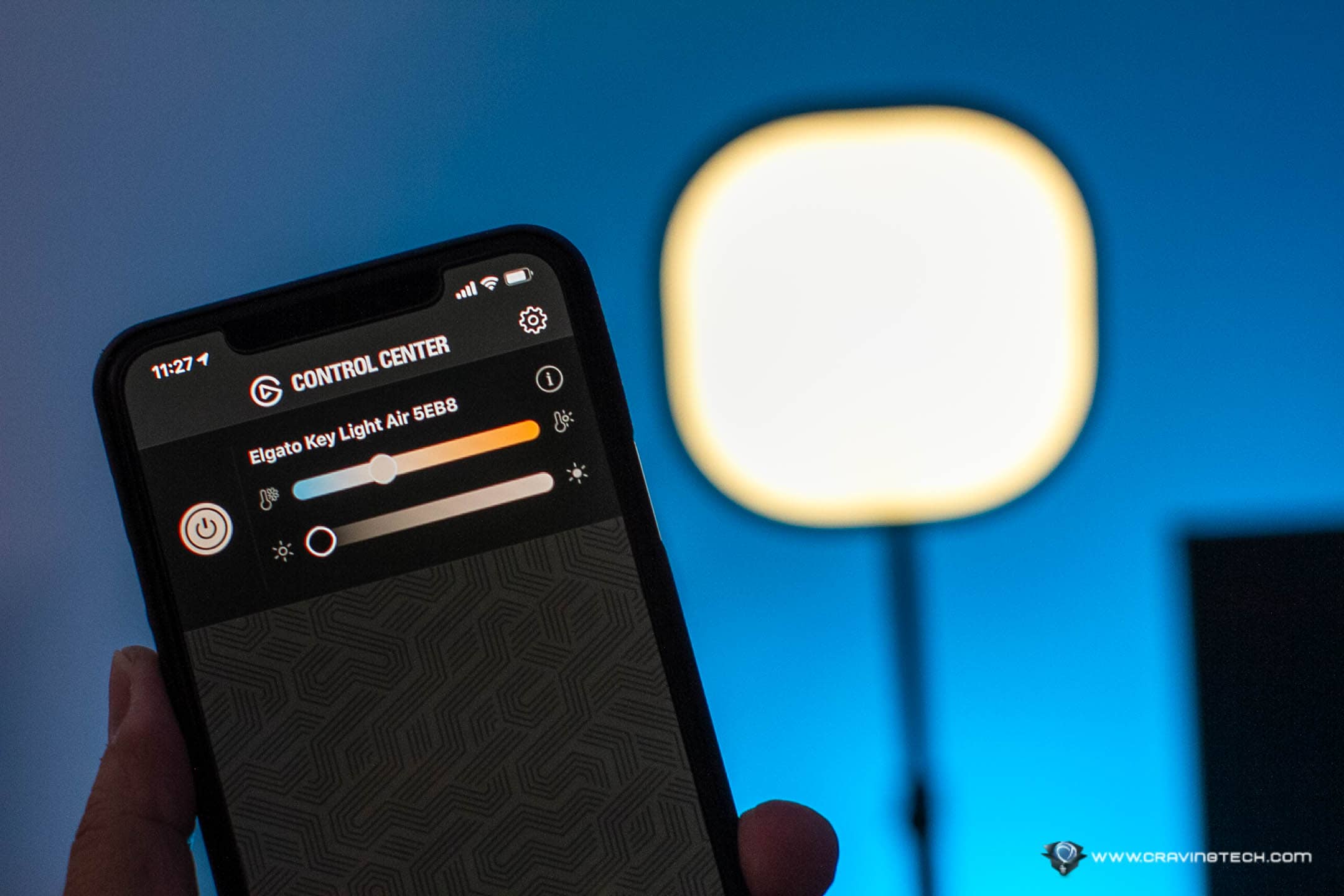 But what happens when your Wi-Fi goes down? Not to worry because Key Light Air will still work. You just can't change its settings (it can be set to use the last setting before you turned it off).
Apart from the intensity/brightness, you can also change the colour temperature to suit your liking: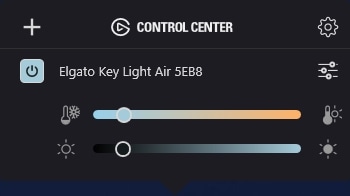 Even at the lowest brightness level, Elgato Key Light Air already offers plenty of light to your face. The light is soft until you crank it all the way up (which I found quite unnecessary, but at least the capability is there if you need them).
Photos from left to right: When Key Light Air was off, around 10% brightness, and maximum brightness. The original photo looks kind of pinkish/purplish because of the Hue Play lights syncing with the monitor.
The Key Light Air also helps reviewers like myself for taking product photos on the desk. At certain distances, the one light source can create shadows that you may not want, but I like how I can now take better photos on my desktop.
Elgato Key Light Air Review Conclusion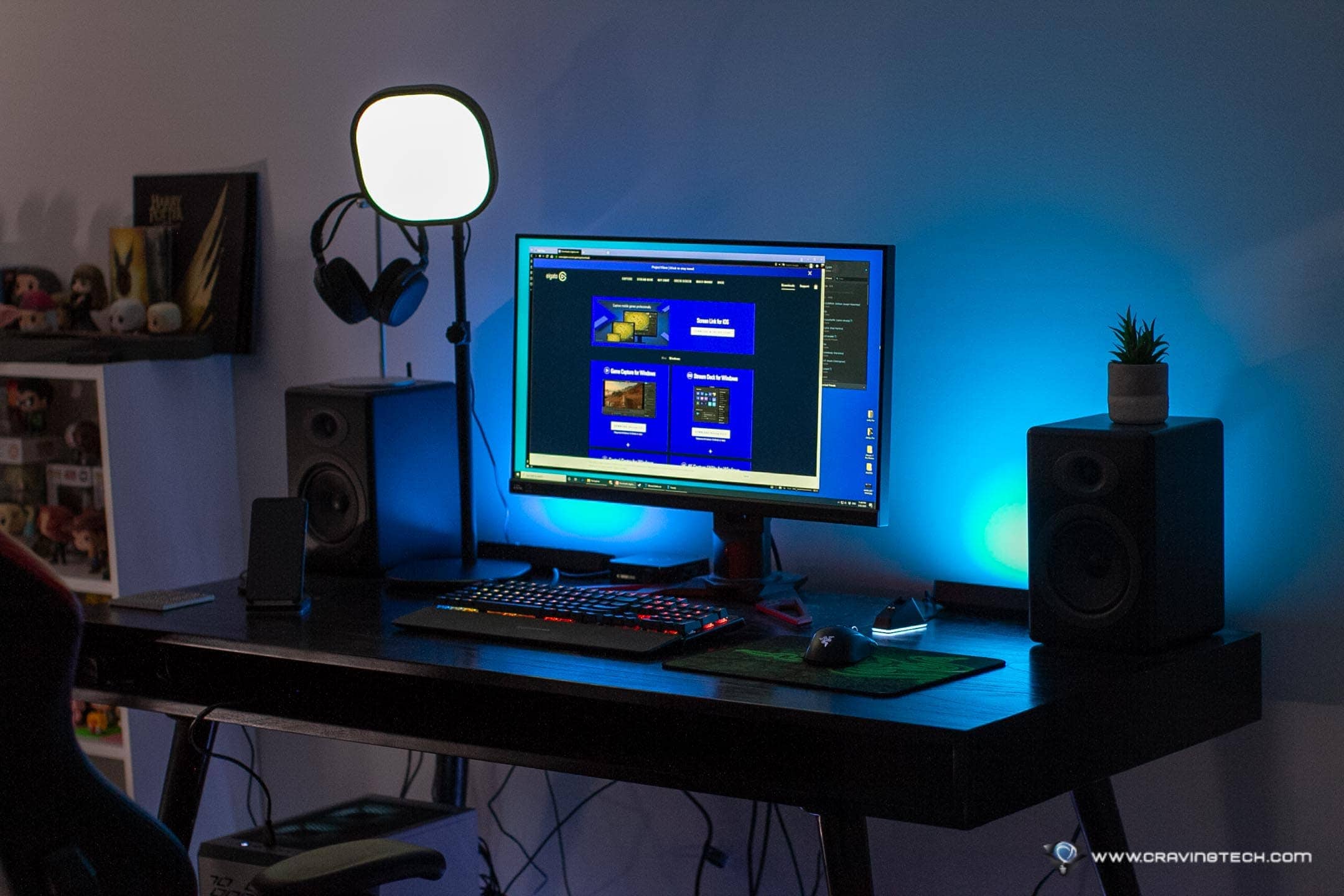 Elgato Key Light Air is a great lighting tool for streamers, YouTubers, and reviewers who want their video feed to look more professional. It's compact, easy to set up, and convenient to use and tweak so you can use your time for something more productive.
Elgato Key Light Air retails for AU$219 at EB Games Australia and while you can achieve the same results with a proper lighting equipment, the Key Light Air is more compact on the desk and that you can carry it around with you easily to different places. For example, if you are covering an event overseas, you can practically carry the Key Light Air with you and stream in your hotel room with the same video feed quality.
Also available at Amazon.
Disclosure: Elgato Key Light Air review sample was supplied for reviewing but all opinions are mine and not paid
Elgato Key Light Air Review
Summary
 Compact lighting solution with great performance for streamers alike
Pros
Compact on the desk, without sacrificing lighting quality
Adjustable height
Bright! (up to 1400 lumens)
Colour temperature can be changed (2900K – 7000K)
Works with Windows software, mobile app, and Elgato Stream Deck
Cons
Price, and only 1 light is included