Reid E4 Plus eScooter Review – Riding a bike is fun but riding a scooter is more fun – especially if it is an electric scooter (or eScooter for short). Whether you are looking to commute from home to work, or just wandering around for fun on one, an eScooter is a perfect choice because it is safer than riding a motorcycle and less hassle than cycling.
There are a few eScooters in the market but we will be looking at one coming from an Australian brand, REID, founded by James Reid. Reid bikes was founded in Australia but have now been distributed to around 20 countries in the world, making REID the largest Australian owned bicycle brand.
Their E4 Plus eScooter can actually travel up to 28 kilometers, thanks to the big battery and motor efficiency. That range definitely can cover multiple suburbs here in Australia comfortably.
Design & Features
Reid E4 Plus eScooter is designed with a modern & minimalist look-and-feel for urban travellers. It's available in either Black or White here in Australia. My review unit comes in Black.
I really like the LED HUD display that shows you how fast you are going and other informaton like the current battery level (bars on the top) and the speed mode you are in (more on this later). You can also change this to show your distance traveled.
While looks can be everything, the eScooter itself is also crafted carefully to ensure safety, comfort, and efficiency. The large, 10″ wheels can go through roughs terrain and bumps on the road with ease. They are also puncture proof as they aren't filled with air but solid rubber with cutouts, thanks to the "honeycomb" patented design.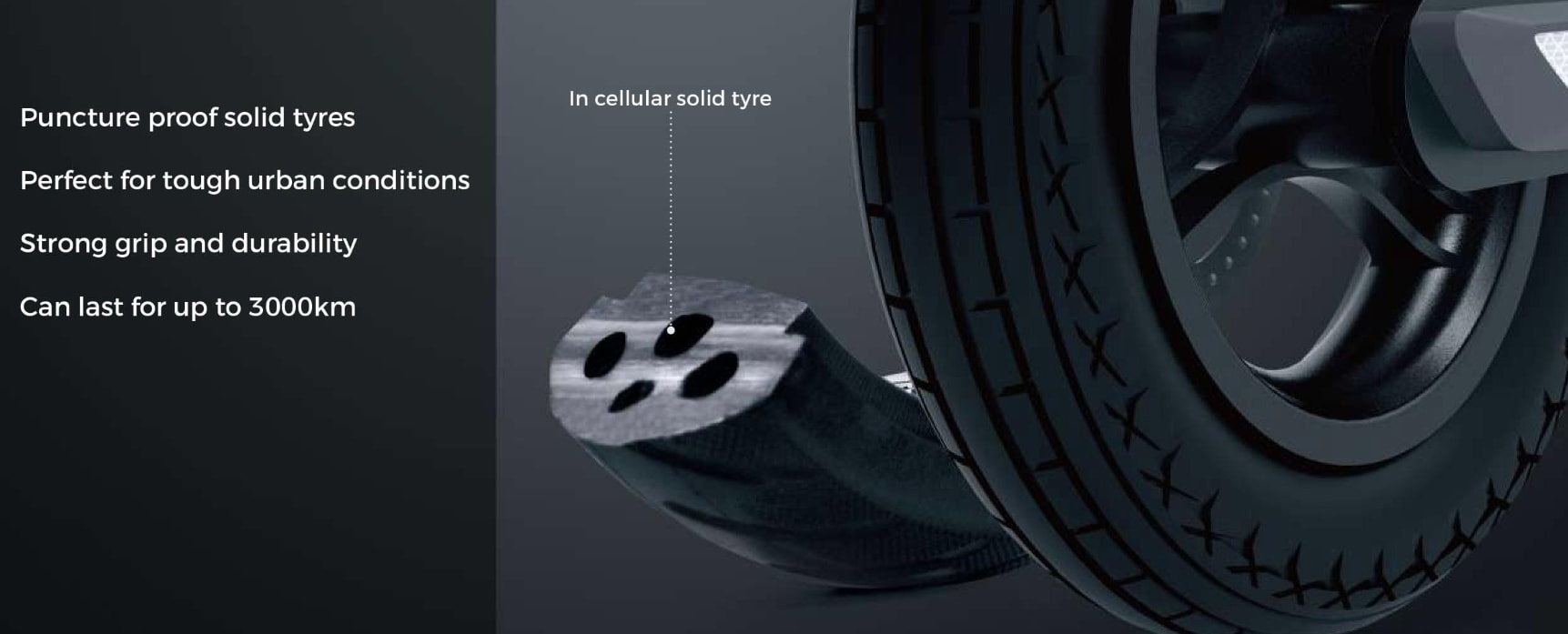 For safety, the E4 Plus is equipped with a superbright multi LED headlight, rear brake light, and an underdeck ambient lighting so others can see you on the road at night time. The light colours can also be changed through the app if you want to be fancy.
Speaking of app, Reid E4 Plus eScooter can be connected to your smartphone via Bluetooth and this allows you to change some settings like changing the light colours, the metrics to display, enabling cruise control, and a few more other options. I'd personally love the app to have a bit user-friendlier interface (to see clearly which button state you are on now) and more tooltip information on some settings.
The eScooter can be folded, making it easier to be carried around. For example, you might ride to a train station, fold the eScooter, and bring it with you to the train. I was quite surprised at how heavy it is though (14.5 kg) – which is most likely caused by the big battery at the bottom of the eScooter. It's a trade-off really (bigger battery = heavier), but this means you have more mileage and also stability due to the weight. It's kind of similar to the Tesla Model X I have where the batteries are all at the bottom of the vehicle, making the car more stable on the road and prevent it from easily being toppled over.
Thankfully, you can just drag it like a bicycle and only fold it if you really need to (such as during peak hours on the train, or to carry it up the stairs).
Pushing down the acceleration lever will accelerate the eScooter and the deeper you push, the quicker it accelerates (like riding cars). Similar to Tesla and other EVs, the E4 Plus eScooter has regenerative braking so if you release the accelerator, the eScooter will decelerate and can come to a complete stop after some time. I'm not going to explain how regenerative braking works, feel free to search around for the science behind it. If you ride responsibly, you basically never have to hit that manual braking mechanism and save the disc brake pad. The scooter can also be stopped with a foot and mechanical disc brake for emergencies though, or if you release the accelerator too late.
There is also a small ring bell included with a similar push mechanism like the accelerator for consistency in navigating.
As for specifications, Reid E4 Plus eScooter has a 350W motor with 3 power modes (7.5kph, 16kph, and 25kph maximum speed)
The charging port is also completely sealed, thanks to the IPX4 waterproof rating.
eScooter Riding Experience
So what is it like to ride an eScooter, especially the Reid E4 Plus? It's definitely fun and exhilarating! I've never ridden a scooter before and I was worried whether I'd struggle like riding my bicycle for the first time. Apparently not. It's really easy to ride one even for first timer and a few friends who tried out the E4 Plus could also master it quickly.
The first speed mode is probably the one you should stick for if it's your first time. It ensures that you can't ride too fast and force you to learn the basics of riding a scooter like turning, before you are going full speed.
Riding feels sturdy even when going to different types of terrains, thanks to the large wheels and heavy chassis.
Using the accelerator is done with the right thumb and it is fun to drive. If you never ride an EV before, it may take some time to get used to riding without having to apply brakes manually. But you can manually brake with the brake pad until you master it.
If you are planning to use the E4 Plus to commute to work, you might want to turn the cruise control mode on (or the "Walk" mode in the app). This will lock your current speed if you hold the accelerator for 8 seconds. This way, you can release your thumb from the accelerator and cruise along with the set speed. Quite handy if you are riding on a long, straight road.
Battery indicators are always visible on the LED display but with the large battery capacity, you can definitely go far without ever worrying about having a flat battery.
Reid E4 Plus eScooter Review Conclusion
Reid E4 Plus eScooter is so fun to ride and thanks to the battery capacity plus motor efficiency, it is a great, daily commuting alternative to using bikes and cars. The eScooter has a sleek, modern, ergonomic design, and sturdy to ride. It's also equipped with many safety features like both headlights and brake lights, electronic lock, disc brake, and underdeck ambient lighting for night rides.
The torque is quite impressive and the eScooter maintains its stability through different terrains.
To say that I love the E4 Plus is an understatement because once I've finished riding it, I just want to ride it some more. And a few friends who have driven it definitely had fun and been asking me about where they can grab one.
Laws around usage (for riding an eScooter) unfortunately vary in each state here in Australia, so check local laws at your country and state. However, there is a big push at the moment to change these laws in Australia and we are hoping them to be updated sometime this year. Once we do, I'm sure electric scooters will be selling like hot cakes.
The Reid E4 Plus eScooter can be purchased at Reid Cycles for AU$799.99 RRP.
Disclosure: Reid E4 Plus eScooter review sample was supplied for reviewing but all opinions are mine and not paid
Reid E4 Plus eScooter Review
Summary
A fun-to-drive electric scooter with modern looks, safety features, and can cover up to 28 kilometers distance. 
Pros
Modern look and feel
Good torque
Have cruise control for a steady, long straight road travel
Have lightings all around, including underdeck + customisable colour
Cons
No built-in theft alarm function
App needs more tooltips, some options can be made clearer like "Walk Mode", and a bit user friendlier