Logitech G PRO X SUPERLIGHT Review – A less-than-63 grams wireless gaming mouse with great performance and has more than 70 hours of battery life? Bring it on. Logitech G PRO X SUPERLIGHT is definitely Logitech G's lightest and fastest PRO mouse ever.
It's powered by Logitech G's HERO 25K SENSOR at 25,600DPI and 400 IPS.
Logitech G PRO X SUPERLIGHT Packaging and Unboxing
Logitech G PRO X SUPERLIGHT Review – Design & Features
The PRO X SUPERLIGHT is designed to reduce weight while still enhancing its performance (both the sensor and battery life). At less than 63 grams, it's nearly 25% lighter than the standard PRO Wireless (which weighs around 80 grams – make sure to check my review for more details).
If you have the PRO Wireless, you'll notice the similarities in terms of shape, size, and design. The mouse is definitely aimed towards gamers with small (or average) hands. I have small hands and a fingertip grip user, so the shape and size of PRO X SUPERLIGHT is perfect for me.
I find the grip feels a bit slippery on its own, but there is an optional grip tape included in the packaging. The glide is smooth and the HERO 25K sensor delivers accuracy and consistency. I've never experienced any jittery while playing with the mouse and being wireless, I didn't notice any latencies.
Both tracking and flicking are good with this mouse so no matter what your playstyle is, you'll get it out of the mouse just fine.
Here are some highlights and play of the game videos while I was playing Overwatch with the Logitech G PRO X SUPERLIGHT. I was using McCree, one of the heroes that relies on good aim with his Peacekeeper gun:
and lastly, here's a fun, Play of the Game:
I definitely enjoyed playing my matches with the mouse and I never felt frustrated or had an urge to put the blame on the mouse. It's reliable, accurate, and comfortable to use for hours.
The mouse was also tested and validated by esports athletes around the world so if you are looking for a more legit validation, then you'll find plenty here.
Battery life can supposedly go for 70 hours (with constant motion, so you should get more) which is really good. I'm using the mouse on my Logitech POWERPLAY Wireless Charging System though, so the mouse is constantly being recharged while I play and I've not found the need to charge for the past 3 weeks. But if you don't have anything that fancy, you can always plug it in to charge and play wired.
Logitech G PRO X SUPERLIGHT Review Conclusion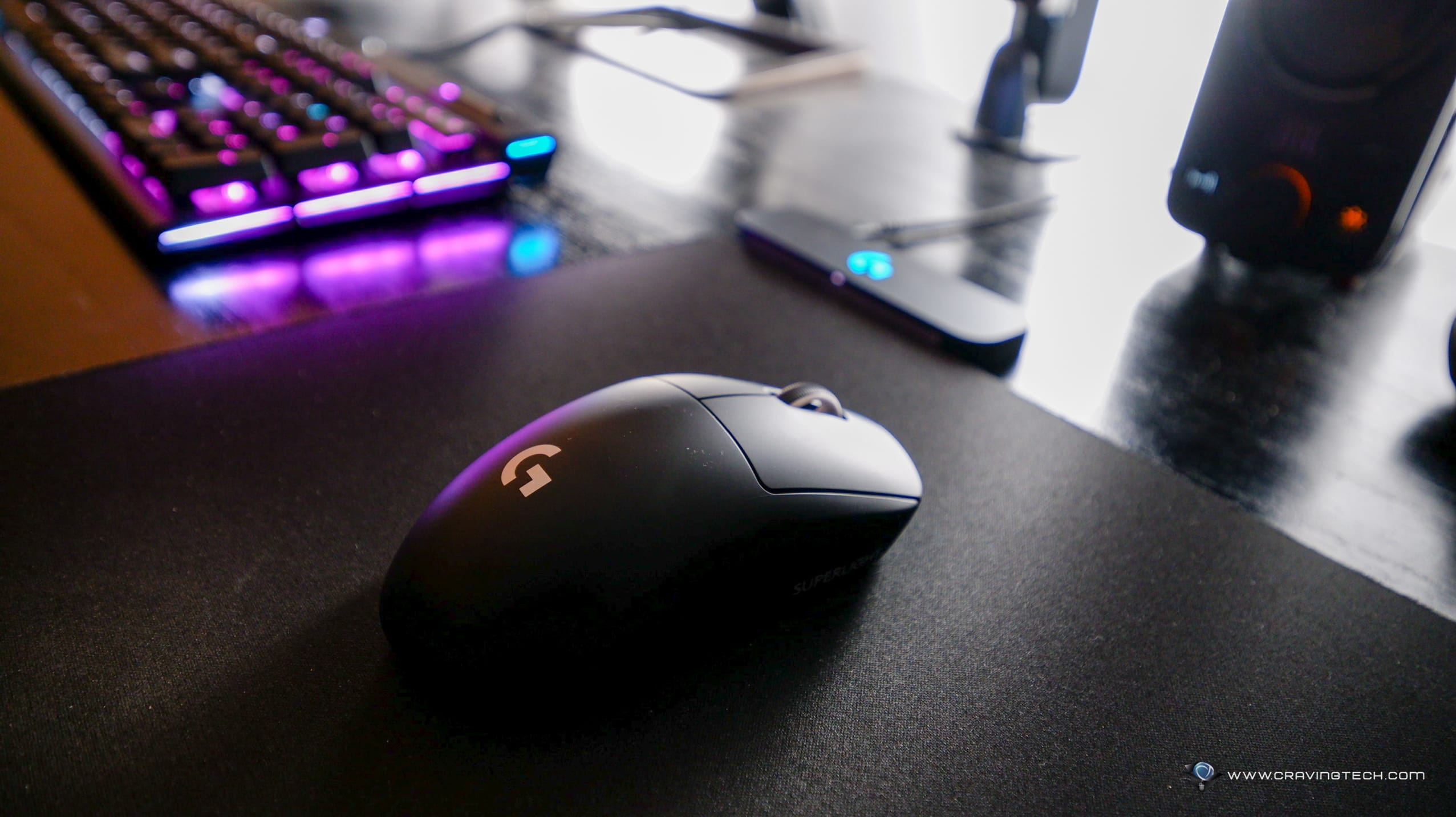 Logitech G PRO X SUPERLIGHT wireless gaming mouse is definitely Logitech G's lightest and most powerful mouse in the arsenal. It's designed to be super light, yet offers generous battery life and accurate sensor.
It's definitely an amazing feat of engineering and with every game peripheral manufacturer going for the lightest mouse possible, looks like Logitech G is ahead in the game. SteelSeries Aerox 3 Wireless is a bit heavier at 66 grams and I can also get more consistent results with the PRO X SUPERLIGHT in game.
Logitech G PRO X SUPERLIGHT retails for A$279.95 and available now online and at many retailers around Australia. Also available at Amazon.com.
Disclosure: Logitech G PROX SUPERLIGHT review sample was supplied for reviewing
Logitech G PRO X SUPERLIGHT Review
Summary
Lightest and fastest wireless gaming mouse from Logitech G
Pros
Lightweight
Great, comfortable design
Great and consistent sensor performance
Long battery life
Supports POWERPLAY
Cons
Right handed only
Bit slippery unless you apply the included grip tape