SteelSeries Aerox 3 Wireless Review – I tweeted some time ago to SteelSeries asking for a new wireless, flagship gaming mouse that weighs below 100 grams. Rival 650 Wireless is awesome for sure but it weighs 121 grams and with my grip style, I've never been a fan of a somewhat heavier mouse.
Sure, they then came up with the SteelSeries Rival 3 Wireless which is powered by 2x AAA batteries and somehow cuts the weight down to 96 grams with just a single battery inside. The sensor is good and I have good times with it like the original Rival 3.
Maybe it's just me but I don't really like the idea of replacing AAA batteries every 50 hours or so – especially if I'll only be using the mouse for both working and gaming (which means about 10 hours of usage a day minimum).
Well, guess what – SteelSeries still has another surprise. The SteelSeries Aerox 3 Wireless is now here and it has answered all my (and possibly your) prayers for wanting a new SteelSeries, wireless flagship mouse. And man, you'll love the Aerox 3 Wireless.
Packaging & Unboxing
Design & Features
Note that SteelSeries also has the Aerox 3 in wired version – you may want to check other reviewers for this one. The unit I have here is the wireless version.
SteelSeries Aerox 3 Wireless has that unique, honeycomb shell design which doesn't just give you breathable surface for your palm but you can also somewhat see the inner circuitry of the mouse. It looks kind of cool when the lighting is on.
Now you might be wondering, what if you spill your drink over the mouse? Wouldn't all the liquid go inside and short-circuit everything? Nope. The Aerox 3 Wireless actually has an IP54 rating which is the first for a gaming mouse to have one. This means you'll get water resistance and protection from dust, dirt, oil, and more. The mouse's AquaBarrier tech is engineered to safeguard the seemingly exposed interior circuitry. Cool, eh?
So, about answering that prayer…SteelSeries Aerox 3 Wireless weighs only 66 grams, which is kind of crazy. If you like numbers and competition comparisons, it's the lightest gaming mouse I've ever used and reviewed here at Craving Tech. I was pretty amazed with the 80 grams Logitech G Pro Wireless – which then got beaten by 74 grams Razer Viper Ultimate. But 66 grams? Dang!
The other concern you might be having with a mouse this light is battery life, right? Thankfully, according to SteelSeries, the Aerox 3 Wireless should last around 80+ hours in 2.4GHz wireless mode (1,000Hz polling rate) and 200 hours in Bluetooth mode (125Hz polling rate, if you are planning to use the mouse to work or browse). These are with the default lighting profile, i.e you still get those sick lights but will smartly auto turn itself off when you are using the mouse (i.e when the mouse is moved).
Those are actually pretty good numbers and I find that during the week I had using the mouse before the official launch, I've never found the need to charge it at all.
If you ever need to, though, the Aerox 3 Wireless has a USB-C Fast Charging – thank God, finally someone is doing this. SteelSeries says that you can get 40+ hours of battery with 15 minutes of charging (I'm not too sure if this is on Bluetooth or 2.4GHz, my guess is Bluetooth). But most importantly, there is no need to try matching up those horrible microUSB pin connectors each time you want to charge! Plus, the packaging includes an extension to plug the 2.4GHz receiver and place it on the table so the cable is always ready for you to reach anytime. It's quite a well-thought design process.
SteelSeries Aerox 3 Wireless Review – Gaming Experience
Great design? Check. Lightweight? Check. Great battery life with USB-Charging? Check. But they are all for nothing if the sensor doesn't win you games. Thankfully, SteelSeries Aerox 3 Wireless uses the same TrueMove Air sensor on the Rival 3 Wireless. It's a custom, optical sensor co-developed with PixArt specifically for wireless performance with 18,000 CPI, 400 IPS, 40G.
Thanks to the lightweight design, it is a breeze to use the Aerox 3 Wireless on my SteelSeries QcK Prism. The mouse is also comfortable to hold with my small hands and the honeycomb design should make the sweat go away. Like the Rival 3 Wireless, the sensor is great and accurate, perfect to play high-paced, competitive, online, first-person shooter games. But of course, the mouse will work well in any other games genre.
Here some montage clips from a few highlight videos while I was using the Aerox Wireless. But feel free to check some other videos on my Rival 3 Wireless review article as it's using the same sensor as the Aerox 3 Wireless.
SteelSeries Aerox 3 Wireless Review Conclusion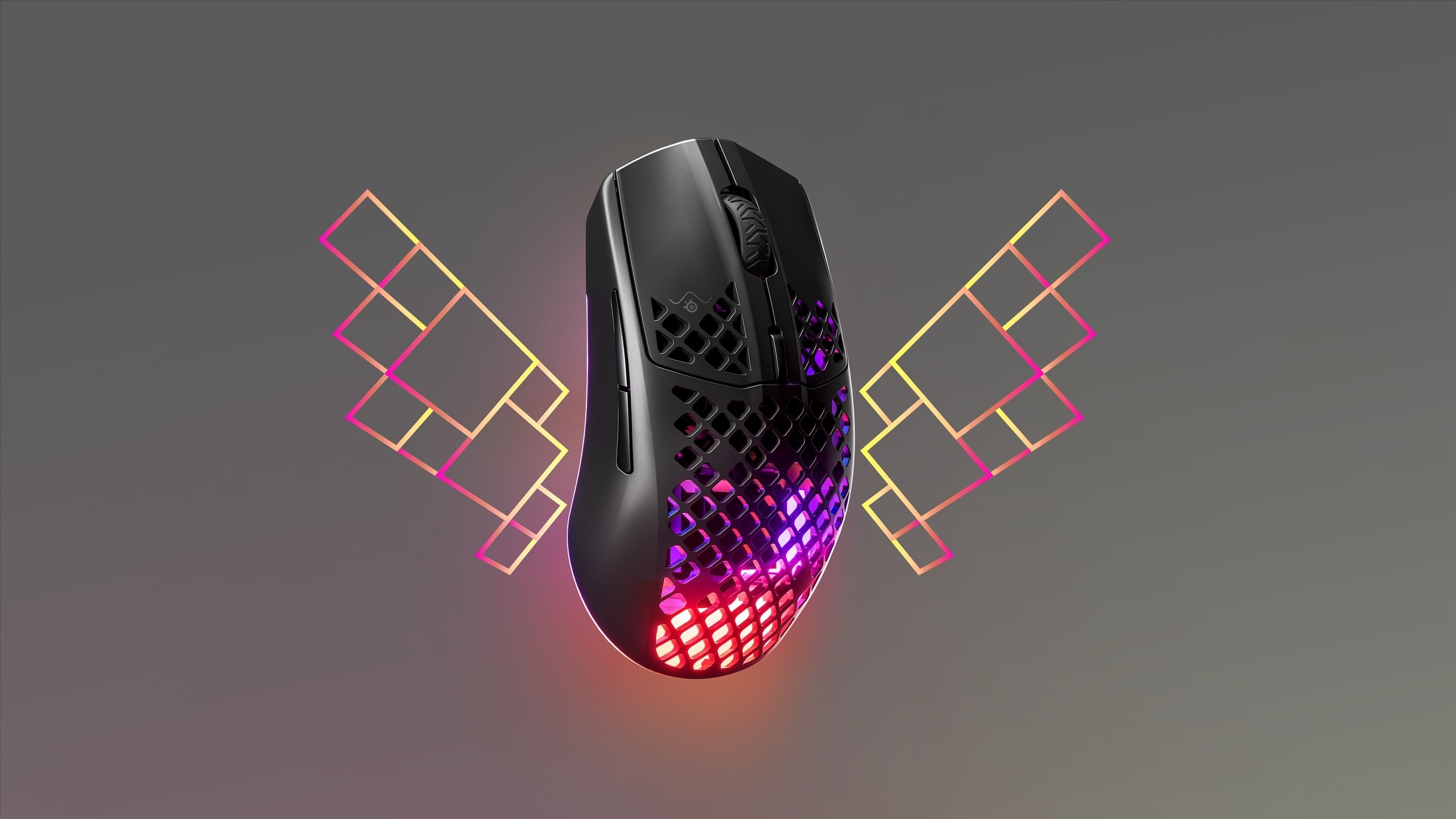 If you are looking for the lightest, great performance, durable, wireless gaming mouse – definitely go grab the SteelSeries Aerox 3 Wireless and you won't be disappointed.
Its honeycomb, lightweight 66 grams design gives plenty of breathable surface for your palm. It also has USB-C connector and fast charging, good battery life, and great sensor performance overall.
This is definitely SteelSeries' next flagship mouse in late 2020 and looks like it will be my primary, gaming mouse for months to come! Well done, SteelSeries.
SteelSeries Aerox 3 Wireless will available in November 4, 2020 and retails for AU$189.
Disclosure: SteelSeries Aerox 3 Wireless review sample was supplied for reviewing but all opinions are mine
SteelSeries Aerox 3 Wireless Review
Summary
Incredibly light, wireless gaming mouse with great sensor performance.
Pros
66 grams of weight (the wired version is even lighter)
Unique honeycomb design exposes internal components + great for sweaty palms
Power efficient sensor brings great battery life
Bluetooth option
USB-C connector + fast charging
Cons
Doesn't look and feel luxurious but eh, who cares