Logitech G G903 & Logitech POWERPLAY Wireless Charging System Review – When a gaming peripheral promises endless wireless gaming, it normally involves a hot-swappable battery system or a super-long battery life. So technically, there still is a delay between having to swap your batteries over, or charge your wireless device with a supplied cable.
However, when Logitech released their all new POWERPLAY Wireless Charging System, endless wireless gaming means exactly that. Literally. And man, the wireless gaming experience has definitely gone to the next level with the POWERPLAY technology.
But before we take a closer look at Logitech POWERPLAY, let's take a step back and talk about the latest Logitech G G903 wireless gaming mouse.
Logitech G G903 Wireless Gaming Mouse Review
Logitech G G903 Review – Packaging
Logitech G G903 Review – Design & Features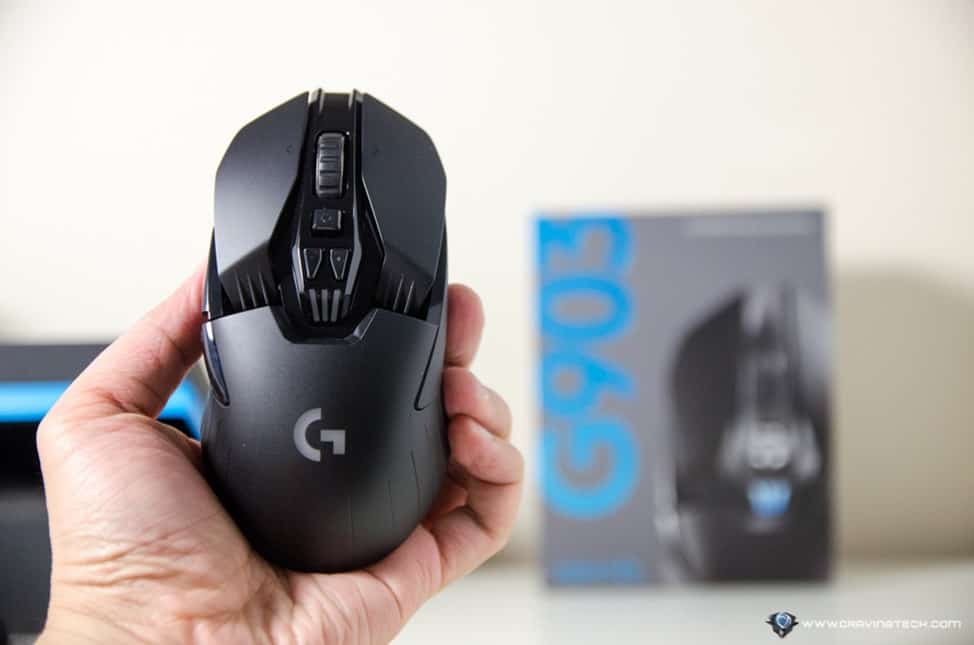 Logitech G G903 is a wireless gaming mouse with around 24-32 hours of battery life, which should last you for several days of gaming and moderate use. It does not look like a standard mouse with a straight design, but rather, has unique curves and looks. The G903 is ambidextrous (can be used with either hand) and according to Logitech, can be used in any grip style (I'm more of a fingertip/claw gamer and it feels great).
The mouse itself weighs 110 grams which may not suitable to everyone's needs (i.e there is a fan base of gamers who prefer "under 100g" mice) but I personally don't feel that the G903 is heavy -and I like to lift my mouse up consistently from the pad while gaming. Some gamers seem to prefer heavier mouse (probably palm-grip users?), so Logitech includes an extra weight module that adds another 10 grams (should you want to add that in). You can also swap things around to fit your hand and style.
Logitech LIGHTSPEED wireless technology features a 1ms reporting rate on the 2.4GHz wireless connection and so far the connection has always been solid. I play mostly FPS games (both competitively and non-competitively) and I've never felt any difference in response compared to using the wired Razer DeathAdder Elite mouse.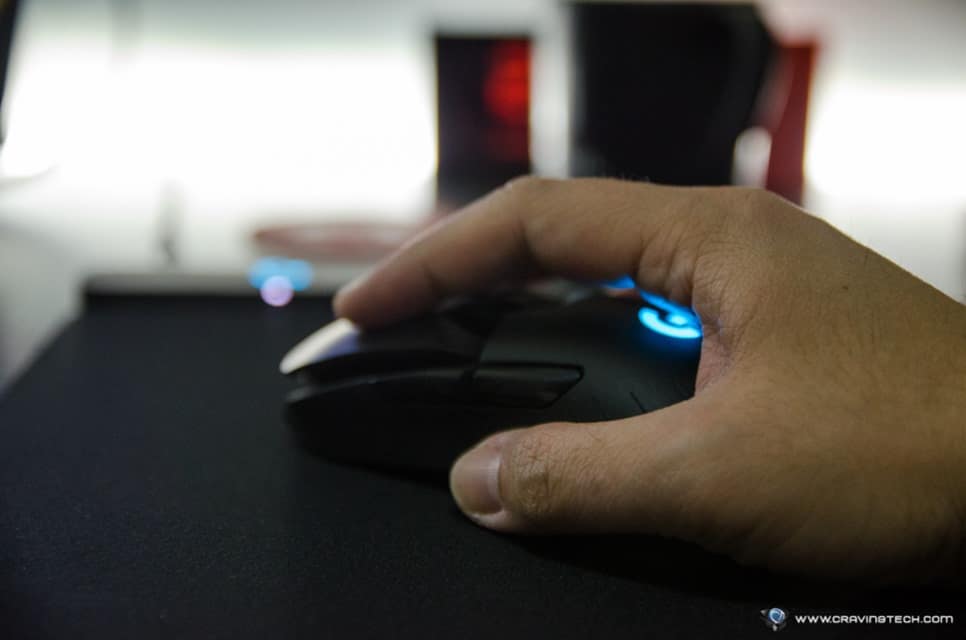 Plus, the Logitech G G903 is powered by the best and most popular gaming sensor PMW3366 (Optical) with up to 12,000 DPI. Having the PMW3366 sensor means you'll get a highly accurate sensor that tracks every movement you make without fail. For pixel accuracy tracking requirement such as playing McCree & Widowmaker in Blizzard Overwatch, the mouse rocks so far. I do many twitch movement and the G903 shines in this area too.
I also love the tactile feedback feel of the mechanical mouse buttons when clicked and there is an option for infinite scrolling. I'd love it better if the middle mouse button is not as stiff to press, though.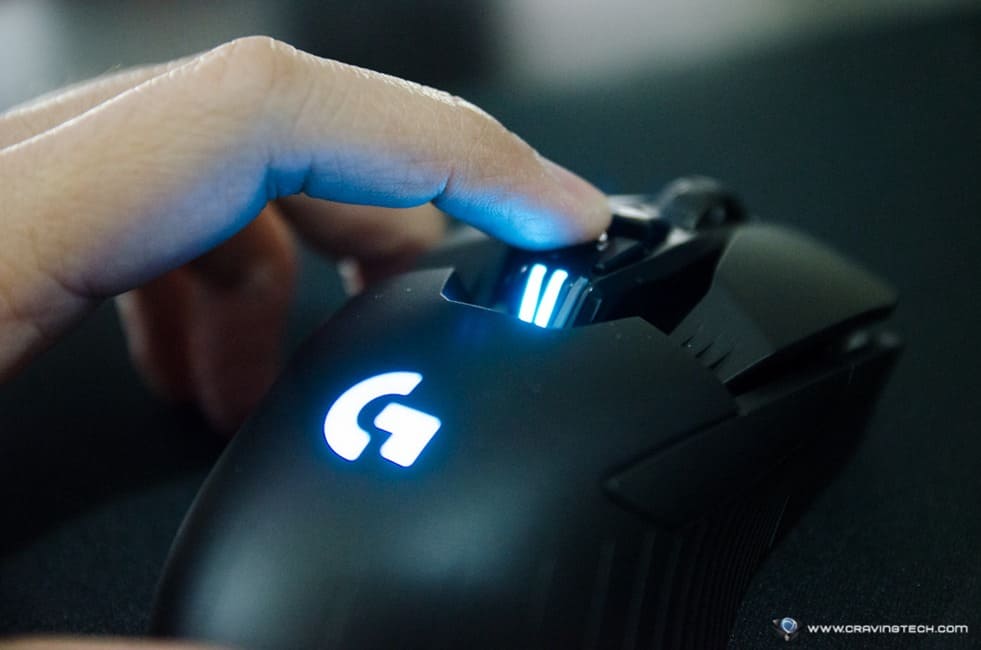 And should you ever run out of battery (or about to run out), you can hook the cable to the mouse to charge and use it at the same time.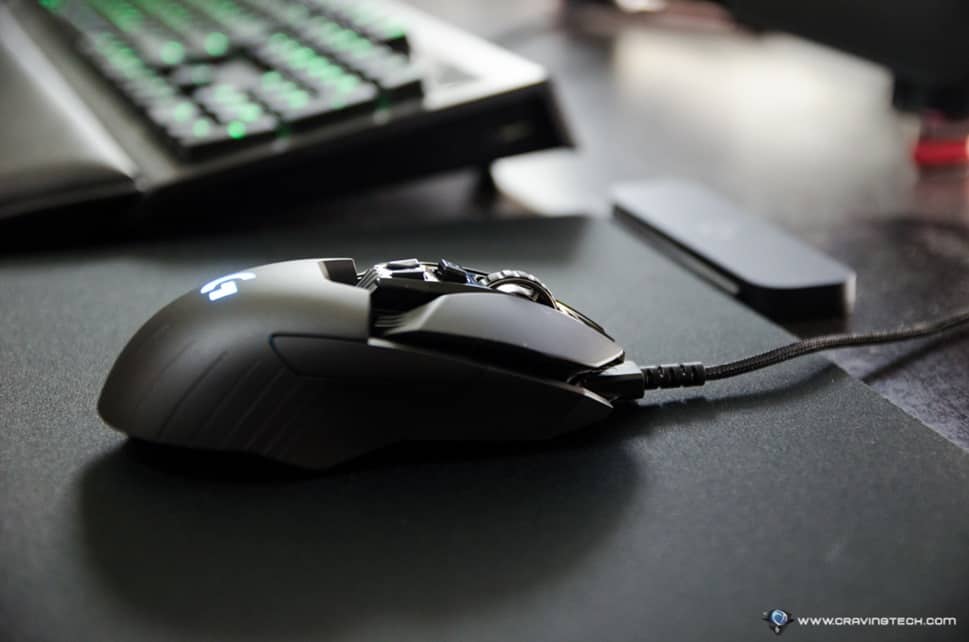 BUT! If you happen to have Logitech's new POWERPLAY wireless charging pad, you can strike my last sentence out and use the mouse wireless, endlessly.
Logitech POWERPLAY Wireless Charging System Review
Logitech POWERPLAY Review – Packaging
Logitech POWERPLAY Review – Design & Features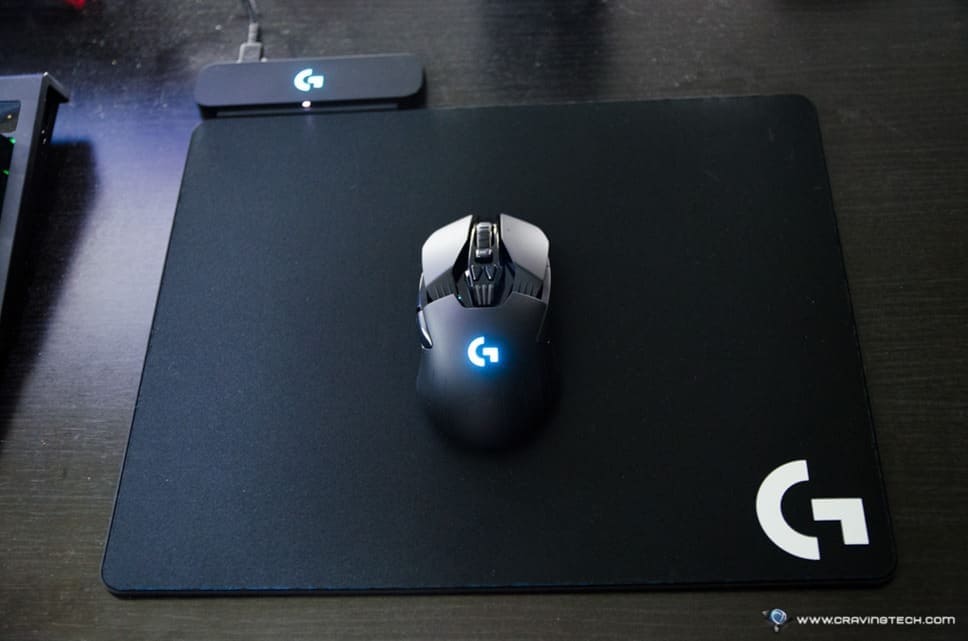 I'd have to say, Logitech POWERPLAY Wireless Charging system is Revolutionary. I'm not exaggerating here, because as far as I'm aware, this has never been done before and it is definitely not a gimmick (I've gamed and tested on it for around a couple of weeks of non-stop gaming daily).
In a nutshell, it works similarly to a smartphone wireless charging system, i.e by placing the device on a charging pad that charges it continuously while the device is laying there. Of course, the technicality of the technology does not sound as simple, but we can leave that to Logitech engineers team.
From the Logitech POWERPLAY page:
Through innovative application of electromagnetic resonance, the POWERPLAY base creates an energy field above its surface. This allows charging while in motion and delivers wireless power without interfering with the precise measurement and data transmission of a high-performance gaming mouse.

The POWERPLAY energy field is transformed into charging current by the POWERCORE™ module, which attaches magnetically to compatible wireless gaming mice.
So, you can use a Logitech wireless mouse that supports Logitech POWERPLAY and as long as the mouse sits on a POWERPLAY charging pad, the mouse stays charged. Which means, your Logitech wireless mouse will never run out of battery and you will never need to plug a cable to your mouse to charge, ever.
It requires a POWERCORE module to be inserted into a compatible Logitech wireless gaming mouse such as the G903 and G703. A single POWERCORE module is included when you get the POWERPLAY wireless charging system.
Both Cloth and Hard mouse pad surface are included in the packaging, so you can pick and choose the one you prefer. It will be laid on top of the POWERPLAY charging pad and sits there nicely.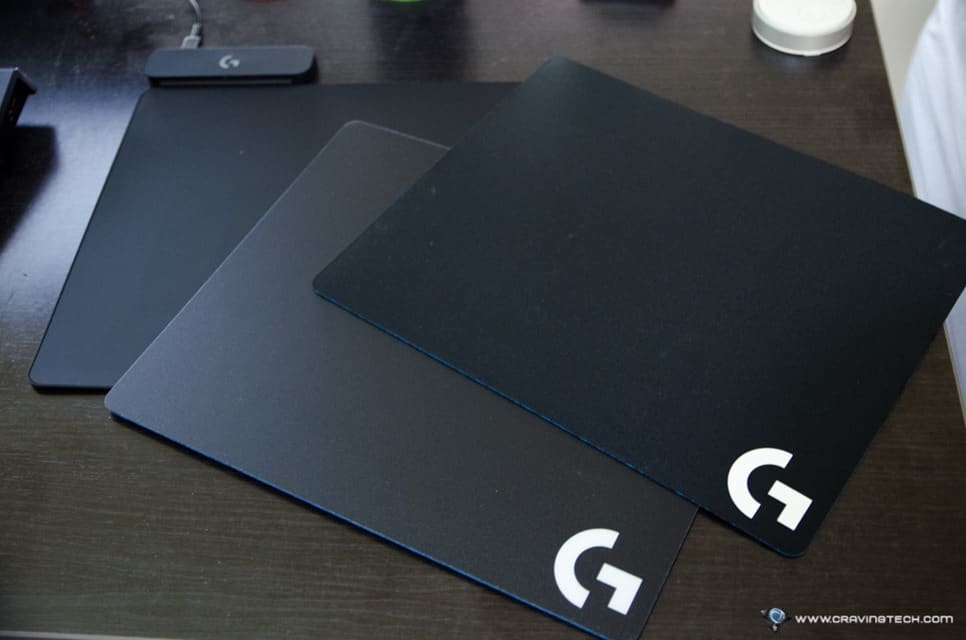 The POWERPLAY also includes a built-in wireless receiver on the base, so you do not need to sacrifice an extra USB slot to plug the mouse's wireless receiver.
I did worry about the battery life span as it's continuously being charged but it looks like Logitech team has tackled my anxiety. They make it so that the battery charges slower (compared to plugging the cable into the mouse) and maintains a healthy charge around the 90% mark to avoid overcharging. These should keep the battery happy.
I also like the fact that I can move my mouse and it responses instantly. Normally, you'll have to press a button or make a slight mouse movement to wake a wireless mouse up and wait for 1-2 seconds before you can use the mouse.
Logitech G G903 with the POWERPLAY Wireless Charging System Review Conclusion
Logitech G G903 with Logitech POWERPLAY Wireless Charging System can be summarised in one word: Revolutionary.
I know it's a strong word to say, but it really is. The G903 itself is an awesome mouse to behold and use, and the POWERPLAY offers both soft and hard mousepad to pick.
However, everything that is revolutionary comes at a price and it's no different here. The Logitech G G903 will cost you $249 AUD and the POWERPLAY will cost you $199.95 AUD. But if you want the best of the best from Logitech G Gaming Gears, this is it.
Disclosure: Logitech G G903 & POWERPLAY Review samples were supplied for reviewing but all opinions are mine and not paid