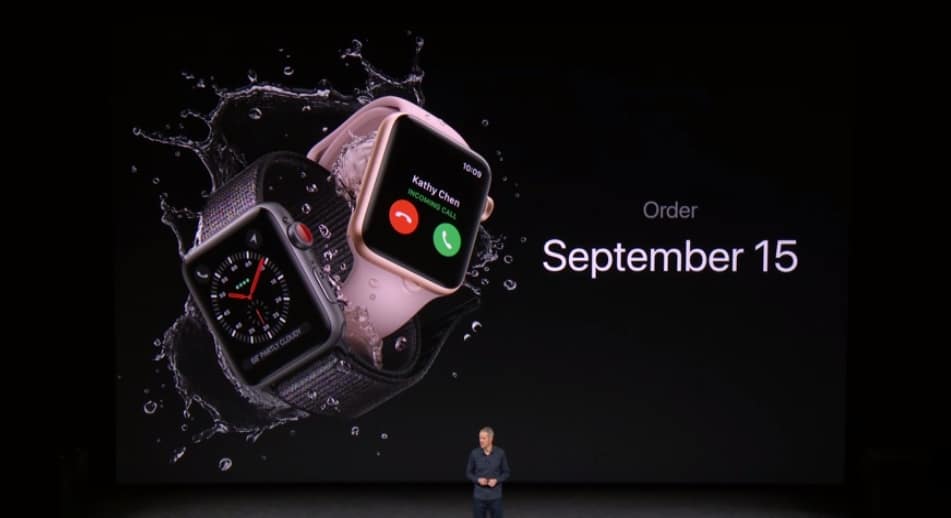 The new Apple Watch Series 3 has a cellular support, meaning you can make and receive calls without the need to have an iPhone near it. So, you can do a walk or run and leave your iPhone behind. You can still make and receive calls just on the Watch itself.
This is done by introducing an eSIM inside the Apple Watch Series 3 (not an extra nano SIM card). The mobile number will be the same as the one you are having on your iPhone (same service provider).
Note that Apple Watch Series 3 (GPS + Cellular) requires an iPhone 6 or later with iOS 11 or later to complete the setup. Also, it will require an extra plan on top of your existing data plan in order for you to use the cellular function.
For example, in the U.S, Verizon and AT&T offers an extra $10/month plan on top of the existing plan for your Apple Watch Series 3.
In Australia, only Telstra and Optus have the support for Apple Watch Series 3 and according to Apple Keynote, Vodafone will follow later – though there's no specific timeline mentioned.
As of today, Telstra launched a new service called Telstra One Number, with an embedded SIM for wearable devices such as the Apple Watch Series 3 (but not limited to just it). There are no further details yet of pricing and all that, so we'll have to wait a bit longer. Optus' is called Number Share.
From the looks of things, there's a possibility of these services costing $15 AUD per month or so on top of your existing plan, but we'll have to wait for the official announcements from either Telco.
The new Apple Watch Series 3 can be pre-ordered this Friday, September 15 (for a 22 September launch) so I suspect we'll have some more news this Friday about the plans.