Elgato Ring Light Review – A good lighting is everything in a video production, live streaming, or photoshoot. And if you want to dramatically improve your production value, this Elgato Ring Light should do it by offering very bright, adjustable lighting.
And if you are a streamer who already utilises the Elgato Stream Deck, then you'll be able to control the Ring Light as well. But if you don't have one, not to worry because Elgato Ring Light also has physical control buttons and can be controlled through an app installed on the PC or your phone.
Elgato Ring Light Packaging
Elgato Ring Light Design & Features
The Elgato Ring Light uses premium, OSRAM LEDs with up to 2,500 lumens in brightness (compared to the Elgato Key Light Air's 1,400 lumens that I have). It is very bright on its maximum settings and easily dimmable to match your setting. It has a colour temperature range of 2,900 – 7,000 Kelvins that offers you a various range of a warm to colder tone.
The materials used (opal glass, translucent grid panel, ultra-reflective aluminium film, and edge-lit LED frame) also compliment one another to deliver that vibrant, soft glow that spreads evenly without that harsh light. It also gives you that round lit sparkle on your eyes, if you like that sort of looks. For video conferencing or professional use, the Ring Light will make sure that you are well lit, even during daylight.
Before vs After:
With 17-inch (around 43cm) in diameter, the ring size is perfect for lighting the whole facial contours but great for product shoots too. Thanks to the camera ball mount on the base, you can mount your camera or even a smartphone (with the right accessory) to take that shot from the front.
Unfortunately, you can't use the Elgato Ring Light by placing it on the floor because the freestanding base requires a separate purchase. What you get in the packaging though, is a desk clamp that is expandable up to 60mm. Depending on how thick your table is, you may or may not need to get yourself that freestanding base.
My desk is a bit too thick so the Ring Light can be clamped barely at the edge of the desk. I've also tested using my wife's Luvo Ring Light stand and it fits the Elgato Ring Light somewhat loosely, so it is best to get the right tools and accessories straight from Elgato. But I do wish they at least include the stand in the packaging since you will already be paying AU$329 for the whole thing.
Controlling the Ring Light can be done in many different ways. On your computer? Use the Elgato Control Center software, or integrate it on your Elgato Stream Deck. Away from the computer? Control it from your mobile app. Or alternatively, use the physical buttons on the Ring Light directly without any app or software.
Elgato Ring Light Review Conclusion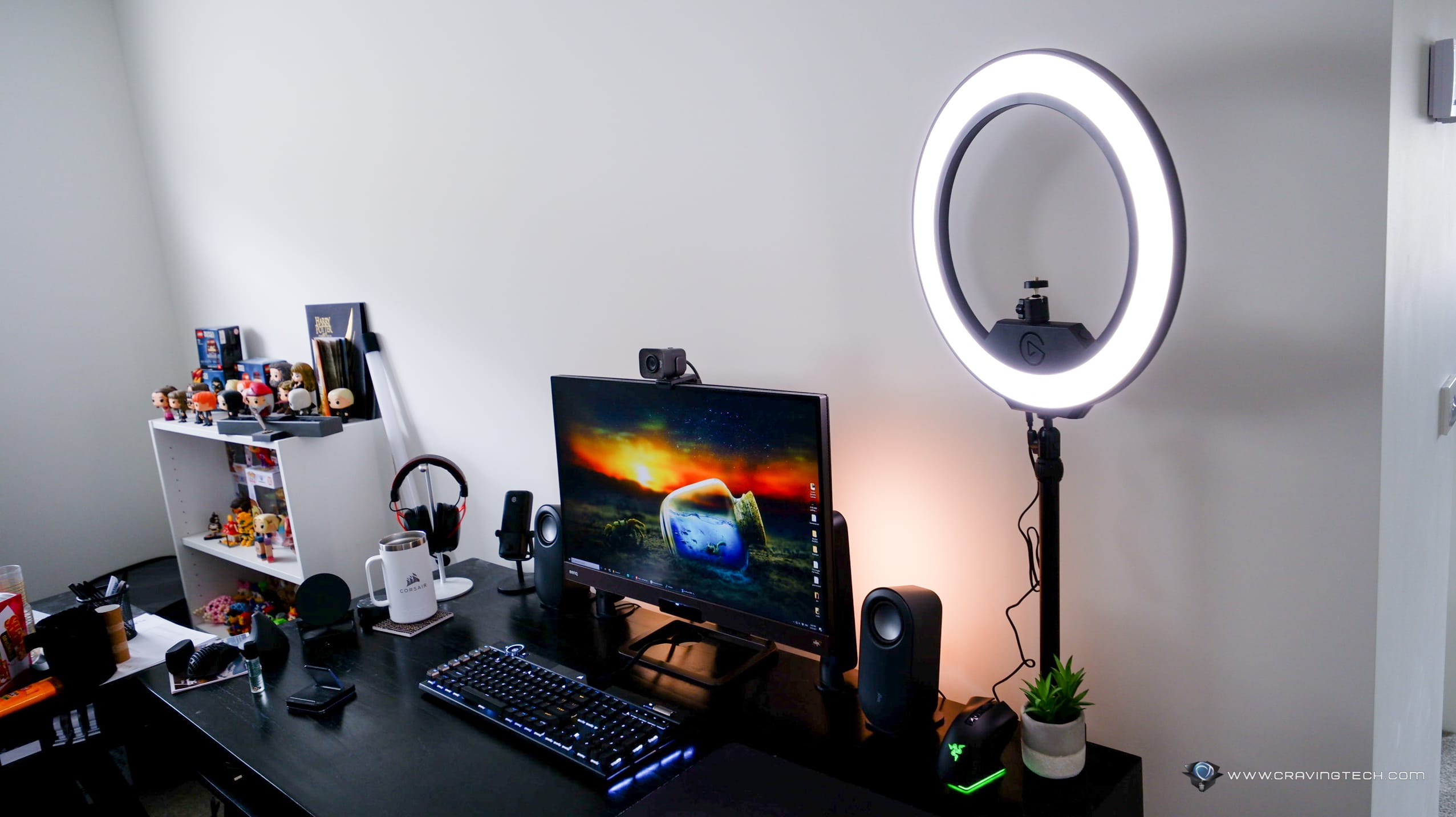 Depending on your setup and whether you need to push your production further with a good lighting, the Elgato Ring Light is a great production tool. If you are a streamer who already has the Elgato Stream Deck, it's a no brainer to grab the Elgato Ring Light to complete the package so everything is integrated. Or if you want to be able to fully control the light's brightness, colour, and operation remotely.
At its full brightness, it can be too much on the face if you are going to use it just on your desk (i.e distance wise). I'd still recommend the more affordable option, Elgato Key Light Air for this purpose and it also comes with a base so you can place it straight on the desk. The Ring Light has a desk clamp but you need to measure your desk's thickness and make sure it fits the clamp nicely first.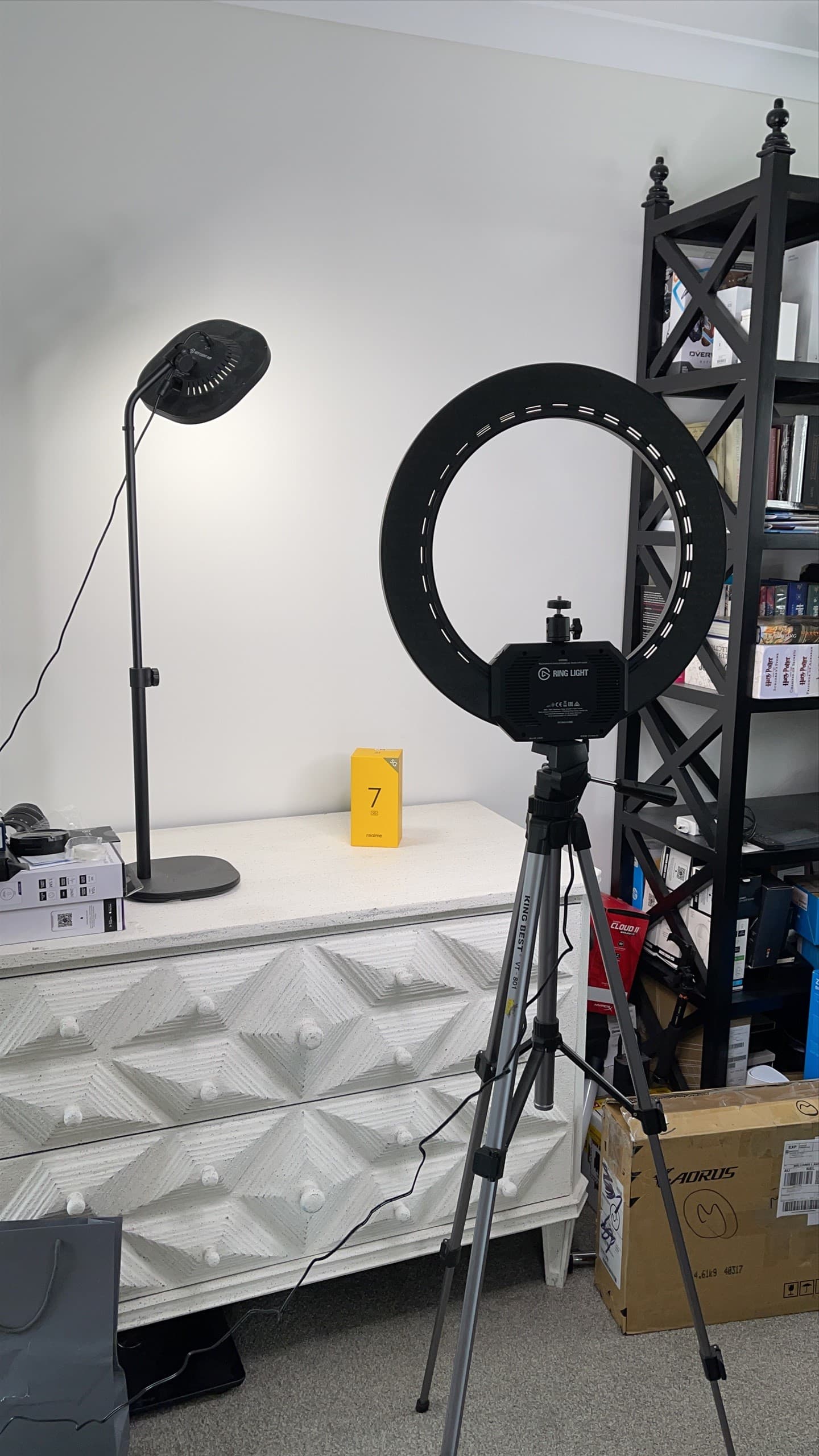 Elgato Ring Light is available now and retails for AU$329.
Disclosure: Elgato Ring Light review sample was supplied for reviewing
Elgato Ring Light Review
Summary
2,500 lumens, 2,900 – 7,000 Kelvins, Wi-Fi integration, this Ring Light has it all
Pros
Even light distribution, great for chroma key, etc
Very bright (up to 2,500 lumens)
Option from warm to cold colour temperature
Can be controlled from app, PC, and even on the light itself
Support Elgato Stream Deck integration
Cons
Freestand base not included in the packaging
Pricey
Can't mount heavier DSLR + Lens