Ever feel frustrated trying to learn a song with your musical instrument? Perhaps the original musician plays too fast or simply way too good for you to follow. Why don't you slow down the tempo so you can pick up what they are playing? Or how about setting markers so that the music keeps on looping until you can get that hard part right? Even better, how about peeking at the chords automatically so you don't have to waste time guessing?
All musicians who own a Mac should have had Capo installed. Capo is a program which makes learning music so much simpler and effective by slowing the tempo down, changing the pitch of the music, and a few other smart things.
I'm a Bass player at my local church and we often practice (almost every week) by listening to the original music composition and play them during our Sunday service.

As such, it's really crucial for us to get the parts right along with any variations in a song. I unfortunately don't have the  absolute pitch / perfect pitch skill ("the ability to name or reproduce a tone without reference to an external standard" – Wikipedia) so I often stumble into problems during the practice, such as these:
We often play a song in different pitch than the original composition.
I often have to let my guitar go during my practice at home (in front of the computer) to re-listen to certain parts of a song (need my hand to click on the rewind button or by dragging the slider)
I don't always have a clue which key is the song currently playing at
Sometimes I can barely hear the bass in a song so I need to adjust the equalizer every now and then
Thanks to Capo for Mac, problems like these can be tackled easily and more effectively.
Capo for Mac Review – Interface
After the start-up window, a small window appears where you can simply drag and drop a song file to it to be loaded in Capo.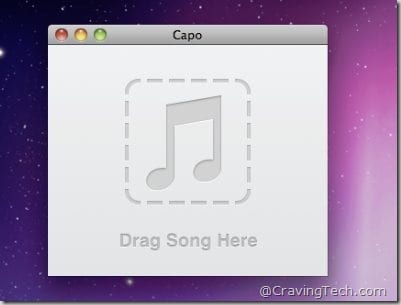 Capo for Mac Review – Features
Pitch adjustment
By adjusting the pitch using a slider, you can easily set the song to whatever key you are supposed to play. This works great (even for singers) although I notice that the music tends to get muffled once you modify the keys with any pitch adjustment software.

Tempo adjustment
Sometimes you might want to follow a technique introduced in a song by the original musicians but often they did it too quickly and you were left wondering how they did it. By adjusting the tempo of the song, you can now follow and learn them slowly.

Markers
You can put markers to make Capo to loop certain parts of the song so you can practice more easily. This is highly useful when I normally wanted to learn the interlude of a song or the Bridge, for example. Setting and removing the markers are easy too. Simply drag it out of the application and the marker is gone. You can set different markers (to loop or to jump to specific parts of the song).
Auto detect chords in a song
Probably the coolest feature in Capo for Mac only – let Capo detect and display the chords in your music! By pressing the Chord marker button or shortcut 'k', you can ask Capo to display the chord at a particular time in the song. Really handy and works! It certainly helped me in trying to figure out a chord/key in a particular part of the song. It's not perfect but it gives you a starting point.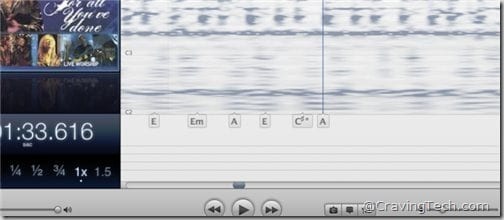 Smart equalizers
Easy preset settings such as vocal reduction, isolate Mids, or go manual: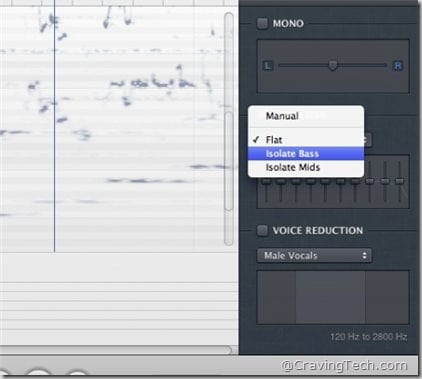 All in all, Capo for Mac really makes it easier for musicians to practice and to learn a particular part of a song. I'm truly amazed with the Chords detection engine and I've never found anything like this before. Truly a gem among the other Mac OS apps! I can easily recommend this app to my musician friends. If you are on an iPhone, there is Capo for iPhone too but it doesn't have the Chords detection engine unfortunately. For more features such as the tablature generation and other information, head off to Capo for Mac website.
Capo – SuperMegaUltraGroovy, Inc.
Note: Promo code provided for the review