I've been selected as one of a few bloggers in Australia to represent a great campaign by Logitech that goes live today. The campaign, called My Laptop Gets Spoilt, basically gives you a chance to win products from Logitech such as the Logitech Speaker Lapdesk N700, Logitech Cooling Pad N100, and the grand prize of Apple MacBook Pro 13-inch 2.4 GHz + Logitech Webcam C905 + Logitech Notebook Kit MK605.

All you need to do to win one is submit a photo and you can even get a prize simply by voting for the current submissions!
Basically the campaign will have a theme each week. On each theme (this week's theme is "Laptop & Pet"), you submit a photo that you think will go along nicely with the week's theme on their campaign site. 6 submissions of each week with the highest votes will receive the Lapdesk N700 and 6 random voters of each week will get the Cooling Pad N100! No other requirements, no fuzz! Simply have fun in the simplest possible way and have a change to win a great Logitech product!
After the competition weeks are over, Logitech will choose 2 winning entries for the grand price – Apple MacBook Pro 13-inch 2.4 GHz + Logitech Webcam C905 + Logitech Notebook Kit MK605!
So what you are you waiting for? Submit your entry now (and each week) for a chance to win great Logitech products.
You can see my entry as an example on the Logitech's campaign site for this week: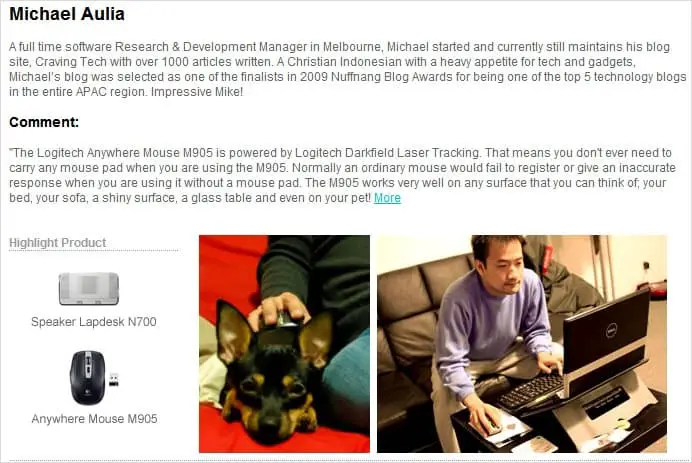 Personally would like to thank Logitech and the PR agency who takes care of the great campaign launch, Agenda Asia, for the opportunity in trying the Notebook Kit MK605, Lapdesk N700, and the Anywhere Mouse M905. Working on a laptop will never be the same again! Those are great quality products and if you have a laptop and are reading this, what you are waiting for? Go to the campaign site now and win one for yourself.