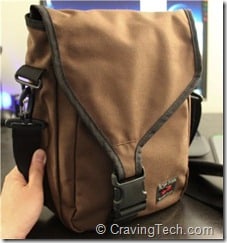 The Tom Bihn Ristretto is a vertical messenger bag that designed to fit a MacBook Air, a 13″ MacBook Pro, or a 13″ Notebook in general. However, it also works wonder to put your iPad in, which is what I use for at the moment.
Overall, it's a great all around bag to carry with you casually with your iPad in it. The bag is not designed to just carry the iPad/Macbook/Notebook though but also a few other essential items, such as your wallet, phone, and a few others.
The Ristretto is available in variety of colors (with different colors on the exterior and interior): Olive/Cayenne, Black/Steel, Plum/Wasabi, and Cocoa/Olive. The one that I got to review is the combination of Cocoa and Olive:
What makes the bag special is the compartment inside and this is the reason why you should get the Ristretto to store your iPad inside. It was built like an envelope shaped,  made with super soft nylon material. My iPad slides in and out through the padded compartment fairly easily. From the Ristretto's product info:
The padded compartment is made with .25″ (6mm) open-cell foam laminated with durable 4 Ply Taslan® on the outside, and features an interior of super-soft brushed nylon. The back side of the Ristretto is padded with 1/4″ closed cell foam.
It gives a good degree of protection to my iPad and most importantly, the Ristretto also fits an iPad with any case you can think of nicely. At least it can fit an iPad within the PADACS Anard, Belkin Pleat Sleeve, or the M-Edge Executive Jacket that I reviewed weeks earlier.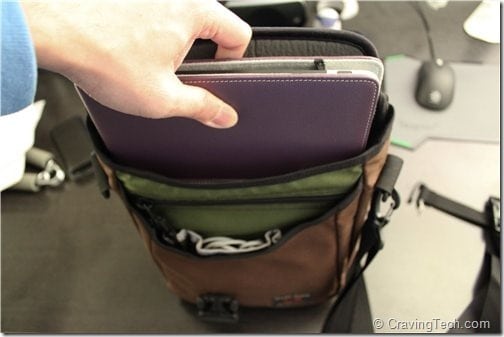 With the envelope like design, you close the compartment once you put your iPad in, adding an extra layer of protection from the top.
Under the front flap is an open compartment with organizer pockets to hold small items steadily. Two sized for pens/pencils and two sized for the iPhone, iPod, or objects of a similar size. I use the last two to actually store my iPad A/V and USB cables in :) You can also carry the iPad charger comfortably with the Ristretto.

The Ristretto also has a zipper pocket inside the organizer pocket, perfect to store your passport or other important flat objects such as the boarding pass or your travel itineraries (if you like to travel).
The back of the Ristretto can be used to store papers, magazines, or newspaper. It's easier and quicker to access without having to open the front flap first.
There is also a removable waist strap at the back of the Ristretto, perfect if you are riding a bike or when your hands are full. It's removable so if you are not going to use it, you can store the straps nicely somewhere else safe (or inside the Ristretto bag itself).
Overall the Ristretto is a great all around bag – it's well made and well designed to accommodate all of the items that you might carry with a netbook or an iPad. It gives plenty of pockets and compartments to store your accessories and your important-things-to-be-carried-around safely. The main compartment includes a padded compartment to store your iPad/Netbook/Macbook and can be closed to further protect it from scratches and some water leakage. You can store your naked iPad into the padded compartment or inside a case for the ultimate protection.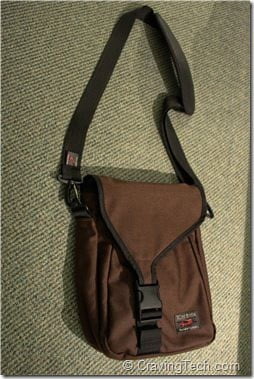 Thanks to the shoulder strap, I can carry the Ristretto around comfortably with style. In fact, it's the bag that I use at the moment to carry my iPad where ever I go. The fact that I can put the A/V, USB, and the power charger inside it means that it's the only bag I ever need to carry. The next time I travel by plane, I'll definitely bring along my Ristretto with me as it can safely store my travelling documents, my passport, a magazine, a few pens, my iPod Nano, my iPad, and my Creative EP-3NC noise-cancelling earphones. Oh wait, scratch the iPod Nano and the magazine.. since I can carry my iPad in it, why would I be bothered carrying a hard copy magazine and an iPod Nano? :)
The Ristretto may look like an ordinary bag from outside but with the extra padded compartment inside, it has become somewhat a hybrid between a regular and a laptop bag. This way, it actually attracts less attention and there is no way these people on the streets know that I'm carrying an iPad or a Macbook or a 13″ Notebook in it.
Note: The Ristretto was provided for the review