Persona 5 Royal Review – Persona 5 premise is similar to the previous Persona games (I played Persona 3 & 4 years back on the PS3). You are a high school student who's trying to live your daily lives as a student, but also plays an important role in another dark, sinister world. During the day, you'll be going to classes answering quizzes and studying for exams while building a relationship to your classmates and a few others along your journey.
After school, though, you have an option to travel into another dimension, a metaverse, to explore a world where one's distorted desires have materialised. You'll go through battles after battles with your teammates, using the skills you've gained from the people that you've bonded with.
Persona 5 Royal is basically a JRPG (Japanese Role Playing Game) mixed with a dating element (dating sim), if you want to look at it that way. While the romancing part is truly optional, it is definitely one of the charismatic elements of all Persona games thus far.
Persona 5 Royal is basically an enhanced version of Persona 5 original which was released in April 2017. But if you think of it as just a DLC, you may have to think again. The developers have basically included many new things into the Persona 5 Royal, not just for the sake of enhancing & adding some features, but includes new characters, storyline, animated cut scenes, new battle moves, locations to explore, and more. It feels like a new game and owners of Persona 5 will definitely want to replay the game all over again in Persona 5 Royal.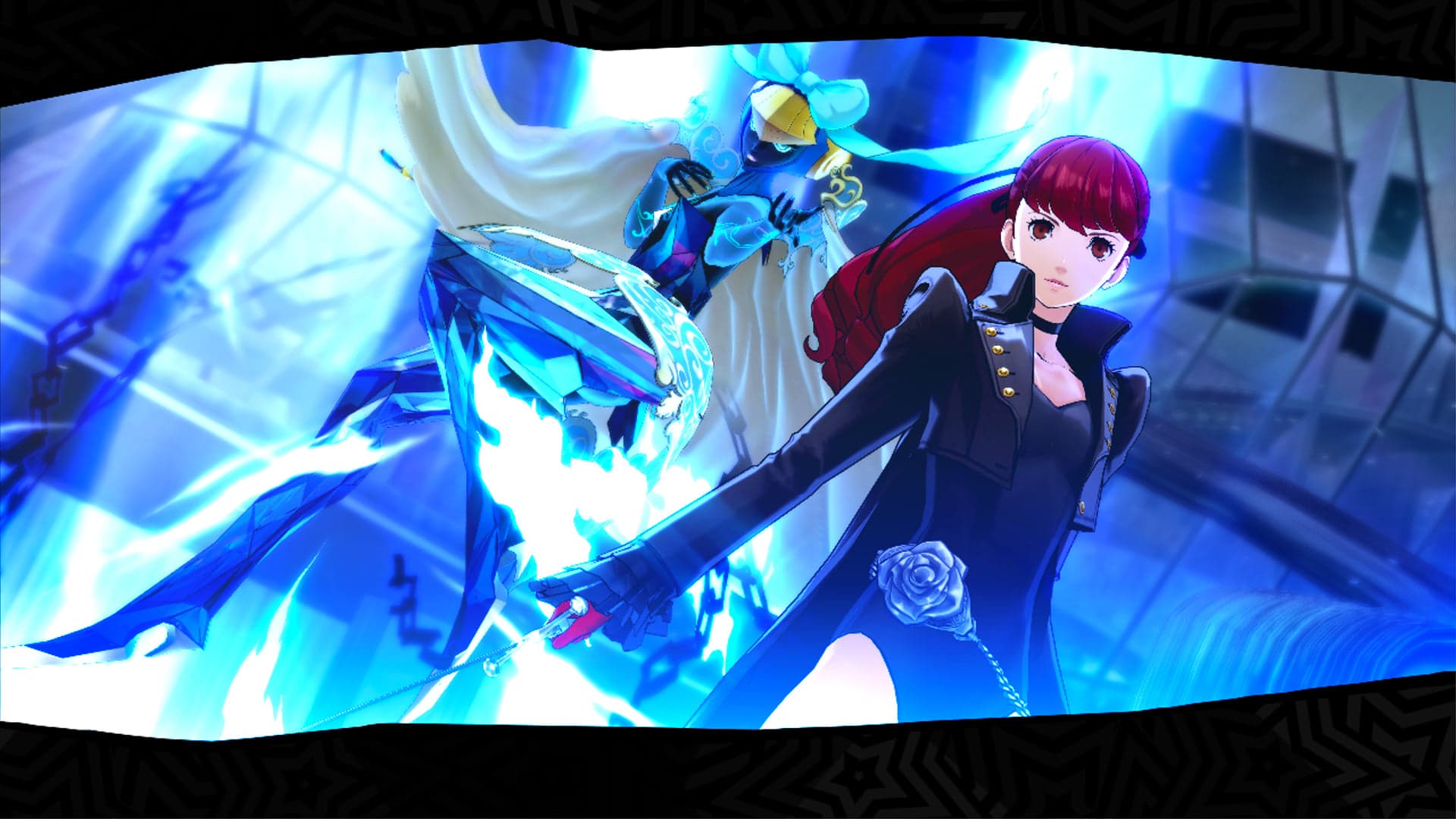 I don't really want to talk about what the game is about in depth because you've probably read about it on other reviews or news sites. I'll try to focus more on what I think about the game and the elements in the game.
The game is beautiful visually and has very good animated moves and scenes (even got an approval remark from my wife). The characters are pretty distinct from one another and the game invests a lot in the character development – which I like. Every character has their own background story, personality, and uniqueness. It is clear that the design team had gone to a great length to make the characters believable and relatable in the game.
I'm usually quite skeptical with Japanese game/anime dubbing department, but this is probably the first time I actually enjoy listening to the English version. Persona 5 Royal definitely has excellent voice casting and for some odd reasons, the voice actors traits (style, tone, pitch, personality) fit in the role of the game characters. Some are even exceptional than others.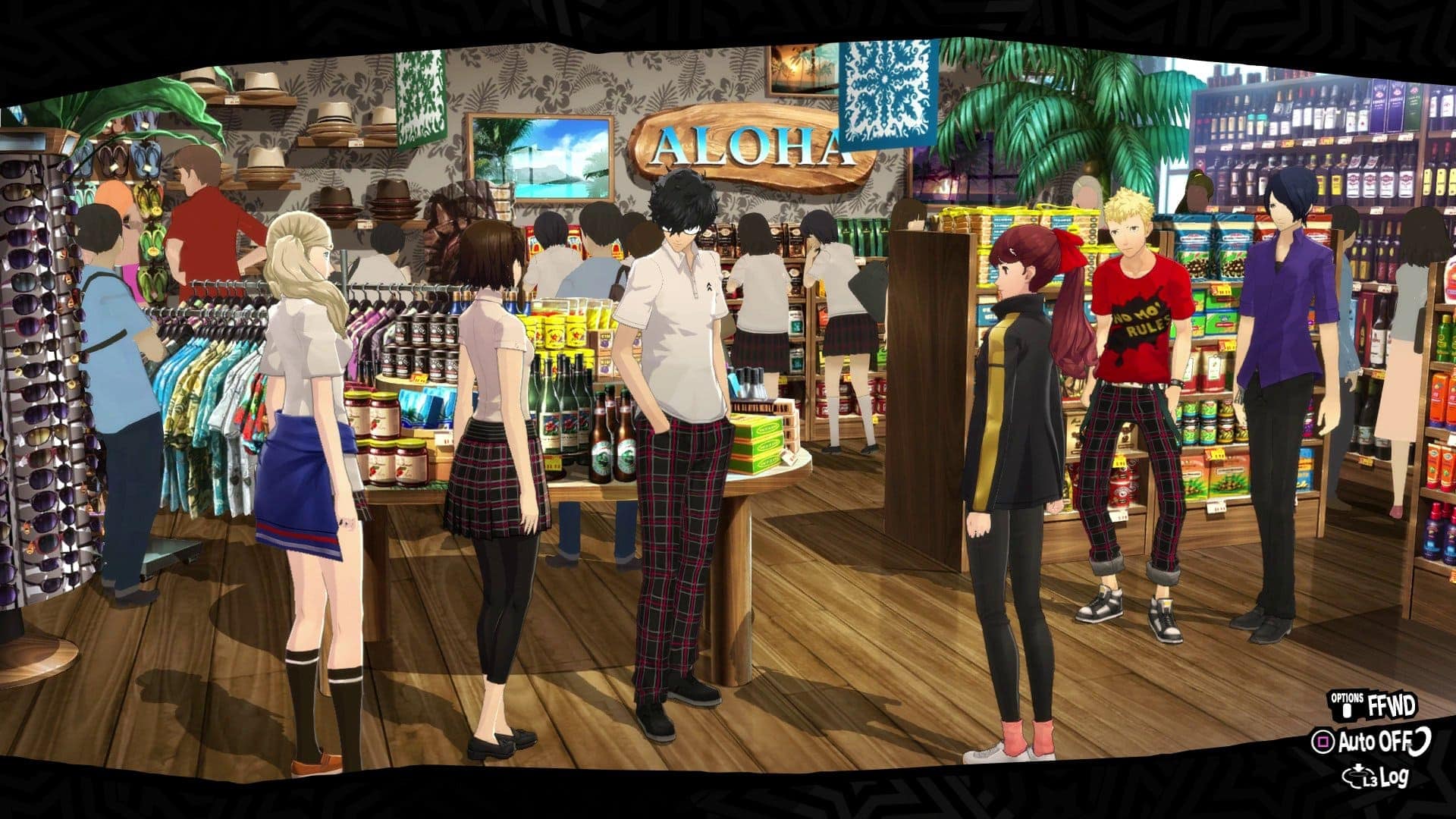 Soundtracks are also the strong traits of every Persona game. While most of them go on a loop or played repeatedly in every occasion, they are not annoying to hear and quite memorable. Again, my wife who is not actually playing with me, can already remember and sing along to the game's tunes.
As for the gameplay itself, this is definitely not a game for those who do not enjoy storyline and dialogues. Those who just want to skip dialogues and go into actions won't definitely enjoy Persona 5/Persona 5 Royal to the fullest. After all, Persona 5 Royal is not all about the battles, but being invested in the characters in game and to actually care what they've been through like watching an Anime.
If you like playing RPG and listening to all the dialogues, you are in for a treat because Persona 5 Royal has plenty of them. They are all voice-acted (or half voice-acted) and well-made that I've never felt the need to skip any. Some bosses also have interesting and twisted background stories behind them.
While the game can feel like a drag before you head off to the next boss battle, at least the minor grinding on stats and relationship with your confidants will affect on how good you will perform in a battle. Saving can only be done at certain save points during the big battles or cut scenes and it can be a challenge if you have to stop playing and go somewhere. Thankfully, even if you die during the battle, you'll still keep your progress and items collected, so losing is not really that frustrating. On bosses and mini-bosses battles, there is also an option to replay the battle, which is nice.
In Persona 5 Royal, there is always something new to unlock as you progress through the game which keeps the game fresh and intriguing as you play along (e.g gaining finishing moves for certain members in your team, an unlocked ability after you rank your relationship with a confidant, etc).
The other aspect of the game, which is the "dating simulation" part, is also fun to explore and follow through. It makes it as if you are playing two different games in one and this aspect is one of the things I like about the previous Persona games. Decisions on what you should be doing every day can also be tough, considering the game has limited amount of time. Should you spend time with one of your teammates to gain more abilities in battle? Or should you study because hey, exams are coming.
Yes, Persona 5 Royal is about making hard decisions. It's even sort of a challenge to find the, ahem, right girl to romance (because they are all adorable in their own ways) but I've read that there is the "Harlem" way. Even then, choosing between being faithful to one or going the Harlem way is a difficult decision in itself.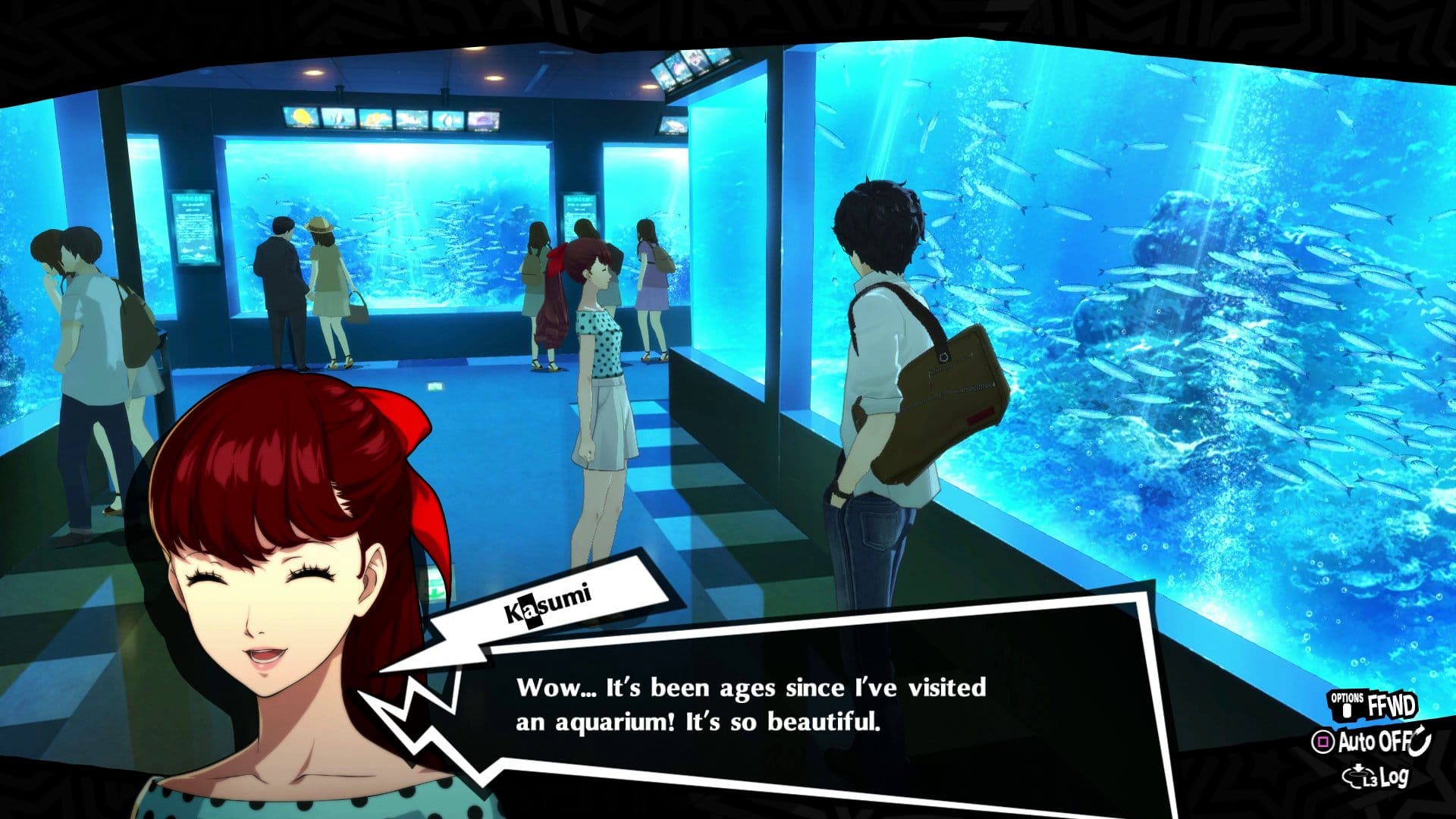 Persona 5 vs Persona 5 Royal
If you've played Persona 5 before in the past, you're most likely going to enjoy replaying the game in Persona 5 Royal. Here are some of the new things you can find in Persona 5 Royal:
French, Italian, Spanish, and German subtitle text. 
A brand-new playable character (Kasumi) and with her, a new Confidant. 
More story content with a new school semester that has additional endings that develop character arcs further and offer up to 30 more hours of gameplay.
Showtimes, which are special double-team skills (finishers move)
Grappling Hook – infiltrate new areas with this new Palace-area feature. 
Thieves Den – your very own place to look at awards or hang out and play cards and darts. 
New locations to visit, including Kichijoji and an aquarium.  
Upgraded boss fights with new attacks and phases. 
Ability to change Mementos through the new character, Jose.
New Confidants like Maruki and extended confidant rank-up encounters with Akechi.
The ability to gift all Confidants to improve your relationship with them (this was previously limited to female Confidants). 
Overall QOL improvements. 
Original P5 DLC is bundled with P5R release for the West.
…And so much more!
You can also check out this site for a more thorough list and explanations on what's new.
Persona 5 Royal Conclusion
Fans of the previous Persona games know what to expect on a new Persona game and if you have played Persona 3 and 4 but not the new Persona 5 yet, I'd suggest to grab Persona 5 Royal instead. It adds tons of new contents and features into the original Persona 5 and you'll love the latest of the series.
The game is said to have around 100 hours of gameplay and I'm not sure how far I am (I'm in the month of August). I'd say probably about half-way through the game and I have no intention to stop playing until the end.
And meanwhile, I'll be humming "I'm a shape shifter What else should I be….." for the next few weeks, thanks.
UPDATE 26th July 2020: So I've finally finished the game, which is challenging when you just had a newborn a couple of months ago. The last save data displays about 135 hours of game time. There's an extra story element and final boss battle if you own the Persona 5 Royal and meet some requirements in game (Google them around).
Persona 5 Royal (Launch Edition) is available now for AU$89 at JB Hi-Fi and EB Games. Also available at Amazon.
Disclosure: Persona 5 Royal review license was supplied for reviewing but all opinions are mine and not paid
Persona 5 Royal Review
Summary
The 5th game in the Persona series. In-depth character design and development, packed with contents and features, variety of battle strategies, fun and interesting to follow through to the end
Pros
Gorgeous design & animation
Interesting story
Excellent English voice acting
Dating sim + RPG in one
Memorable characters, soundtracks, and storyline
Hundreds of hours can be poured into the game
Cons
Not for those who like to skip dialogues and can't enjoy the high school student part
Soundtracks get repetitive after a while (e.g you can hear the same tunes every few minutes or so)