LIFX GU10 Light Bulb Review – LIFX is Wi-Fi enabled LED smart lighting by LiFi Labs and they are one of the biggest players in the smart lights industry at the moment (I'm thinking of Signify Philips Hue & Nanoleaf).
While I've been reviewing Philips Hue light products for many years, this is my first experience with LIFX. The big difference between them is that LIFX bulbs work without needing a separate bridge like the HUEs.
Today, I'll be talking about their GU10 smart light bulbs which are normally used in modern homes, either as downlights or powering those pillar lights outside, giving those house facade a big facelift in the evening.
I have the LIFX GU10 Living Pack here, which consists of 4x GU10 bulbs in a single package which costs AU$319.96 (it's usually AU$84.99 per GU10 light bulb, so you'll be saving around AU$20 in total).
LIFX GU10 Smart Light Bulb Review – Packaging
While a modern home might have over 20 ceiling light bulbs, you can always start room by room and invest for the future. For example, you can start by putting these in your bedroom so that you can automate the whole process without having to touch a light switch.
Or, you can also replace your traditional GU10 bulbs on those pillar or wall lights outside. Set them up once, and then forget about it. Thanks to the Wi-Fi connectivity and support for most smarthome platforms, LIFX will work whether you are on Apple or Android ecosystem.
LIFX GU10 Smart Light Bulb Review – Setup & Installation
If you have an iPhone and Apple Home hub (using an iPad or Apple TV), you can do the whole setup through Apple Home. Adding a light bulb to Apple Home requires it to be plugged and has the HomeKit barcode scanned.
You can also use the LIFX app to add them in. I tried both ways and they seemed to work either way. If you use the LIFX app, you can add the new bulb to Apple Home after. Firmware update can also be done OTA (Over the Air) once it's connected to your home Wi-Fi.
I've noticed that the Wi-Fi signal from these light bulbs are not the strongest and I had to move my NETGEAR EX7700 Wi-Fi Extender closer to the front (where I've installed them). When I had a 50% Wi-Fi signal strength (using the Wifi Signal app), the light bulbs often struggle to stay connected. But as soon as I move the wireless extender closer, these problems seem to be gone.
LIFX GU10 Smart Light Bulb Review – Design & Features
Once the bulbs are connected and added properly, the magic begins. This is thanks to LIFX generous support in many platforms such as Amazon Alexa, Apple HomeKit, Google Home, IFTTT, and even security products like Nest. With these flexibilities, LIFX will work great on any home for sure.
LIFX GU10 is bigger than traditional GU10 bulbs for sure (due to all the smart capability components it has inside, like a built-in Wi-Fi). However, once they are in your lamps or ceilings, size doesn't matter.
I hook these 4 LIFX bulbs on our pillar lights outside:
Note that LIFX GU10 bulbs are not weather-proof themselves, so if your pillar lights are enclosed like mine, they will be safe since the bulbs are protected from the rain.
On the photos above, I've set these lights at 50% which means they can go really, really bright if you want. According to the specifications, the GU10 bulbs have 400 Lumen brightness with 6 Watts power usage at maximum brightness, but less than 1 Watt when on standby. Those are pretty good numbers!
Using the LIFX app, you can also change its colour and brightness easily:
Once you're happy with all these, there are lots of options available for you. If you have the Google Nest Hub, you can add these lights to Google Home. If you have those Amazon Echo Dot speakers or the Echo Show 5, you can add them to Amazon Alexa. If you have an Apple HomeKit hub, you can add these too into your Apple Home ecosystem.
While I automatically schedule these lights to turn on & off at specific time through Apple Home, you can be smarter of course. With many IFTTT recipes for LIFX, you can be as creative as possible such as blinking the lights when an event happens (someone is coming home, you have a new sales email), and many more.
LIFX GU10 Smart Light Bulb Review – Conclusion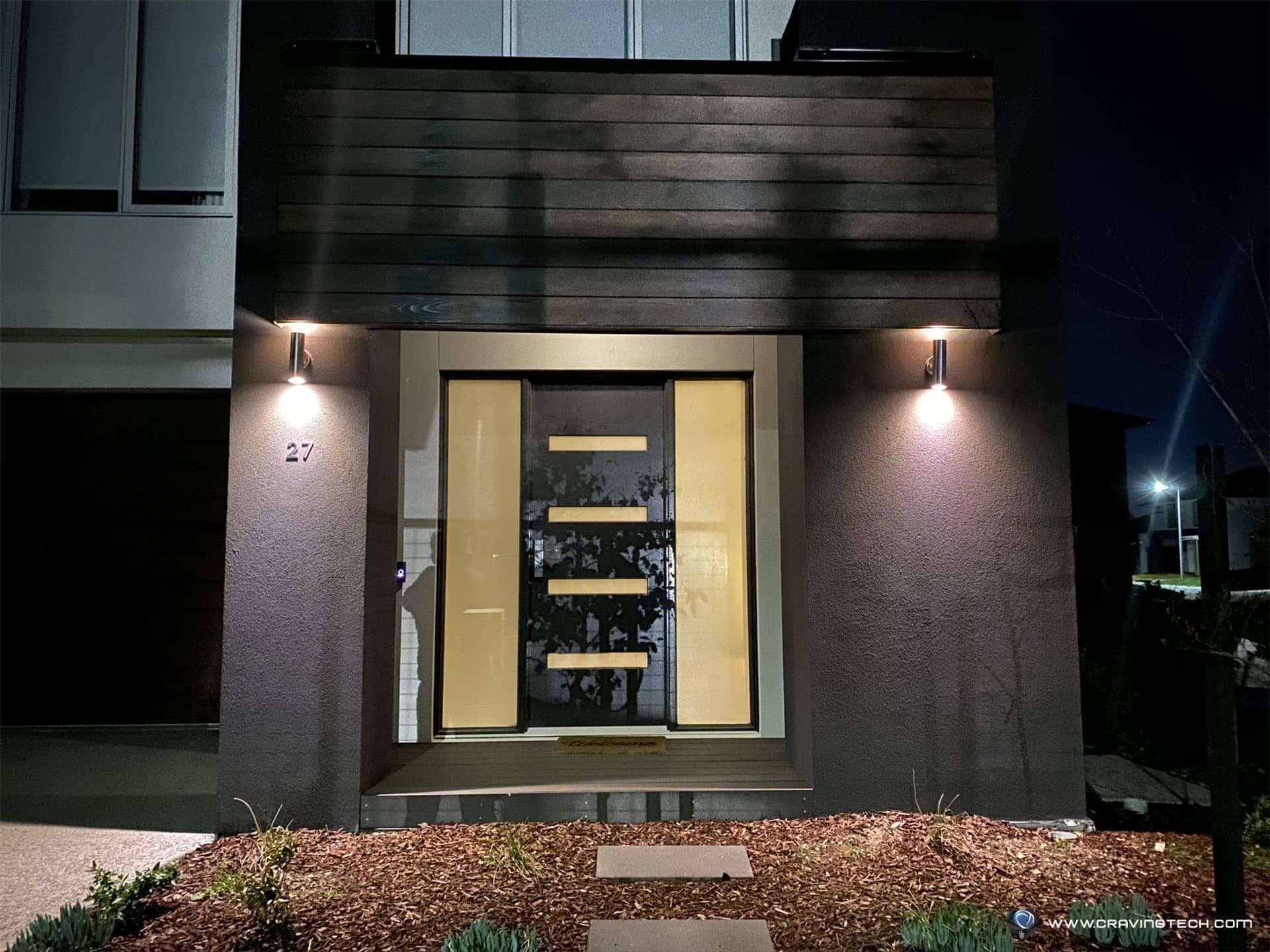 While the GU10 I have here are used for our front pillar lights, you can install them inside your home – on a bedside table, or on the ceiling. You can say things like "Movie night" as a voice command to dim the lights to 20% and a lot more options thanks to the variety of platform support.
These lights work right away without having a dedicated bridge, so you can just purchase the lights you need and get them up and running right away.
LIFX GU10 is bright, multi-coloured, and supports many voice commands + smart interactions. If you have the cash, you can even replace all your GU10 downlights inside your modern home room by room slowly.
Rather than the tradtional 10W of usage per downlight at all times, LIFX GU10 offers an affordable solution with an up to 6W of usage (I find 50% is already bright enough, especially if you have a few of them in a room), along with dimming and multitude of colour options. Perfect for different ocassions, party sets, or different room ambiance.
Disclosure: LIFX GU10 review samples were supplied for reviewing but all opinions are mine and not paid