When I got my first ever SONOS speakers system (the SONOS PLAY:3), I was really excited. The sound clarity of PLAY:3 speakers were phenomenal and the fact that you could hook them up on a wireless network was astounding.
I wasn't sure what to expect when I saw the PLAY:1 came out. I mean, it sounds like an inferior version of the PLAY:3. A budget version of the SONOS speaker system, I would say.
Well, put aside that thought because you will be blown away by the awesomeness of this speaker.
Unboxing Video
Packaging
What you get in the packaging:
SONOS PLAY:1 speaker unit
Power Cable
Ethernet Cable
Booklets
Design
The speaker unit looks gorgeous and luxurious at first sight. The review unit that I have is the black colored version, but there is also a white alternative. I think it's crucial to get all your SONOS speakers in the same color, for aesthetic purposes, of course. The classy style of the PLAY:1 looks great anywhere: in the bedroom, living room, and even on a kitchen bench. It is also humidity resistant, so you can place it inside your bathroom, if you need some tunes while you shower.
I really love the design of the PLAY:1 as it looks really classy and elegant. Even the speaker grills are matching perfectly with the overall look of the speaker. Every time a friend came over to my room, they always asked me first about the speaker. It looks that awesome. Personally, I think PLAY:1 looks better than the PLAY:3.
Though the PLAY:1 looks compact, it's actually heavier than it looks. It also does not have a built-in battery so you need to hook it up to a power point. As such, the PLAY:1 is not really meant to be carried around while you travel.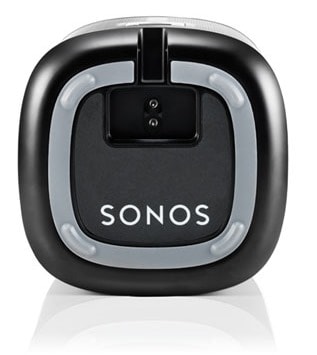 On the top of the speaker, there are playback and volume controls. The Ethernet (network) cable can be plugged behind, away from sight.
Installation and Setup
Before you can start playing your songs, you need to either plug the speaker unit into your router or connect it to a SONOS Bridge. Unfortunately, there is no AUX port so you cannot plug any audio device with a 3.5mm jack into it. I definitely recommend you to grab a SONOS Bridge because it gives you flexibility to place the PLAY:1 anywhere in the house. Without the Bridge, you have to place it next to a router with an Ethernet cable.  (UPDATE: as of 3 Sept 2014, you no longer need a SONOS Bridge).
Setting the Sonos wireless system is really simple and only involves pressing a few buttons. You do need to download and install the Sonos app first, which is available for free. Within minutes, I could set everything up without a hitch and you rarely need a manual at all.
Features
With any SONOS setup, you'll be able to stream music directly from a computer or a mobile device. I have the SONOS app installed on my Windows 8.1 PC, iPhone 5s, HTC One, and iPad Air. This way, I can control my music anywhere I like. Sonos supports playing music from different sources such as your local drive, NAS (Network Attached Storage), and online music streaming services such as Spotify, Pandora, etc. Check out the list of music services that SONOS supports. My favorite goes to MOG (music streaming service from Telstra).
What makes the SONOS system interesting is when you have a few SONOS speakers in the house. You can sync them up together to create a group and play music simultaneously to all the speakers within that group. You can also pair 2 speakers up and create a Stereo pair. This is a great set-up for a party or when you want to listen to your music continuously no matter where you are in the house.
If you only plan to just get 1 unit of PLAY:1, don't hesitate. You can still unplug the speaker, move it to another room, plug the power back in, and stream your music again. Normally, all you need is a simple restart of the app and it will just reconnect.
Sound Experience
The sound quality from the SONOS PLAY:1 is just phenomenal. Seriously. Whatever song you throw at it, it comes out crystal clear on all channels. The bass is warmth and still has the oomph you'll love. Vocals and instruments really come to life and you will definitely be blown away, considering how small the speaker is.
As a SONOS PLAY:3 owner, I was expecting a low, budget sound quality from the PLAY:1. I was disappointed (in a good way). The sound quality is still top notch. When I took the PLAY:1 out to my living room during a Christmas party last month, my friends were also blown away by the quality of the sound.
SONOS PLAY:1 Review – Conclusion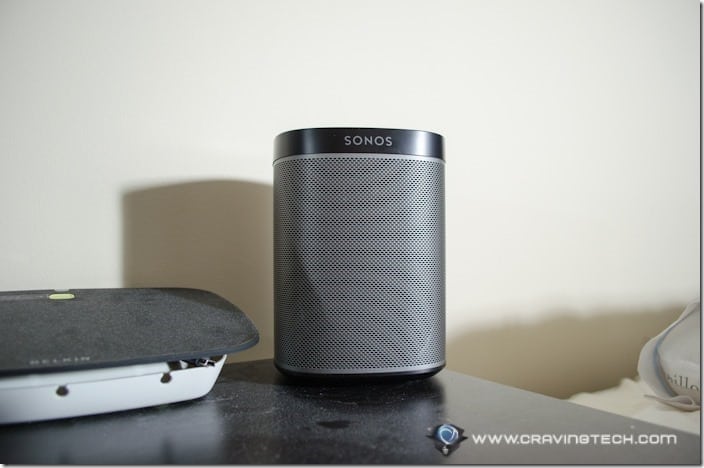 Sonos blows me away again with the PLAY:1 speaker. The elegant and compact design makes PLAY:1 a perfect companion anywhere in the house, PLUS your ears will be pampered by its powerful, high-fidelity sound.
The SONOS system is also flexible and gets better as you add more SONOS speakers into the mix. You can set it up for a party (playing same music to all speakers in the house), add a friend as a DJ to queue the music up, or even as a nice alarm to wake you up in the morning. Or, you can just get one for a simple, yet high quality music listening.
There is no AUX input to hook your phone or other portable music devices unfortunately, but you'll have access to almost every online music streaming out there.
If you haven't had a SONOS speaker yet, I'd recommend to get the SONOS PLAY:1 first if you are on a budget. I'm sure, however, that it will only entice you to get even more, bigger, better SONOS speakers like the PLAY:3 or PLAY:5. You've been warned.
[AMAZONPRODUCTS asin="B00EWCUK1Q"]
Disclosure: SONOS PLAY:1 review sample was sponsored for the review. All opinions are 100% mine