Note: This is our review of SONOS PLAY:3. Click here for our SONOS PLAY:1 Review

UPDATE: As of 3rd September 2014, you no longer need a SONOS Bridge.
I've heard about SONOS speaker systems for so many times in the past but this is my first chance to have the opportunity to experience and review their products. All I knew was that you can set-up as many SONOS wireless speakers as you want in the house and they can play the same music you control/set in high audio quality. Now imagine the possibilities you can go with that! Surprisingly, I wasn't aware that we can control much more than that (more on this later).
When they announced the new SONOS PLAY:3, I was given a chance to experience and find out what the big fuzz was all about. Does it exceed my expectation? You bet!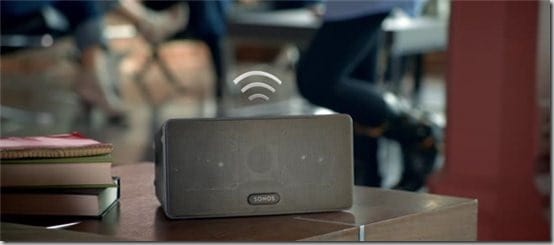 SONOS PLAY:3 Review – Unboxing video
SONOS PLAY:3 Review – Packaging
The review units I got were 2 SONOS PLAY:3 speaker units and the SONOS BRIDGE (ZoneBridge 100).
You can of course buy a single SONOS PLAY:3 speaker unit although you cannot feel the full experience without another and also without the BRIDGE.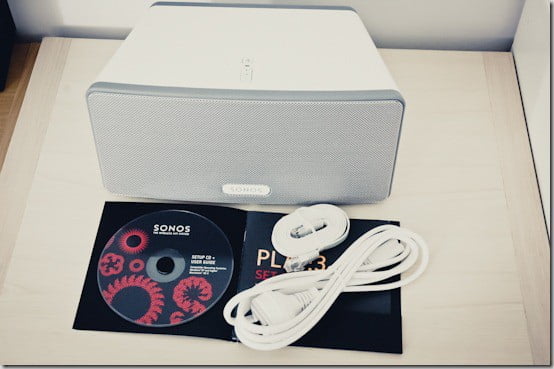 SONOS PLAY:3 packaging contains:
Play:3 speaker unit
A network cable (to be hooked up to your wireless router)
A power cable
A driver CD
SONOS PLAY:3 Review – Design
The SONOS PLAY:3 is a compact speaker but deep down, it is a 3 driver speaker system (1 tweeter, 2 mid-range drivers, and 1 bass radiator).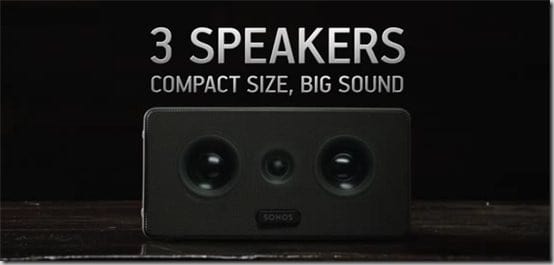 If you don't understand what the jargons mean, suffice to say that the speaker is able deliver a clean and high quality output, even at its size.
SONOS PLAY:3 comes in 2 colors – Black and White. The review units I have come in White as you can see from the photos (though I think Black looks sexier):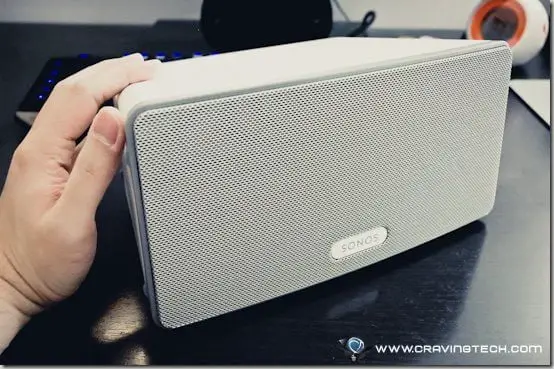 It has a unique design because you can place it horizontally or vertically. This allows you to fit the speaker into tight spots/corners (such as in the bathroom if you are into music listening while having a bubble bath) or to fit your interior design overall. This may sound trivial but in practice, it's a really great idea. According to the product spec, the EQ also automatically adjusts the sound according to the orientation, so you will always hear the best sound quality.
They also have rubber feet underneath so you can always keep the body scratch free and stay still on any surface.
SONOS PLAY:3 has volume control buttons on the body although you can control the volume through the software in your computer (Mac or PC) and your smartphones (Android or iOS devices). This is great as I have a variety of devices at home (MacBook Air, Windows Desktop, Samsung Galaxy SII, iPhone 4, iPad) and I can control the music from anything, anywhere at home!
SONOS PLAY:3 Review – Overall Experience
Setting up the SONOS PLAY:3 is also really simple even when I had 2 speaker units and the SONOS BRIDGE to take care of. Installations were very clear and in minutes I could already connect them all up together through my Windows PC.
The SONOS Desktop Controller is an all-in-one application where you can hook up new SONOS speakers, set up new Zones, and also the media player for your SONOS set-up.
Assuming you have more than 1 SONOS speaker, you can set-up different zones such as your Bedroom, Kitchen, Living Room, and many more. You can then:
Have a separate Zone for each speaker (so you can play a different song on each speaker):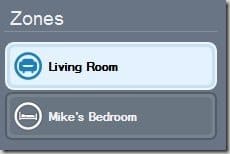 or Pair up two SONOS:PLAY3 together to create a Left+Right Stereo pair:
or link all Zones into 1, creating a "Party Mode" where each speaker in every room plays the same song. Isn't this cool or what?
You can use the application to add and monitor your music library inside your computer, a Network Attached Storage, iTunes library, limitless Internet radio stations, and even top quality music streaming service like anubis.fm (which I really love).
Sound quality coming from the SONOS:PLAY3 is truly amazing, clear, and crisp. Instrument really comes to life and the Bass is also pretty strong without being overly done (I've tried a few Bass test songs to test). You can also crank up the volume and the speaker can still handle it. Considering how small the speakers are, the output quality simply amazes me. So far this is the portable speakers with the best audio quality that I've ever reviewed at Craving Tech. I'd recommend listening through the SONOS:PLAY3 with your eyes closed to fully experience it! Yes, it's that good.
I've been listening to my music every night through SONOS:PLAY3 speakers (both in my computer and through anubis.fm) and I simply wouldn't want to part with it. The fact that the music can be controlled anywhere through my smartphones means I can play to any music I want even when my computer has been turned off (things that I couldn't do in the past, even with a wireless speaker from another brand).
This is what I have been doing for the past 2 weeks actually. I hopped on to my bed, turned off the light, and used my phone for some easy music listening before I went to the la la land through the SONOS:PLAY3 speakers.
SONOS:PLAY3 Review Conclusion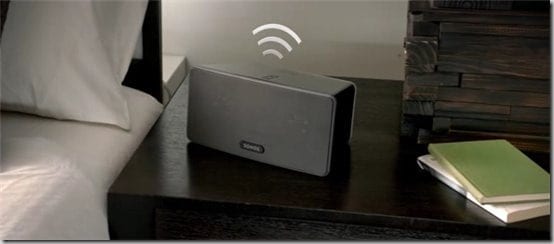 SONOS:PLAY3 speaker is compact, portable, yet has a high quality output. The listening experience through it is simply amazing. The setup is pretty easy even if you have multiple SONOS:PLAY3 or other SONOS speakers in your disposal. You can hook them up together or separate them in different rooms (called Zones), playing different tunes. You can also combine 2 SONOS:PLAY 3 together to create a Stereo Pair.
Having a party? No problem – hook all the zones with multiple speakers in a single click through SONOS Desktop Controller. Voila! There is nowhere to run now – even when your guest has to go to the loo, they still have to listen to that favorite tune of yours :)
SONOS:PLAY3 definitely brings music quality and listening experience to the next level. The only thing that missing is a nuclear powered battery so the speakers can go purely wireless. Oh, and of course, the audio jack/auxiliary input. This means you cannot hook your portable media player through a 3.5mm audio, a small price to pay as most of us use our smartphones or tablets to play our music nowadays.
SONOS:PLAY3 Review – Pros
+ Elegant look, classy
+ Compact
+ High quality audio output
+ Wireless connectivity (require SONOS BRIDGE)
+ Vertical or Horizontal orientation
+ Can be hooked up to create a Stereo Pair
+ Compatible with other SONOS products
+ Can be controlled in PC, Mac, Android, or iOS devices
+ Has rubber feet for both orientations
+ Easy to setup
+ Can be hooked in different rooms playing the same or different music
SONOS:PLAY3 Review – Cons
– Requires a SONOS Bridge unless if you want to hook it up next to your router (for the wireless connectivity)
– No auxiliary input
Note: SONOS:PLAY3 review units and SONOS BRIDGE were provided for the review