Focalprice is a site that can satisfy all your gadget cravings with cheap prices and free deliveries.
Even when you are buying a $2 item, you can still get that for free, shipped to your home. Of course, you have to wait for a couple of weeks or so to get it, but for free shipping? Who cares.
For examples, check out these gadgets that I got from them to show to you today.
Focalprice 6pcs Multipurpose Cable Clip
Getting annoyed from those cables dangling on your desk and at times, falling over behind your desk to the floor? I have experienced this too often that it gets frustrating at times.
Now, use this multipurpose cable clip from Focalprice. They are cheap (only around 45cents each and so useful that you just want to get more. It comes with different bright colors which look great on the desk and has an adhesive layer on the back, so you can place it where ever and how ever you want.
6 pieces multipurpose cable clip – $2.70
Focalprice Genuine EIRMA F3 Camera Lens Air Dust Blower with Booster
Okay this doesn't really require lots of explanation. It's a dust blower with plenty of power to blow dust away from camera lens and also a good cleaner for your motherboard or the keyboard. It retracts quite well and doesn't seem to break no matter how hard I've tried.
Camera lens air dust blower with booster – $5.53
Focalprice Solar Mini Tortoise
This green tortoise is so cute that the tail wiggles. No, literally! The toy is powered by sunlight and no battery is needed to shake its head and wag its tail. It looks adorable and great to be stick on your car's dashboard.
I, however, choose to have it on my desk at the office. Though it cannot do its cute movement without the direct sun light, it's still adorable to be looked at.
Solar Mini Tortoise – $4.83
Focalprice Mini 1200mAh Power Angel External Backup Battery with Stand for iPhone/iPod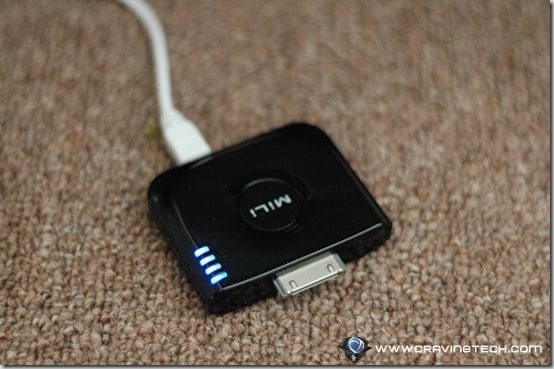 This is probably one of the coolest things I've ever found. This compact gadget actually has a built-in 1200mAh lithium battery in which you can plug it to your iPhone or iPod to charge. The design is pretty cool too and highly portable (you can easily carry this in your pocket or in a bag).
It's compatible with iPhone 4 and it has become one of the most useful iPhone 4 accessories that I've ever owned. I had a few power cases reviewed (iPhone 4 cases with built-in batteries) but they are so bulky compared to this. Simply plug the Power Angel external backup battery and your iPhone will start recharging.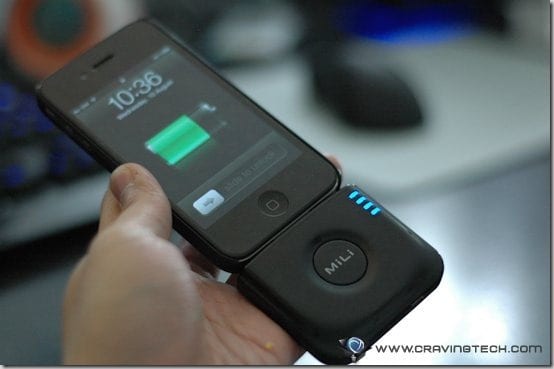 Press the big MiLi button to see the amount of power remaining in it:
When I tested, the recharge rate is around 6% per 10 minutes, so it's not too bad as you can still use your iPhone and carry it around easily. It also has a foldable stand at the back so you can watch movie while your phone is being recharged at the same time. Nifty. The price is also too cheap to be true.
Mini 1200mAh Power Angel External Backup Battery – $28.14
Focalprice Mini Potted Office Man Shaped DIY Creative Grass Hair Plant Doll
The last one is another cute thing to adore (again). It's a DIY planting for those who want to be a gardener but don't want to get down and dirty. Simply water it every day and you will happily see the green grass growing from its head. It's cool and fun.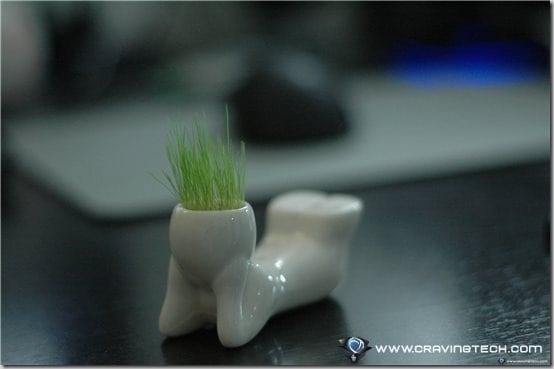 I wish the grass can be thicker but this thing is already adorable enough anyway after about a week or less of watering.
DIY grass hair plant doll – $3.45
Want one of these items (and hundreds more)? Check Focalprice website and… happy shopping :)
Deal Of The Day: Up to 45% [email protected]
Note: Samples were provided by Focalprice