I'm finally moving away from Aussie Broadband. It's not that I'm not happy, in fact, I was very satisfied with their speed and service. I even referred a few friends over and they're happy too. However, they've just recently increased the monthly price due to NBN price hike.
I don't blame them, never do or will. But an increase of $10 a month is not small, so I thought of looking for an Aussie Broadband best alternative, if there is any. Apparently, many are talking about moving from Aussie Broadband to Superloop in the forums and OzBargain.
This is the first time I've heard about them actually, but it looks like everyone who has jumped ship is very happy with Superloop. Speed and stability are the ones that brought me to Aussie Broadband, not because they are the cheapest. Network stability is more important and I don't mind paying a bit more extra.
Superloop also has great offers at the moment (I guess they know there are probably many unhappy Aussie Broadband customers at the moment and would want to search for an alternative).
If you are in Victoria, you can get 6-weeks free on the 100/20Mbps Unlimited plan (if you sign up before end of month). If you are in the other states, the offer is $10 OFF per month for the next 6 months (if you sign up before end of year 2020). Both are equally good and can be obtained if you use a referral link like mine to sign up at Superloop.
Aussie Broadband vs Superloop price comparisons
I was on the AussieBB 100/40 500GB plan, which costs us $85/month before the price increase. In November, we'll have to pay $95/month for the 100/20 500GB plan. So a $10 increase per month, and half the upload speed.
With Superloop, it's $79.95/month on the 100/20 500GB plan (or $89.95/month for the 100/20 unlimited). With a 6-weeks free (i.e a credit of $124.55 on your account after signing up) on the 100/20 unlimited, it's an easy decision to switch to that plan for now.
There isn't any contract like Aussie Broadband, so you can always switch back in a sense. However, note that unlike Aussie Broadband where you can leave anytime (and they will refund you the rest of your monthly billing cycle), you can't do that with Superloop. Which means if you want to move out of Superloop at some point, you have to time it to migrate before your next billing cycle is over.
But again, I've done some research and read lots of discussions on Superloop and so far everyone seems to be happy and says that it's as "premium" as Aussie Broadband.
How to migrate from Aussie Broadband to Superloop
Simply use my referral link to sign up: https://members.superloop.com/signup?referral_code=BMEKGO&plan=1507
This will get you the current discounted offers from Superloop (you can check while signing up before confirming the order).
After signing up at Superloop, in 5 minutes I noticed my internet was down and I got an SMS saying I've been switched over. I just had to restart my router and that's it. I'm on Superloop. It's that simple, yes.
You then have to call Aussie Broadband saying you've moved away to another ISP and would like to close your account, and organise a refund, etc. That's pretty much the process you had to go through.
On Superloop 100/20Mbps (going to miss those 40Mbps speed but I can always switch to that later), I've got great speed like when I was with Aussie Broadband: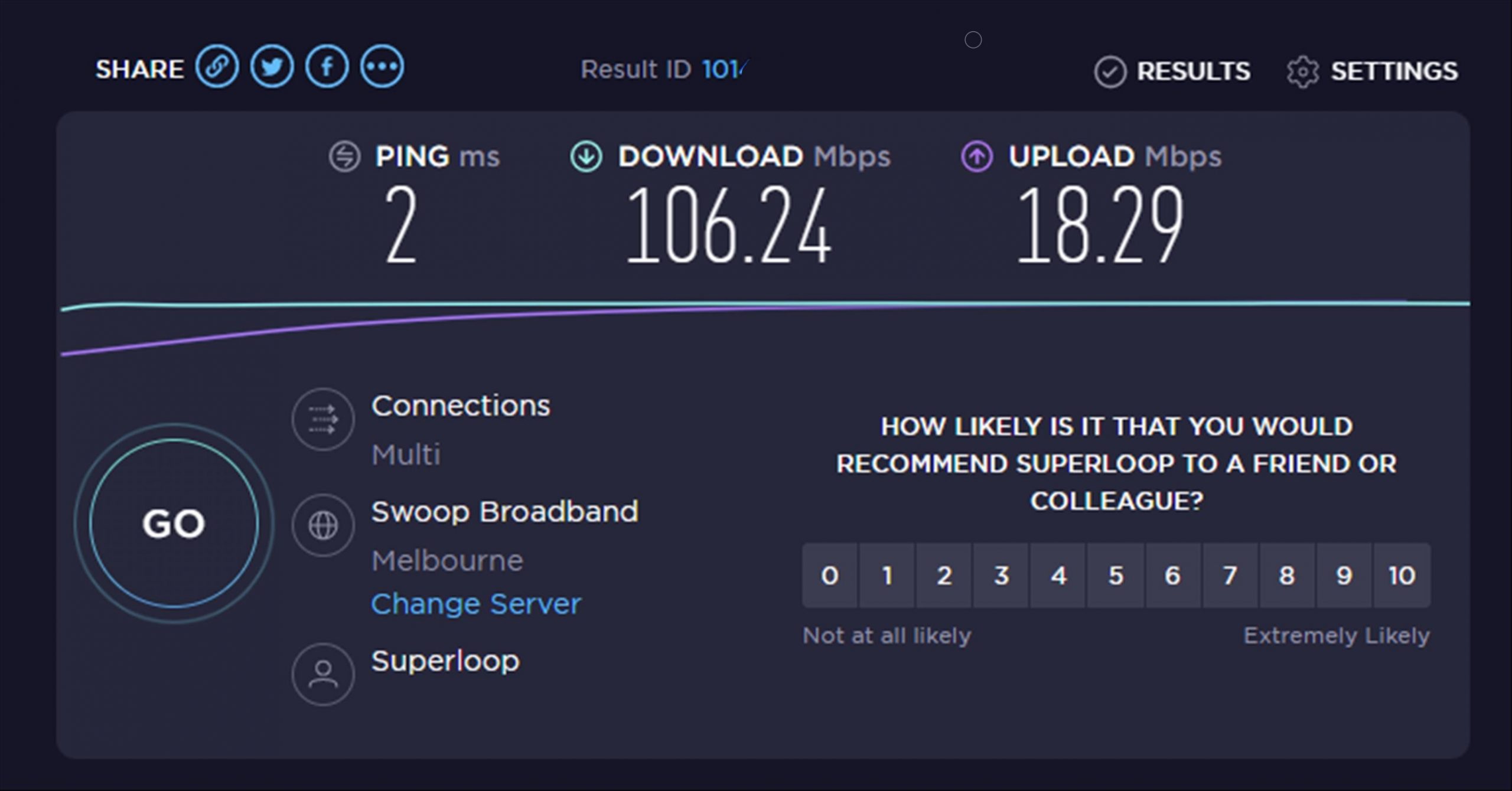 See you on the other side!
Disclosure: if you are using my referral link, you will get the discounted offers (double check for the expiry date of the offer though). I will also get a 10% off for 6 months on my own account.