D-Link EAGLE PRO AI M32 Review – D-Link M15 EAGLE PRO AI features AI-based Mesh capability to your wireless home network (which I reviewed early this year). It was the first product in the EAGLE PRO AI Series and while it gives a great coverage and bandwidth, there is a newer, updated model before we close the year – the M32.
D-Link EAGLE PRO AI M32 delivers up to 3200Mbps (compared to the M15's 1500Mbps) with the 3-pack covering up to 740sqm home. It is also the same AI-based Mesh capability like its predecessor, so you'll always get the best wireless performance out of the units spread throughout your home.
D-Link EAGLE PRO AI M32 Review – Packaging & Unboxing
The M32 comes with two options: M32-2PK (2-pack) or M32-3PK (3-pack, which is the review unit I have here). Depending on how large your home is, you may want to grab the three packs though it costs around A$150 more.
D-Link EAGLE PRO AI M32 Review – Setup and Installation
I was able to setup the first mesh unit using the D-Link EAGLE PRO AI app and it is very easy as you just need to follow the step-by-step instructions. Once you've got the initial unit running (and connected to the internet), I could just turn the rest on one by one and they would automatically connect and my whole mesh network set up at home. Nice.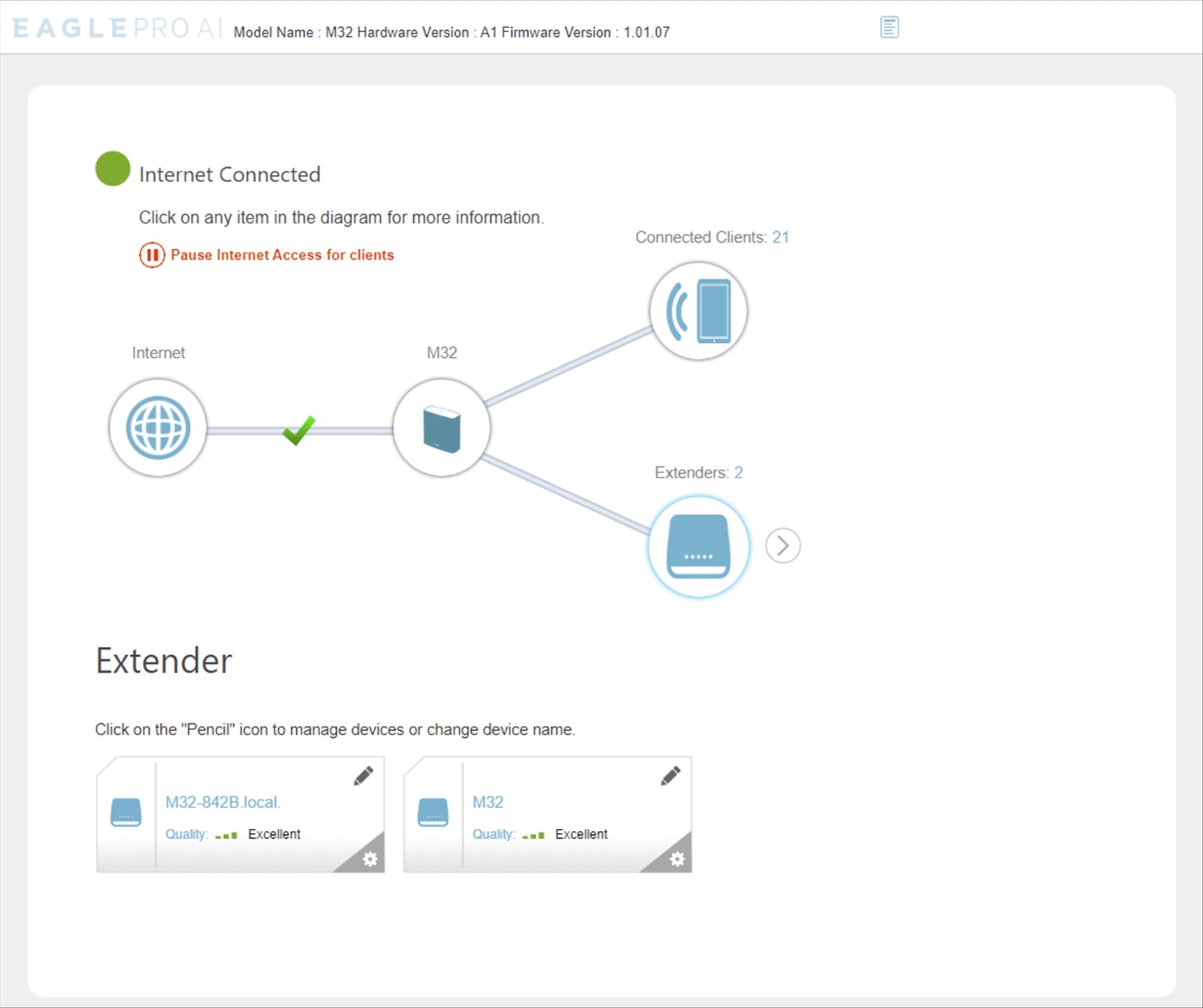 You can double check that you've got everything set up properly by looking at the main router dashboard and the Extender section. As you can see, I've got the two extra mesh units set up properly too here.
D-Link EAGLE PRO AI M32 Review – Design & Features
D-Link EAGLE PRO AI M32 is a dual band, mesh router that can deliver up to 3200Mbps (2400Mbps on the 5GHz and 800Mbps on the 2.4GHz channel). According to D-Link, the 3-pack unit should be able to cover up to 740m2 so you can get internet wherever you are in the house.
Each unit three ports (1x WAN and 2x LAN) so it doesn't matter which one you want to use to connect to your internet, and you also get two extra LAN ports which is quite generous (some mesh products only give you one extra). You can use these LAN ports to plug your printer, a network switch, or smart devices hubs.
There is an LED indicator located on top of each mesh unit so you can see whether your network is running without any issues (White means good with Internet connectivity).
Thanks to the EAGLE PRO AI technology, all wireless related issues and performance are handled using advanced algorithms. AI Mesh Optimiser ensures you get a stronger, more reliable Wi-Fi using Unique AI Beamforming and AI Traffic Optimiser also detects the kinds of traffic running throughout your home and prioritises them properly.
The mesh router has it all: Wi-Fi 6, MU-MIMO (multi-user, multiple input, multiple output), OFDMA (orthogonal frequency-division multiple access), TWT technology (Target Wake Time), and even supports the more secure WPA3 encryption. These tech offers multiple devices connected simultaneously with better efficiency so if you have many smart home devices running at home (like mine), small data packets can be transferred simultaneously without them having to wait in turns.
Software wise, there will be familiar functionalities that you can find on other D-Link routers like Guest network, QoS, Parental Controls, etc.
Despite of the compact size, each mesh unit actually holds five internal antennas within. Four antennas are used for streaming data on both the 2.4GHz and 5GHz while the fifth one is dedicated to Channel Monitoring.
Having internal antennas that you can't see from outside definitely keep the design minimalist and clean compared to spider-alike-hands router design. However, I find that a single M32 unit struggles with getting a wireless signal through thicker walls (from our Study area to our Master bedroom). This is comparing the wireless signal strength coming from a single, powerful router with external antennas like the TP-Link Archer GX90.
Here's a screenshot of the wireless signal on a troubled spot using TP-Link Archer GX90 (left) and D-Link M32 (right).
While the signal strength is not as strong, this is a mesh router system after all and can easily be fixed by placing the other two units at the right places. Obviously, this depends on whether you have wall sockets around the house where you can plug an M32 unit into. Thankfully, since you can just unplug and plug the unit back somewhere else and it'd auto pair itself within the network, it's pretty easy to do a trial and error around the house.
Performance wise, the mesh router system does an excellent job in keeping things running smoothly, even with over 20-30 wireless devices that I have at home seeking for data and attention: smartphones, laptops, tablets, security cameras, smart lights, and many more.
D-Link EAGLE PRO AI M32 Review Conclusion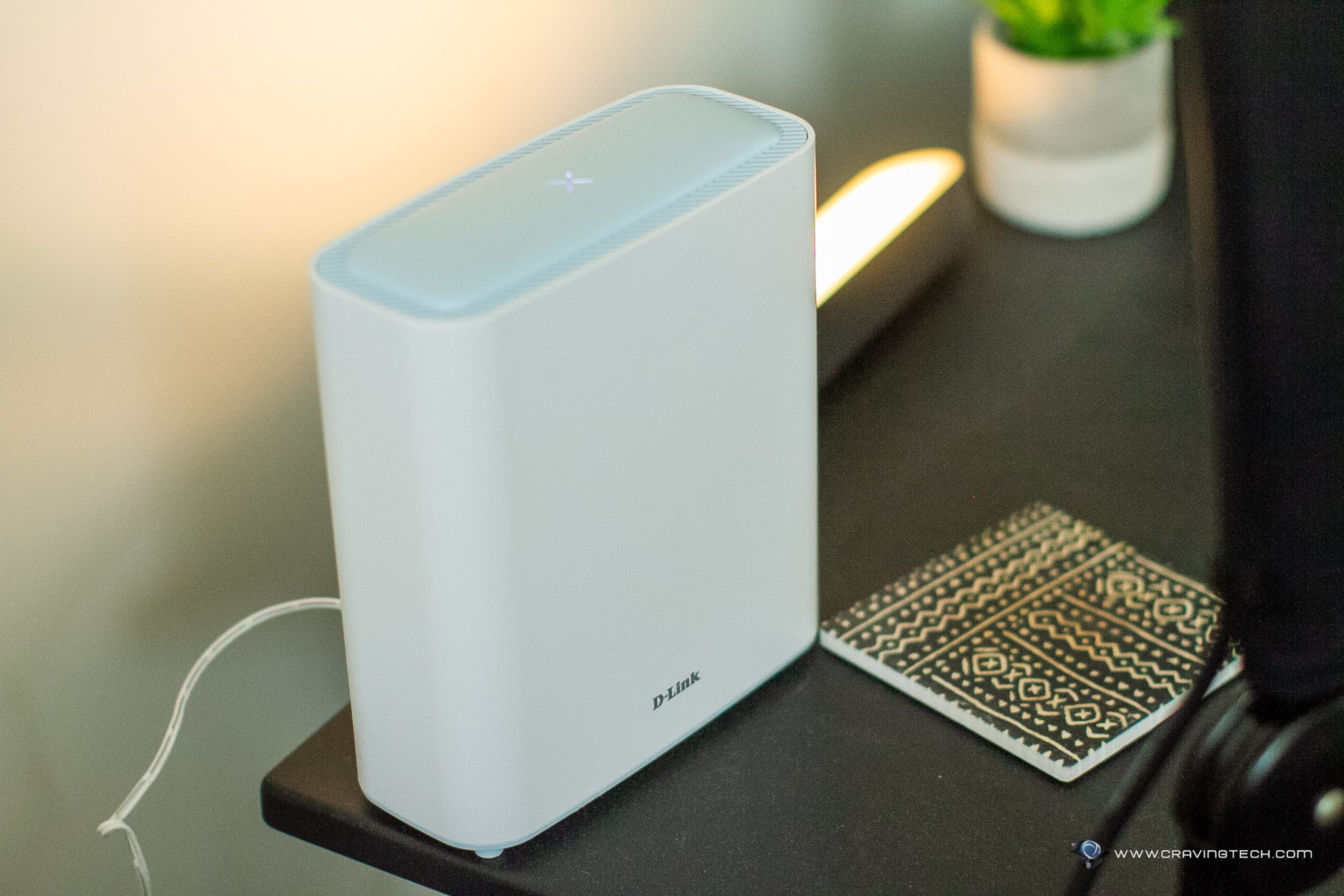 D-Link EAGLE PRO AI M32 is easy to setup, easy to use, and easy to extend by simply plugging the extra mesh unit to a spare wall socket. It comes with the latest and greatest Wi-Fi technology that you can get in the market, and a good choice to cover an entire house.
They are compact units with internal antennas though, so the range and wireless strength are not the greatest if you have lots of thick walls in between rooms. Thankfully, you have an extra or two mesh units that you can set up around the house to make sure you've got a stable network – assuming you have some power sockets distributed around the house at the right places.
D-Link EAGLE PRO AI M32 is available now and the two-pack retails for A$449 and three-pack retails for A$599.95.
Disclosure: D-Link EAGLE PRO AI M32 3-pack review was supplied for reviewing
D-Link EAGLE PRO AI M32 Review
Summary
D-Link's latest and greatest Wi-Fi 6 AI Mesh Systems in compact form
Pros
Compact and minimalist form
Easy to setup and extend
Two LAN ports on each unit
Comes with latest and greatest Wi-Fi 6 tech
Google Assistant and Alexa support
Cons
Doesn't have the strongest wireless signal so can be unstable if it's too far from a mesh unit (and thick walls in between)
Price, so make sure to research which models you need (as you may not even need 3200Mbps at your home)