Google Pixel Watch Review – Google Pixel Watch is Google's first full-featured, premium smartwatch and it contains the best of Google and Fitbit can offer in a single wearable device.
From Google's side, you get a premium device with fast performance, powerful apps like Google Maps and you also get Google Wallet for that easy payment.
How good is the Pixel Watch? How is it compared to the fierce competition fighting for that just one available wrist? Is this the best smartwatch for Google Pixel phones?
Google Pixel Watch Review – Packaging Contents and Unboxing
Google Pixel Watch Review – Design and Features
Pixel Watch has a circular design in 41mm diameter size and uses a custom-developed 3D Gorilla Glass. It doesn't have the thinnest bezel compared to a few other smartwatches out there but it actually looks better in real life. It is pretty small though (being 41mm) so it may look funny if you have very big arms/wrists, but those with smaller wrists like myself, it's a good size. Weighing just 36 grams, it's definitely one of the most comfortable smartwatches out there to wear.
The digital crown has a premium stainless still finish, is easy to reach, and can be used to scroll up and down with the perfect scroll resistance. It can also be pressed to function as a back button, and there is also another extra hard button (which is quite hidden from view) that can be pressed to show most recent apps or activate Google Assistant. It takes some time to get used to this button as it's positioned above the crown and also a bit stiff to press.
Like other wearables, you can easily switch bands (sold separately) with over 20 bands available upon launch like Active band, Stretch band, Woven band, and Leather band of various different colours. There will be a Metal band too but it's coming later.
Google Pixel Watch is powered by Exynos 9110 SoC chip, Cortex M33 co-processor, 2GB of RAM, and 32GB of on-device storage. You can also purchase a 4G LTE option (which is the review unit I have here) to use mobile functionality for another A$100 extra. Interacting with the watch feels really good as it's smooth and responsive.
With built-in GPS, you can leave your phone at home while you are doing a run and leave everything synced afterwards. There is also a built-in speaker and microphone inside this tiny device. A satisfying click can be heard from the speaker as soon as you unlock the smartwatch for the first time.
Surprisingly, Google Pixel Watch cannot be run on iOS so Apple iPhone users should just grab a Fitbit Versa 3 or newer models if they want to track their healthy life with Fitbit. For Android users, the Pixel Watch is compatible with devices running Android 8.0 or newer.
The 1.2-inch AMOLED display has 320ppi with up to 1,000 nits of brightness. It's bright enough so far in different situations and also has an Always-on display which dims the whole display when it's triggered. Some watch faces also turn themselves into more simplified versions to save battery.
Speaking of battery life, it usually lasts a day if you're just doing day to day routines like getting notifications and doing your daily workouts. I enable the Always-On display and obviously it drains the battery quicker. I do find that I have to charge the Pixel Watch every day (I wore it to sleep as well during the review period for the past week). If you think you are going to interact with the watch very frequently, you may need to turn the Always-On display feature off or sometimes, charge it twice a day depending upon your usage. But suffice to say that it should last a day.
The Pixel Watch is running WearOS 3.5 and you can get app notifications on the Pixel Watch that you can customise (so you don't get notifications from non-crucial apps).
Google Pixel Watch Review – Fitbit Health and Fitness
Fitbit is well known as the best in terms of tracking for both your exercises and sleep so when Google announced its acquisition of Fitbit by the end of 2019, we knew something good was coming. And that time is here. Google Pixel Watch is powered by most Fitbit goodness you know of and offers you one of the best trackers in the world.
You get a lot of useful statistics like your Active Zone Minutes when exercising, Daily Readiness Score (on Fitbit Premium only), Heart Rate (current, resting, etc), Sleep quality, and many more. I've been reviewing many Fitbit devices here at Craving Tech so all these features are very familiar. Like owning a Fitbit device, all these are accessible on a separate Fitbit app so it's like you are owning a new Fitbit device when you get the Pixel Watch. For Fitbit owners, you'll feel right at home here.
The device also auto detects when you are exercising – though it sometimes thinks that I'm exercising or being active while I'm not (probably because my heart rate is going up than usual).
I did wear the Pixel Watch while I was playing badminton last Friday and started a manual workout to record the sessions. It's good to be able to see your heart rate, active zone minutes, etc on the app or right on the watch itself.
It also tracks my sleep every night. It can sense my body goes to sleep and when I'm awake automatically. Stats wise, you get the whole sleep stages (REM, Light, and Deep) and you'll also get a Sleep Score because getting longer sleep doesn't mean you get a good quality of sleep. For example, I get a sleep score of 81 even when I slept for just 5 hours and 32 minutes. It all depends on the quality (how much time you spent in deep and REM stage) and a good sleep tracking device can detect this properly.
But there are limitations here. Google Pixel Watch itself is not waterproof. It has a water protection rating of 5 ATM so you'll be fine to wear it when it rains and all, but not something that you want to use while you are swimming or taking a shower.
Google Pixel Watch Review Conclusion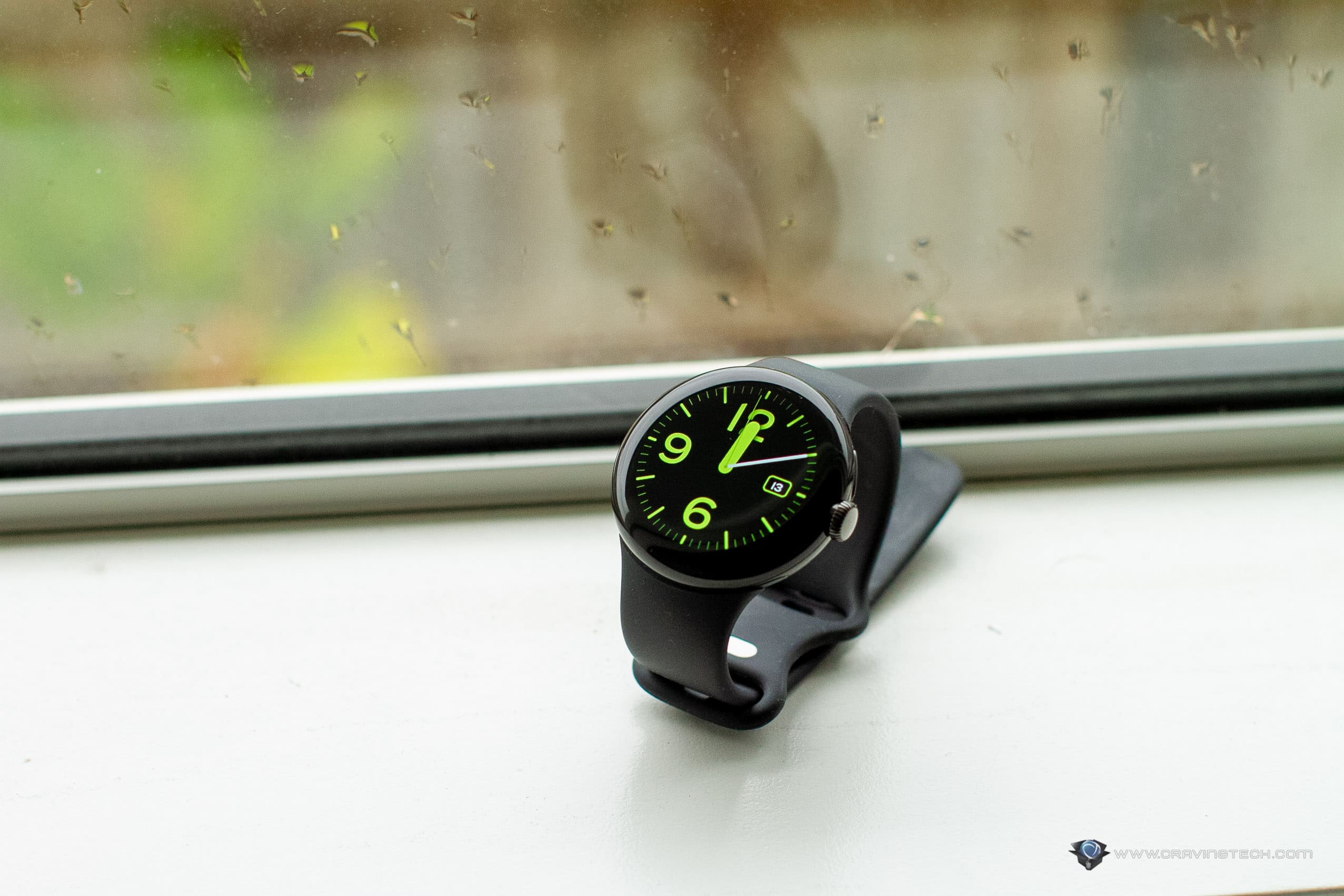 Google Pixel Watch is a marriage between Google's hardware/software expertise and Fitbit's fitness tracking. The wearable is equipped with many latest tech like EKG and SpO2 sensors, among continuous heart rate tracking. It also has built-in speaker, microphone, and 4G LTE option should you want it.
It's a great looking smartwatch with great looking band options (though you'll have to pay for that, just like an Apple Watch) and great watch faces to choose from.
But if you really want the best tracking and Fitbit features possible, unfortunately you can only find some of them on a Fitbit device like the latest Fitbit Versa 4. The good thing is that you get a smartwatch by Google so if you like the apps supported by the WearOS, Google Pixel Watch is a great wearable device alternative. Plus, it has 4G LTE option to those who prefer it.
Google Pixel Watch is available now and retails for A$549 (for Bluetooth/Wi-Fi option) and A$649 (for LTE+Bluetooth/Wi-Fi).
Disclosure: Google Pixel Watch review sample was supplied for reviewing
Google Pixel Watch Review
Summary
Google's first take on a premium, fully-featured smartwatch powered by Fitbit's tracking and reporting tech
Pros
Premium and stylish looking
Powered by Fitbit superior tracking and reporting
Great performance
Many built-in sensors, GPS, microphone, speaker, and has 4G LTE support
Swappable bands
Running WearOS with supported apps
Cons
Missing many advanced features that you can get from the latest Fitbit devices of the same price (or lower)
Battery life
WearOS doesn't have much interesting apps