D-Link DWA-X1850 Review – I'm actually still using the D-Link's coolest-looking USB wireless adapter on the other PC but it's great to hear that D-Link launched a new, updated Wi-Fi 6 USB 3.2 Gen 1 Wireless Adapter. Wi-Fi 6, as we all know, has been the most popular topic in the wireless networking industry this year.
It's probably made as a sole requirement for all new Wireless Routers and Mesh Routers launching in 2021 and beyond (like the D-Link's Wi-Fi 6 DIR-X1560 Router and COVR-X1873 Mesh Router).
So if you are already running a Wi-Fi 6 network at your home or office, you might want to consider grabbing this D-Link's newest USB wireless adapter.
The DWA-X1850 is a slim and compact USB wireless adapter that you can just plug into one of your USB ports to get instant wireless connectivity. Plugging it to a USB 3.2 Gen 1 port is definitely recommended to get the highest performance possible, though it will also work on the older USB 2.0 or 1.1 port.
The adapter itself feels hollow and looks kind of cheap thanks to the all-plastic material, but this is probably to cut the cost down. The materials used at least make the adapter lightweight so you can carry it around easily – assuming you plan to carry it around.
A lightweight dock is also included so you can make the wireless adapter & its dock stand on your desktop PC or desk. The cable is not long enough to place the dock on your desk if your PC is located below the desk, however. And you can't place it too far from the slot because the cable is quite thick and heavy that it can pull the dock down.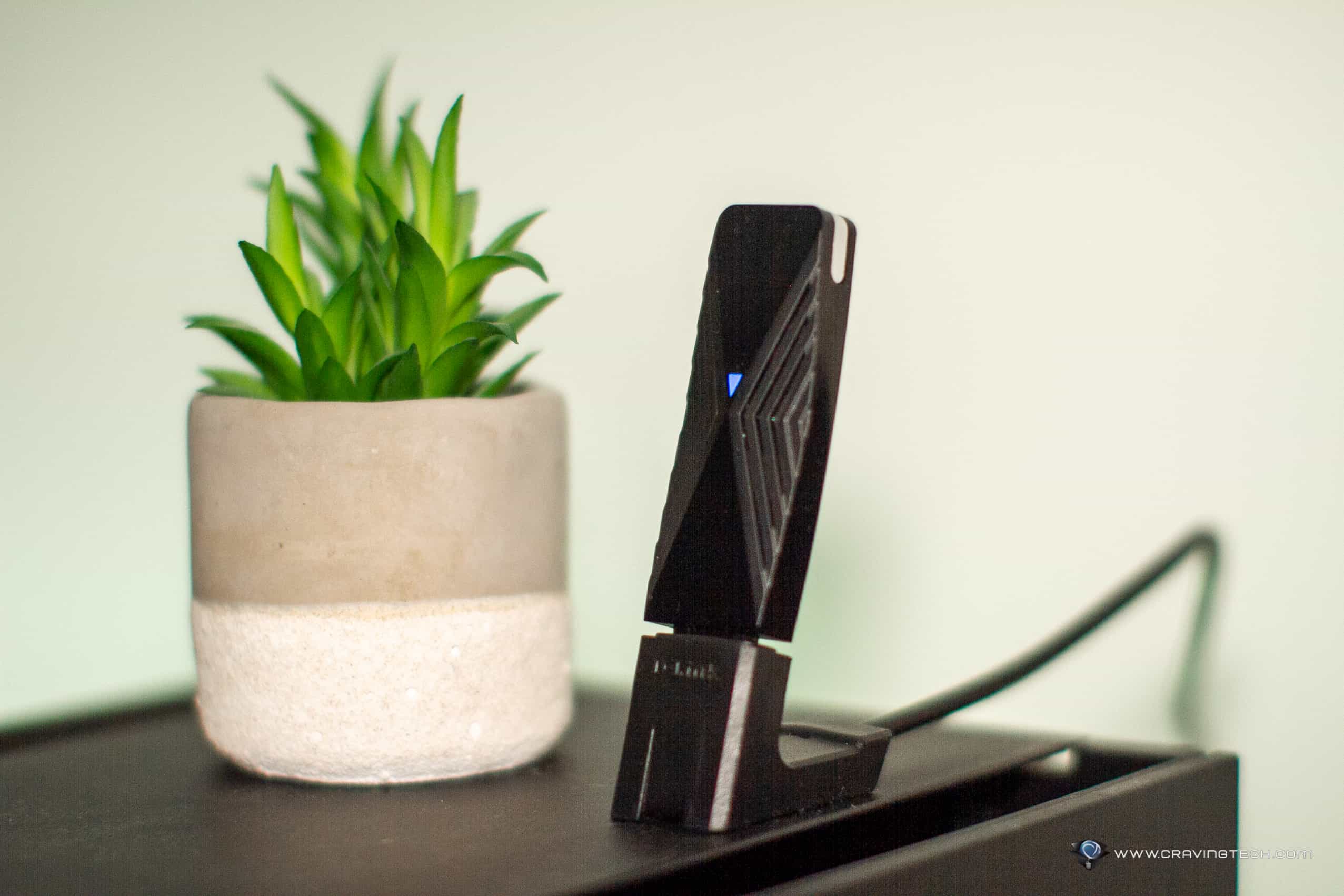 The Wi-Fi 6 wireless adapter features the latest 802.11ax Wi-Fi 6 technology that can deliver speed up to AX1800 (574Mbps on the 2.4Ghz + 1200Mbps on the 5GHz). The adapter also features 128-bit WPA3 encryption if you are using it on your wireless network for the extra security.
OFDMA and MU-MIMO technology will also ensure fast and efficient wireless connection to your devices where ever they are within the network range.
But if you still have the good, old, Wi-Fi 5 wireless router, the adapter is backward compatible too. And when you decide to upgrade to a newer Wi-Fi 6 router, it'll be ready to utilise all the Wi-Fi 6 goodness.
The driver/software is already preloaded on the adapter (you can actually browse to see the file in Windows Explorer), so you can just double click to install it to the device it's plugged in. This is great because sometimes you'll have a new PC without a built-in Wi-Fi from the motherboard. Normally, you'd have to plug an Ethernet cable first so that you can download and install the driver online from the manufacturer's website or use a laptop (if you have one) to download the driver & copy to a USB drive.
This way, it's really easy to install and you can get the wireless network running within seconds.
From my experience, DWA-X1850 is pretty stable and I've plugged it into my main PC that I use for gaming and working for around two weeks. I've never had any disconnection or noticeable lag issues either. Sure, sometimes I get a bit of packet loss here and there when gaming online, but this is true no matter what wireless routers and network adapters I'm using so far (unless I'm using it wired).
It seems to have a good wireless range and I also get responsive connectivity at all times. Running SpeedTest on the PC also yields me an excellent speed on my 100Mbps Superloop nbn.
D-Link DWA-X1850 Review Conclusion
If you need a high performance wireless network adapter with Wi-Fi 6 that is easy to set up and you can just plug in, D-Link DWA-X1850 AX1800 Wi-Fi 6 USB Adapter is worth a grab. It supports the latest Wi-Fi 6 technology to make sure that you've got a stable and solid wireless network, plus the latest WPA3 encryption to further secure your network.
It retails for A$149 and available now for purchase.
Disclosure: D-Link DWA-X1850 review sample was supplied for reviewing