D-Link Full HD Pan & Tilt Pro Wi-Fi Camera Review – While there are many indoor security cameras with wide viewing angle like the D-Link DCS-8330LH's 151-degree, you still have limitations and can't really do a whole 360-degree coverage.
But with D-Link's newest indoor security camera, the DCS-8526LH, you can pan and tilt to see every angle of any room via your phone in real-time. For covering a large office area or factory, this is superb.
D-Link DCS-8526LH can record in 1080p Full HD at 30 fps and also has a 5-metre night vision. So whether you are using the camera to monitor activities during the day or evening, it doesn't matter much. The camera will still be able to pick up any motion and record it to the Cloud, or locally to a microSD card.
But before that, let's talk about setup. Setting up the DCS-8256LH is super simple and only took me about a minute. Once you plug the camera's power cable and open mydlink app on your phone, the app can auto-detect the device via Bluetooth. Weirdly, you still need to scan the device's barcode located on the camera, but it still is pretty simple and straightforward to do.
There is also an option to connect the camera wirelessly to your Wi-Fi network, or wired through an Ethernet cable.
Like any indoor security camera, the DCS-8526 is equipped with two-way audio (built-in microphone and speaker) so you can talk through the camera to an intruder, family member, or staff.
You can use your finger to tilt and pan the camera remotely from mydlink app. This is also useful to set the Home Point, i.e the camera will automatically return back to the Home Point after 60-seconds of inactivity – like a default starting view.
You can also set a Panorama View Angle Selection where you can just point at any target in the field of view quickly with a quick tap.
Now before we get all too excited, I was expecting the camera to be able to auto-track you and record at the same time. For example, an intruder would come into view which sets the motion alert, and I want the camera to be able to auto-track the object movement while recording. Unfortunately, it seems that once you turn the auto-tracking on, you cannot enable the motion alert and record at the same time.
Meaning, to treat it as a set-it-and-forget-it security camera, you need to turn the auto-tracking off. Let the camera detects motion, sends you an alert, and records the event like any other cameras. Whenever you see an alert and go to Live View, the great thing is that you can then pan and tilt the camera to find where the intruder is (if he or she is out of view already). But I do wish that the camera can monitor movement alerts, auto-track, and record at the same time.
The camera also supports Amazon Alexa and Google Assistant, plus ONVIF Profile S recording which is useful if you also have other IP cameras around the house and continuously record clips to a NAS like the Synology DS218j.
D-Link Full HD Pan & Tilt Pro Wi-Fi Camera (DCS-8526LH) Review Conclusion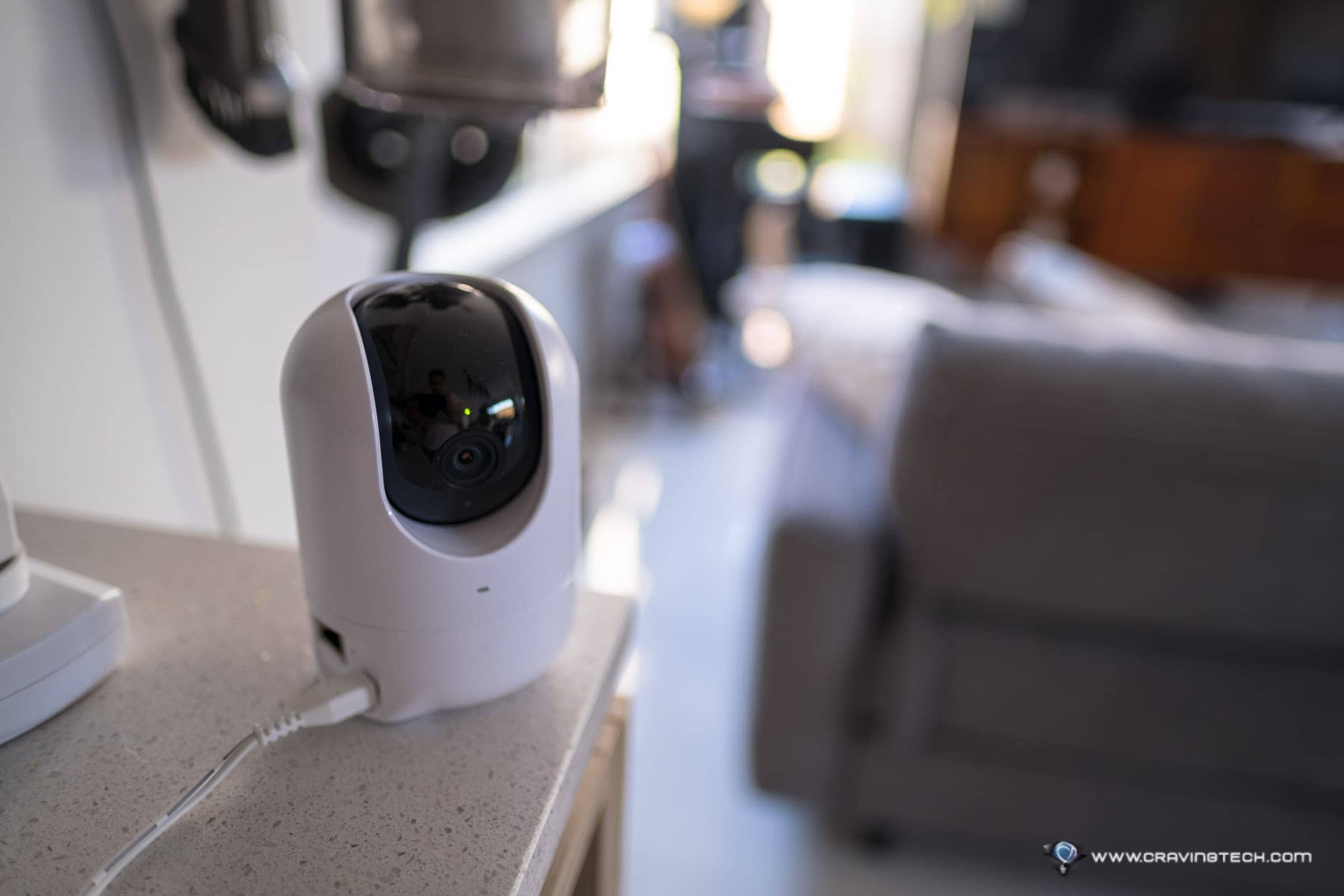 D-Link Full HD Pan & Tilt Pro Wi-Fi Camera can easily cover a large area and track any moving object with its cool pan-and-tilt automatic feature. This can also be done manually with your finger through mydlink app, making it the perfect camera to watch your factory workers, customers, or staffs working in a large office while you are away.
It's borderline cool and freaky when you actually see the camera follows you around. You can mount the camera on the ceiling (tools provided), or just place it on a flat surface. The camera retails for AU$179.95 and available now for purchase in Australia.
Disclosure: D-Link Full HD Pan & Tilt Pro Wi-Fi Camera (DCS-8526LH) review sample was supplied for reviewing but all opinions are mine
D-Link Full HD Pan & Tilt Pro Wi-Fi Camera Review
Summary
An excellent, indoor security camera with responsive, pan and tilt feature
Pros
Pan and Tilt Feature with auto tracking
1080p video recording
Local MicroSD and Cloud option
Wi-Fi and Ethernet option
Response pretty quickly to movement
Night vision
WPA3 encryption
Amazon Alexa, Google Assistant, and ONVIF Profile S recording
Privacy Mode
Cons
Can't auto-track while recording a motion event