D-Link DCS-8330LH Review – D-Link's latest Wi-Fi camera, the DCS-8330LH, can be purchased separately for AU$249.95 or inside the Smart DIY Security Bundle for AU$299.95 (which includes the Smart Door/Window Sensor and Smart Motion Sensor).
Make no mistake, however. This is not just another Wi-Fi camera because the DCS-8330LH has Advanced, Intelligent Motion Detection that gives you a lot of options to customise how motion alerts get triggered so you have less notifications, and can act on only those that matter. And we are not talking about the usual motion zones or objects detection here.
Smart DIY Security Packaging
mydlink Smart Full HD Wi-Fi Camera Design & Features
The camera has a clean & stylish look, most likely because it's made to be placed indoor – i.e it will blend in nicely as a decor to your modern home.
It can record in 1080p Full HD (30fps, night vision) with a 151-degree angle view that covers a lot of areas in your house. It connects to your home Wi-Fi network and most of the functionalities and settings are done through the mydlink app.
What makes the camera interesting is the smart features and AI capabilities that it has. The camera actually has a built-in Smart Home Hub of its own, meaning, all processing are done inside the device and don't clog your network bandwidth to a separate hub plugged at your router.
Combined with the extra smart sensors you are getting if you grab the Smart DIY Security bundle, you can be really smart on how you set up your smart home security.
mydlink Smart Motion Sensor (DCH-B122) is battery operated so you can stick it pretty much anywhere around the house, and it can send alerts to your phone whenever a motion is detected (up to 5 meters away). Or alternatively, you can create rules to trigger automations on your other mydlink Smart Plugs (check out our review on the mydlink Mini Wi-Fi Smart Plug) and cameras around the house. This way, you can turn the radio with the loudest volume on or perhaps a table lamp inside the house to scare intruders away.
Similarly, mydlink Smart Door/Window Sensor (DCH-B112) can be set up to detect whenever a door or a window is opened and closed. It also has a Sensor Bypass Button to bypass the trigger alert if it's you who are about to open the door or window. Ideally, this is set up inside your house so someone from the other side can't push the button obviously.
They all have tamper detection as well for your peace of mind.
Now, back to the DCS-8330LH camera. It can record and save the clips locally with a microSD card (not included), Cloud Recording, or ONVIF Profile S if you have a NAS like a Synology DiskStation DS620slim set up. You get a 1-day free cloud recording (up to 3 cameras), but you can also subscribe monthly to get up to 30-days video retention. Make sure to check the mydlink page for the detailed pricing and plans.
The really cool things about the camera are the intelligent detection set ups. For a start, the Smart Full HD Wi-Fi Camera with built-in Smart Home Hub (DCS-8330LH) can detect a Person in the scene, and does not trigger on every thing that moves. While there won't be many branches or falling leaves inside your house, you may have pets, flickering lamps, and other things that may trigger a false alarm. This means less notifications to check on your phone, plus, this feature is usually a premium feature like the one we find on the Arlo Ultra.
Similar to Ring powered cameras, you can also set Multi-Zone Motion Detection and they are really handy because you can set the areas that you want the camera to focus on.
However, new to home security cameras that I've never seen is the Boundary Crossing Detection and Priority Zone. With Boundary Crossing Detection, you can virtually set a "tripwire" through the app so that you'll get an alert when someone crosses that line. You can even set whether you'd want the camera to take into account the direction – which is really cool and specific.
And lastly, with the Priority Zone feature, you can specifically prioritise sensitive areas so you'll get notified when something or someone gets into or out of the zone. I'd say this and the Boundary Crossing Detection are perfect for monitoring babies! I definitely can't wait to use the camera in our baby's room this upcoming June.
Speaking of babies, the camera can also be set to send you an alert when it detects sound, e.g a crying baby. According to some, a baby's cry is way over 100 decibels and the camera can detect sound as low as 60 decibels which is perfect. Combined with IFTTT and your other mydlink smart devices, there are lots of ways to do here. Perhaps you can automatically turn your smart speaker to play a soothing music, or turn a light on to calm the baby down. Apart from IFTTT, the camera also works with Google Assistant and Amazon Alexa.
You can turn Privacy Mode on whenever you are at home and would like some privacy. This will stop the camera from recording anything. The camera has a two-way audio and also rich notifications that allows you to act quicker to the alert, and even call your emergency contact that you have set using the mydlink app.
mydlink Smart Full HD Wi-Fi Camera Review Conclusion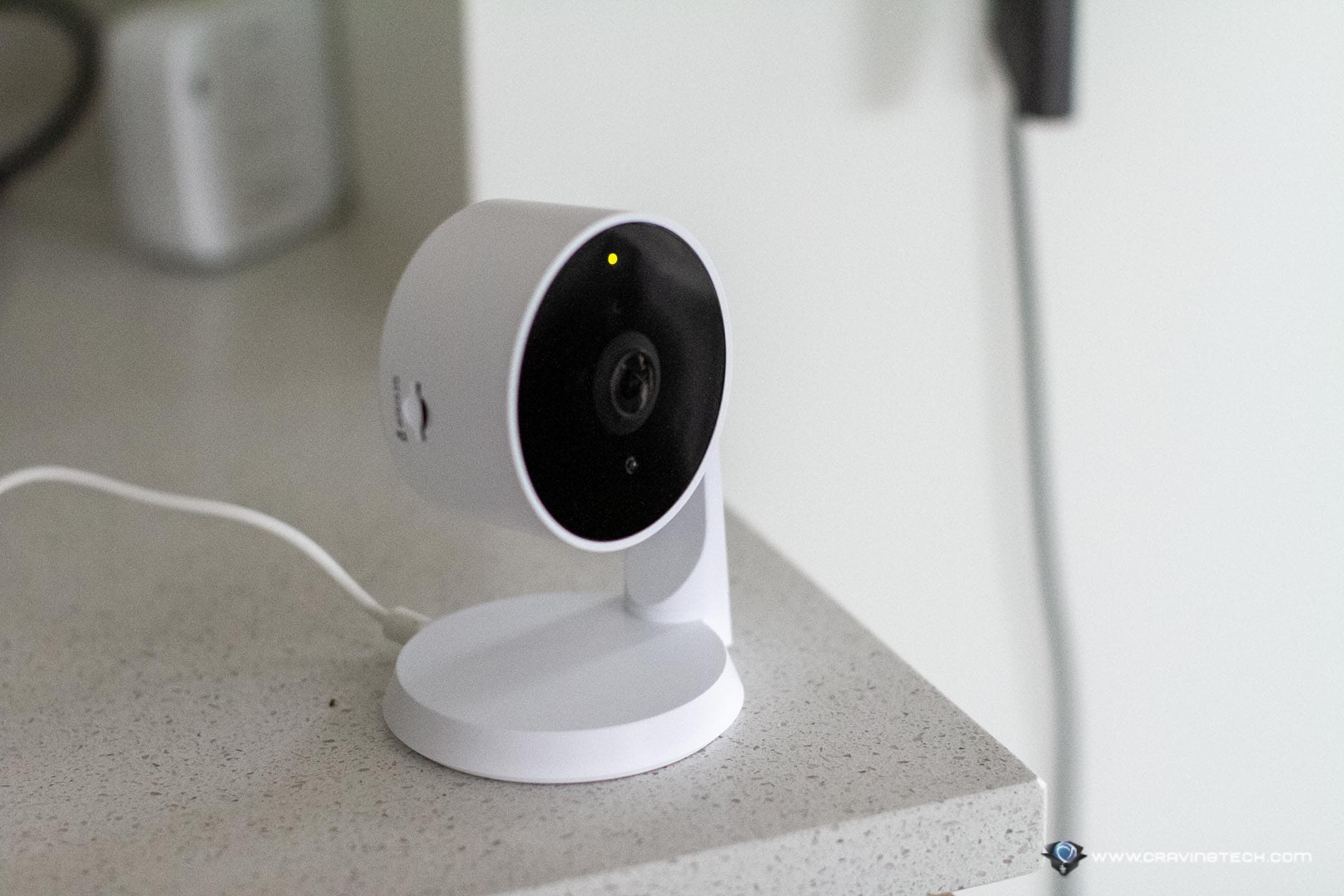 mydlink Smart Full HD Wi-Fi Camera (DCS-8330LH) is the most advanced indoor cameras I've ever seen to date. With a built-in Smart Home Hub, it's capable of doing advanced monitoring and detection without bulky design or a separate hub connected to a router.
The Intelligent Video Analytics (IVA) for smarter motion detection is excellent to give you only the notifications or alerts that matter to you (assuming you have some time to set these all up through the mydlink app). Not only the camera is good for a smart home security camera, it's also perfect as a baby camera.
It comes with Person Detection, Multi-Zone Motion Detection, Boundary-Crossing Detection, and Priority Zone. These are usually premium features that you'd have to pay on a monthly subscription but this time, included in the price.
Sure, the camera is not the cheapest indoor security camera with the retail price of AU$249.95, but if you want more flexibility and precision in monitoring the areas around your home with some integrations on other smart home devices (minus Apple HomeKit), definitely worth a grab.
Now D-Link, please make a new outdoor security camera with all these goodies & a built-in spotlight!
Disclosure: mydlink Smart DIY Security Bundle review sample was supplied for reviewing but all opinions are mine and not paid
Smart Full HD Wi-Fi Camera with built-in Smart Home Hub DCS-8330LH
Summary
One of the most advanced indoor smart security cameras with its own built-in smart hub. Offers advanced detection and trigger alert customisations.
Pros
Sleek design, not bulky
Great video quality recording
Wide angle view, night vision, two-way talk
Advanced AI detection with rich notifications
Automation, Schedules through the app
Can work with other smart devices at home
Cons
No Apple HomeKit support
Pricey if you don't need the advanced stuffs