Synology DiskStation DS620slim Review – We've been itching to replace our huge file server in the office running a full-blown Linux OS with Samba. We also set it up as a domain controller so that everyone gets their own workspace and access to certain company's folders based on their roles in the company.
But after reviewing the Synology DS218j and DS419slim, I can see the potential of these modern NAS – which goes beyond maintaining complex Linux Operating System updates and its module dependencies from one to the other.
When I was given an opportunity to review the new Synology DiskStation DS620slim, I knew this is the time to make a leap and change our workflow in the business.
Synology DiskStation DS620slim is a mini 6-bay NAS designed for modern offices, apartments, or houses. Its compact and stylish design means it will fit anywhere in the room, and perfect for a SOHO (Small Office/Home Office).
It's powered by a dual-core 2GHz processor burst up to 2.5GHz, 2GB DDR3L expandable to 6GB, dual-channel H.265/H.264 4K video transcoding on the fly, over 220MB/s reading and 190MB/s writing speed even under encrypted data transmission, and a 6-bay 2.5″ HDD/SSD support.
Due to the compact size of the NAS, only a 2.5″ drive is supported in the bay so your choice might be limited compared to the DS218j (which also supports a 3.5″ drive), for example.
We opted to get and install two of the Seagate BarraCuda HDD 3TB 2.5″ drives for a RAID 1 for disk mirroring/data redundancy just in case we have a data disk failure at some point. However, with a 6-bay option, you have plenty of RAID options for both data redundancy and performance to suit your business or home needs.
The installation was very simple and straightforward, especially to those who are not server administrators or who have never set up a RAID system before. Everything is pretty much a step-by-step wizard in an easy-to-follow interface, all thanks to Synology DSM (DiskStation Manager).
Users, Permissions, Shared Data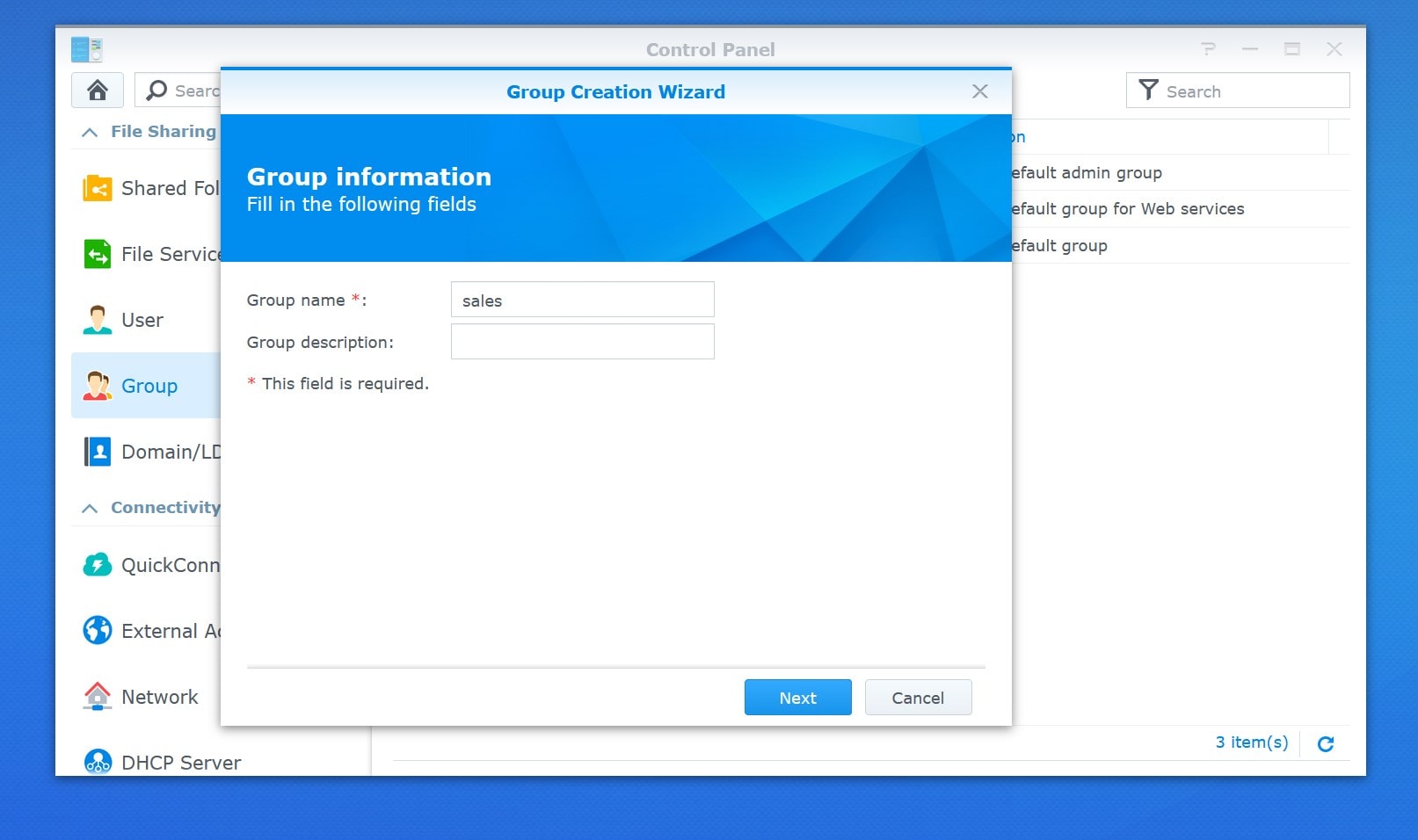 Creating and setting up users are again, pretty straightforward in Synology DSM. You can create different users and even group them together with different different permissions.
For example, you may have Jane and Bob as your salespeople and give them permission to sales data and documents. However, you may not want to share these with your IT guys.
Plenty of choices to Backup solutions
Synology DiskStation DS620slim has a barebone backup thanks to the Active Backup for Business package. It's similar to having the Mac Time Machine where your whole system in its entirety will be backed up and synchronised nicely. Note that this package will backup the whole PC or system related files, rather than customised backup folders and files.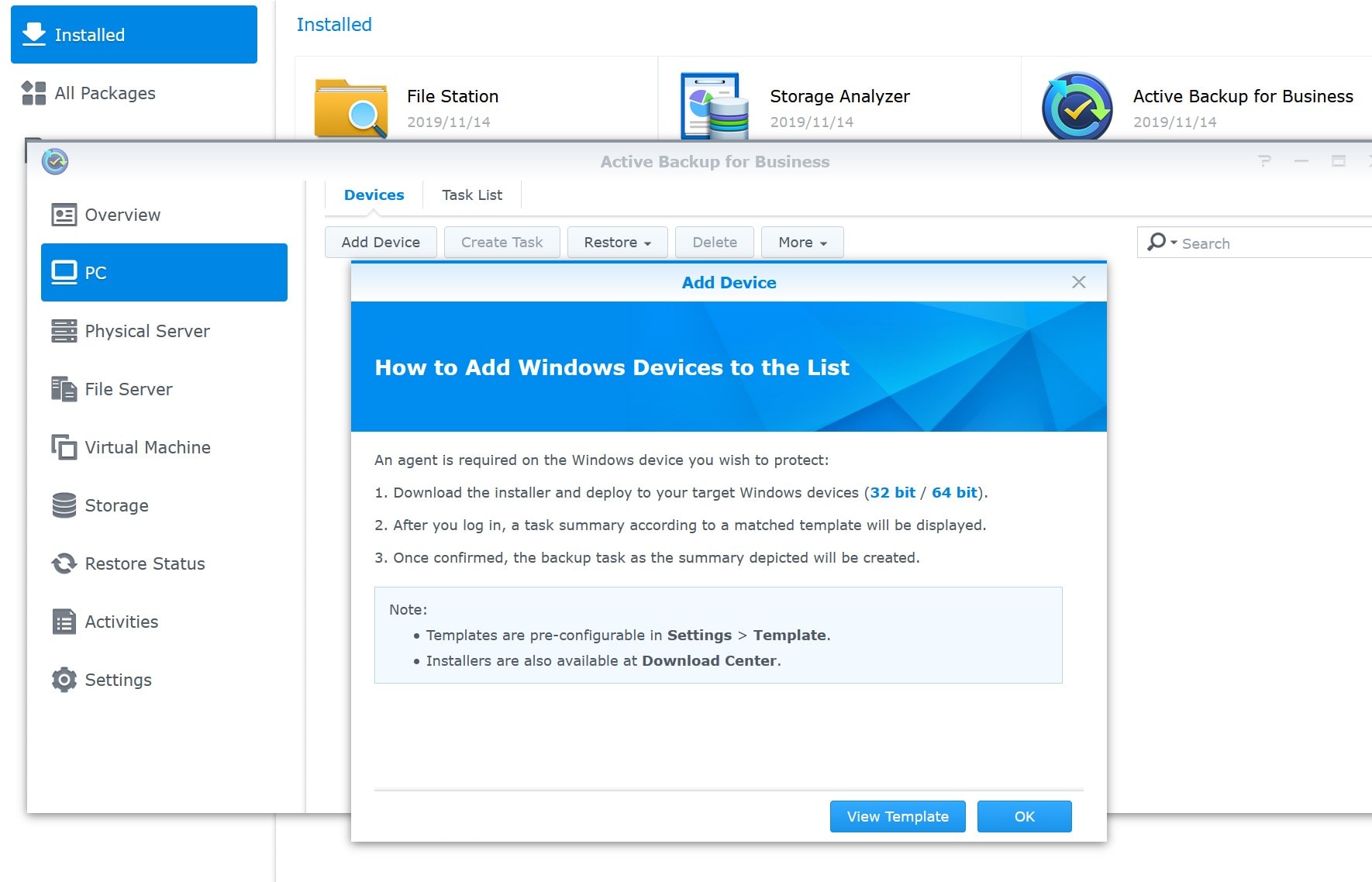 If you want to just backup certain folders and files on your PC desktop (or other devices), you can use Synology Drive. This is done by installing the Synology Drive Server on the NAS and a Synology Drive Client on the computer where you want to run the backup regularly.
Once we install the Synology Drive Client into our desktop machines, we can pick the folders that we want to backup into the DiskStation DS620slim. The coolest part is that this backup runs in real time, meaning, if you make changes to a file (change and save the file), the updated file will be backed up automatically.
You can even have many different versions of the files you've backed up. For example, you might be editing a document or spreadsheet for a while and saving them in your PC. However, you realise that you've made a terrible mistake and you just wanted to roll back to the file before. Thankfully with the Synology Drive, you can just browse to the file on the NAS, check the log or file version history, and grab the file you want from earlier!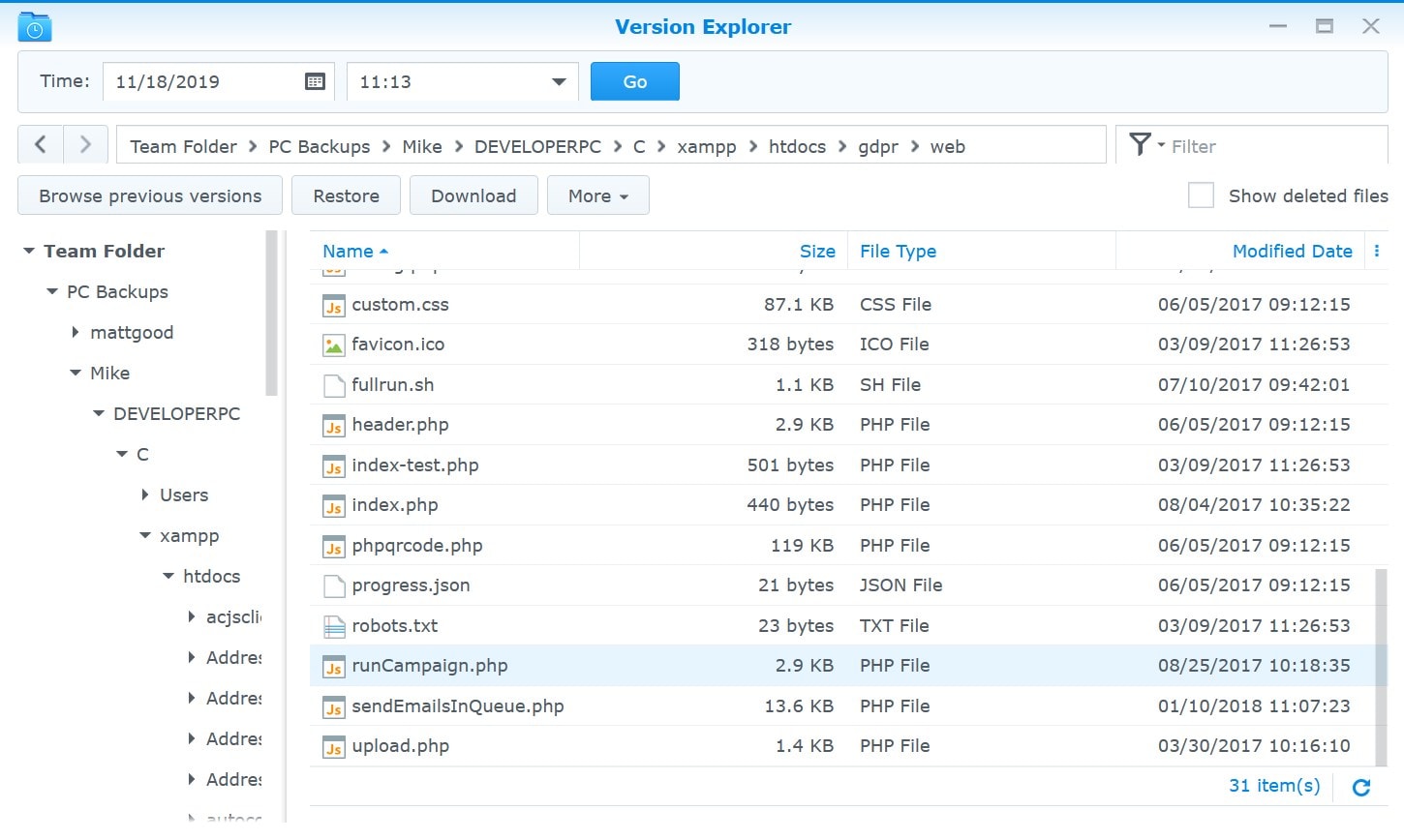 You can select how many versions you want to keep, among other settings: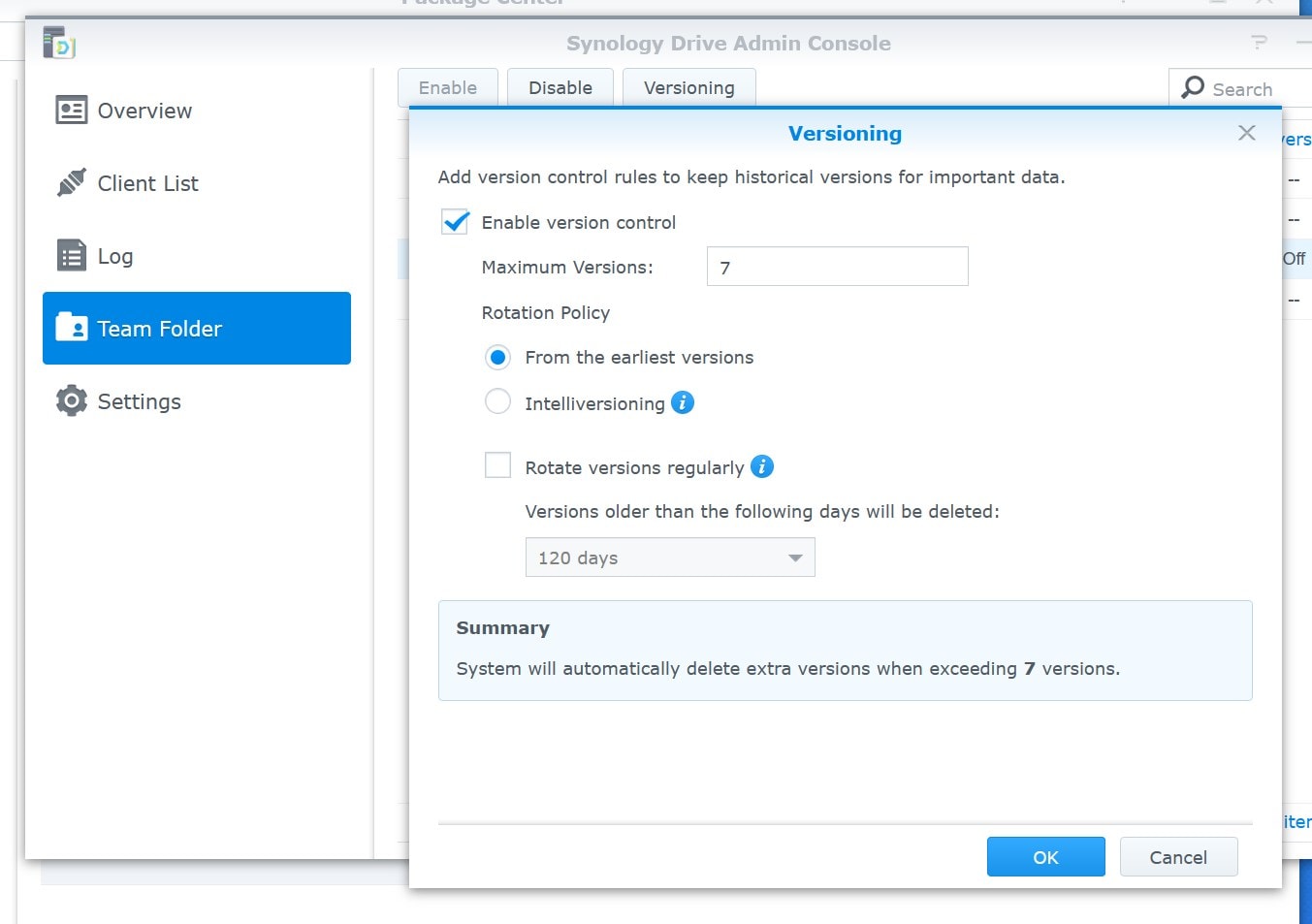 While programmers and software developers have their own versioning system like Git, CVS, SVN, etc, regular users should be happy knowing that their changes will never be lost and there's always a backup lying around!
Synology also offers HyperBackup to backup your files remotely in the cloud, Snapshots that can save up to 1,024 snapshots per shared folder, and other backup solutions. While it can be confusing to pick which backup that suits your needs, here is a good page explaining the difference between the popular backup packages.
Synology DiskStation DS620slim Review Conclusion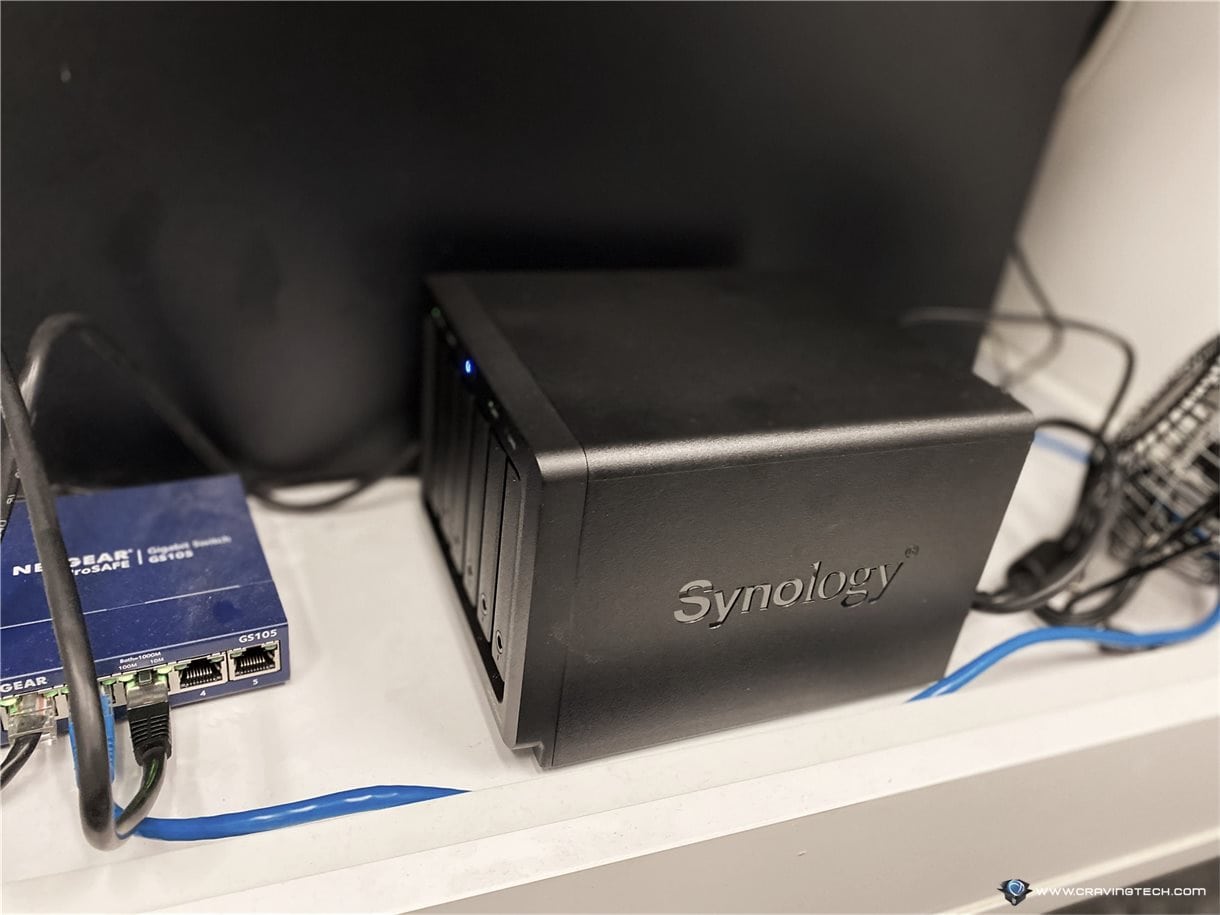 There are still many packages that we'd like to install and setup here in the office. I would love to setup the Git Server, for example. As a software developer, I keep all my codes organised using Git and setting up the Git Server on the Synology NAS is next in my top priority list. There are also other useful packages for your business like Apache server, WordPress, etc where you can set up your website on the NAS instead of paying for a third-party web hosting package.
We can also host our files in-house inside the DiskStation DS620slim and then share access to our clients for download if we want. Rather than having to pay for an FTP service, we can set up folders for our clients and give them access separately. There is also an option to set expiry to the access or the amount of times files can be downloaded.
While the spec and read/write performance might not be the best (i.e it's not the fastest NAS ever), Synology DiskStation DS620slim has lots of potentials for home or small business owners. Those with bigger staff roster and in need of a higher performance might definitely want to spend more on the better Synology NAS models though.
Synology DiskStation DS620slim can be purchased around AU$700 at retailers around Australia – also available at Amazon U.S.
Disclosure: Synology DiskStation DS620slim review sample was supplied for reviewing but all opinions are mine and not paid
Synology DiskStation DS620slim NAS Review
Summary
A compact, 6-bay NAS designed for modern offices, apartments, or houses. Can totally replace your file server and a few other things you may have