D-Link COVR 1102 Review – We've reviewed a few Mesh Wi-Fi system solutions here at Craving Tech, especially from D-Link's. While their COVR-2202 offers the best performance and features, it retails at AU$499.95 which can be quite steep for some. After all, not everyone needs a Wi-Fi coverage for 560 square meters.
If you live in a smaller house, townhouse or multi-storey apartments, D-Link COVR 1102 might be more suitable for you, plus you can save AU$200. We actually live in a double-storey, 250 square meters house, and find that D-Link COVR 1102 offers great performance and feels as good as the COVR-2202.
Packaging & Unboxing
Design & Features
D-Link COVR-1102 is a High speed AC1200 Dual-Band Wi-Fi with 11ac Wave 2 MU-MIMO (COVR-2202 is a Triband, with dedicated 5GHz Smart Backhaul). While the spec is not as strong as the COVR-2202, we actually find that the Mesh system performs admirably in our double-storey house.
It has a very compact square design, making it the most compact Mesh System we've ever reviewed here at Craving Tech. There are two Ethernet ports (for WAN and LAN) – but I like how they rename the traditional WAN port as the "Internet". Most people probably don't know what WAN is and it's now easier to know where to plug your cable to.
The setup is very easy and can be done through the step-by-step instructions from D-Link Wi-Fi app.
Unlike the COVR-2202, there seems to be no "Alpha" unit, so you can use whichever to be the primary point – which avoids confusion. Another thumbs up for the redesign choice here. Adding the second point is done after and only requires you to turn the power on.
With Wi-Fi Certified EasyMesh™, it's simple to expand coverage at any point in the future if you need additional coverage and it also supports the very latest in Wi-Fi security technology, WPA3.
I have the COVR-1102 running for almost two weeks now without any issues, and even when we have 26 clients connected (yes, I have lots of smart lights, security cameras, and things I review running all day), the network is still stable and going strong.
SpeedTest with Aussie Broadband (feel free to use my Aussie Broadband Code 1495704 to get a $50 credit):
Note that only my wife and I are in the house for now, so I can't really say what's going to happen when you have 4-5 people transferring big data wirelessly with COVR-1102. However, there are lots of wireless devices running at my house seeking for attention every now and then, yet the Mesh System can cope with all that so far.
On our Ground Floor (left) and First Floor (right), here are the signal strengths (walls and room layouts are removed for privacy reasons):
D-Link COVR-1102 Review Conclusion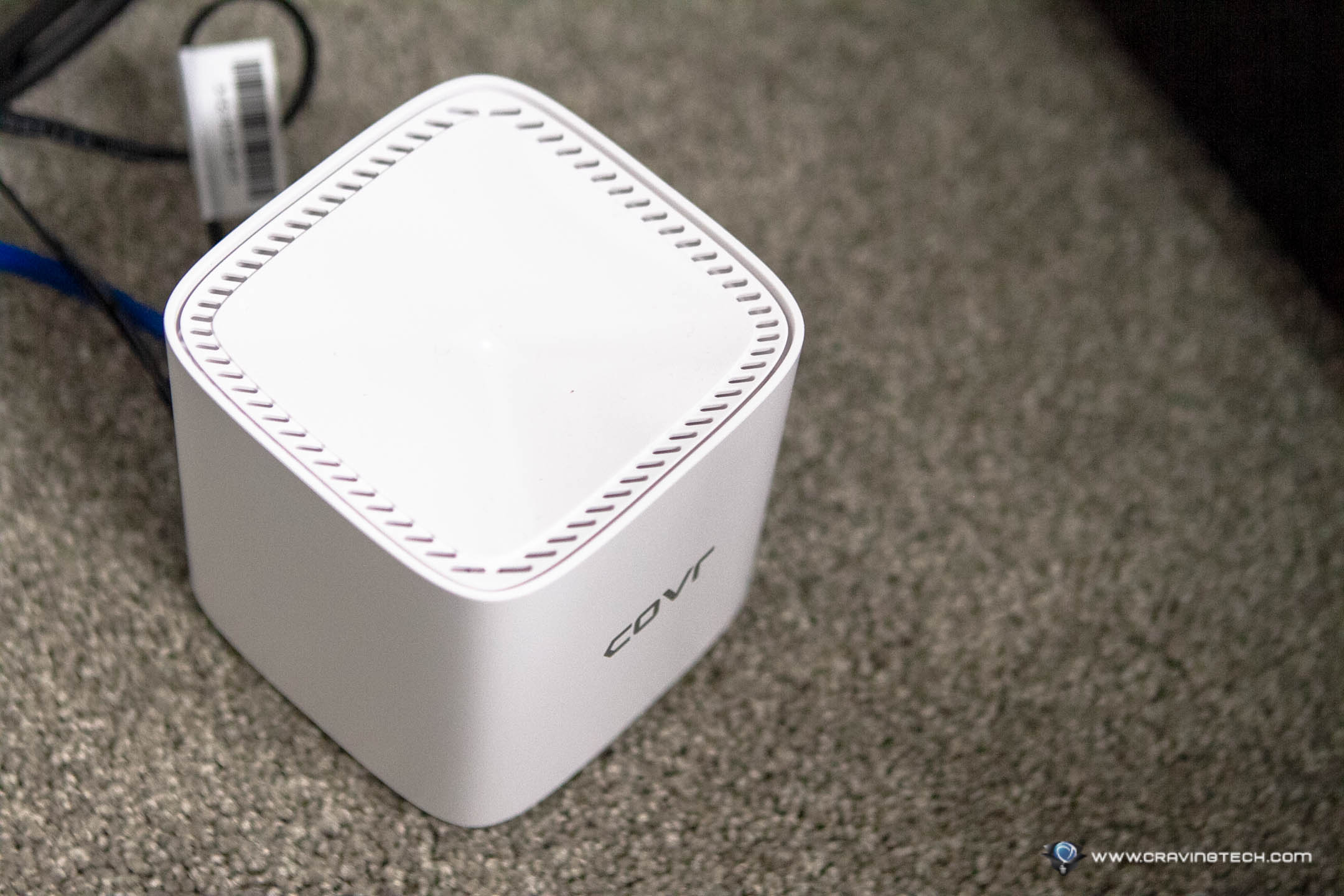 Having a Mesh System is great, if you haven't had one yet. Traditionally, a wireless router creates two separate wireless channels (2.4GHz and 5GHz) and you then pick with your device where you want to connect to. If you get a wireless network extender, it will create another new channel. It can get confusing and also annoying to switch from one channel to the other. With a Mesh System, however, you only see one wireless network name (SSID) and let the router/Mesh System connect you to the appropriate channel.
I was worried thinking that the D-Link COVR-1102 is meant to be the "budget version" of a D-Link Mesh System, and thankfully I was totally wrong. I was expecting instability or at least some weak wireless signal throughout my double storey house, but again, I was wrong.
D-Link COVR-1102 has given us a really stable, wireless network throughout the house with 26 connected devices. I've never experienced any signal or data loss while we stream 4K movie from Netflix, watch Masterchef live from Ten Play every night, have Zoom meetings, and play Overwatch competitively. Connecting to our Ring Video Doorbell Pro to see who's ringing is also fast, along with controlling our Alexa smart devices and smart lights around the house.
Excellent Mesh System performance at a great price! D-Link COVR-1102 retails for AU$299.95 and available at retailers around Australia.
Disclosure: D-Link COVR-1102 review unit was supplied for reviewing but all opinions are mine and not paid
D-Link COVR-1102 Mesh System Review
Summary
D-Link COVR-1102 is a great value for money for those who are looking into having a Mesh Wi-Fi System installed in their house or apartment.
Pros
Strong, stable wireless signal
High performance
Compact, elegant design
Easy to install and use
Wi-Fi CERTIFIED EasyMesh™ systems
Covers up to 325 square metres
Cons
Only has 1 Ethernet port, but you can get a switch 
Firmware upgrade is only applied to the main COVR point