This blog's June 2009 traffic statistics: 27,576 visits with 38,648 pageviews.
Referring Sites – 10,776 visits
Search Engines – 14,745 visits
Direct Traffic – 2,055 visits
Total money made online in June 2009: $181.08
Referring sites breakdown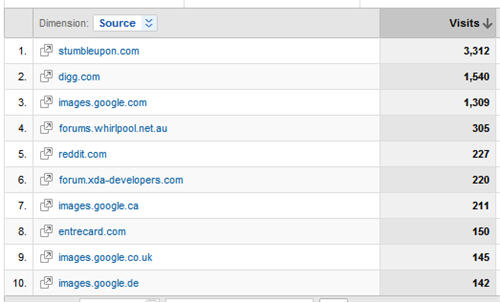 Good traffic came from Whirlpool and XDA-Developers forum on my HTC Touch Pro 2 first impression and HTC Touch Pro 2 review post but overall I'm quite disappointed with last month's traffic. Was it because of a Summer break where you tend to get less traffic?
Money made online in June 2009 breakdown
Google AdSense: $83.11
BuzzLogic: $27.94
Private Advertising: $70
Total: $181.08
June 2009 Post Highlights
Plenty of great quality posts in June. So if you miss out some of the posts, don't hesitate to visit and read them!
Although it's a quiet month despite of my effort in commenting on big blogs and also more active on Twitter, I made lots of great connections with new PR agencies having big clients. Tons of new review opportunities await in this blog! The Microsoft Explorer Mini mouse, Ricoh CX1 digital camera, and the CyberSnipa Sonar 5.1 Gaming Headset are some of them.